We're not talking questionable cuisine here, we're talking my trip from Somerset back to London, then the mission up to Wales for my first tentative Welsh tour!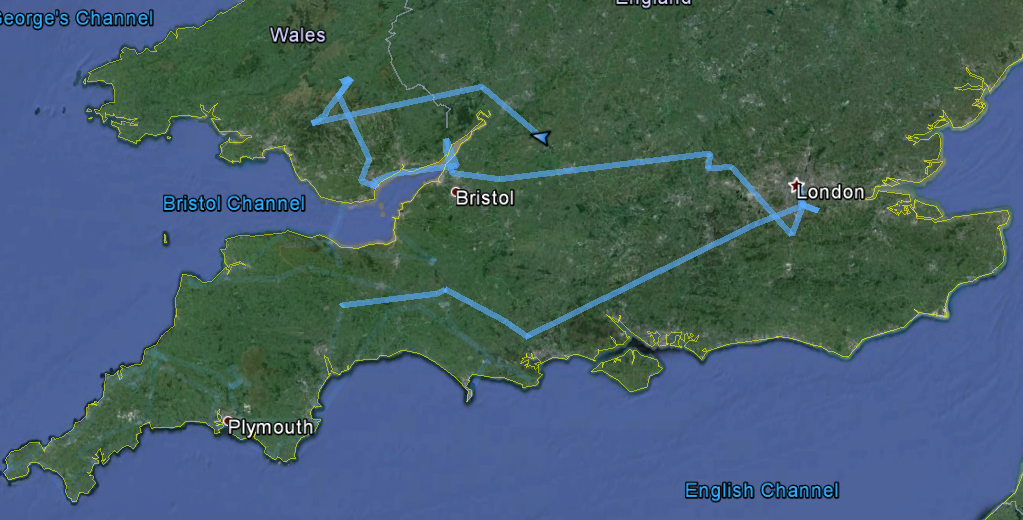 03.04.2014 – 13.05.2014
Last blog I wrapped up just putting my feet up at Tiverton. Sitting around, doing nothing. It was blissful. So blissful I took another night. The only event of note would be my exit from the van one morning, standing on the side of the stairs and having them roll under me, bashing the slats into my shin with all my weight behind them. A nice wake up call I am still mindful of.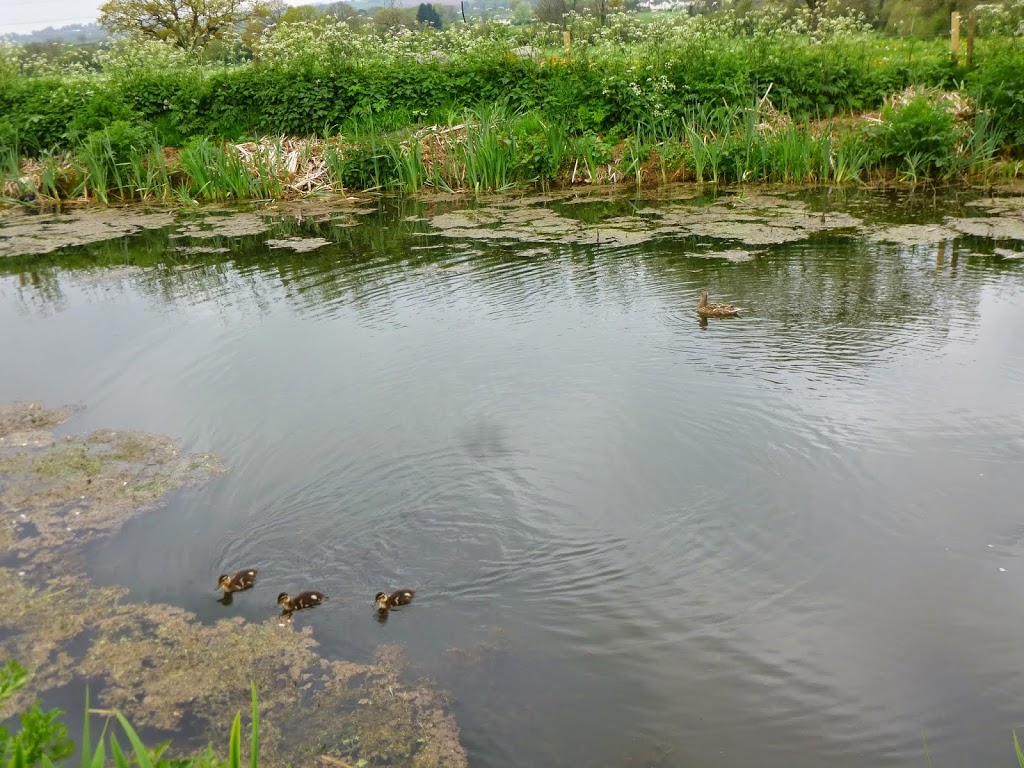 Ducklings on the Grand Western Canal
On my way back I went through Yeovil yet again, so decided to go to the Fleet Air Arm Museum. This is the Royal Navy Air Arm museum, they have tonnes of Navy planes and a prototype Concorde, which was pretty amazing to see. It was a good museum, but the RAF one in London was free instead of £14 and I think it was better. One of those cases where a museum has, to their credit, attempted to embrace technology with touch-screen displays. But then the software is click-next crap and the hardware is crap, then broken, and any interesting information is all locked away in broken consoles. Static information presented properly isn't crap! Anyway, the 'carrier experience' is pretty kiddy but memorable, and the Falkland Islands section was excellent. 30 years on they have lots of personal stories, memories from those involved. No Argentinians unfortunately since it's still an ongoing dispute!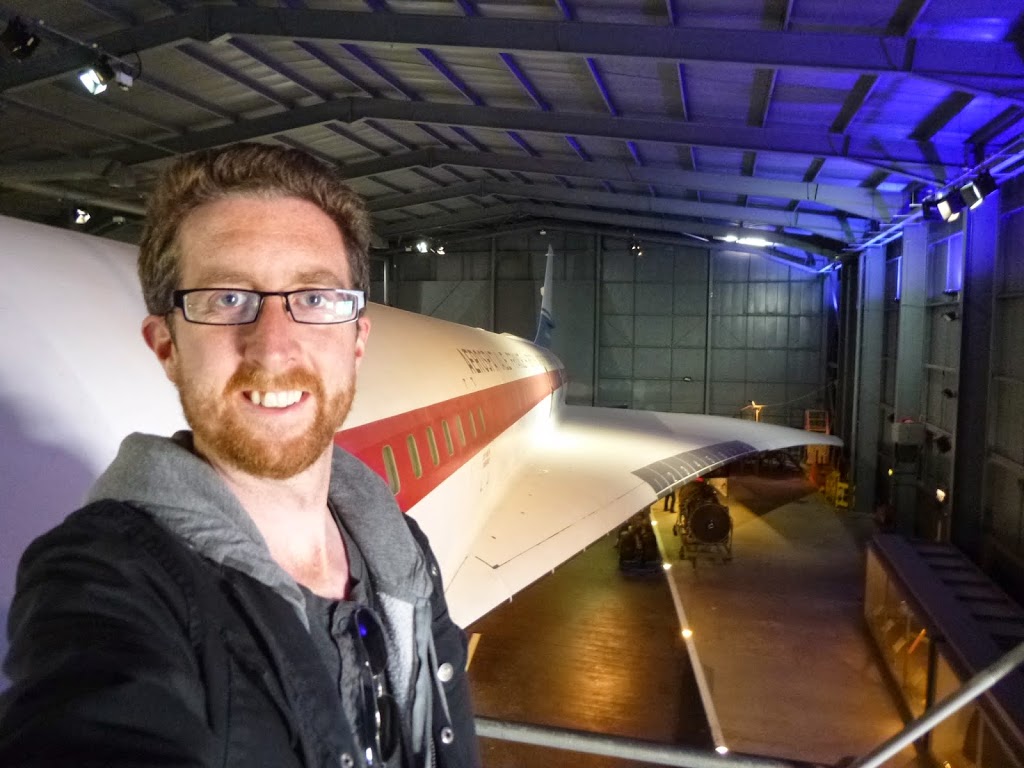 Concorde prototype – so sleek!
Dragging my feet for my return to London, I slept in a layby somewhere, and in the morning I popped in to another estate – Kingston Lacy. Classic looking place, fascinating rooms, lovely garden – nice wee afternoon in the sun. The upstairs rooms here were 'tent rooms' for the kids. Painted in stripy circus-tent styles, with carved rope tassels and things – rather interesting.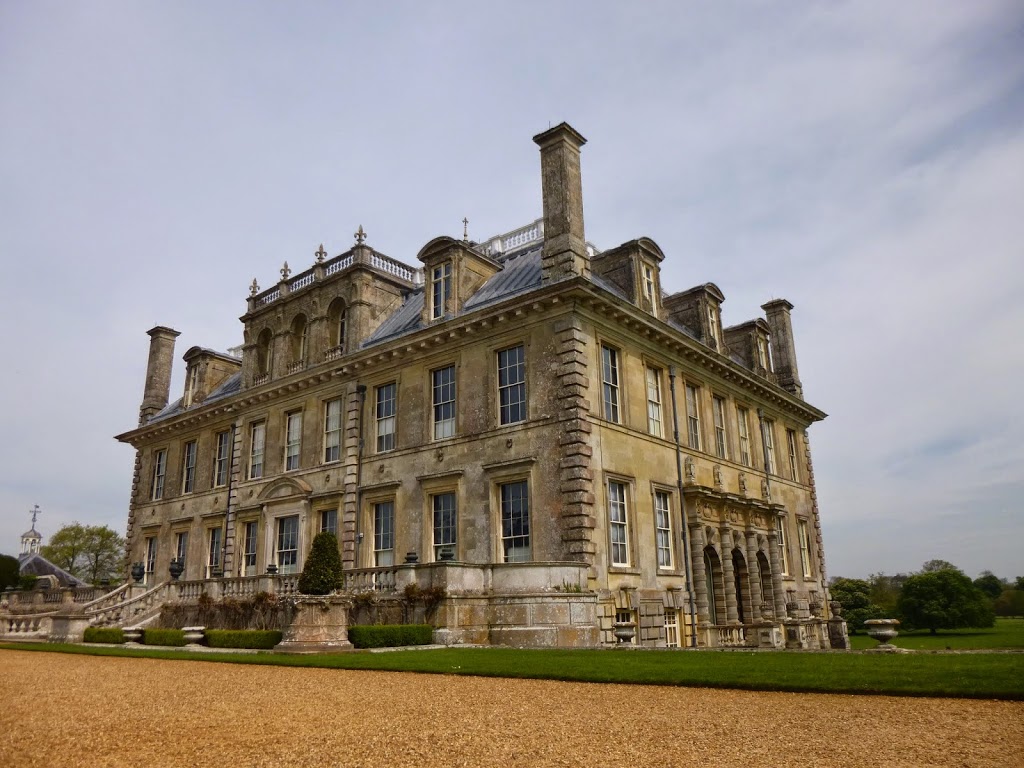 Kingston Lacy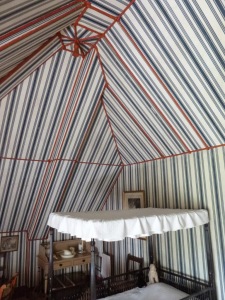 Wacky tent room
Another wee instance of the history 'coming together' for me was in the library. On the wall were mounted old keys – the keys to Corfe Castle that the lady of the house was allowed to keep after their surrender to the Parliamentarians. I really enjoy these connections and bringing it together.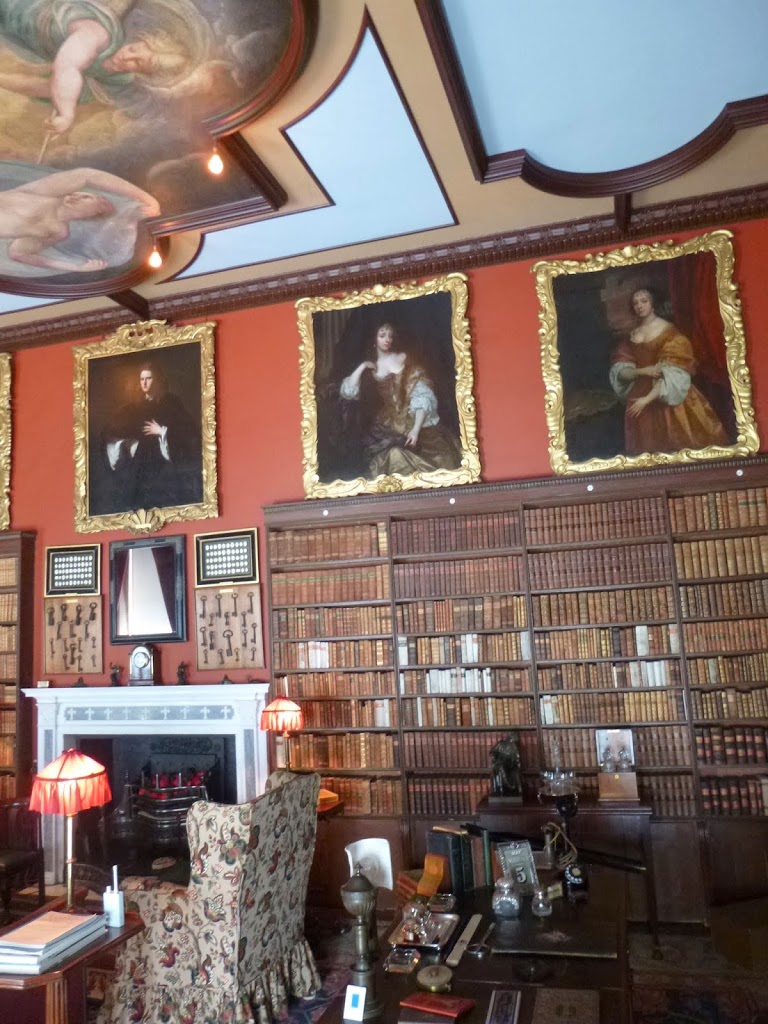 The keys above the fireplace.
I was scared of driving in London, but after all my rural driving I found it a piece of cake! Two lanes all the time, big enough for buses – no stress, provided the GPS is running! I made it to the Crystal Palace Caravan Club site with no problems. A lovely site surprisingly close to London, it was a nice base to explore London as a tourist again. And I did, and I fell in love with the place again, despite my history! But I know it is just to visit – amazing to visit.
London in Spring!
Crystal Palace was actually great – the park is where the Crystal Palace was (surprise!) – an 1850's marvel of engineering built as part of a big fair to showcase to the world the wonder of the industrialised nation. The fair to end all fairs, they showcased their knowledge in history and things – some of which remains.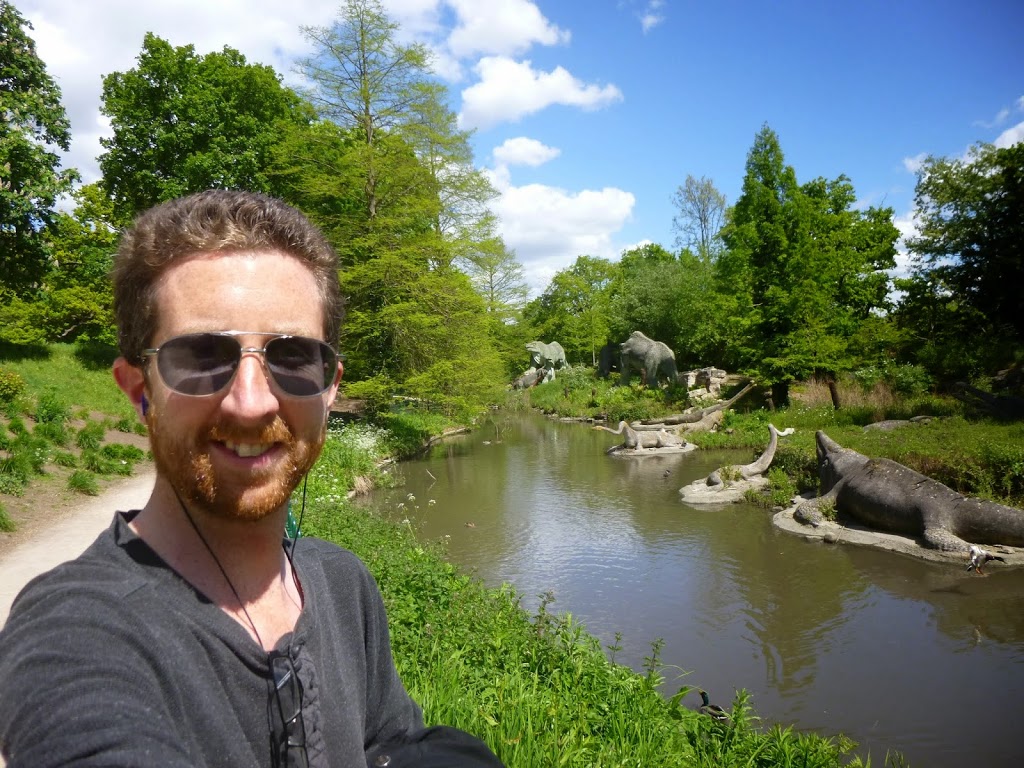 Concrete dinosaurs, before Darwin!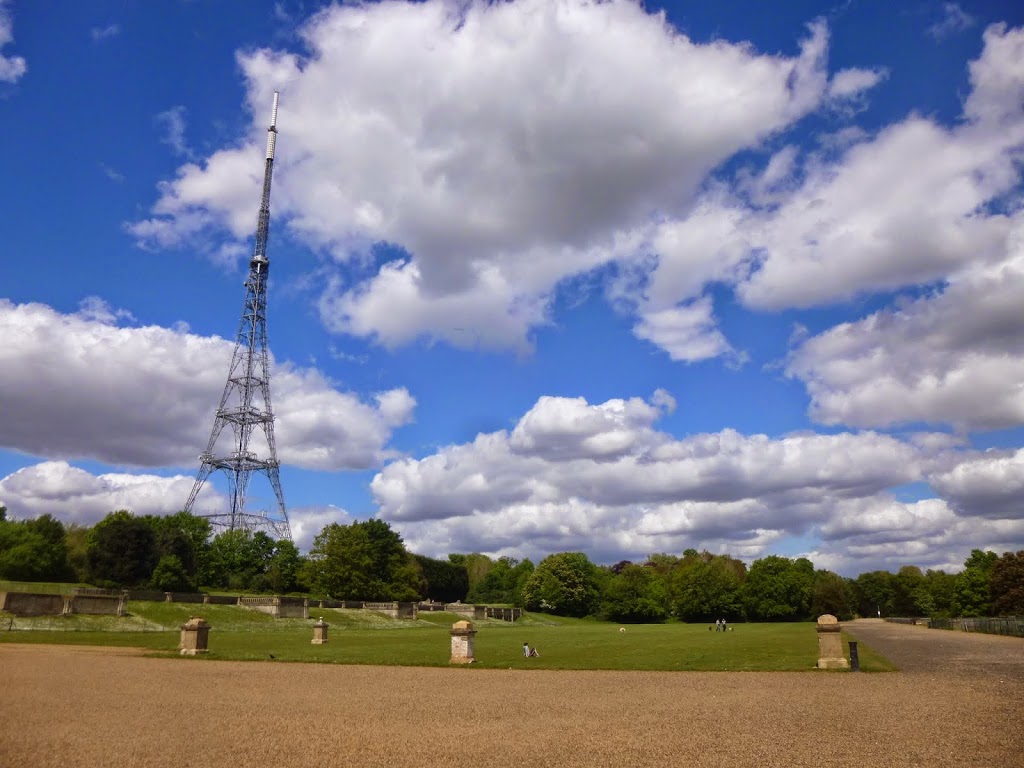 The Crystal Palace TV Tower
Not all too soon at all I farewelled London and headed up to Marlow to pick up my backpacking friend Beth (not her real name). Beth responded to my Gumtree ad looking for weirdos to travel with – we'd had a drink in London to scope one another out and thought it'd go OK. I was looking forward to a couple of days company.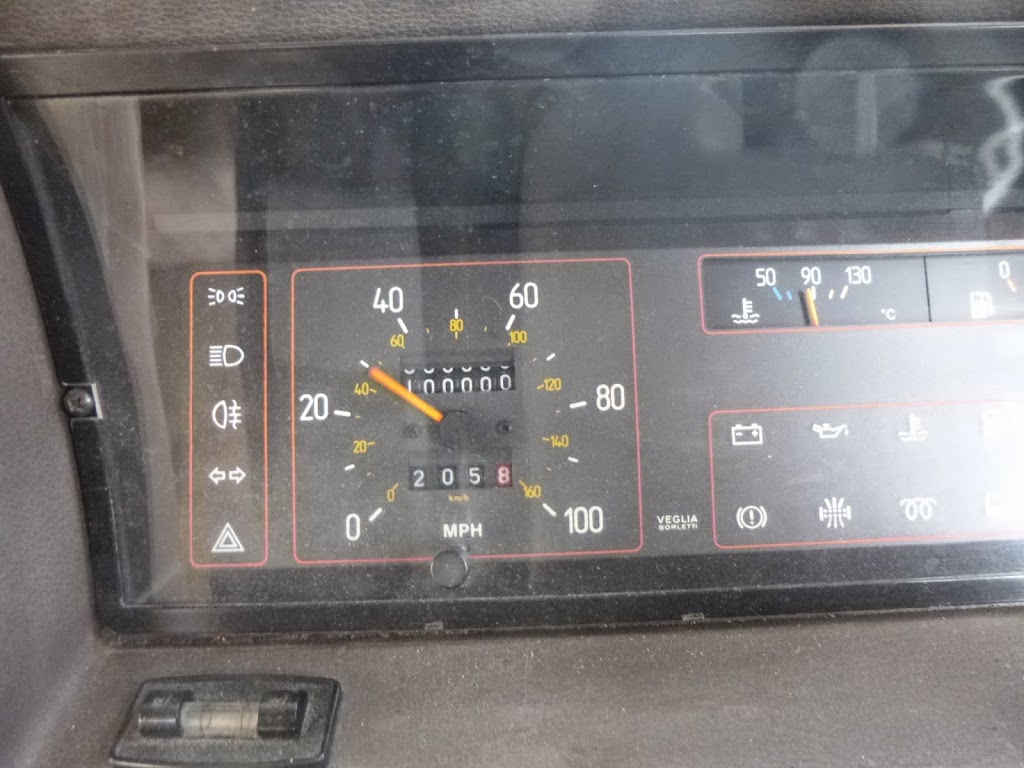 100,000 – huge van milestone on the way!
So picking her up, we went to the nearby Rebellion Brewery. They produce pretty good beers, and a local community has developed around the brewery. We got to chatting with a local chap and his niece about beer. Inevitably (?) this led to politics and puppet states and it all got depressing really. So we buried our travelling heads back in the sand (who cares!), bought a couple of litres of beer and hit the road.
Beth wasn't particularly choosy on what we were to do, so I kept doing what I wanted – go to estates and that. So I went to Hughenden House, the home of Benjamin Disraeli. I'd only heard the name from Family Guy so I was interested in learning more in the house, but my crippling consideration forbade me from entering since Beth was bored. So we had a quick look at the gardens and then back on the road.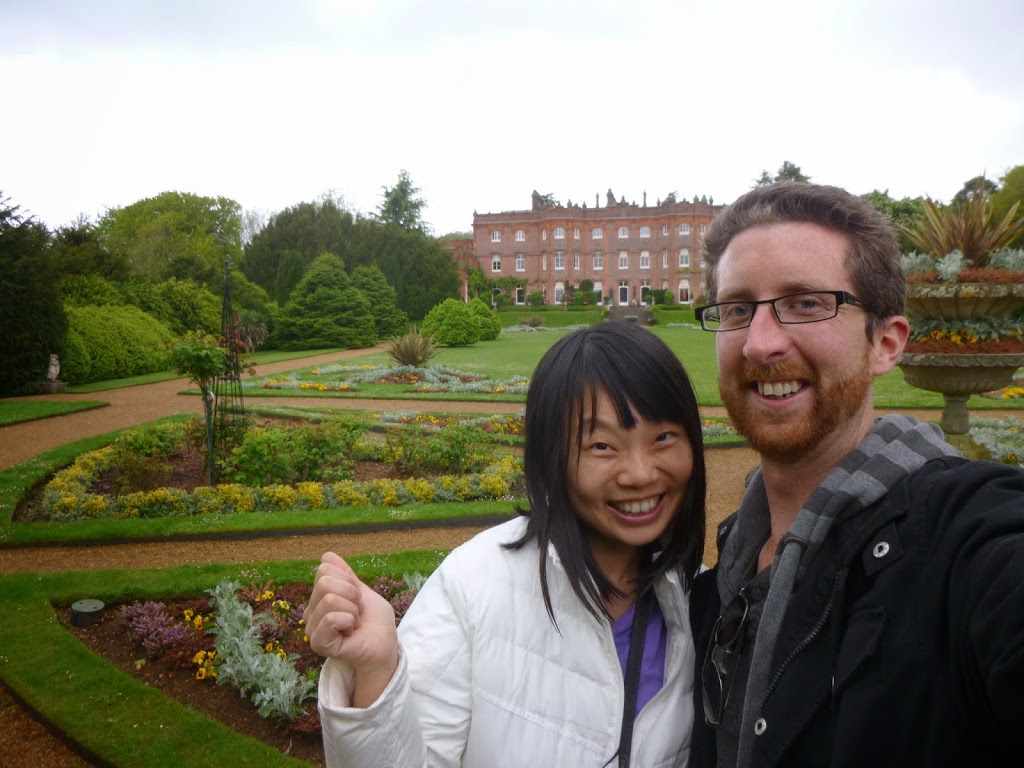 Beth and I at Hughenden House
Since I wasn't going to be history-geeking out, I wanted to make the most of having company, I decided to try one of these 'pub stops' for the evening. Basically this is asking a country pub (with lots of parking) whether you can stay the evening if you have a feed and some beers. We stopped at the Fox Inn, just north of Bristol (still in England). They were most agreeable, and I enjoyed having a meal one doesn't cook on two hobs – a shepherds pie, not quite as good as I make. There was also a big fat cat there who decided to hang out with us so that was fun. After dinner we watched a movie – nice to have company!
Our first stop in Wales was Chepstow and Chepstow Castle. An impressive castle perching above the river Wye, it was quite something really. Extended and re-fortified and so on over the centuries – great to trace the development through the centuries. During our visit there was a primary school group and a bunch of teenage groups too – what a country to grow up in with field trips like this!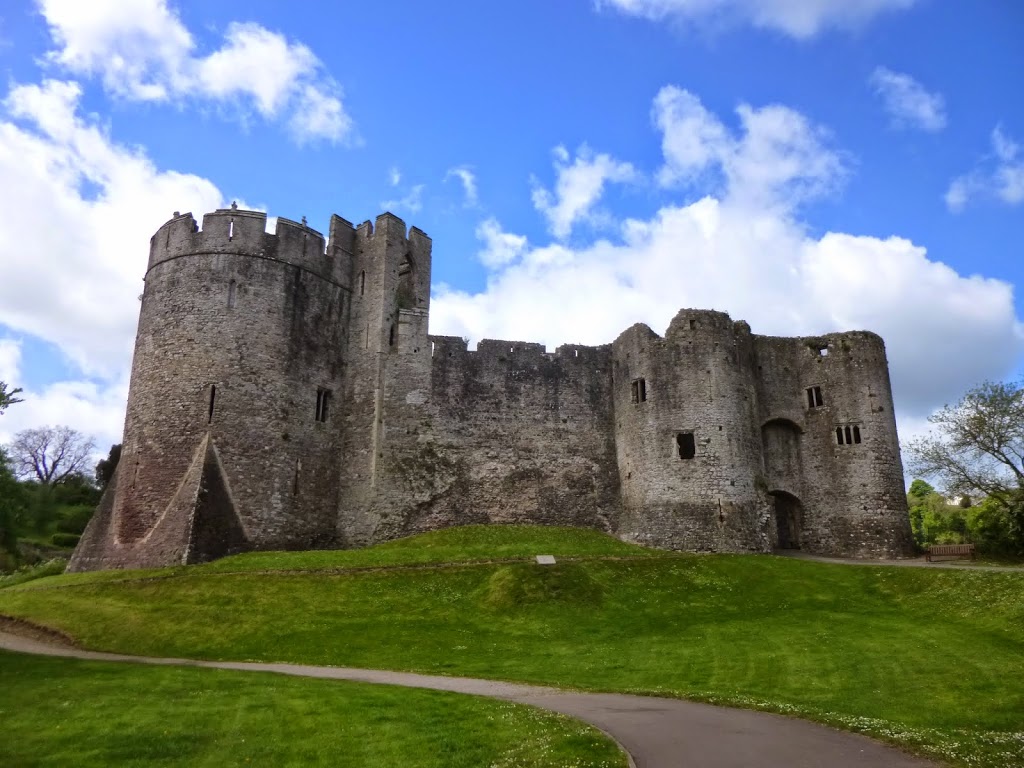 Chepstow Castle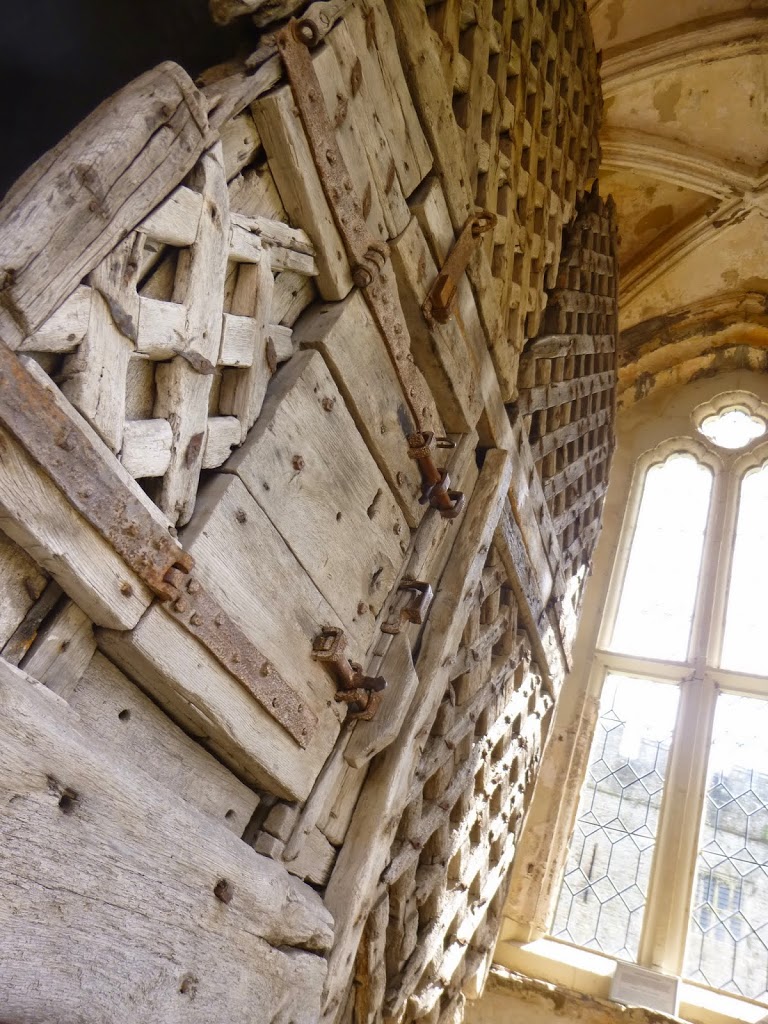 The oldest castle gates in Europe – 1400s? 1100s? I forget. Old, anyway!
Following my trusty guidebook's advice we headed north up the Wye Valley to visit Tintern Abbey. Coming around a bend, you are presented with this amazing vista of the Abbey below you with the Wye Valley behind. It's something else. Unfortunately they do a shifty one with the parking – an all day rate. Knowing you'll only want to be there an hour or so, you pay a half-day rate really, feels really on the nose. I befriended a retired couple who were all too happy to bitch it out with me. They decided not to enter the abbey in the end due to the ticket cost on top of parking – and totally fair enough. The views from the street were the most impressive, however I get half-price entry with my English Heritage membership and I felt it would be one of those 'didn't spend $5?' kind of moments once I get home!
Upon entering the Abbey my camera crapped out a bit, the SD Card died. I was distraught, this was bad news! Fortunately the Lumix came through with room for 20 photos on its onboard memory so I managed to get my pictures anyway. Video's taken a dive until I get a new card though. As for the history of the Abbey? Same deal as the others – huge power, smashed by Henry VIII.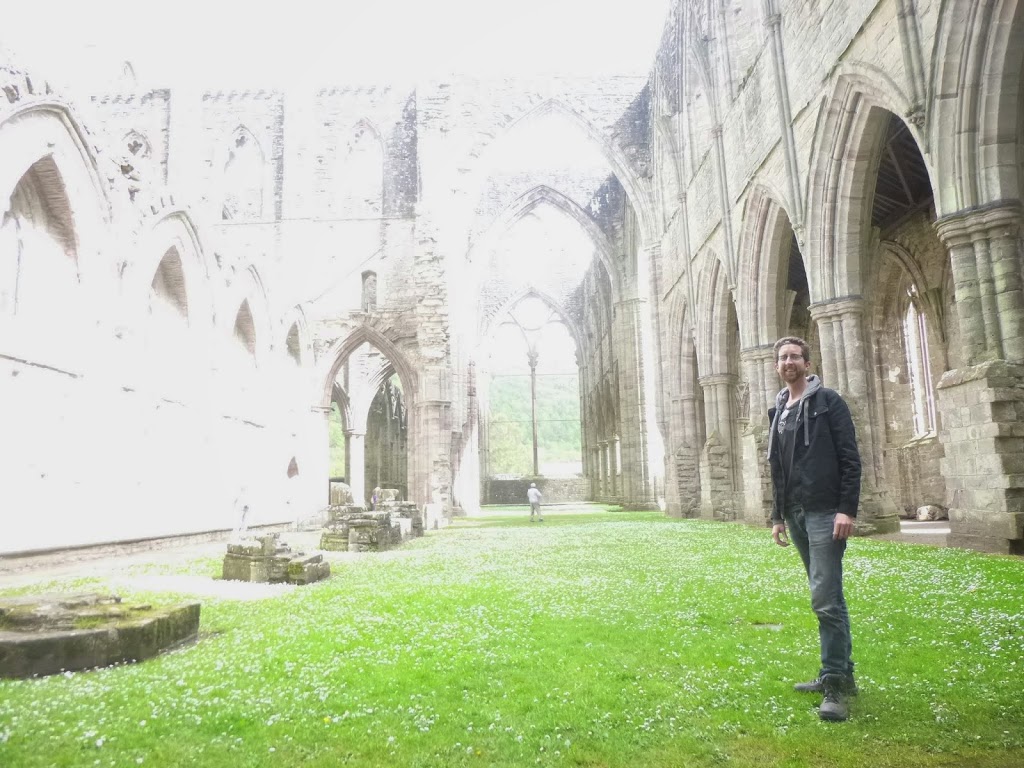 Camera fail.
You could get your parking money refunded if you bought a knick knack or some food, so we went and got some beers. It was quite nice actually, and we wouldn't have had one if the parking thing wasn't in place. But still, not cool!
Walking up the neighbouring valley hills to get a view from the 'Devils Pulpit', we hoped to get a nice shot of the Abbey – but the viewpoint was not to be found, not even local Welsh could find it.
On the Saturday we arrived in Cardiff. Despite the rain and wind I was smitten with the energy of Cardiff – the red dragon is everywhere, the vibe is positive and upbeat. I feel like New Zealand has a bit of a kinship with Wales – the butt of sheep jokes, historically used and abused, now kicking ass and much louder than the size of the population. The accent's ace too.
We parked near the university and went to have a quick look in the Cardiff Museum. I got mixed up and thought it was the 'Cardiff Life' museum, so wasted time looking at dinosaurs and rocks n shit. Done that to death in London, I wanted some Welshness! We walked by the city hall where a marriage was taking place, passed Cardiff Castle and around to the Millennium stadium. I'd love to see a game of something over here sometime.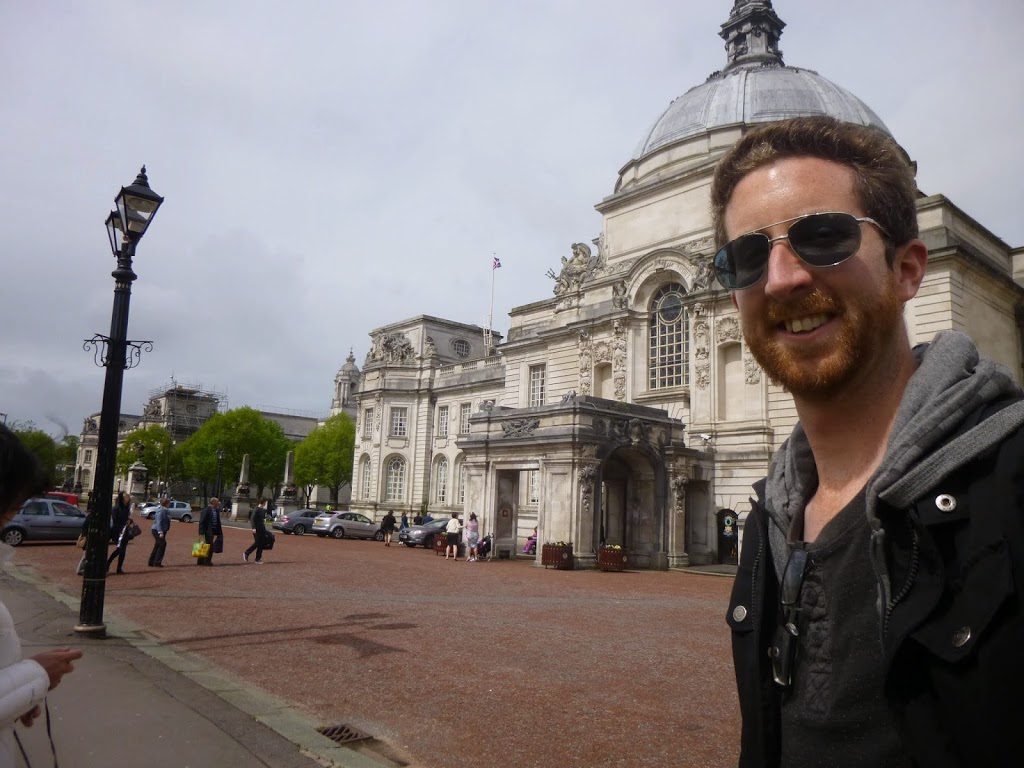 City Hall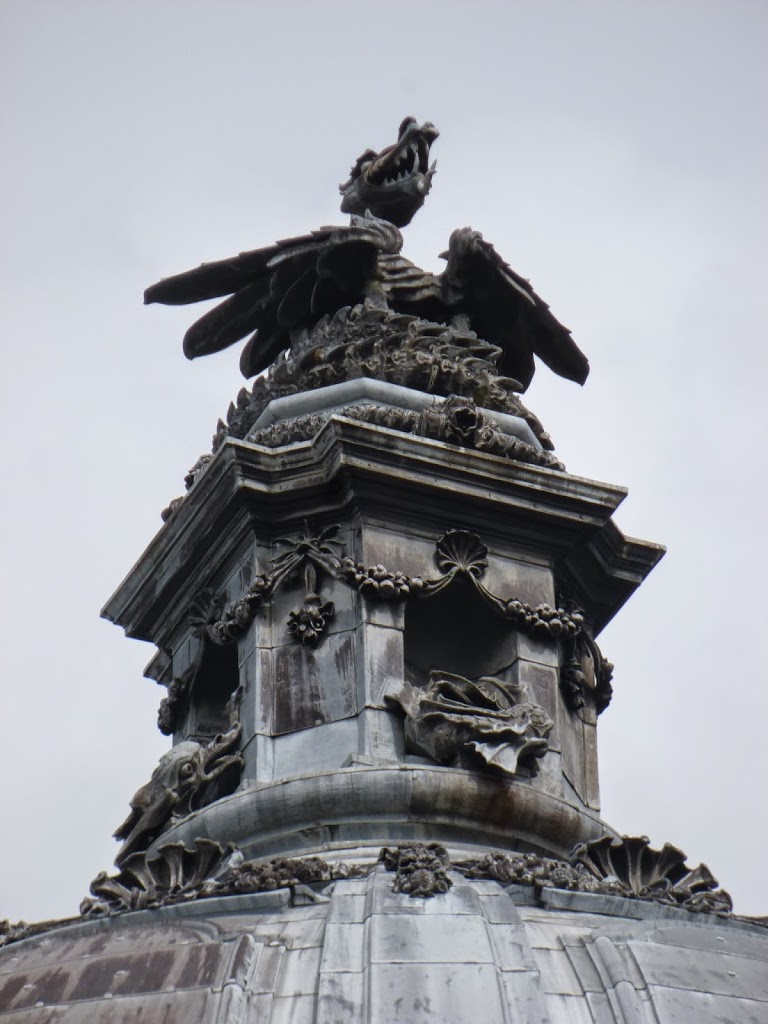 There be dragons
Cardiff Castle, from afar.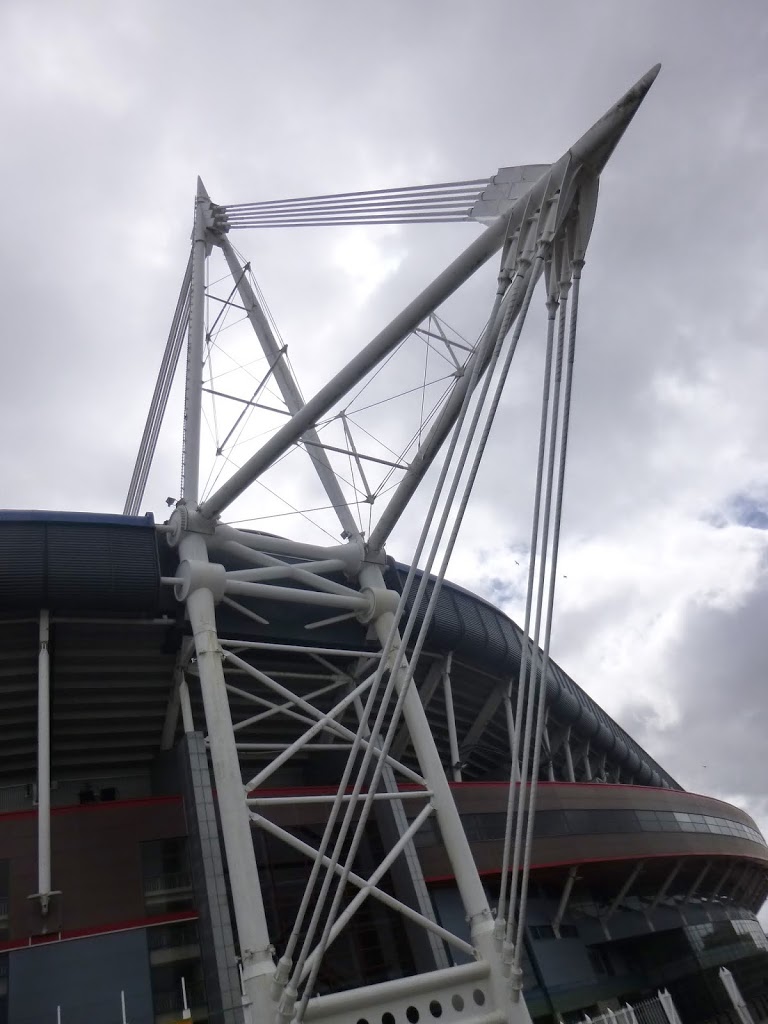 A bit of Millennium stadium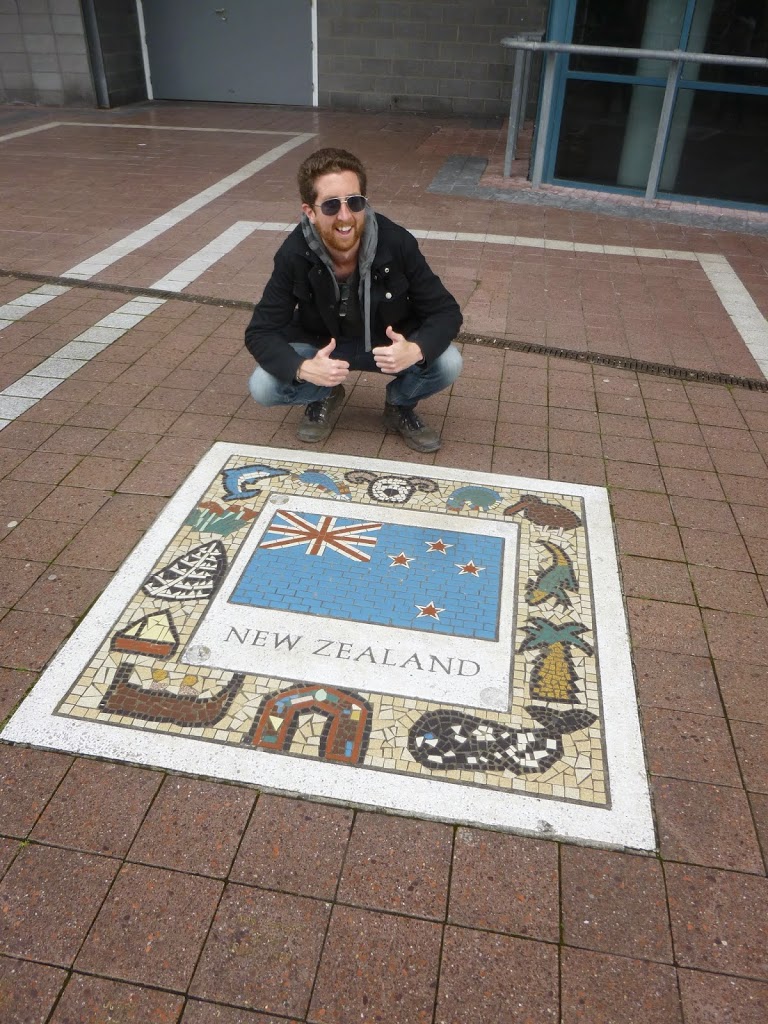 Rugby! We play it too!
Avoiding the rain in Burger King, we then headed to Cardiff Bay. The bay developed as a massive coal port and was the hub of growing Cardiff. These days the BBC have moved in and film Doctor Who and Torchwood there. More importantly, the new Welsh national assembly have recently moved in – so it's set to be the heart of Cardiff yet again. The Millennium Centre is a wonderful symbol of the future and a real stunner. The nearby Pierhead building provides a bit of context on the area which was great.
In the Pierhead they have the documents giving governance back to Wales from England and some other bits and pieces of national significance – great to just pop in. Not in a vault like the Treaty of Waitangi, guess there aren't too many Welsh people who are upset about self-government! They also have the binnacle from Terra Nova, Scott's final Antarctic Expedition (they departed from Cardiff).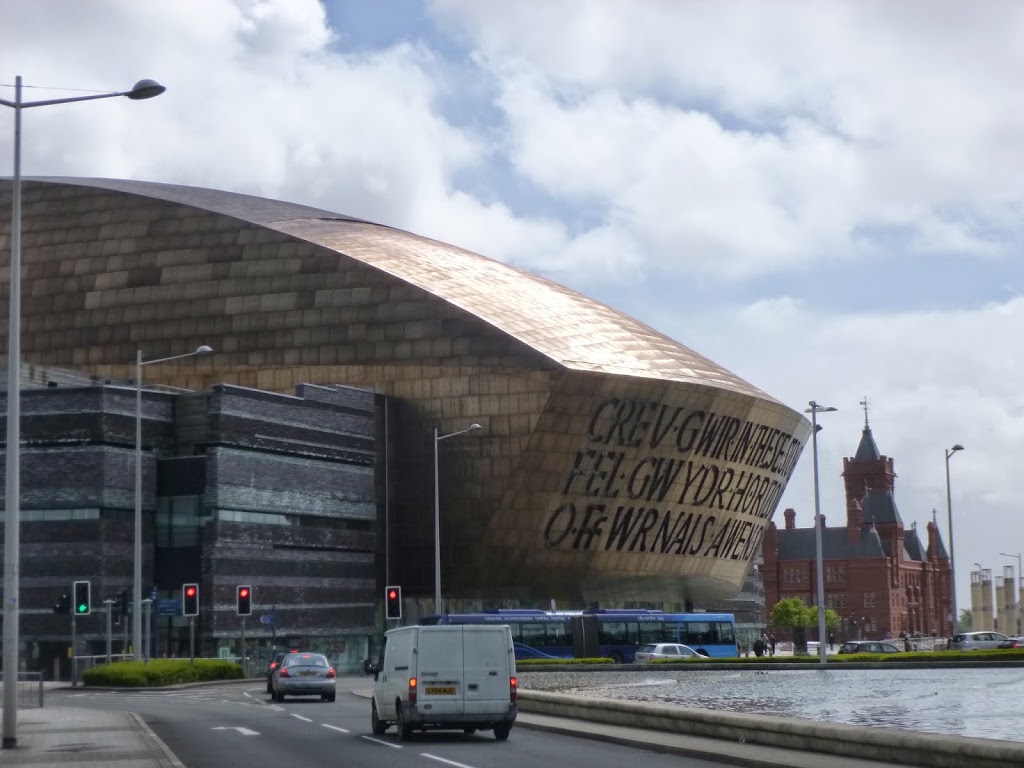 Millennium centre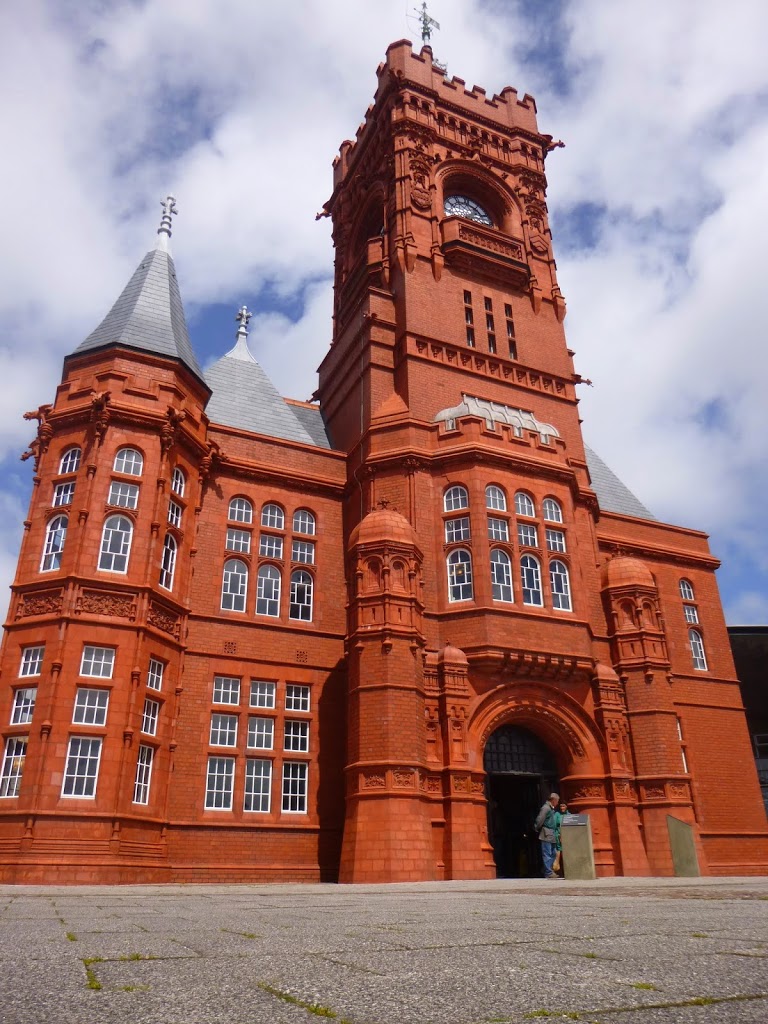 Pierhead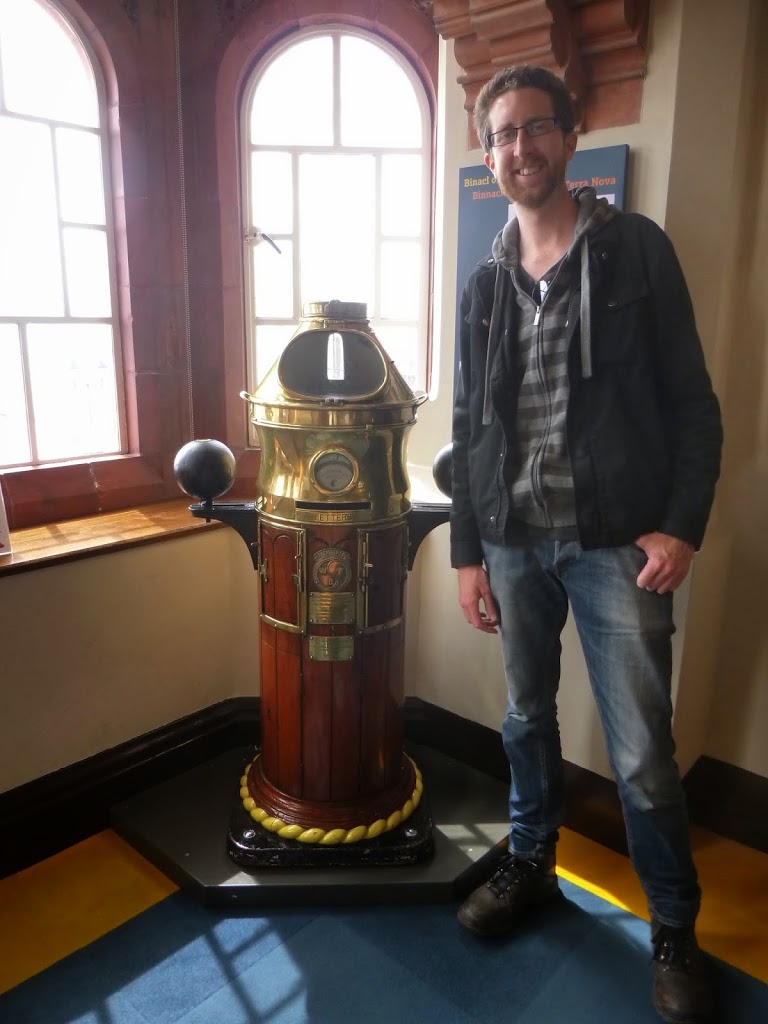 The Terra Nova binnacle.
The day was getting on, but I wanted some Welshness godamnit! And St Fagans is the Welshness.
Over many many decades, Welsh buildings from all over the country, all representing periods in Welsh history, have been painstakingly de-constructed and re-built at St Fagans, just outside Cardiff. So you have the day-to-day life of Welsh from forever ago to today all compressed into this one site – it's a pretty neat facility and a bit of a national gem I should think.
In some respects it's rather boring really – bunch of houses n shit. But you see some of the history, the craftsmanship from 600 years ago – hearth beams with 1716 scribed into them – and it just, it's too much. My favourite houses were the row of coal miners cottages. The row has been moved here, and each house has been set to represent a different decade. Each are laid out the same and have this wonderful tiny little staircase, no bigger than a small closet, to the upper floor. How many oldies have that to thank for a trip to the hospital I wonder!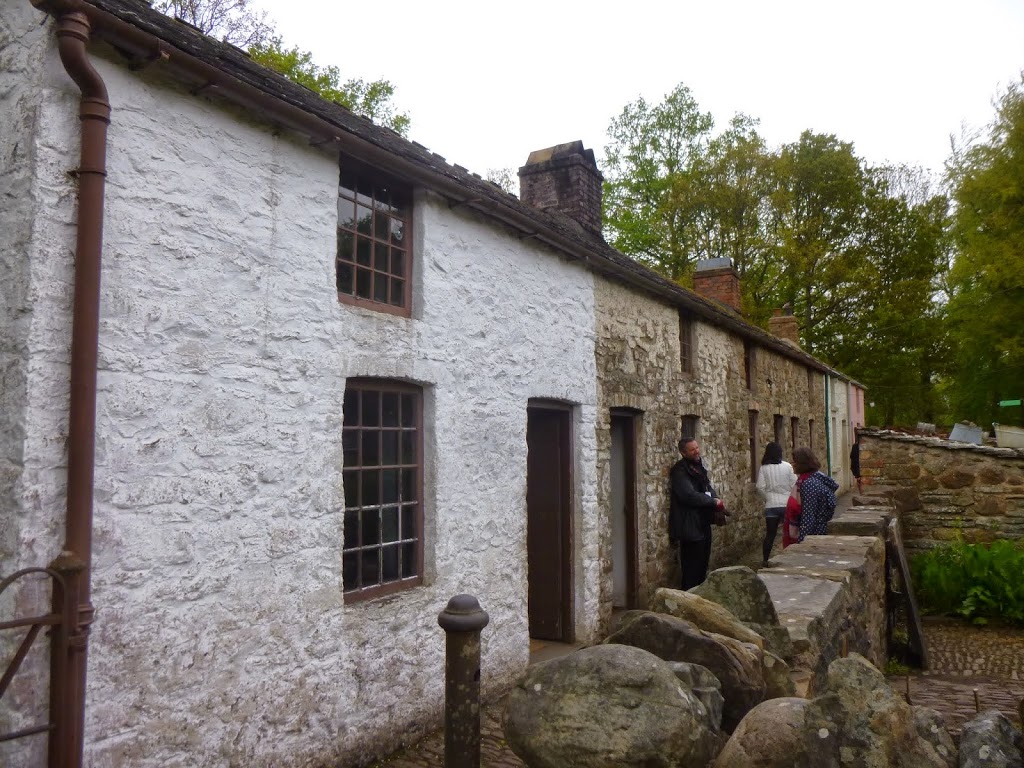 The row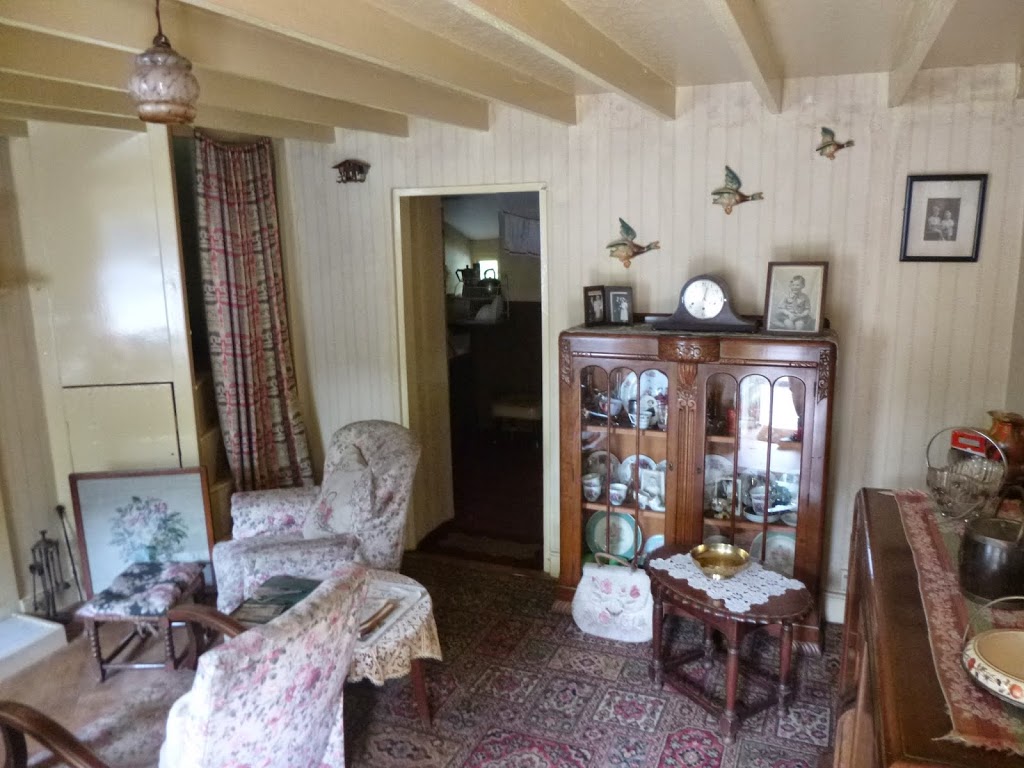 One of the wee cottages. The 'stairwell' is behind the curtain on the left. Tiny!
On site the volunteers were very enthusiastic and characteristically Welsh, chatting away, oblivious to your attempts to escape. I overheard my first conversation in the Welsh language here, which was cool. I love that the language survives and is in use.
The evening saw us in another pub stop, and then we were off to the Brecon Beacons for a hike. We did the most popular route, a 6 mile hike to the Corn Du summit, then across to the Pen Y Fan summit and back down in a wee loop. The track is well built due to the foot traffic. It was a little busy but not too bad, because the weather was atrocious. Frozen hands, bend into the wind, foggy glasses atrocious. The cloud cleared a little occasionally and we were treated to amazing views – must be quite something on a nice day! I really felt the sense of space there, felt like home.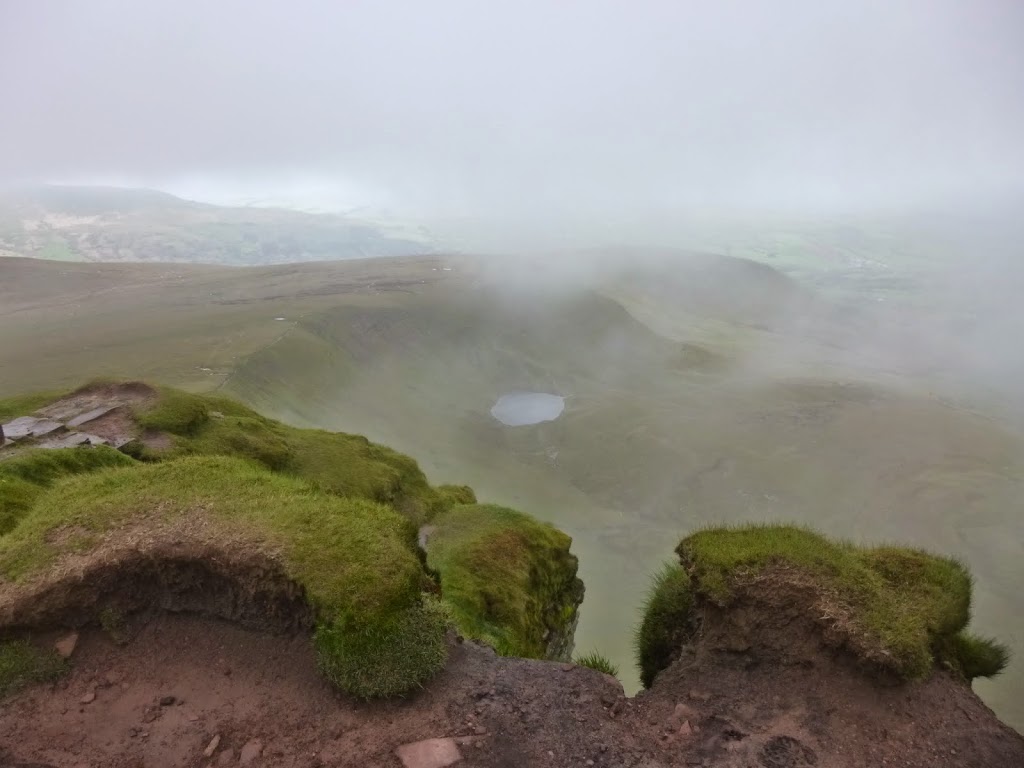 From Corn Du summit
Wee travel note: take photos of the maps at the starts of these walks. I have found referring to my photo of the map to be invaluable to me and other walkers on occasion. It costs nothing, weighs nothing, but may come in handy.
The relationship with Beth and I had taken a bit of a turn by this time – I'd spent the morning finding a hike of suitable length and ability for us since Beth wanted to do one, then I got nagged for being slow to get going. I've learnt that with 2nd language speakers, speaking ability and comprehension doesn't go hand in hand, and sometimes a 'yea' or agreeable laugh doesn't equate with understanding. Obvious really but if you don't know they don't understand you assume they do! I felt a bit like a free tour guide with a parasitic voyager, it grated me. I see it as unreasonable now, I can see how one may take a passive role when in someone elses's van, but that's feels for you.
When we got back to the van we were both wet and cold to the bone. Arriving in Brecon township, we found the only open pub on a Sunday afternoon and had a hot meal in the warmth watching some football. (When I say 'we' I mean 'I', I did everything). Dried and refreshed, we popped up to the Cathedral at about 5pm, which was a great time to do so. A quiet and reflective moment in such a grand building. A panel suggested the Cathedral was a good spot to just stop and 'smell the flowers' – and we did, and it was.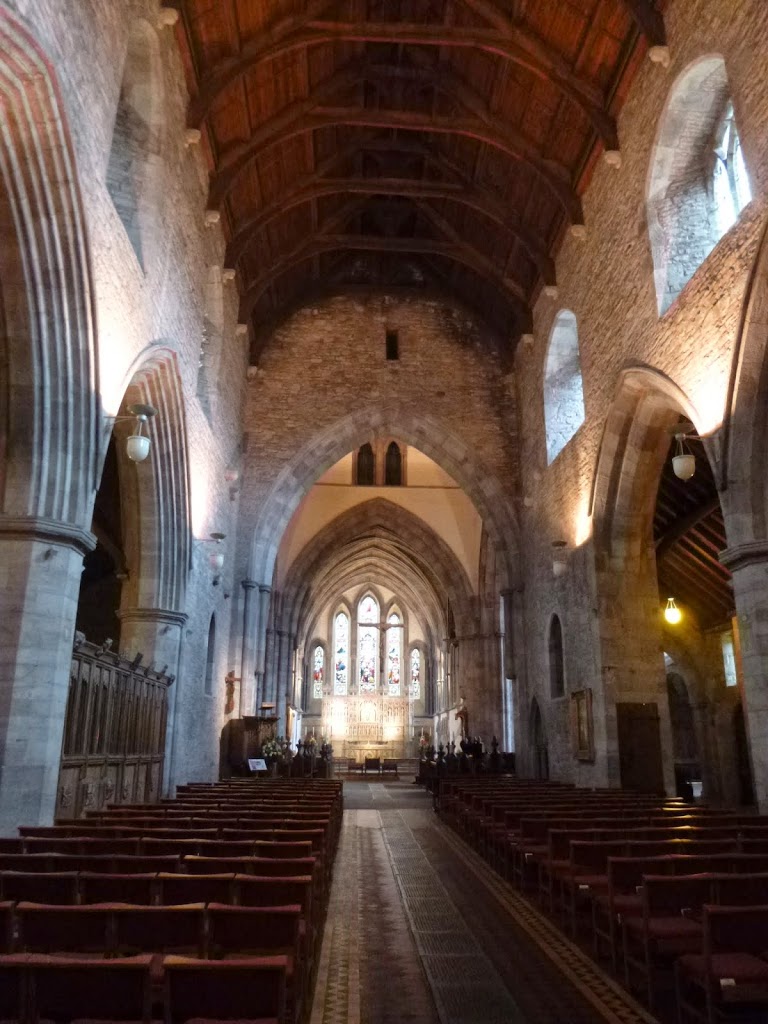 Brecon Cathedral
In the evening we just stopped at a nearby layby – we had to be back in Brecon rather early to drop Beth to her bus home. In the morning one final misunderstanding involving money saw me lose my temper and rage-drive the van around Brecon trying to find an ATM. I seem to just lose it when people quibble over £10 these days, I'd just had it, couldn't wait to be alone again. Just fuck off!

So my little company experiment wasn't a total success. It wasn't a failure though, quite an adventure in itself and we did have some fun! I learnt a bit about more about myself too and ways to handle things better. Communication is key isn't it, and that just wasn't happening. You're in close quarters too so it's not surprising to clash with someone you don't really know – I just hope wee Beth is not the worse for it and enjoyed the adventure.
On the road again, feeling wonderful, I headed for nearby Waterfall Valley (Ysdradfellte). Four waterfalls in a four hour loop walk, sounded alright. I worked myself into a panic about the van being broken in to, occasionally I seem to be prone to this kind of anxiety. But eventually I manned up to leave the van all alone and off I went.
The countryside was lovely, the peace only broken by occasional hoots and hollers echoing around the valleys by some unexpectedly early-rising bogans. Upon arriving at one of the falls, I found said bogans – donned in wet suits and jumping from the falls. Very friendly mad Welsh lads! It was neat to watch, I was a bit pissed my camera couldn't take a video.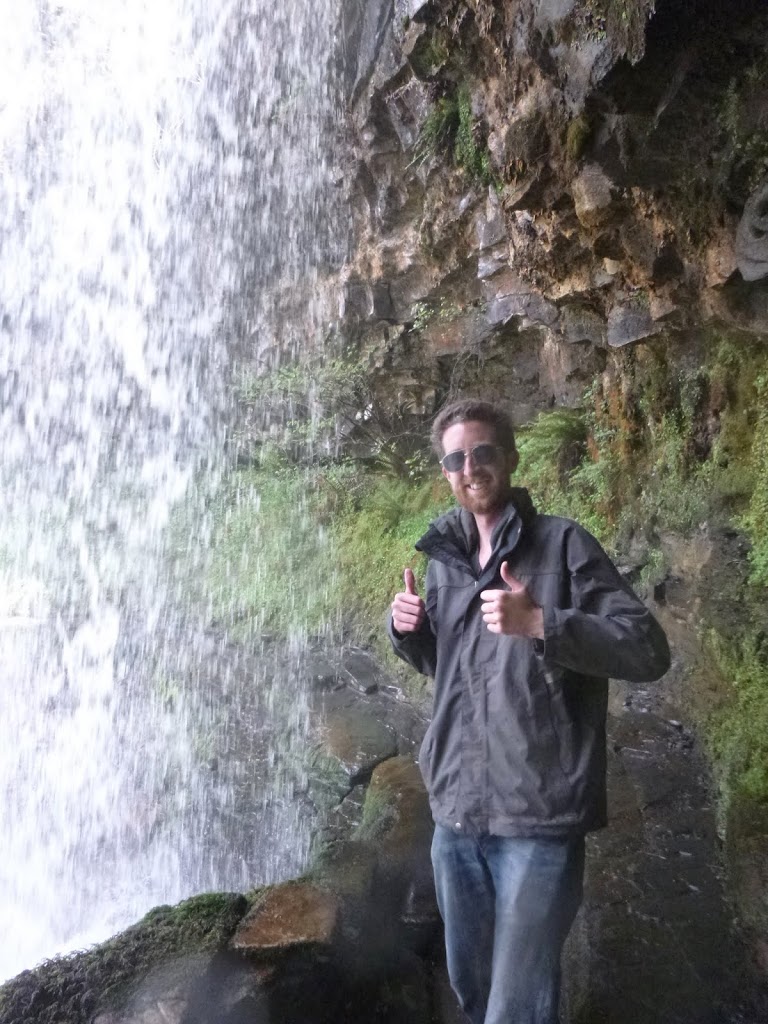 Underneath the overhang of one of the falls
It really is a small world. On the track I met a British lady and William, her chocolate Labrador – I met them on the Pen Y Fan hike the day before. I also had a chat with another couple + dog I crossed paths with a few times on the waterfall track. I shared my bogan pics with them (and used my photo-map!) Both these couples were absolutely lovely, English people getting out into the 'breathing spaces' of Britain. And it really feels that way out in Wales, it is paradise.
The previous day I'd seen a short-term role in Cirencester doing some elearning work. I applied, and during my walk I had been in discussions with the recruiter. Over the course of the four hour hike I got the job, pretty cool – I was clapping my hands in glee, leaping along the track, grinning ear to ear. This wee role is just for a month and every day I work is probably another 3 I can spend on the road. It means I don't have to stop yet, I can keep going – I can do Wales without fear of running out of money, and hopefully get up to Scotland.
Unfortunately it did mean the end of my little Wales foray, for now. When I got back to the van it was a two hour drive back to England, to Cirencester.
I got a wee taste of Wales in this leg, and I loved it. The people are awesome, the pub stop scheme is awesome, and I can't wait to get back.
But what tourers are able to get career-relevant short-term work while on the road to extend their trip? And so close to Wales, and with links to a former employer back in Wellington? It's just so lucky, I feel like the luckiest man in the world. I don't know how to react to being so lucky – am I supposed to do something useful for the world? Is someone looking out for me? It makes me wonder, it really does – 'you make your own luck' only goes so far, and it takes two to tango. Maybe I'm destined to found some kind of gypsy cult.