In my final weekend where I had to return to Cirencester, I drove east toward Blenheim Palace.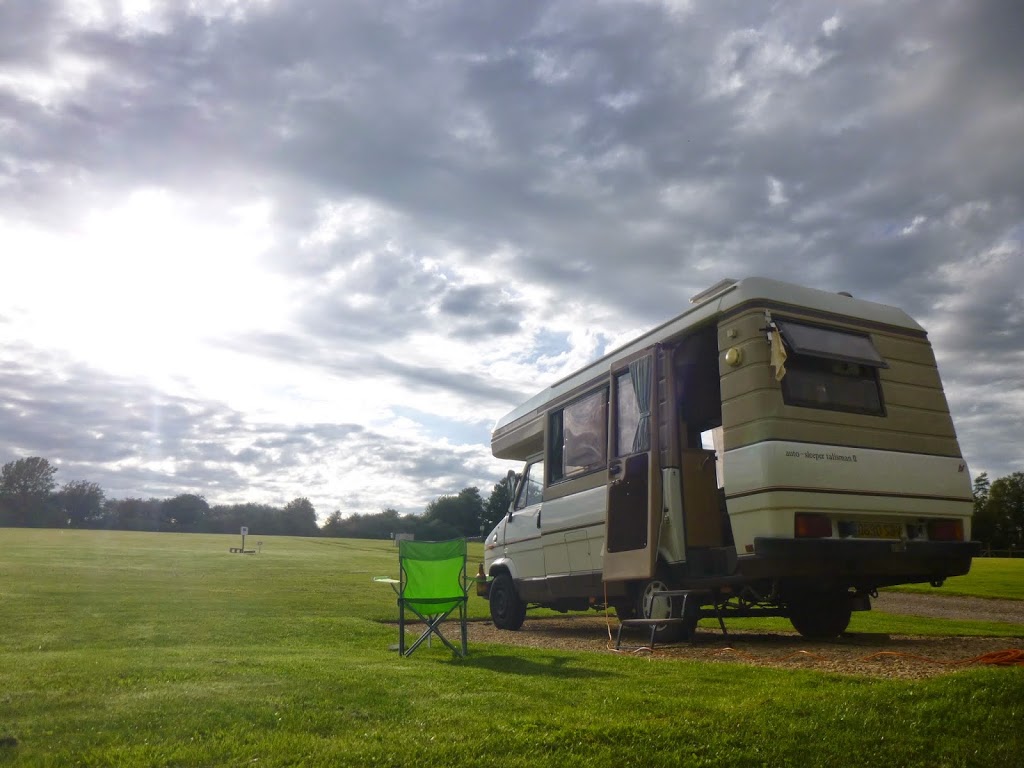 Mayfield Camp camp site outside Cirencester – not dicks.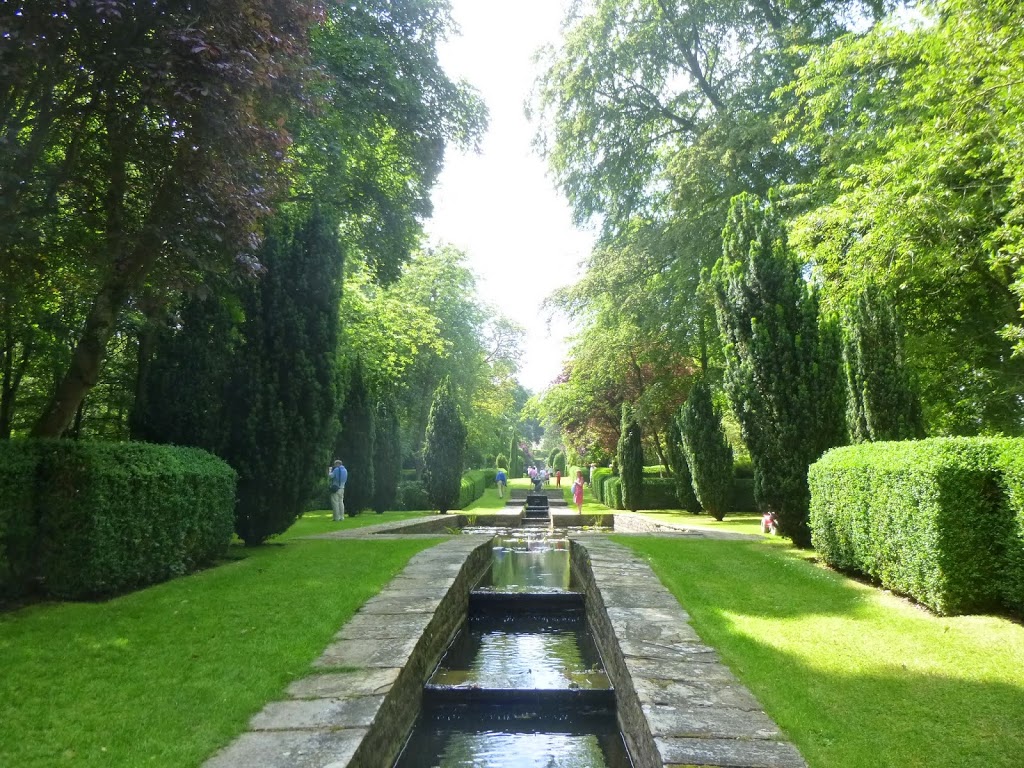 I went to Buscot Park at some point too – I forget when. But it was sometime around here!
En-route I stopped not far from Faringdon in a quiet free park to visit Waylands Smithy. Faringdon is where I picked up the van from – with my booked departure it felt a bit like going full circle, eventhough I have many months of amazing touring to come yet! But it was nice, being back on these roads. In March I was petrified, the van felt like a big monster, and I felt vulnerable and out of my depth. But returning three months later, it was striking to me how I felt in comparison. I remember my concern and worry, but so foreign they seemed to me now. I know I've grown and changed a lot the last few months in terms of having the balls to do things by myself, but experiencing some tangible demonstration of that was nice verification. Anyhow, I revisited White Horse Hill and the neighbouring ancient site of Waylands Smithy.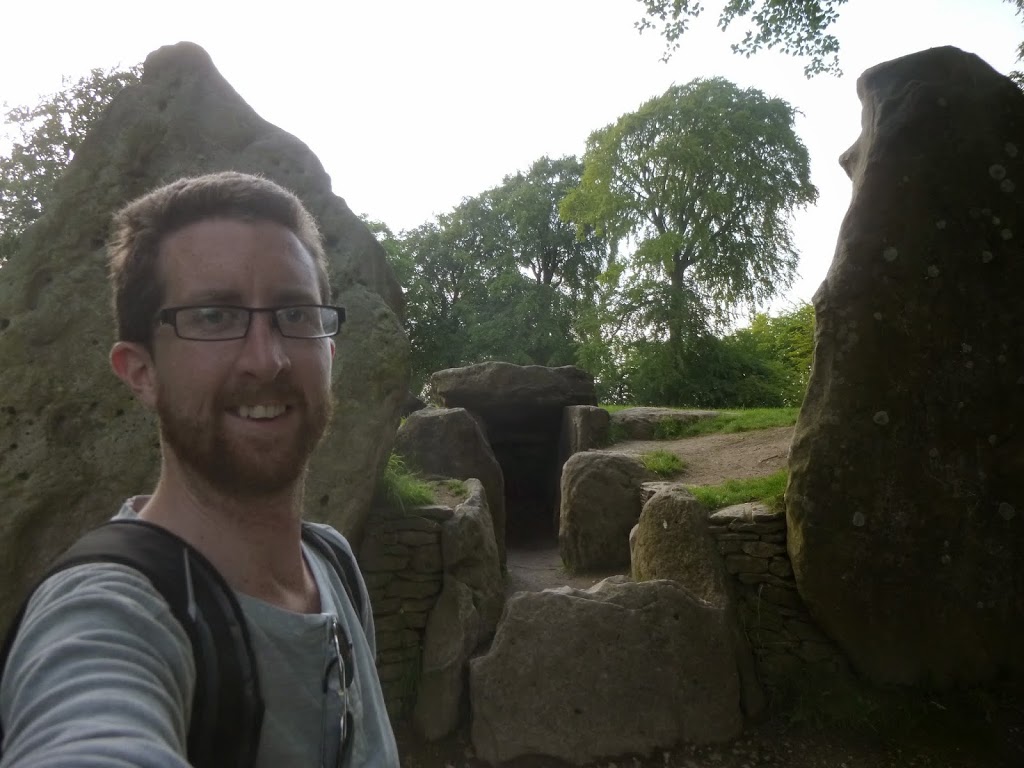 Waylands Smithy
Waylands Smithy is an ancient (3000BC) burial mound along the Ridgeway track. After enduring some hoons over the evening (last hoons I had at night were at Whitehorse Hill, first night!) in the morning I donned my running gear and ran the Ridgeway back to White Horse Hill. It was much nicer in June than in March! The fog had lifted and the view was spectacular. And I even saw the horse this time!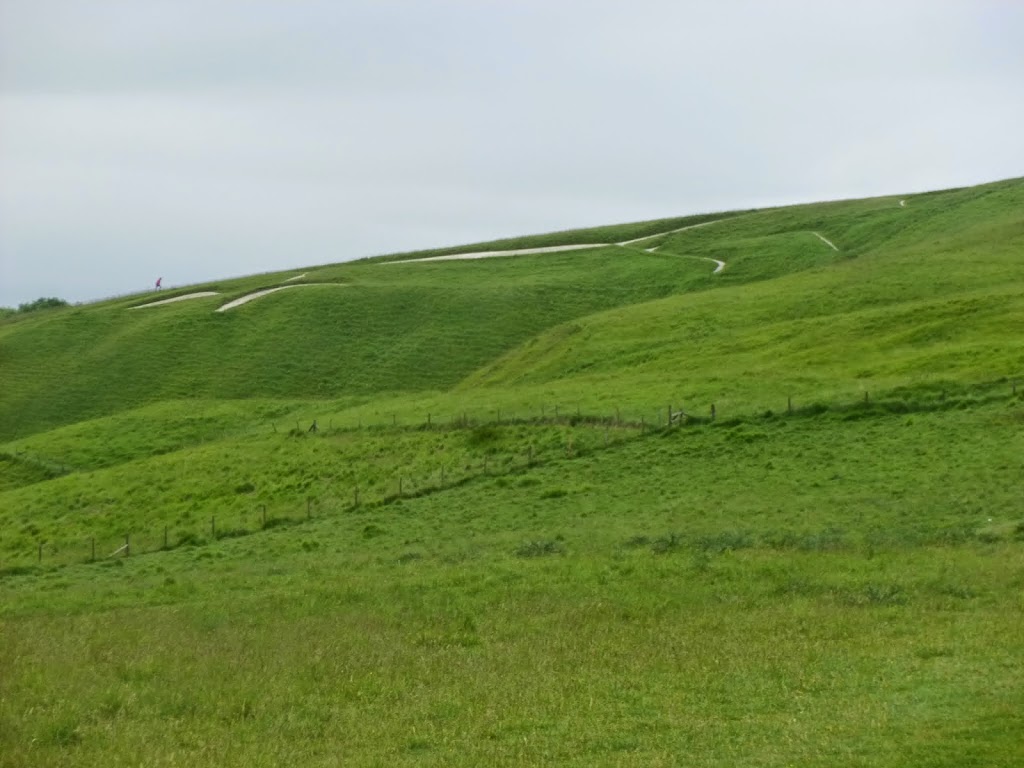 The White Horse – visible this time!
Returning from my run (let's be truthful – my stroll) it was still only 9am, and being a Sunday nothing was open. (Not sure if I've mentioned this, but in the UK Sunday trading has been curtailed for the big retailers. They're only allowed to open for six hours, most opting for 10am-4pm. I support it ideologically, but in practical terms it is a real pain!) Nearby was Ashcroft Estate, a small National Trust site – so I popped in there to kill some time and eat breakfast. The beautiful, gingerbread-esque Dutch styled manor is tenanted. A kindly dog walker told me the tenant is none other than the world-famous [NAME REDACTED]. Crazy!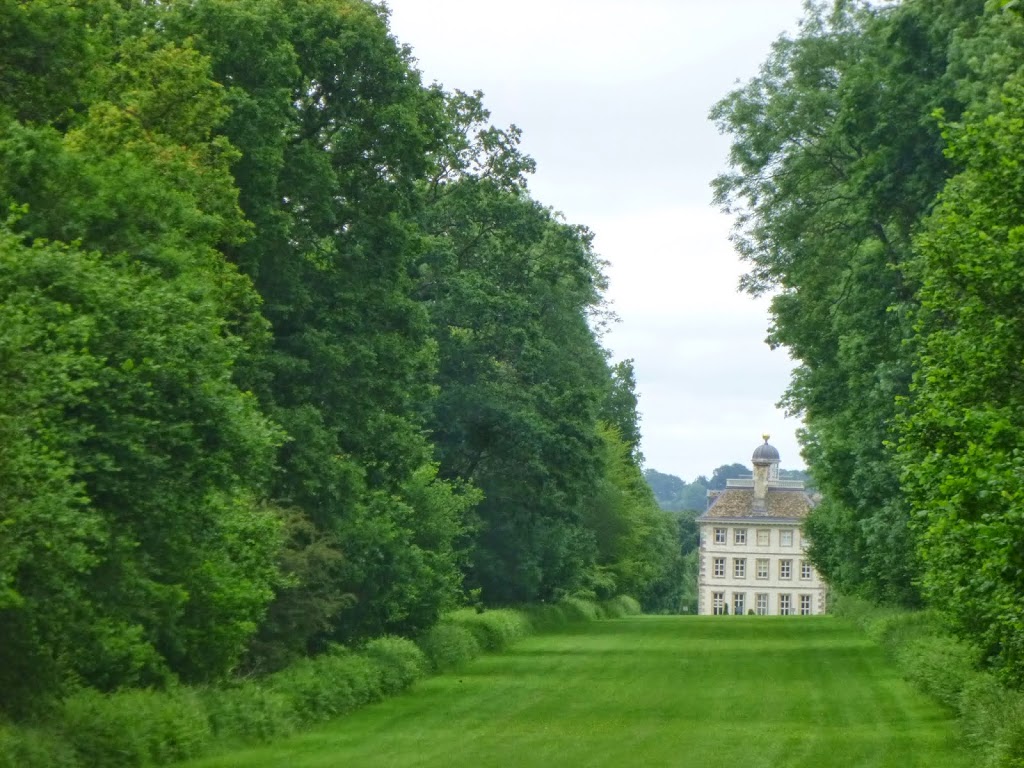 Ashcroft Estate, from afar!
Time sufficiently killed, I drove on to Blenheim Palace. Now I had ignored Blenheim Palace because on my touring map it wasn't an NT or English Heritage site, and the private manors I've seen have usually been a pointless expense. Nothing better than a site I could visit for free, but not free. So I was fortunate to have the Palace recommended to me as a must-see – because wow!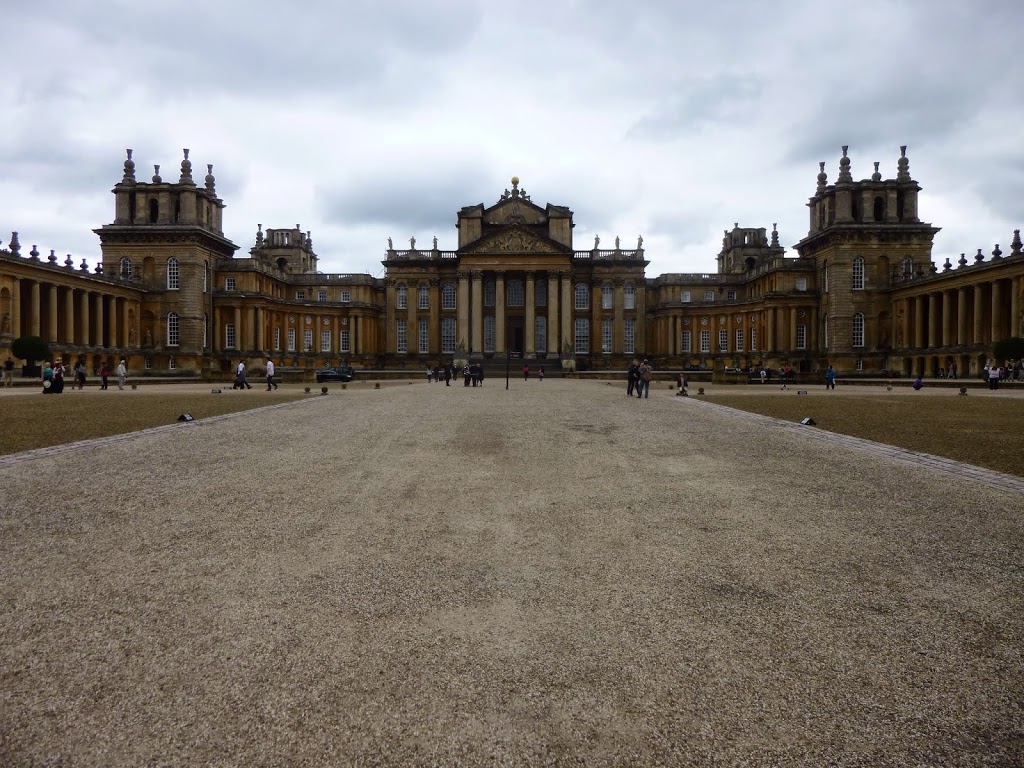 Blenheim Palace
In gratitude to the Duke of Marlborough's victory in battle in 1706(ish), the Government wrote the Duke a blank cheque for him to build himself a manor worthy of such a hero. Don't write a dude a blank cheque, and especially not with public funds! After 40 years, the palace is obscenely grandiose, imposing and jaw-droppingly stunning – even if the Duke didn't live to see it completed!
Unfortunately my excitement was tempered by arriving into a huge queue of visiting tourism traffic, and my UK eftpos card declining a measley £21! The SHAME! Fortunately I had enough cash, I can only imagine the face-burning humiliation of having to turn around my old van on the grass and slowly make my way through the arriving throngs. Though many people had no problem with that – no less than five visitors left after baulking at the excessive price of entry. Most were in gleaming Jaguars and the like, amusing. (Don't worry about me becoming destitute folks – the lack of UK funds was due to an administrative error in my daisy chain of invoices and timesheets over here).
Shame subsiding, I built myself an amazing sandwich and ate it in the Great Court while soaking up the ambience. I noticed a lot of oldies with bright polo shirts – turns out they were part of a 300ish person choir, there to sing WW1 era showtunes. I waited patiently for them to get cracking, which they did at the slothlike pace applicable to swarms of oldies hanging out with friends. I entertained myself watching a Mediterranean guard futilely trying to stop people 'walking on the gravel' – and once the choir got started it was quite something. A real time-warp.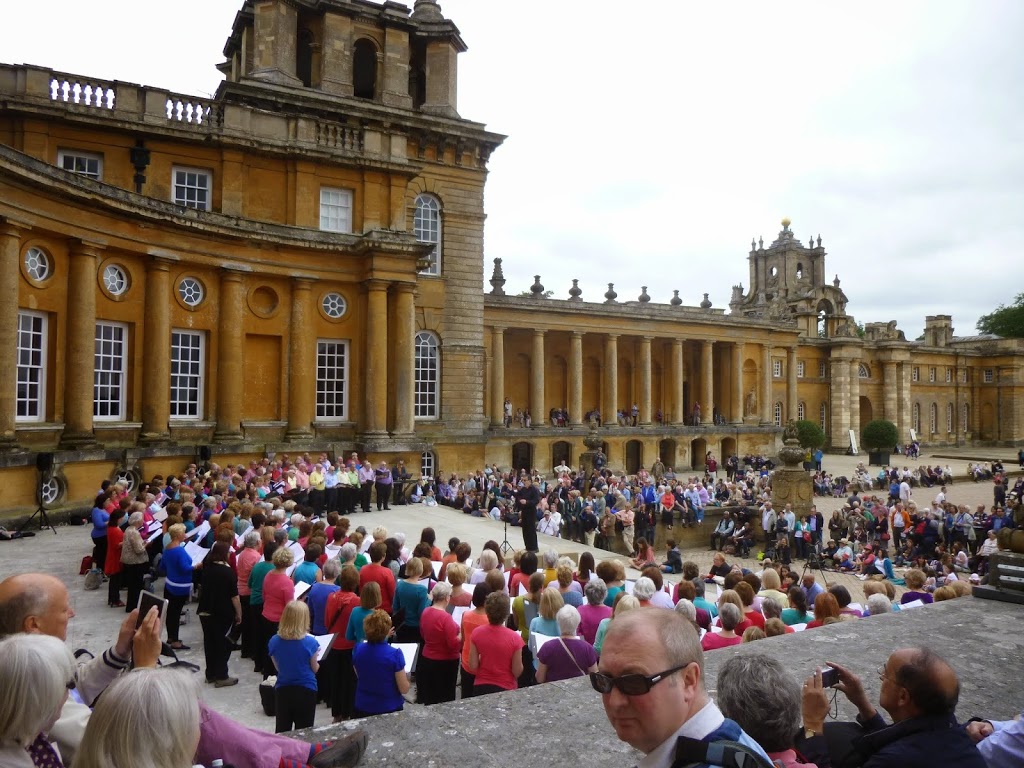 The Choir
Out the back they had an exhibition on Blenheim at War. I read about the 1700s battle and more about Winston Churchill, who was born on site. For some reason I always thought Winston Churchill was from humble beginnings – how wrong could I be?!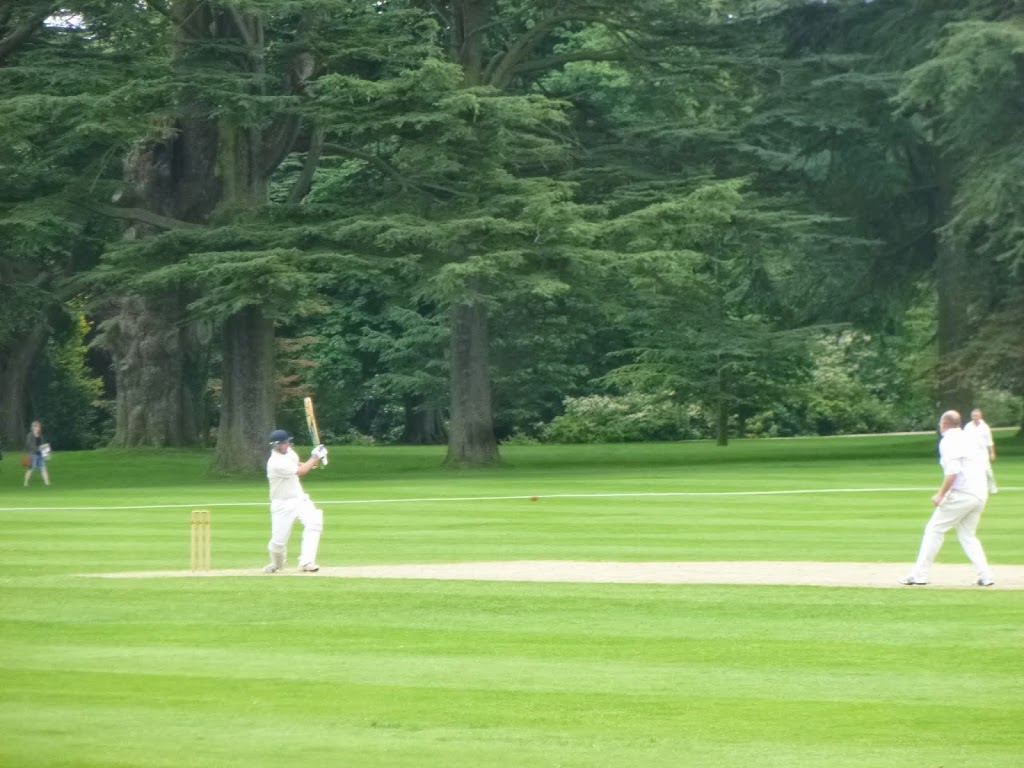 Enjoyed some amateur club cricket with the Palace behind.
Farewelling my work in Cirencester was a bit lousy. Even after a month I had grown attached! It's even harder when you're not sticking around – the chances of your paths crossing again being so much less likely. However I was whistling 'On the Road Again' all week, and farewell them I did – with a spring in my step, back on tour!
To kick off the tour, I jumped in the van after work and drove back down to Somerset, down to North Pletherton, to pick up my friend Kate whom I met in Bath a few weeks earlier. I brought some Marlborough Cab Sav to thank her folks for having me stay in their conservatory for the evening – my first New Zealand wine since I left!
In the morning I practised the travellers virtues of tolerance and patience while Kate got her shit together for the road ahead. We were to head to Weston Super Mare to experience the Weston Air Festival, and as the time ticked by I grew a little concerned that we wouldn't find a parking space! These fears turned out to be unfounded, as we found a motorhome specific parking space with a high price tag but no hassle. £10 was a minuscule price for such an amazing airshow!
The show is a recruitment and fundraising drive for the RAF and along the esplanade were plenty of stalls and that. We enjoyed ourselves strolling around, seeing the little mini tanks on the beach, the food, the carnie rides, and the freakshow that turned out for the show. It was so hot and we were tired, so we made the most of motorhome travel and retired back to the van in preparation for the show.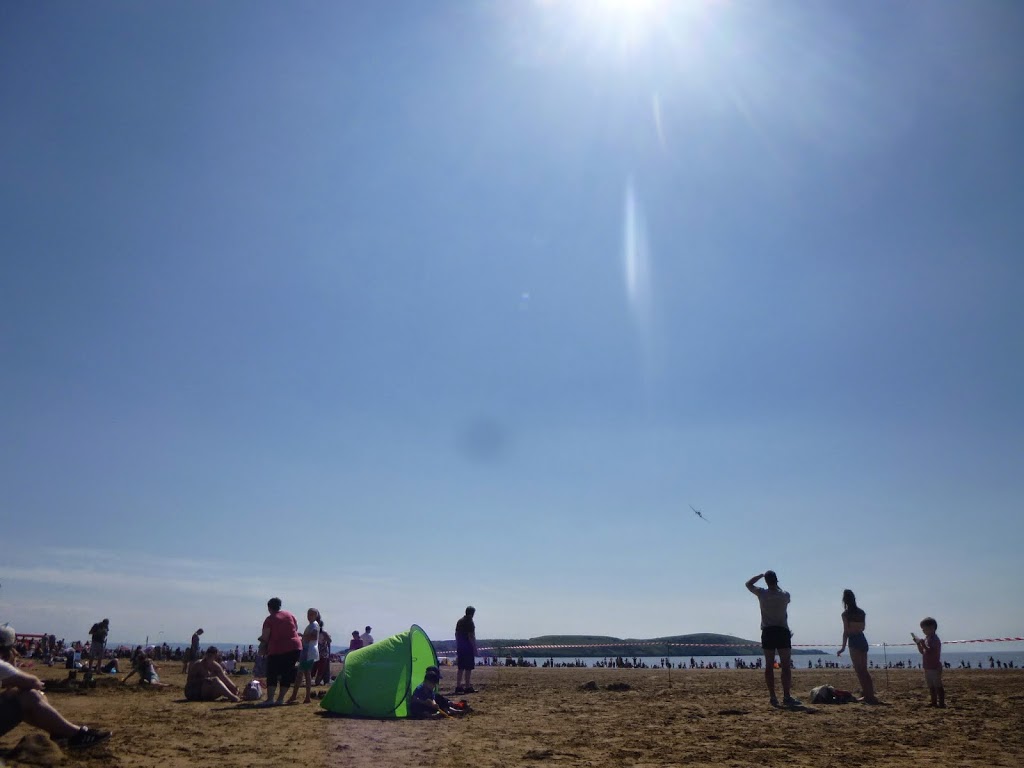 An airshow from the beach – beat that!
Things kicked off – literally – with the ace paratroopers' formation floating in and one of them kicking an 80-year old spectator in the face. (That happened on the Sunday, not the Saturday, but still worth mentioning). That accident aside (and it is a sad accident!) they were amazing, and once again my interest in paragliding was heightened.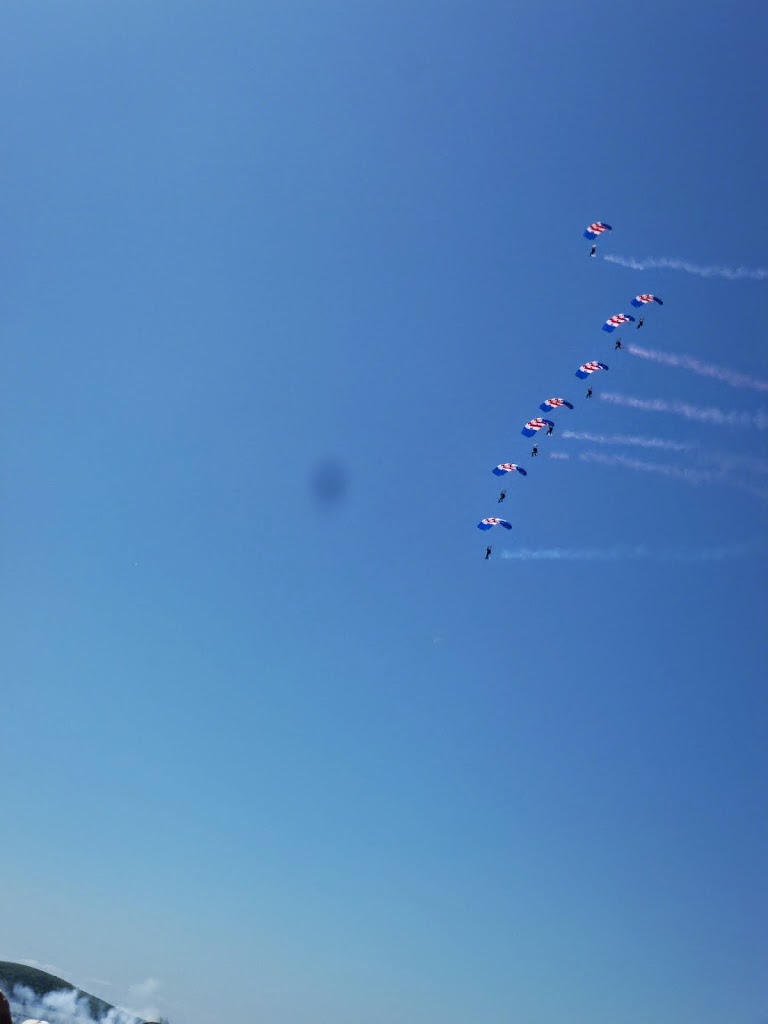 Amazing close formation flying – I think it was their speed-corkscrew landing that forced the face-kick
I was surprised to see the airshow standards were quite similar to those in New Zealand, with the Pitt Special being absolutely mindblowing as usual. But the Spitfire and Hurricane doing the WW2 flyby were all the more meaningful over English soil and it was pretty special to be part of the English crowd watching. And when Sally B flew by, the B17 which played the role of Memphis Belle, I was moved. A special moment!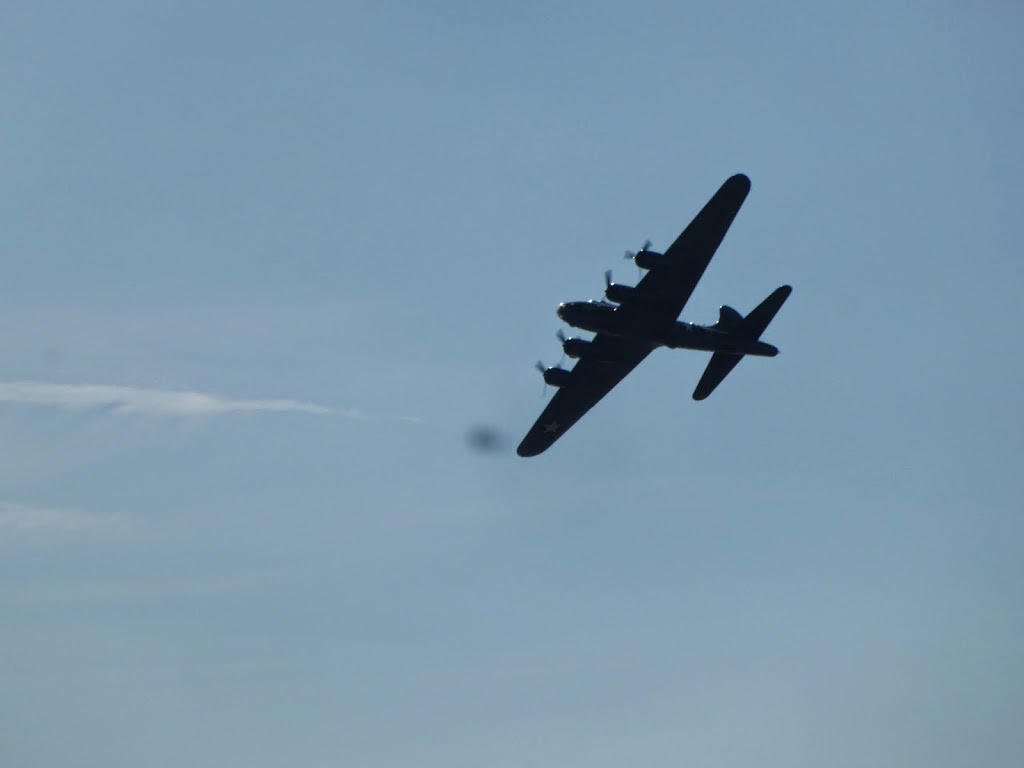 Sally B, the B17
The Red Arrows also made a stunning appearance, swooping in with Red, White and Blue smoke. The show they put on was amazing – my mind was blown by their accuracy in three dimensions! Absolutely stunning, and again it was quite special to see with an English crowd. Kate hadn't been to an airshow before and was having her mind blown by some of the mad moves – like a child her wonder was infectious and I couldn't help but be caught up in it!
After the airshow we headed off back to Wales. It's a hell of a trip so far – more on that later.
I'm thoroughly enjoying travelling with Kate. You can do these things by yourself, and that's awesome – but doing it with a friend, someone to share it all with – in many respects it's a burden halved, and it feels like bliss.