"A wise man should have money in his head, but not in his heart."
– Jonathan Swift
I (and more recently Kate and I) have been rolling for six months now – so I thought it'd be good to do a post about our spend. Pulling all this data together will help me plan for future trips, but I hope it will inspire others to see it isn't out of reach if you are inclined to do similar!
I didn't keep a budget whatsoever on this trip – I just smashed my mortgage to bits having a blast. But thanks to technology I can retrospectively construct one by downloading my UK banking history and categorising the data. So here it is – total tour costs, mid March to the end of September: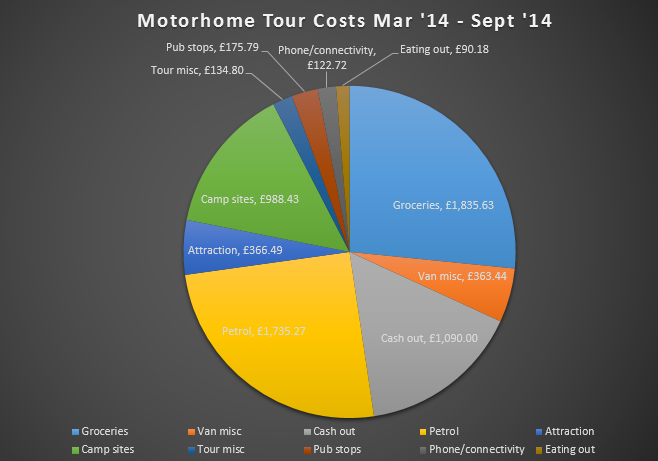 Doing a monthly breakdown was fun – you can see a few themes: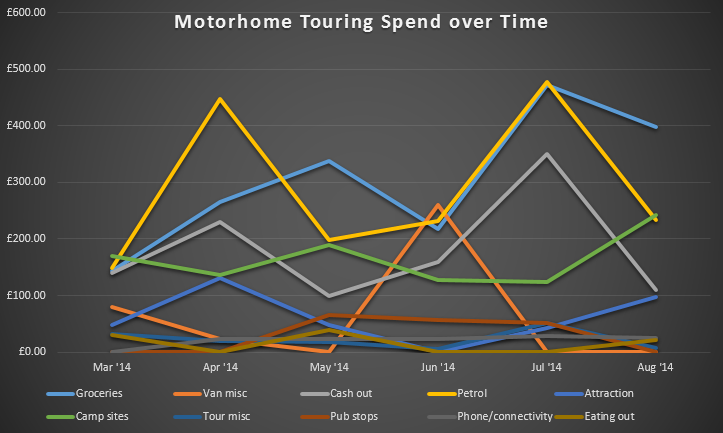 The Camp Sites green line went down as I got more in to free camping – and there's a kicker in Van Misc where I had to pay for unreasonably shitty insurance coverage, otherwise the spend there was set up costs.
Using cash has been a shame for the stats! I spent it on pints and burgers, cheap attractions, parking, ice creams, gas bottles and other bits and pieces. The specifics are lost forever, which is a bit annoying now.
The other bugger has been alcohol on the grocery docket – no way to track that. But we've been eating and drinking like alcoholic monarchy, and this has been our spend.
Interestingly the cost of travelling alone (March – June) is about the same as travelling for two – sans the grocery budget!
Not in sexy graph form, but here are the totals:
March: £792.97
April: £1,274.98
May: £1,021.36
June: £1,081.91
July: £1,597.60
August: £1,133.93
Total for six months touring: £6,902.75
So what can one take from this? Six months of exploring the United Kingdom, boozing up a storm and missing nothing: roughly $14,000 NZD. Though I travelled alone four months of that, the trend suggests it's about the same for two, so if you consider doing this with a friend or partner, halve that.
Based off my expenditure, for a six month jaunt for two around these fascinating isles, you're looking at about $8,000 NZD per person ($1,333 per month, all inclusive!) Add up the cost of your flat over six months and if this kind of thing rattles your dags – get in to it!
…I also know a guy with a van you could borrow…

UPDATE: A £711 MOT was had at the end of this – service, tyres, headlight, wipers, tow bar, both rear brakes. Keep a couple of bucks in the back pocket for unforeseen emergencies!