Meetup.com is a great website for those with no friends. It's a hub for interest groups, but in London there are a tonne more than back home! There's pretty much a meetup group for anything you can think of. I joined the 'Day trips from London' group a while ago. Yesterday we took a coach to the city of Canterbury, and the sea side town of Margate.
The coach driver was a right knob. First thing he said was 'Listen to me or you might die' then told someone to shut up, straight up. Way to ruin your tip! I couldn't tell if he was being super dead-pan, maybe he was a comedy genius.
Anyway, ended up sitting with a lovely lady and we gassed away the 90 minutes to Canterbury talking crap. Turns out she's well-hard into the theatre and that, and is going to go to the theatre with me and see a show so I don't have to go on my lonesome. Theatre friend! What the meetup day trip group has over tourism operators is that most of the people are legitimate Londoners, not a bunch of tourists who don't speak English, so from my limited experience it's been much more social at the meetup things.
Canterbury has two industries, students and tourists. It's quite weird really – cute little cobbled streets and stuff and some unfortunately boring main streets due to WWII bombings. Unlike Bath the other week, Canterbury has developed naturally with no 'style' – it's got historic buildings from all eras, it's a real natural hodge-podge. I liked that, it had more character than Bath because of it's more cobbled together development, nothing staying in similar styles.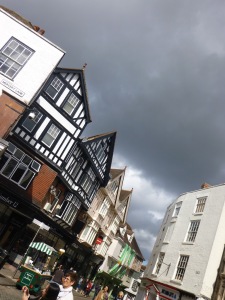 Cool sky and some little buildings in Canterbury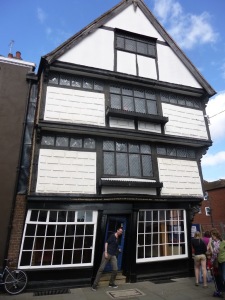 Wacky sideways house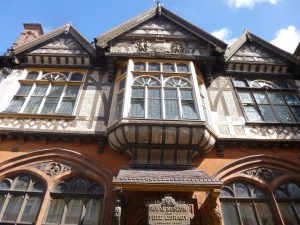 Library donated by Melbourne Gold Tycoon Beanie, 500 styles of building in one.
It's most famous for its Cathedral, and the murder of Archbishop Thomas Becket. Messy!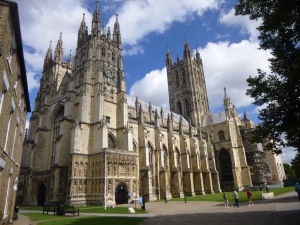 Canterbury Cathedral
We didn't go in, because it's a bit shit. Took a little history boat cruise along a little roman canal, dude was just loaded with puns. Was OK, probably could have spent the time more productively, like going into the cathedral, but yes. Decisions were made.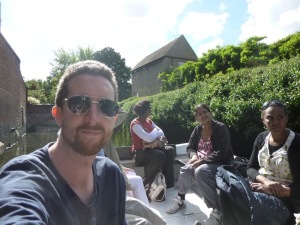 Oarsome time in the canal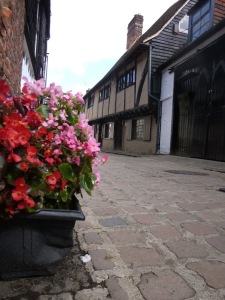 Then it was back on the coach and off to the seaside town of Margate. Margate seemed pretty quiet and maybe has seen more busy days, but that quiet was quite nice and peaceful.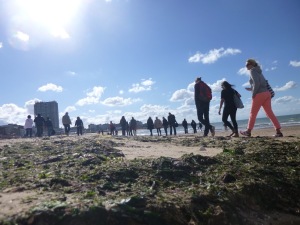 A beaching time at a British beach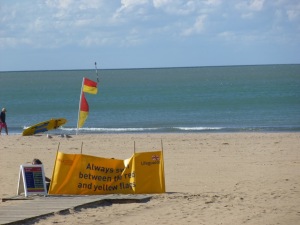 After a quick stroll along the beach, had some fish and chips by the beach and went to a couple of art galleries. The Turner Contemporary Gallery had an exhibition on curiosity, and much to my surprise, I actually really enjoyed it. Curious. A fucking art gallery exhibition. You've changed man.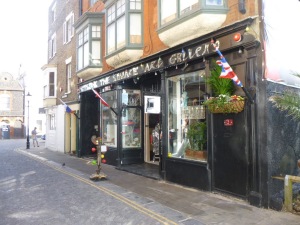 The Outside the Square gallery. Little Esch dog has some work with them so I popped in to see, but unfortunately I couldn't find any currently being displayed. Poos 🙁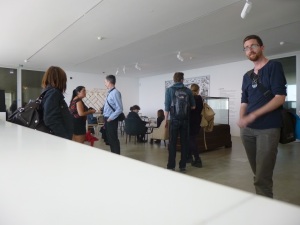 Appreciating art and shit.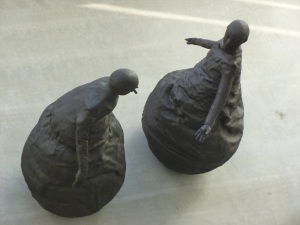 Beanbag fight.
All in all a lovely day out. Arriving back in London around 8pm, I had the good fortune of being dropped off 10 minutes away from Binny's 30th birthday mexican meal during his and Holly's honeymoon, so I popped over there for dinner and a cocktail, was great to see them! So nice seeing friends, old and new.
In other more domestic news, today I have taken new keys to a place in Golders Green here in London's north. It's a huge room in a four bedroom 3rd storey apartment with wee balcony, with cool sounding long-serving tenants, and a really lovely creative landlord who lives upstairs in another shared apartment. She finds like-minded professionals for the places and it really did just feel great there. The area is really Jewish so I'm going to have to watch more Curb Your Enthusiasm to fit in. It's pretty close to a big park, Hampstead Heath, so that's awesome too. I'm really happy with it, I feel really light now with the weight of where I am going to live being taken off, and I think I've done pretty well for myself there. Chuffed as! So, here's to leaving my slumlord douchebag in this crappy area, and on to enjoying London without impending homeless doom!
Oh, did I mention I tried out a 'speedflatmating' evening the other day? It turned out to be a poorly conceived idea in terms of finding flats, but I did talk to some interesting guys who were also in my dire accommodation situation. I'm catching up with one of them, German dude, for a beer later this week, and I should catch up with the Polish dude too. Out of necessity I've been quite the extrovert this month, and I've got to say I'm really enjoying talking to these new people, making friends and hearing about their experiences. I AM HAVING SUCH A GOOD TIME!