Switzerland
After our time in Leukerbad we headed north to
Interlaken
. On the other side of high mountain ranges, to get there we had two options – a circuitous route around the mountains, or straight through on a train. The train sounded way more fun, so we drove on a drive-on train carriage, parked up, and 15 minutes later arrived on the other side of the mountain.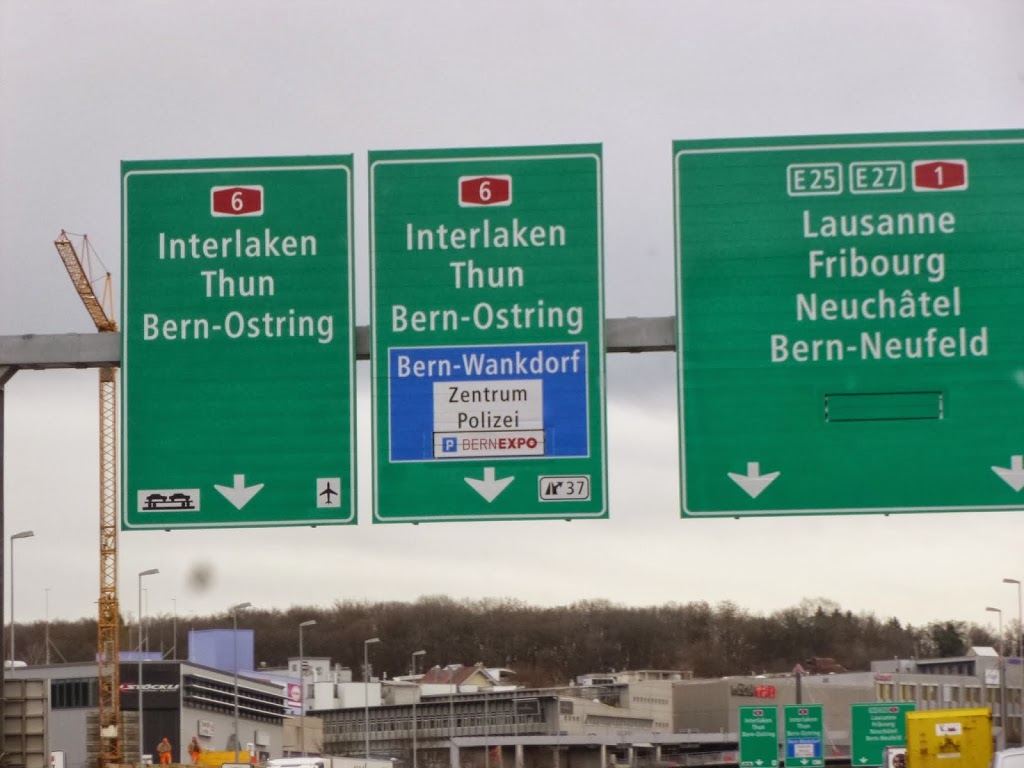 Wankdorf. HA!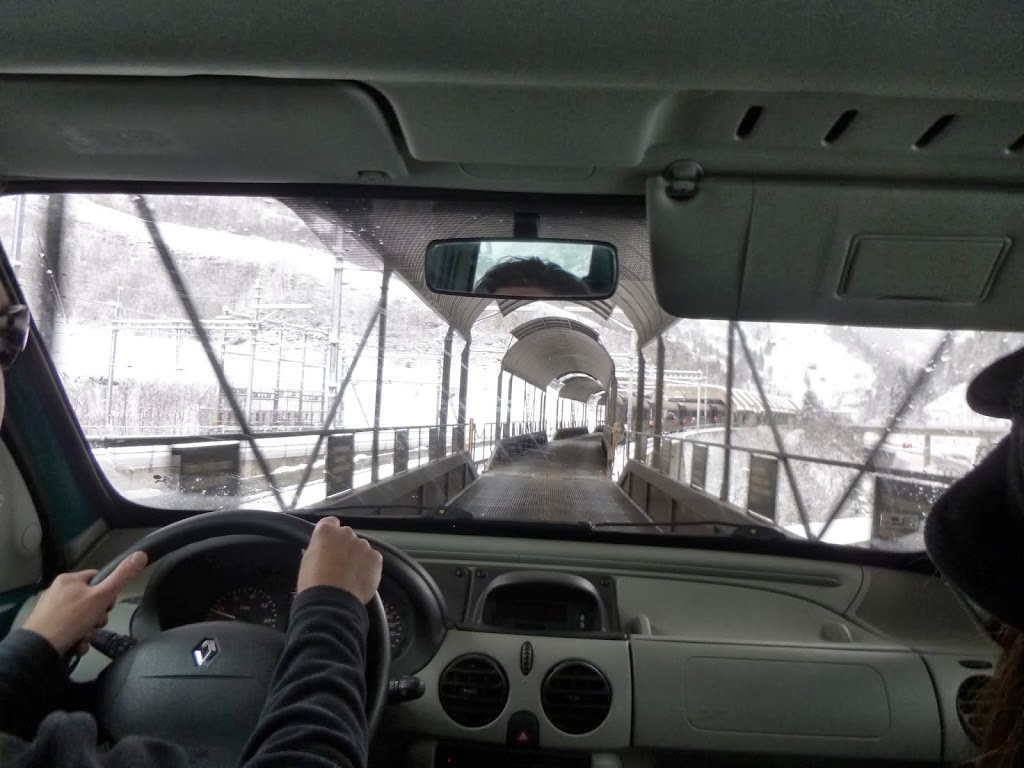 Loading up on the train carriage
The road to Interlaken takes you along the shore of lake Thunersee and the view is something else. (Interlaken is between two lakes, go figure!) Driving around, it's a gorgeous town, much loved by tourists and lavished with their tourist dollars. Our accomodation for the next two nights was with Ennike and her family up at
Beatenberg
, a town sitting above the lake. Dave and Esch know Ennike and her family from 2002, when they painted murals on the chalet and also in the spa room. It was great to see their murals in person!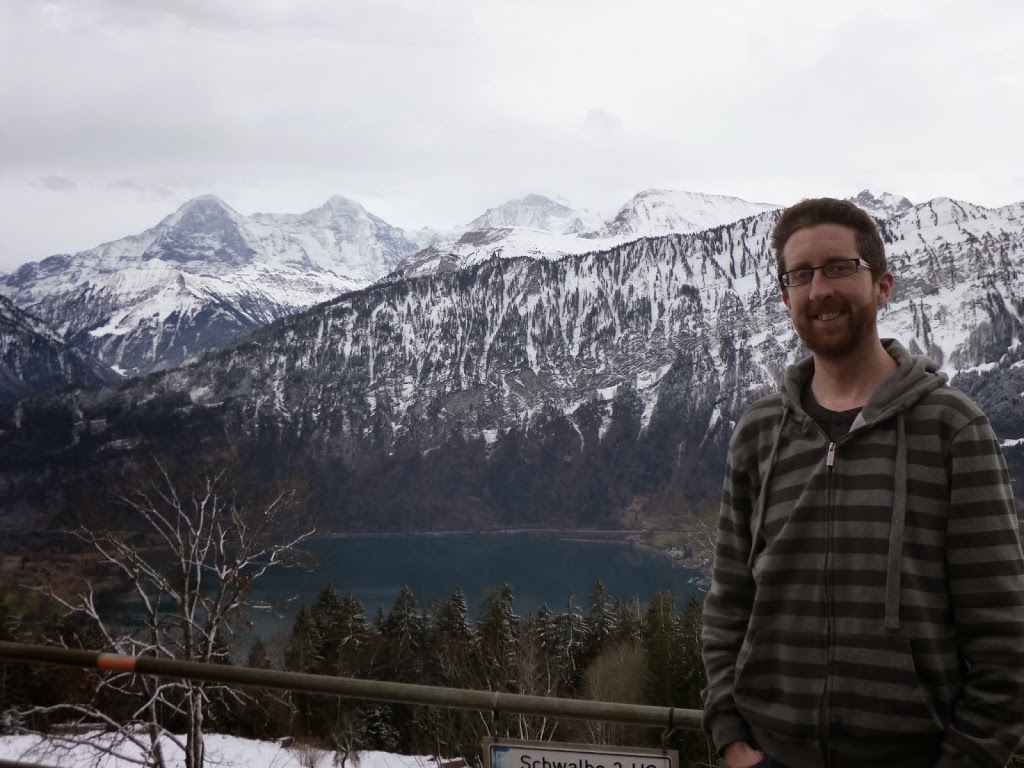 Just the view from our humble chalet.
Luck was with us, as that evening Ennike was taking her employees on a guided tour of the WW2 fort built to defend the area from a German invasion, just at the end of their road! The
Artilleriewerk Waldbrand
. She had room in her party for us to tag along. Of course, everyone spoke German; so aside from hearing 'New Zealand' occasionally when we were being discussed, we were a bit out of the loop! Ennike translated the key points for us, and Dave and I enjoyed exploring the fortress – a much more serious installation than those we've visited in New Zealand!
It was quite a valuable experience for me actually, being in a non-tourist group without any English being spoken. All those irritating things foreigners do during presentations and things, that was us. Talking to each other at inappropriate times, wandering off, not doing what we're told – that was so us. When I find the tables turned in future I shall be more understanding and give em a little love – you don't need to speak the language to understand a smile and a pat on the back.
In the fortress there was a John Deere and a Porche 911 along with all the military equipment – just shows how ahead of the game the Swiss were during WW2.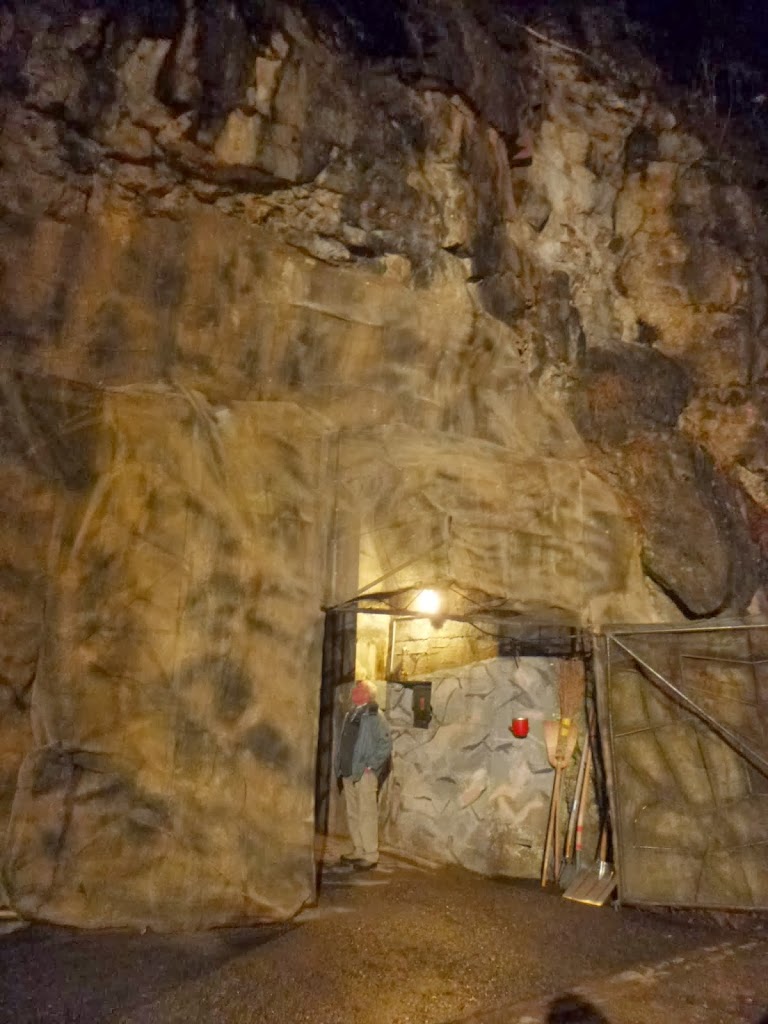 The camouflage netting for the entrance was very effective!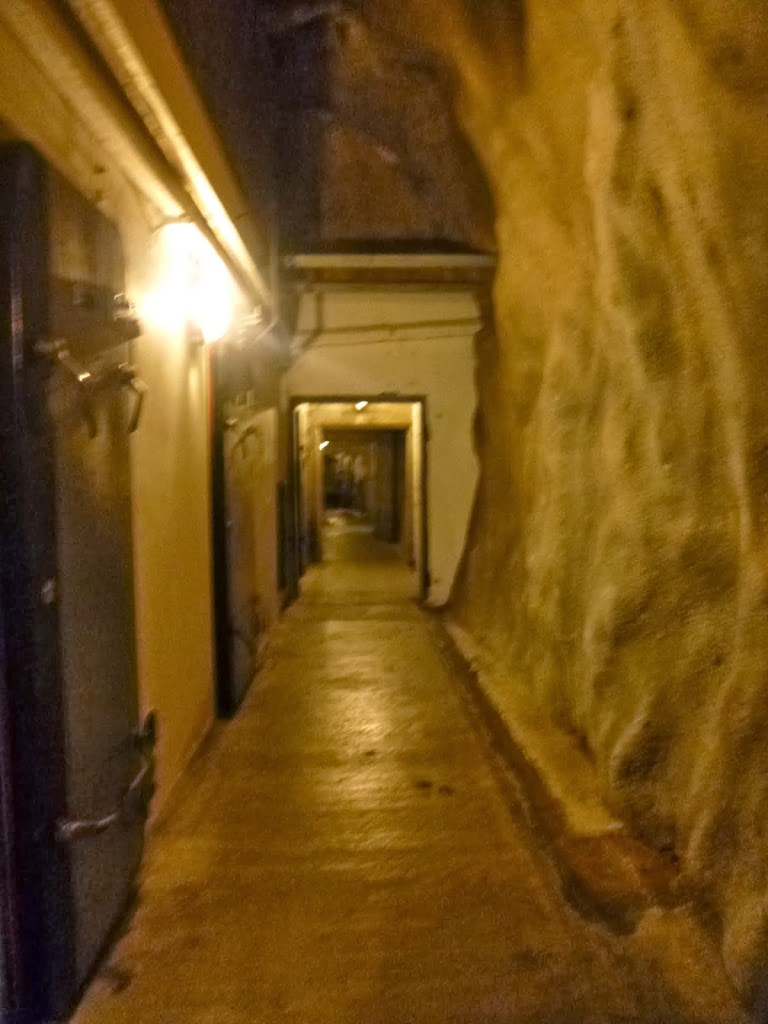 I wasn't clear if we were allowed to take photos.
The next morning we wanted to go to all new heights – we wanted to go up the mountains.
The
Jungfraujoch
is the 'top of europe', and that's why all the tourists come to Interlaken – that and buying Rollex watches apparently. Between two huge peaks, on this little nub (The Sphinx), a research station was built (1937). A railroad, which began construction in 1896, connects the Sphinx to the lower mountain. The train station is at 3,500 metres, it's BARKING. There's a toothed rail for the little engines to pull themselves up, and 30 people died putting it all together.
To get up there you change trains a couple of times. There's the regular toothed train, packed with skiers and snowboarders, which knocks off quite a way up – then you get on the jungfraujoch train. It's an amazing engineering undertaking, it's absolutely mind blowing and ridiculous.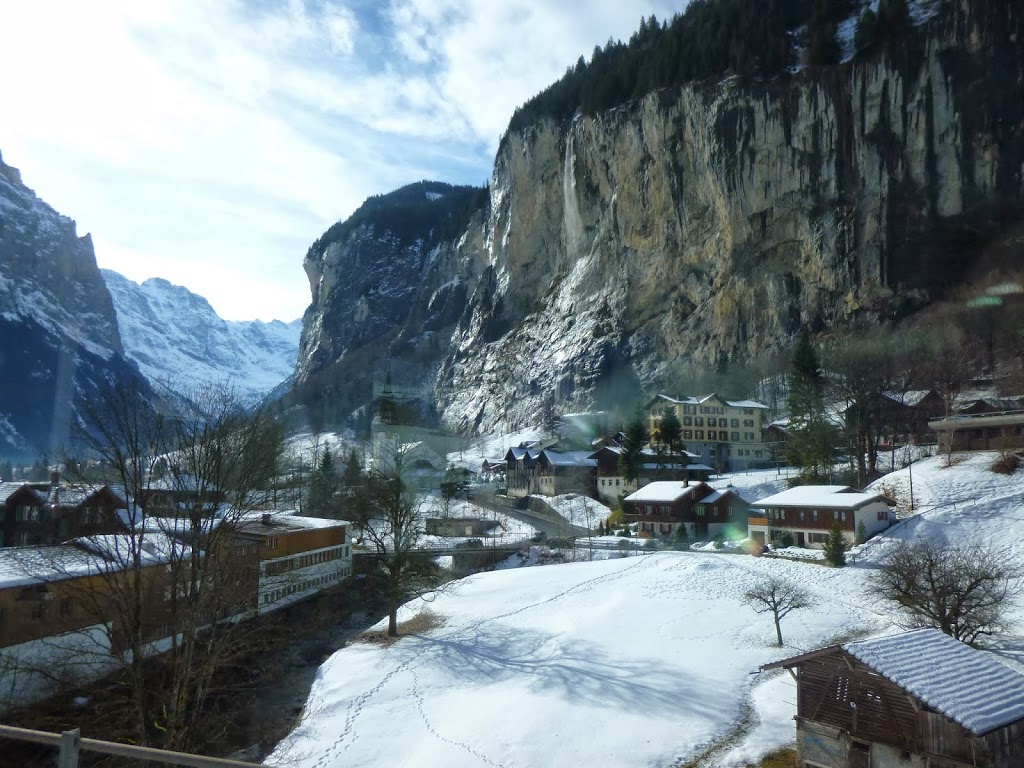 The view from our first train up the mountains.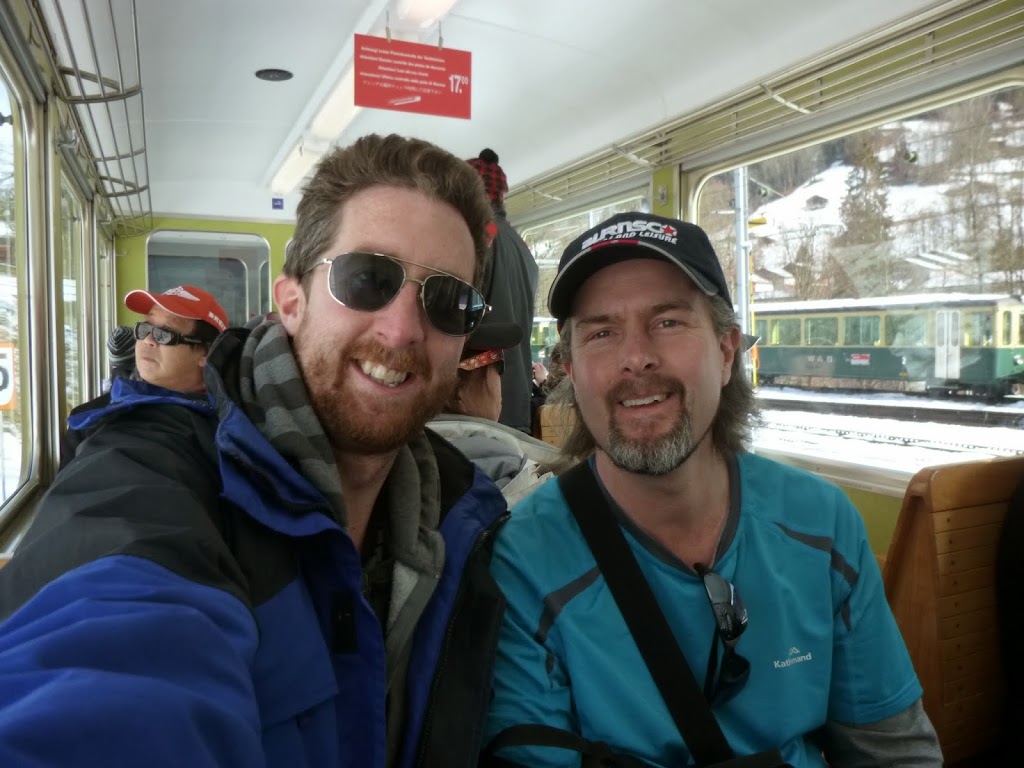 We weren't trained for this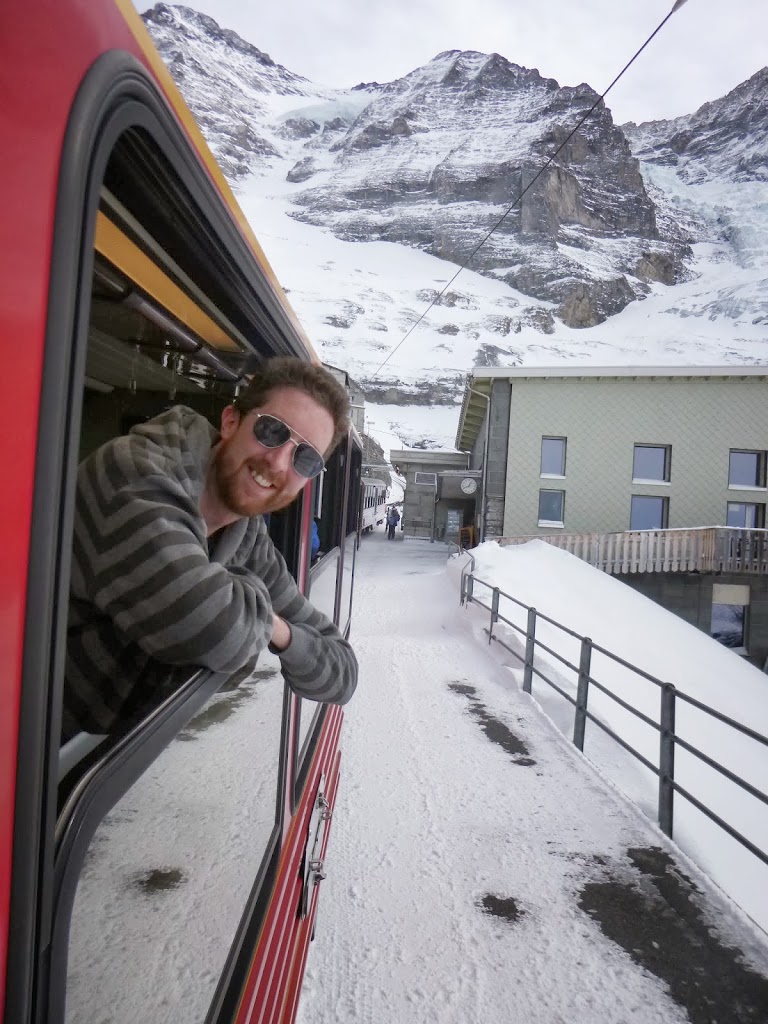 Totally off the rails on Train number 2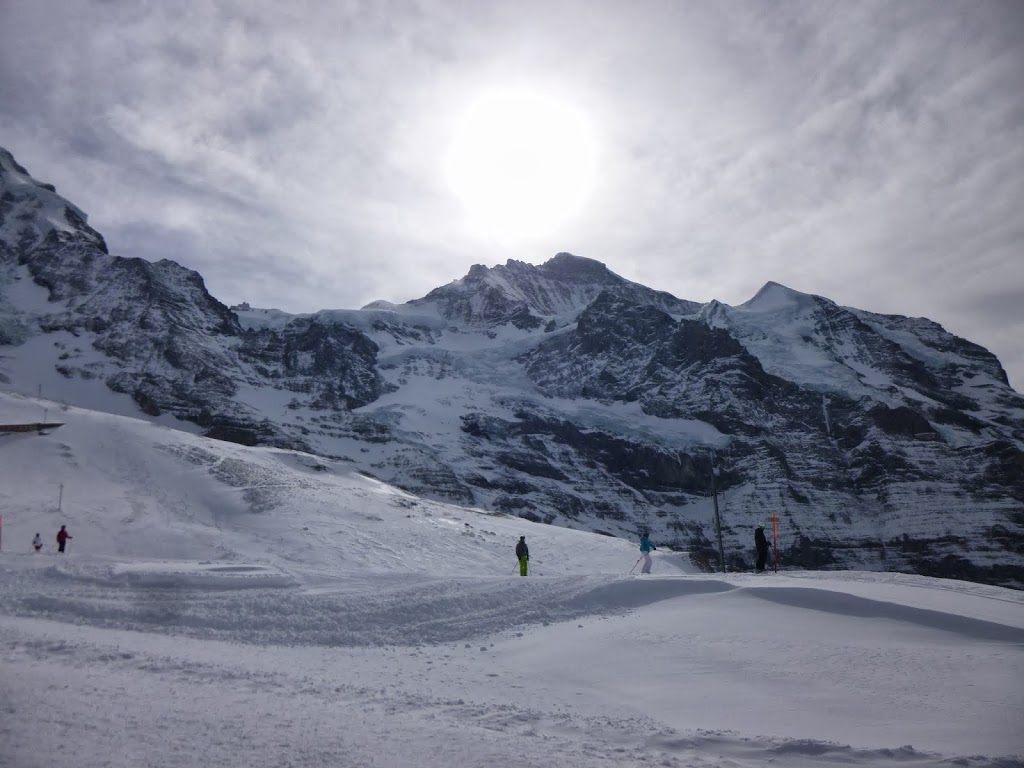 We developed ski-envy.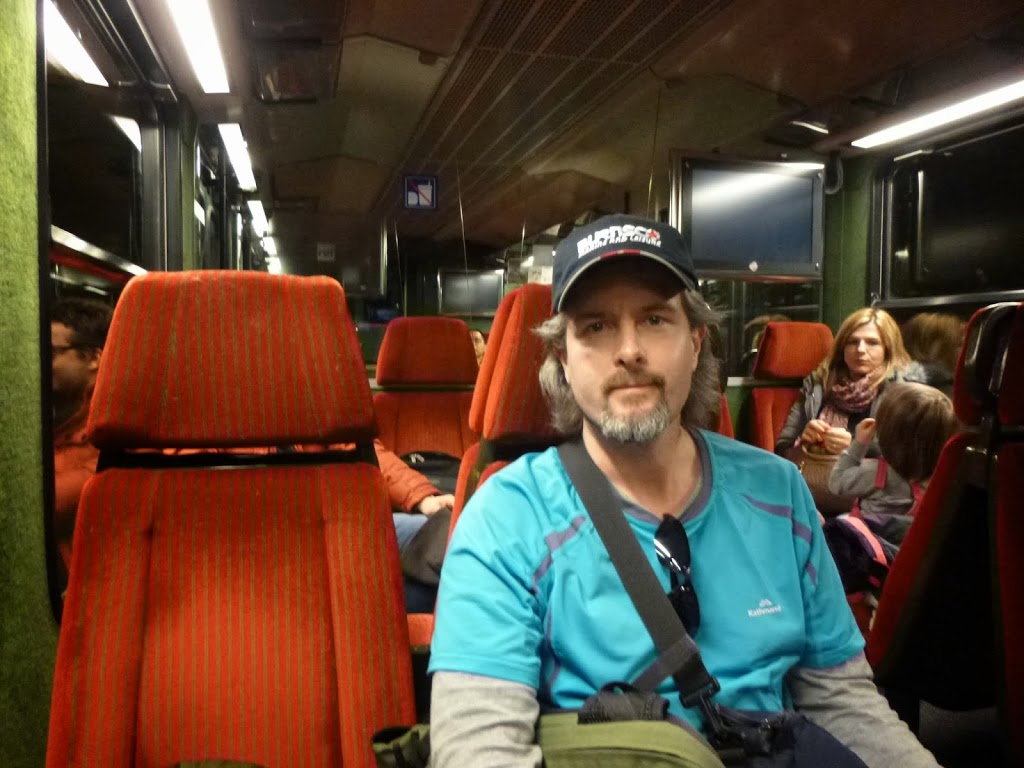 Train number 3.
There's a bunch of stuff to do at the complex at the top of the mountain. It's very touristy, they have a Bollywood restaurant, which was themed to appeal to the Indian tourism market. Now the Chinese seem to be the new mass tourist group, it's likely this shall be changed to something like the Jackie Chan Restaurant. HOW CYNICAL. But yes, there is an ice palace, a 360 panorama cinema thing (a substitute for a real view if your tour travels on a cloudy day), and some other stuff. The real kicker are the views, we were lucky with our lack of cloud cover and standing above it all, it's pretty spectacular.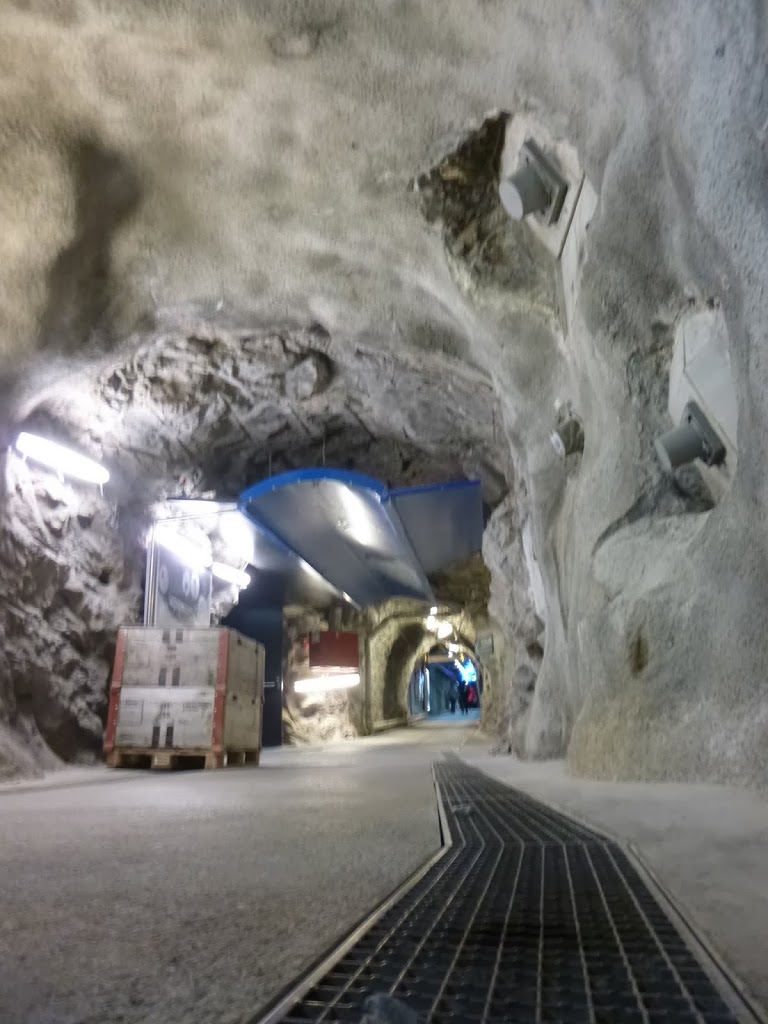 Part of the complex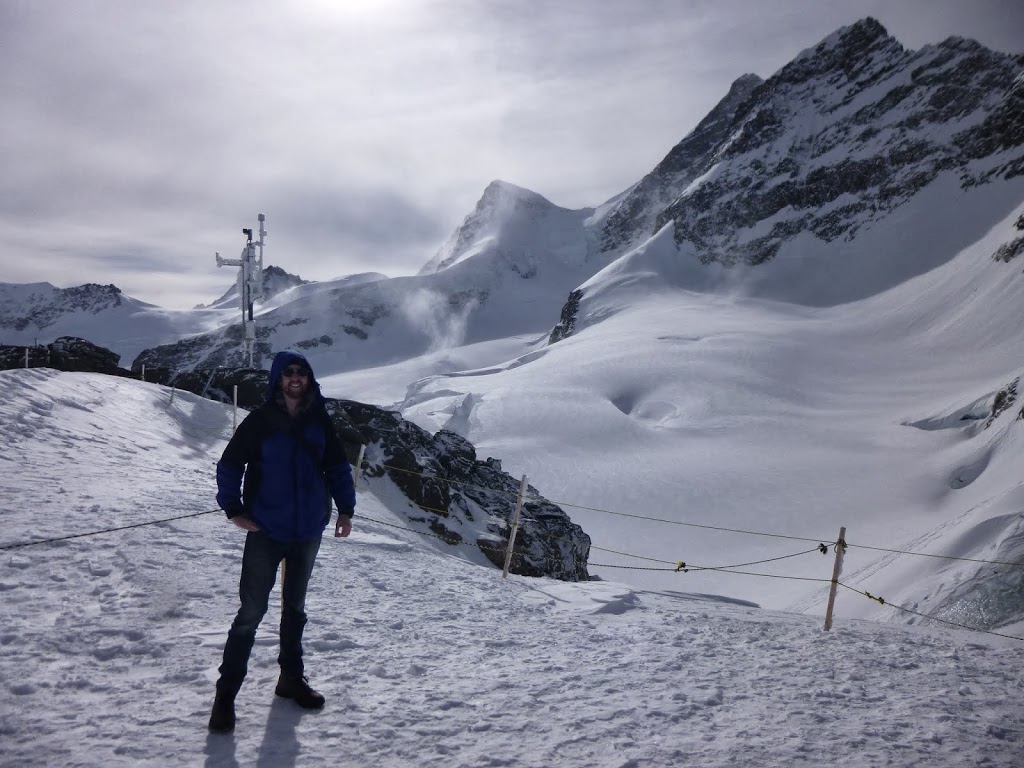 Standing on 'the plateau'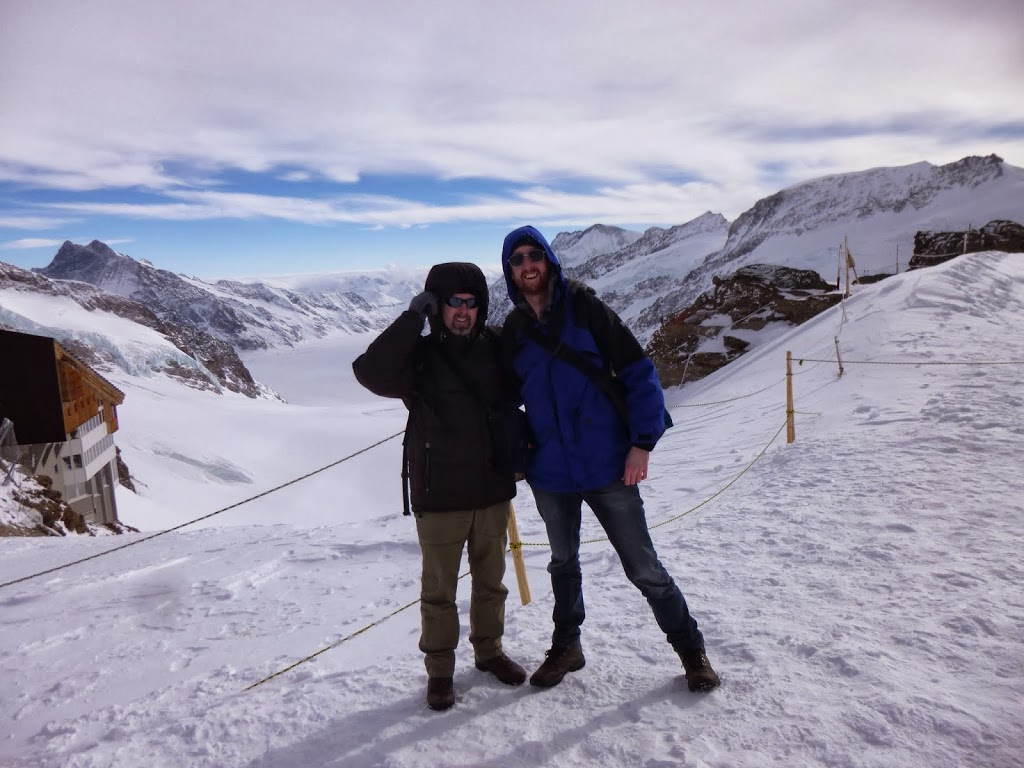 You ask a guy for one of us with the view…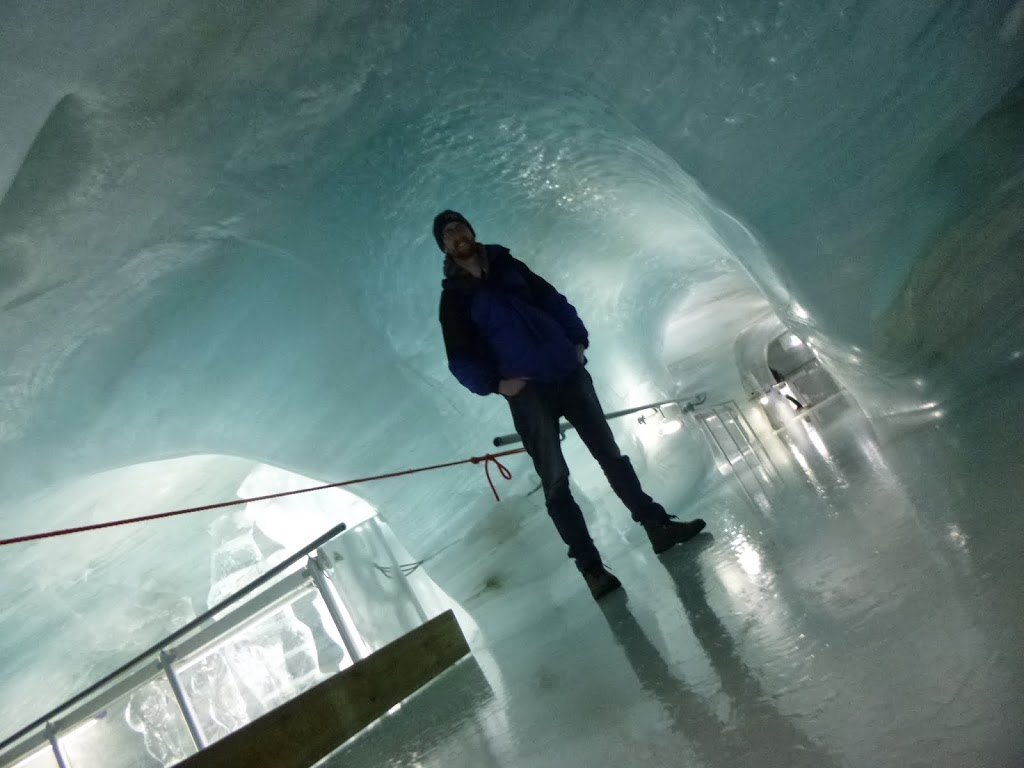 Ice palace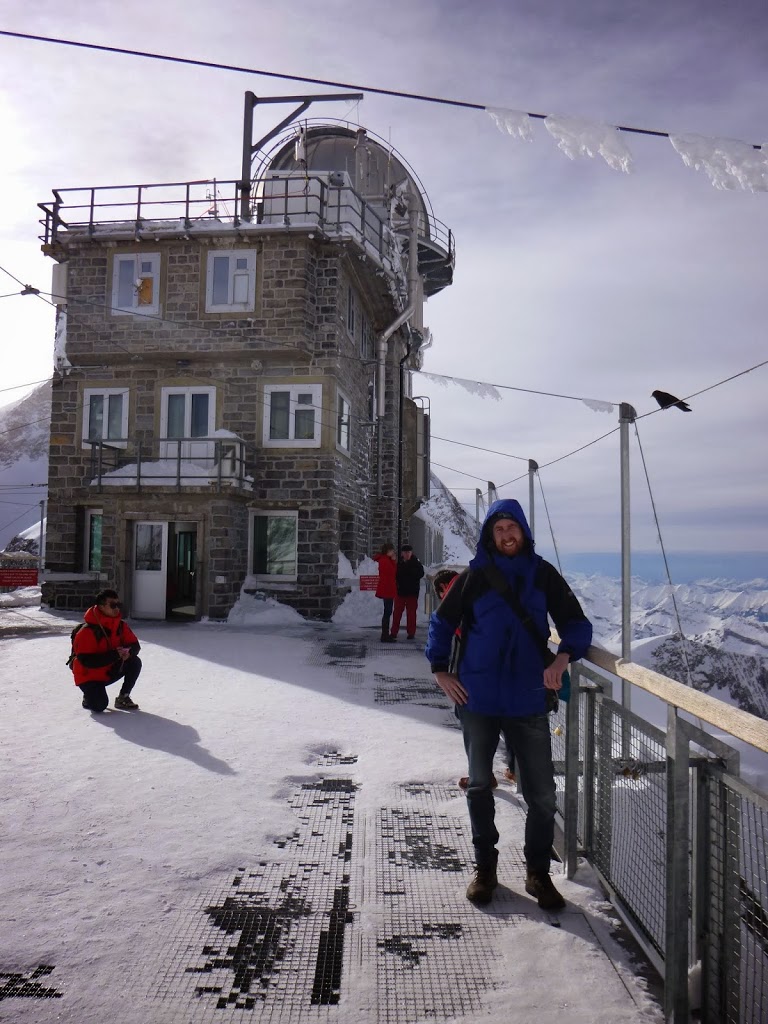 The Sphinx observatory
On our way back down, we had to wait for the 2nd connecting train to arrive. When it did, we dutifully waited to the side for this bunch of women with sleds to alight – they were blocking the door with sleds. The doors opened, and they just stood there. So we figured they must be continuing on and made to board ourselves – where upon one said to us with considerable disdain 'we have to get off!'. Esch, without skipping a beat, replied 'Well get the fuck off then' – it was perfect.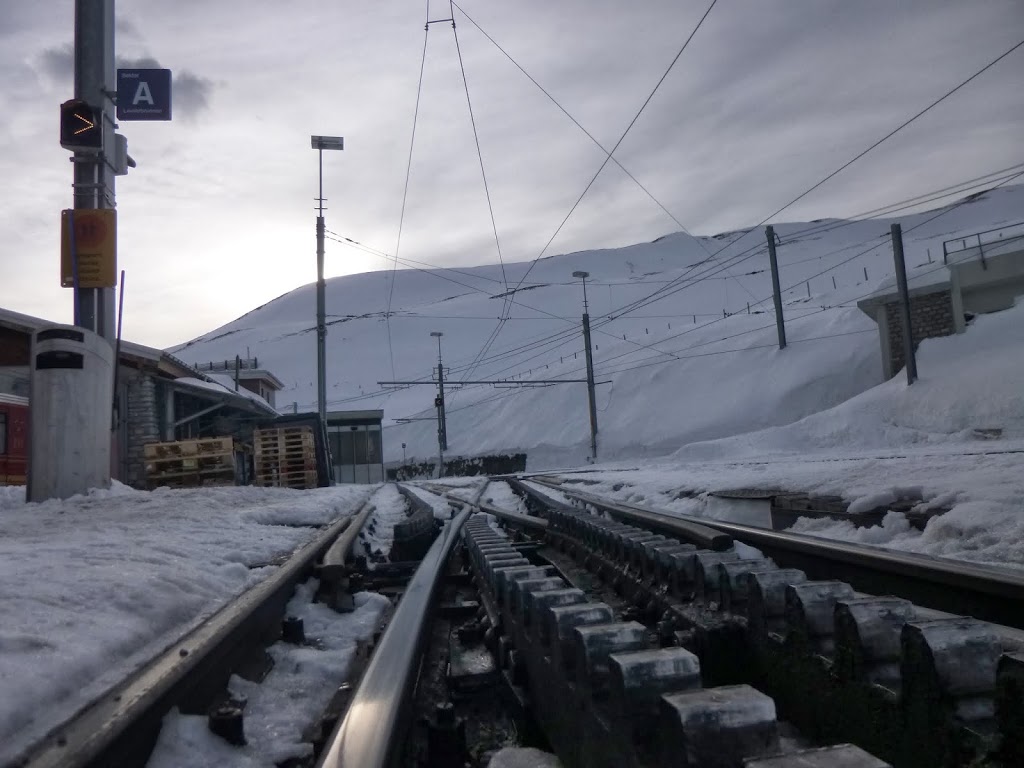 The toothed rail on the 2nd trains' track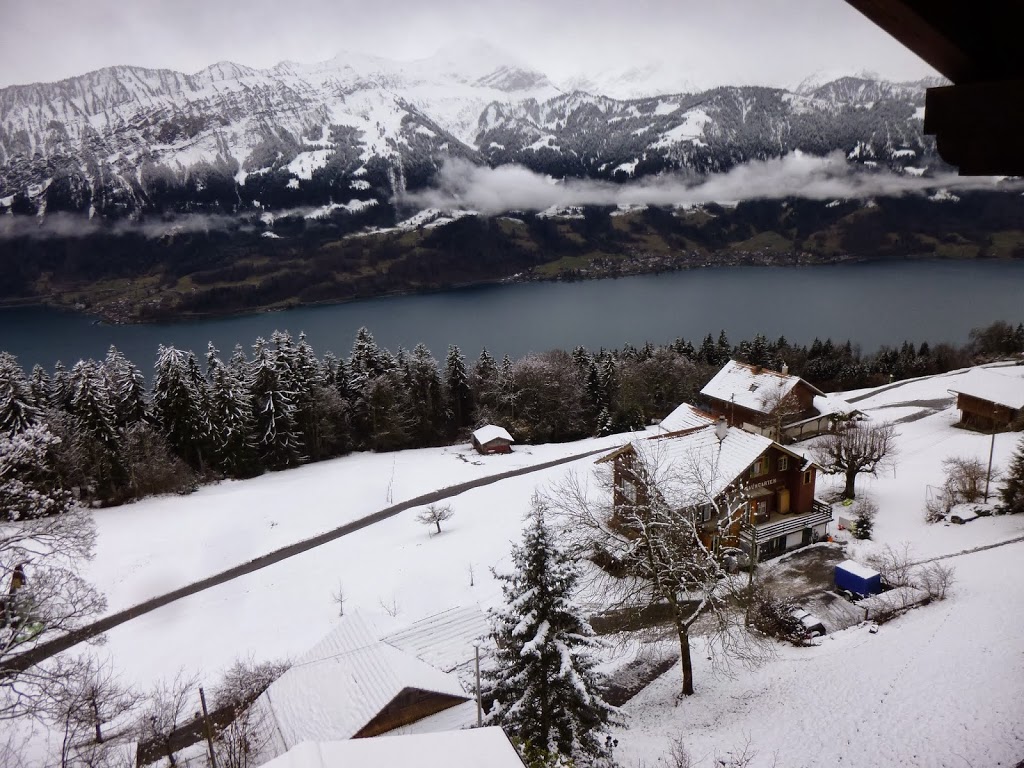 Another shot from the chalet.
Hats off to Ennike and Robert for having us stay in their home, and for getting us to the train on time to travel to the Jungfraujoch – it wasn't possible without them. Such kindness! With them we also sampled a lot of delicious Swiss cheeses and breads – including melting cheese with an electric element on the table, which you promptly pour on baked potatoes. Yum!
We were quite reliant on Esch for translation and conversation, and Ennike though she wasn't confident with her (rather good) English. So when the ladies took off after dinner, Dave and I were sitting with Robert who doesn't speak a lick of English, a bottle of wine sitting between us. Dave dusted off his German and was trying his hardest to cobble something together. After a bit of this, Robert just grabbed the bottle and pushed it into Dave's hands – a language we all spoke! So we sat in comfortable silence, drinks in hand. I wondered if I should practice my charades skills, which have always been abysmal – but I realised I wouldn't know they'd got the right concept even if they said it!
Italy
On the 16th of Feb we packed it up and headed toward Italy. Our destination was Venice, but it was too far for one day – so we were to spend the night in Bergamo, in the
old town
.
Leaving Switzerland and entering Italy, it was notable how the driving habits of other road users changed. Folks no longer indicated, or even stayed in lanes – it was pretty chaotic. Though the road quality was the same, the driving behaviour is something else entirely! We passed the time on boring stretches, like a 17km tunnel, playing stupid word games like 'Names for dicks'.
Once we arrived in Bergamo, finding the old city (citta alta) was pretty straight forward. Following the signs, we were flagged down by a security man in the centre of the road. The only traffic allowed into the old city are tourists with accomodation booked. We were shortly to find out why! As we followed Google Maps' complicated route of twists and turns, we quickly found ourselves on cobbled lanes looking increasingly pedestrian only. We were sure we couldn't drive where Google had instructed us – it was a pedestrian mall! So we pulled over to figure out what to do.
That's when this bespectacled Italian gent appeared. After conversing with Esch, he said he'd lead us to our accommodation – he was going that way anyway. So we follow him. He points his umbrella and saunters along the pedestrian streets, and we follow along behind in the Kangoo. Saying nothing about poor Dave behind the wheel, I can't handle the stares of the parted walkers. I play with my phone, desperately hoping Google can get us out of there! But no, it just got worse and worse as we crossed the centre of the old town. Our guide led us through the central pedestrian square and up the main street, where we finally found our hotel. It was just the weirdest thing! We couldn't say grazie often enough – infact I couldn't say it at all, I was saying gracias the whole time.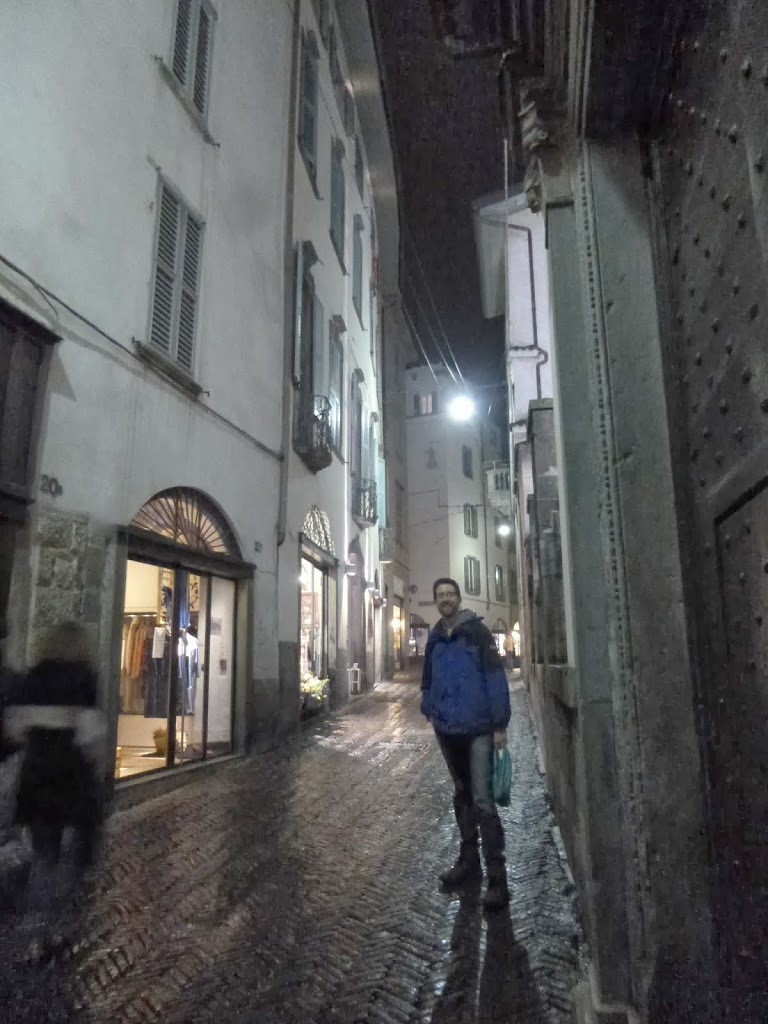 The main road. COME ON.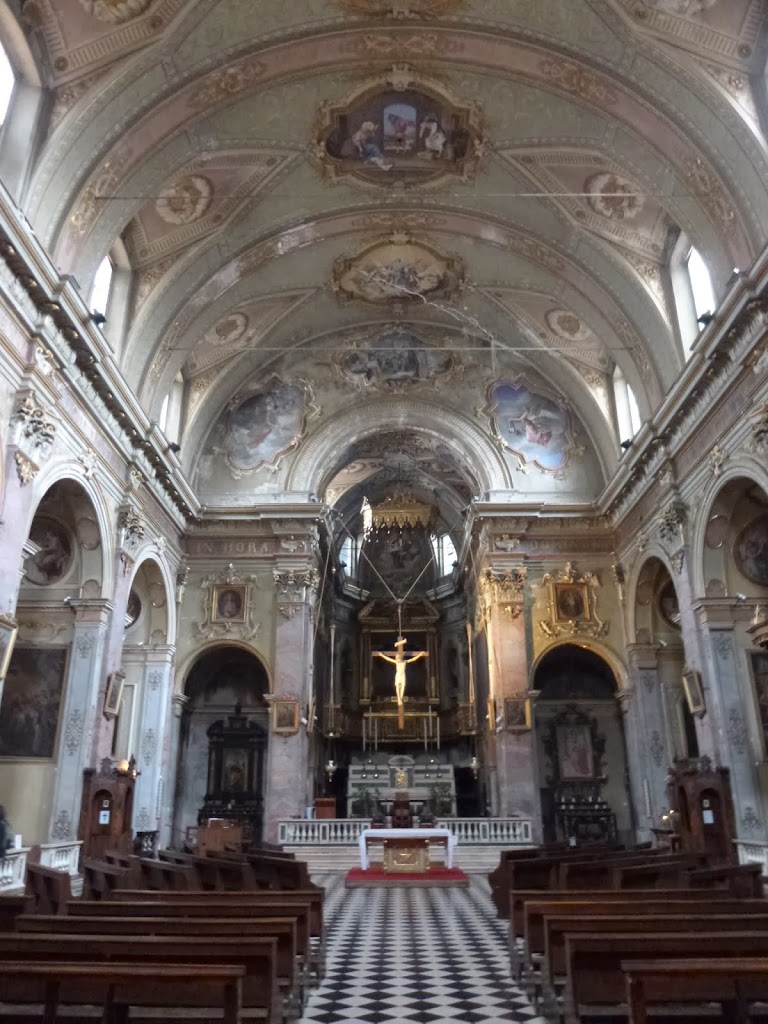 The church over the road.
In the morning Dave and I wandered into the fog up to the castle above the old town. Later in the day Dave spotted a dodgy looking beam. We had a nice pizza for dinner from a local bakery, with some sweet things and this marzipan nutella cake thing particular to the region – delicious! Washed it all down with some Lemoncello. Dave made a remark about another saggy beam in our hotel, and we were told it was from 400AD. Mad.
I really liked the old town, a lot of history and a great atmosphere without the cars around.