Driving from Bergamo to Venice was, again, a matter of taking our lives in our hands on the Italian motorways. Folks covering both lanes, no signalling, speeding, hard breaking, last minute swerves. But, as chaotic as the roading system may seem, it all seems to just work. And no-one seems to get all road-ragey about it, everyone's got a bit of slack. I really warmed to the Italian method – though was quite glad Dave was driving!
We entered Venice by car, which seemed a bit odd. But even the view from the top of the carpark was something to behold – Venice is one of a kind!
So first thing we did was pootle down to get a water taxi the three stops to our apartment. €50 the dude said – get out of here! Straight to the bus. The public transport system is quite funny, considering it's a bit of a tourist mecca – there are ticket scanning machines at the bus platforms, but no way to buy tickets. We were still trying to figure it out when our bus came, we just got on and then found no way to buy tickets there either – criminals.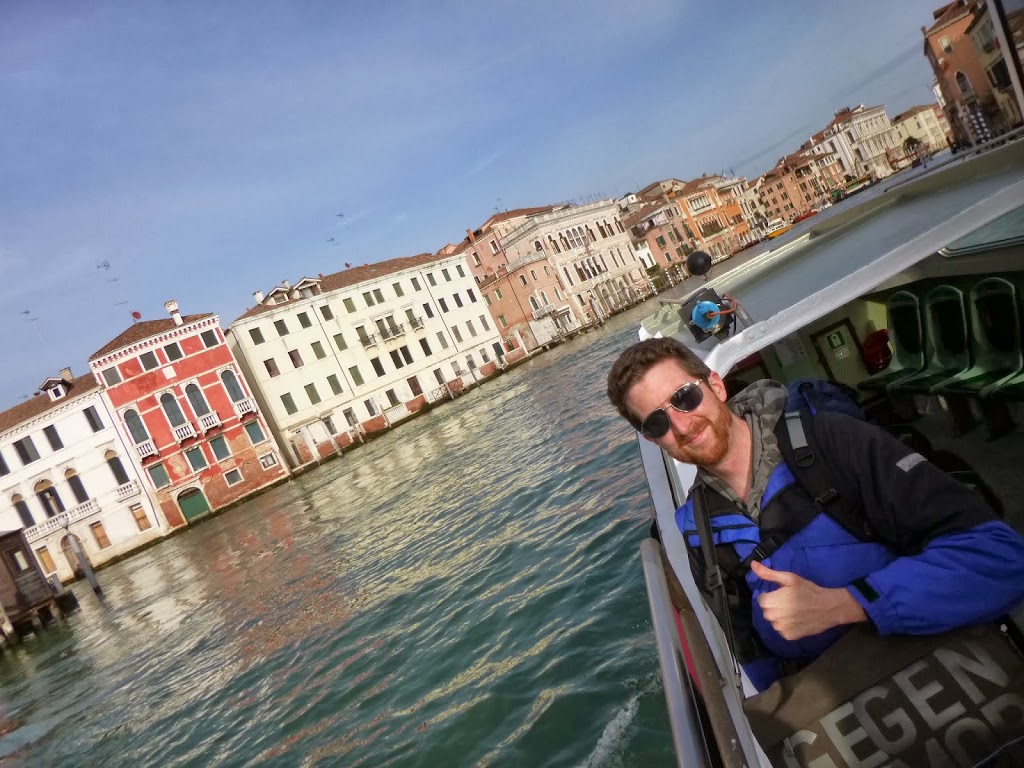 On the bus. That red building with the green shutters is us!
That's our apartment there – right on the Grand Canal at a major junction. It meant we had a lot of fun boating to look at, but they would've been sleepless nights without earplugs! The boats would gun it to turn harder, and larger boats would blow their horn before doing so.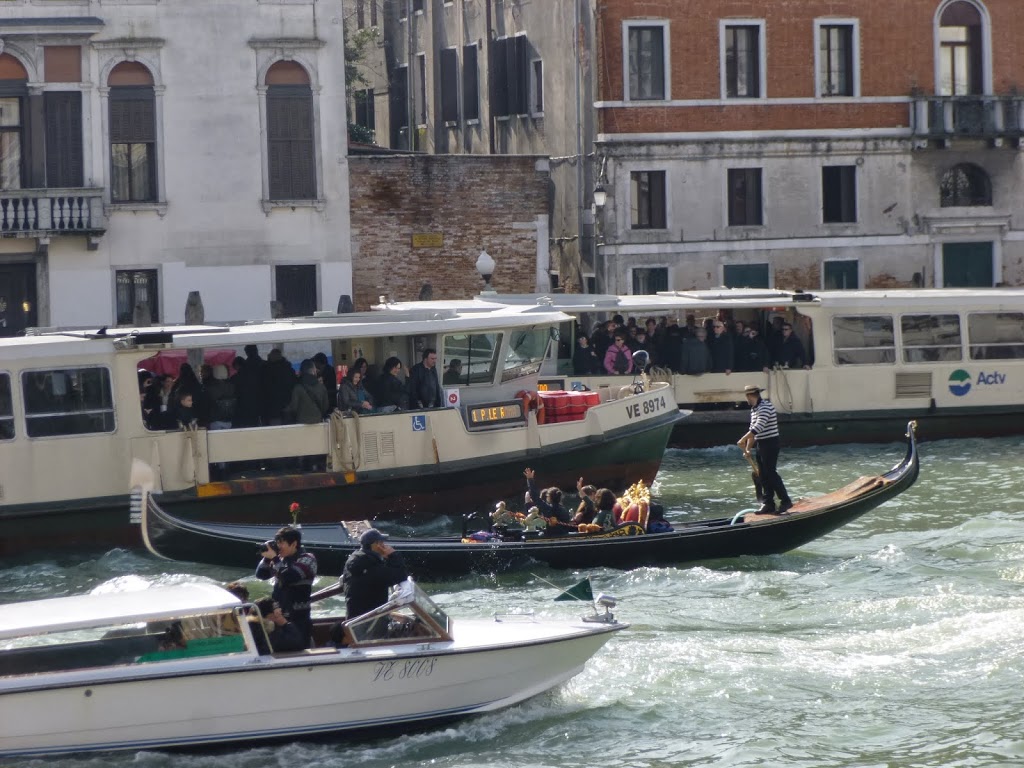 An example of how crazy the Grand Canal gets at times
The view from our apartment was great, as above! We loved it, sitting in the windows at all times of day. In the morning, watching the tradespeople's boats, the couriers, the deliveries. Later, the tourist gondolas, a hearse, a swish taxi with a bride in the back. Everything you'd see on the road, Venice has a boat version of it. I'm surprised Pixar haven't done a 'boats' movie. A lot of the tradies also had wee dogs on their boats. They were great to watch, often standing proud on the bow.
Shortly after we arrived, the lovely Anneke joined us for our Venice leg.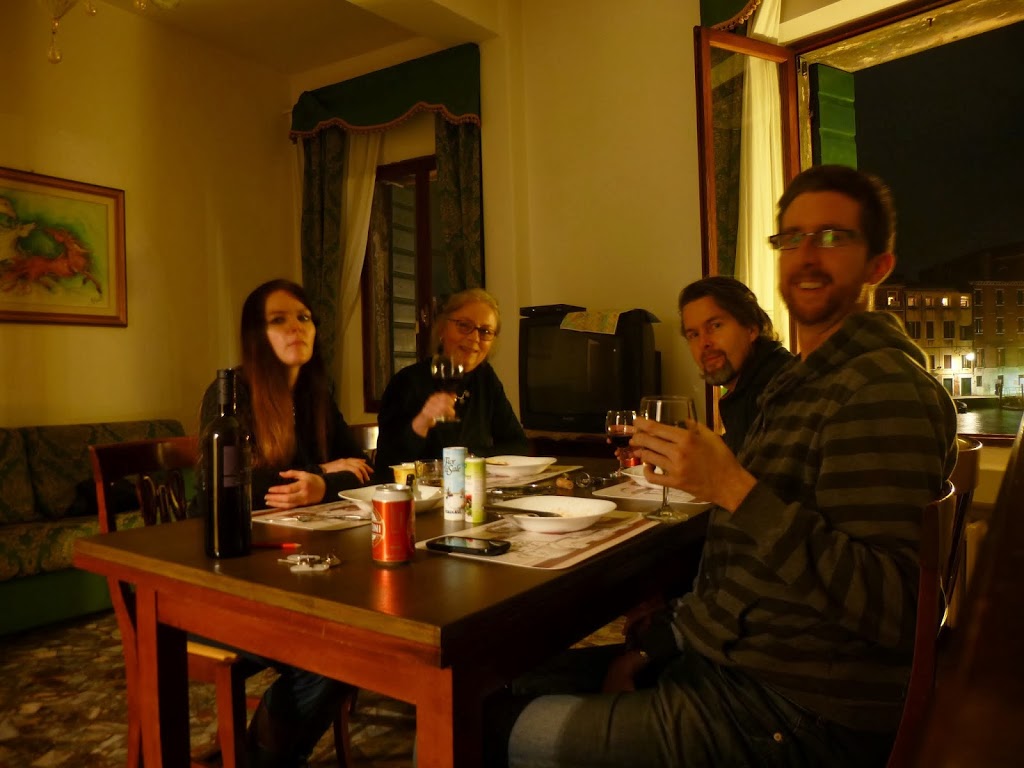 The dudes having a feed!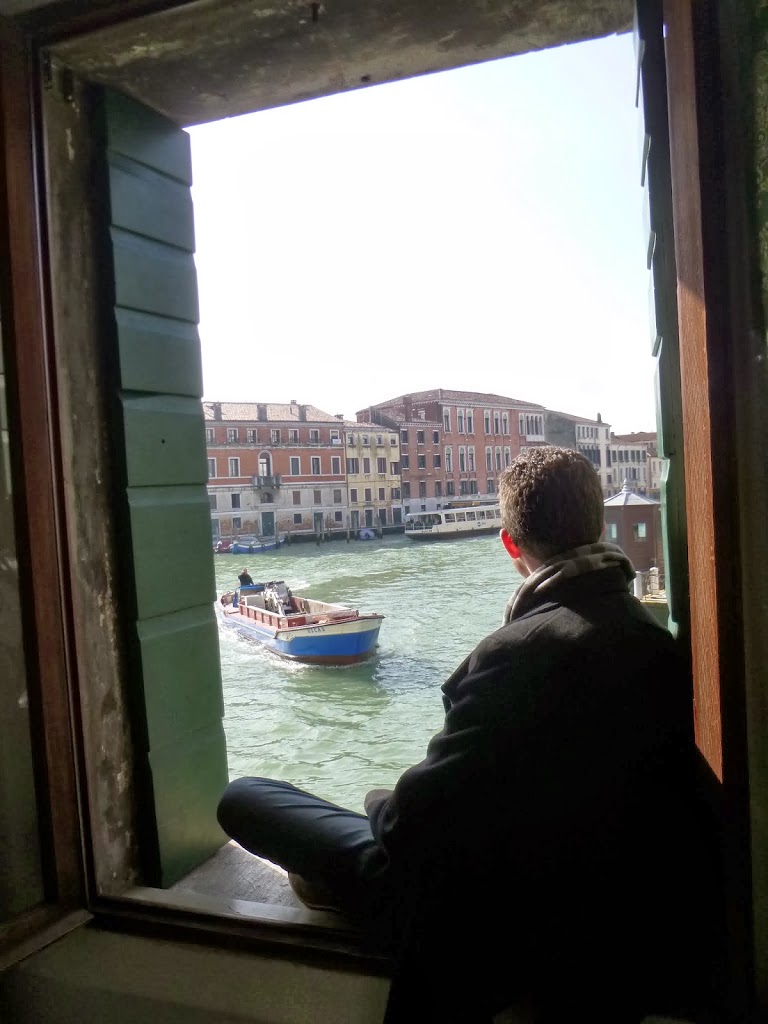 Poser.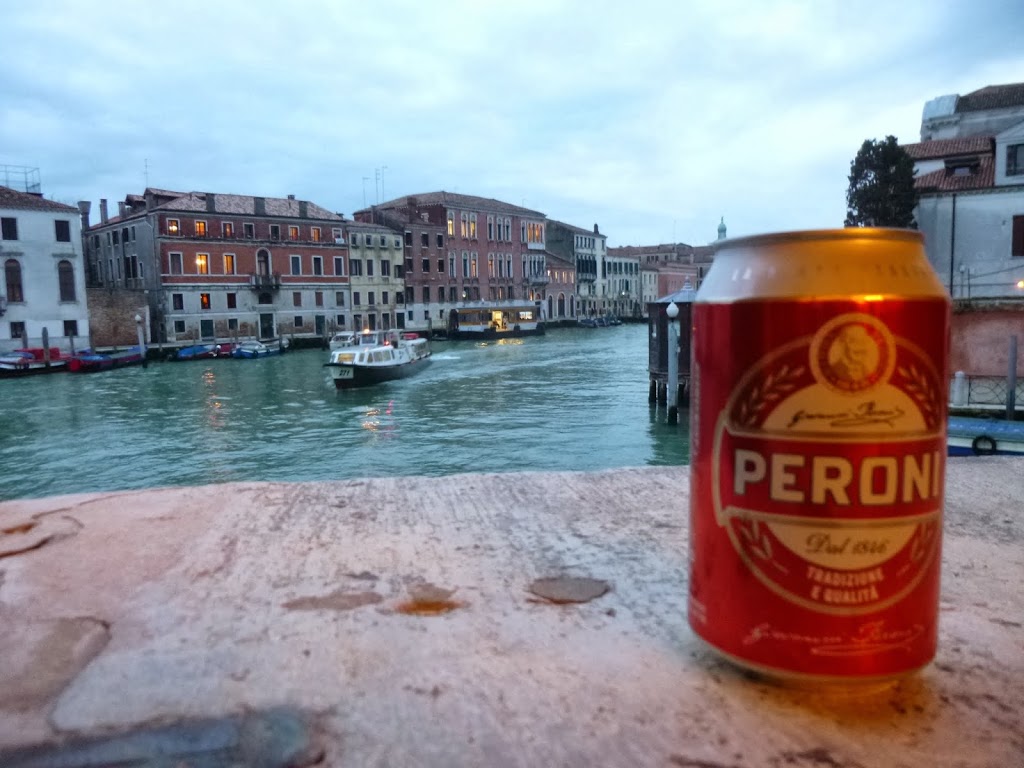 When in Venice, do as the Venetians do.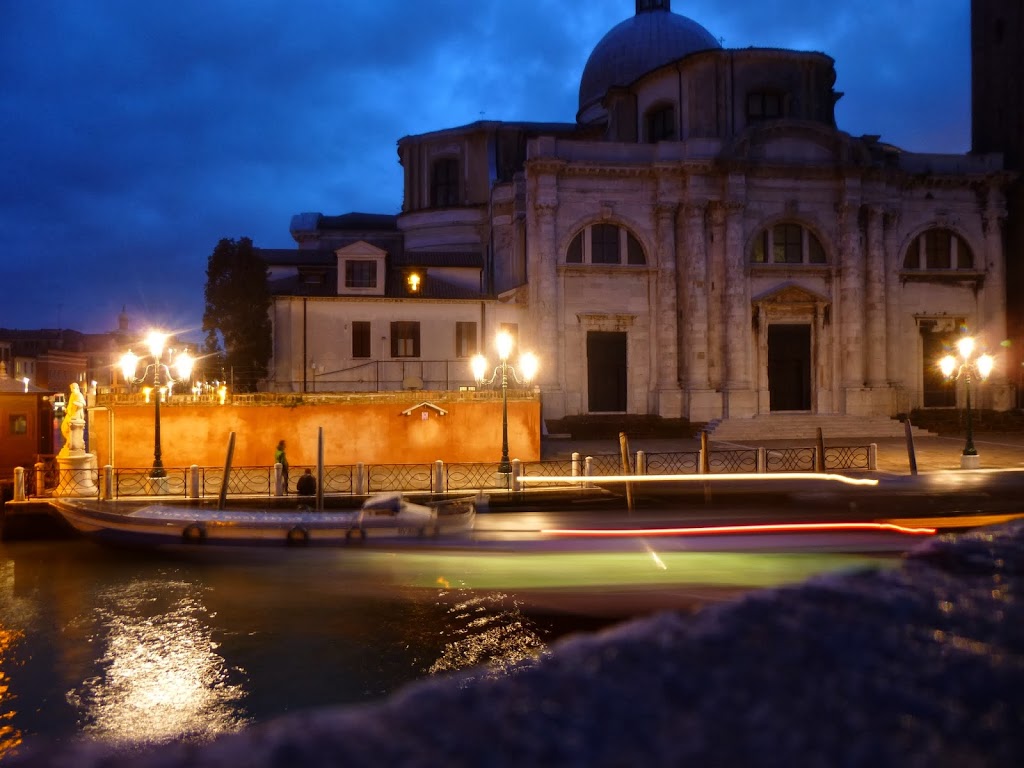 Found out my camera does OK night shots too with its 8 second shutter time. 8 months in and this Lumix keeps delivering!
Excited by the city, Anneke Dave and I ventured out after dinner to Piazza San Marco, passing the Rialto bridge and generally just pottering about. Outside our apartment was a wee vege market and a pretty serious pedestrian mall (the result of a filled in canal in the past). Pretty much every street is an alleyway, it's a real rabbit warren! But so full of history and character. I loved just walking the streets, enjoying the different colours of the buildings, their various states of decay, their interaction with the canals – it's just an interesting place to be really.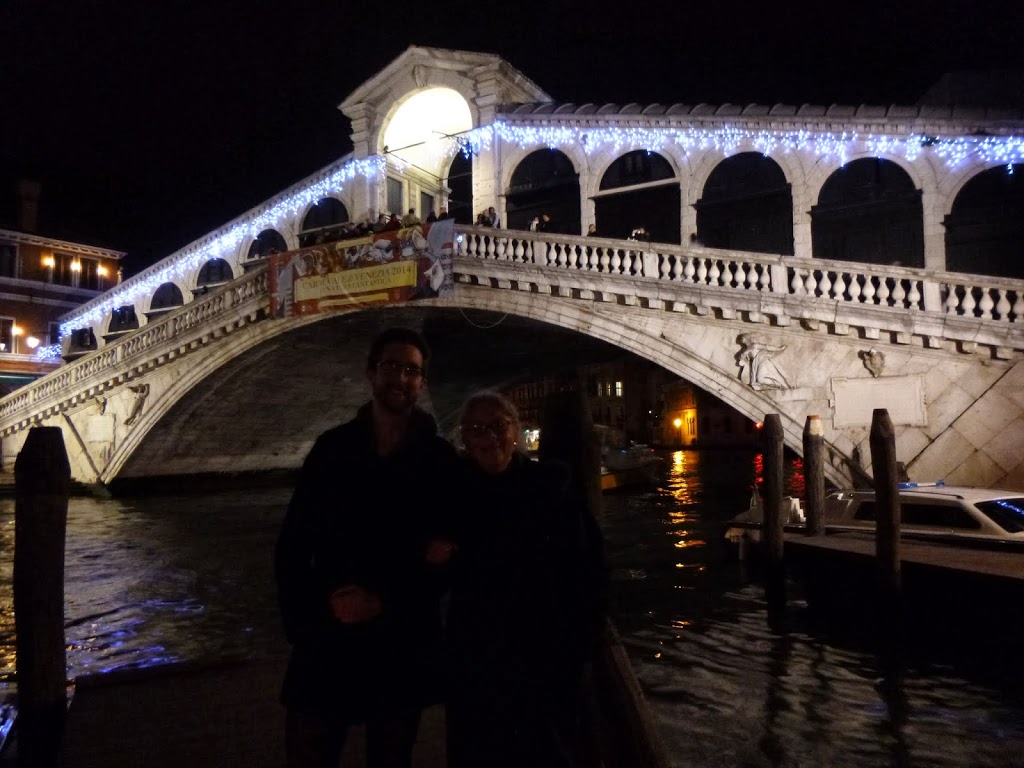 Rialto bridge at night
On the way back to the apartment this night, we wanted to take a different route back. So we headed off the beaten track a bit and promptly, and predictably, got completely lost. But we were not alone – all over the place were people in ones and twos, studying maps. I pity the locals – eventually Anneke asked a guy how to get back, and his response was one of practice – 'head that way to the square, then ask someone again' – no point giving us the full route, we'd just get lost again. We did break up the journey with an ice cream, such was the weather!
The next day we jumped on the bus and headed to Piazza San Marco again – destination, the Doge Palace. The palace was the house of government for Venice over its many years, the forerunner of modern democracy. From the outside, for all its scale, it's a bit dull really – nice geometry but just a wall! Inside though, the grandeur is extreme. The Grandeur!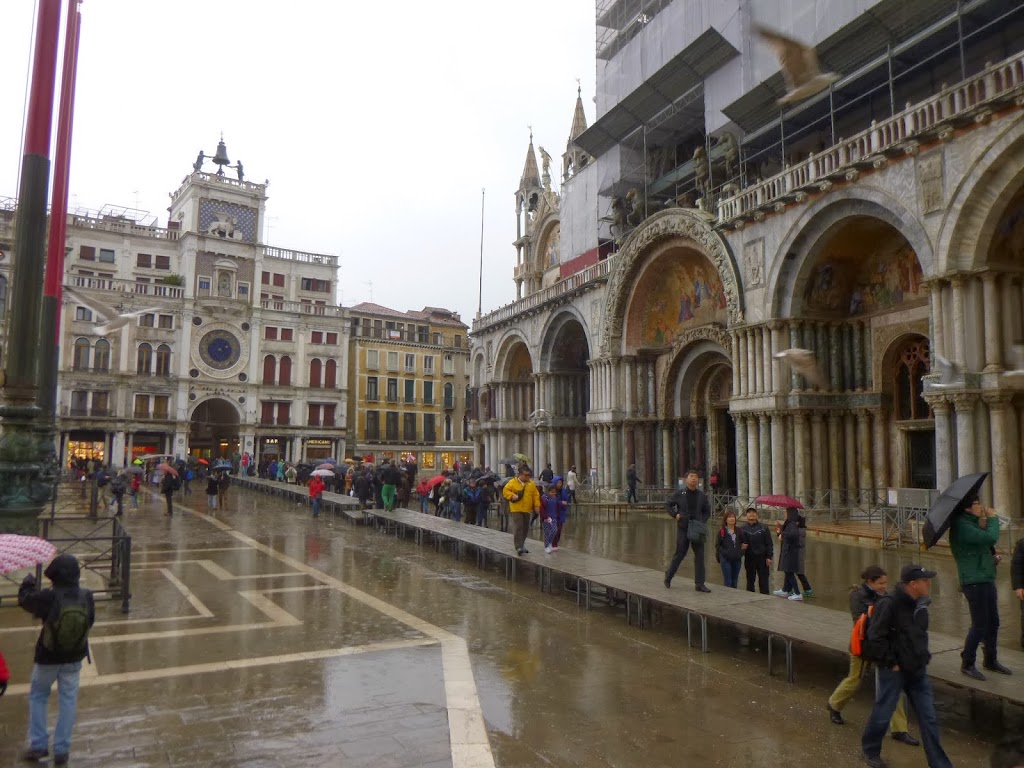 Piazza San Marco with the St. Marc's Basilica. Under water, so there are platforms for folks to walk over.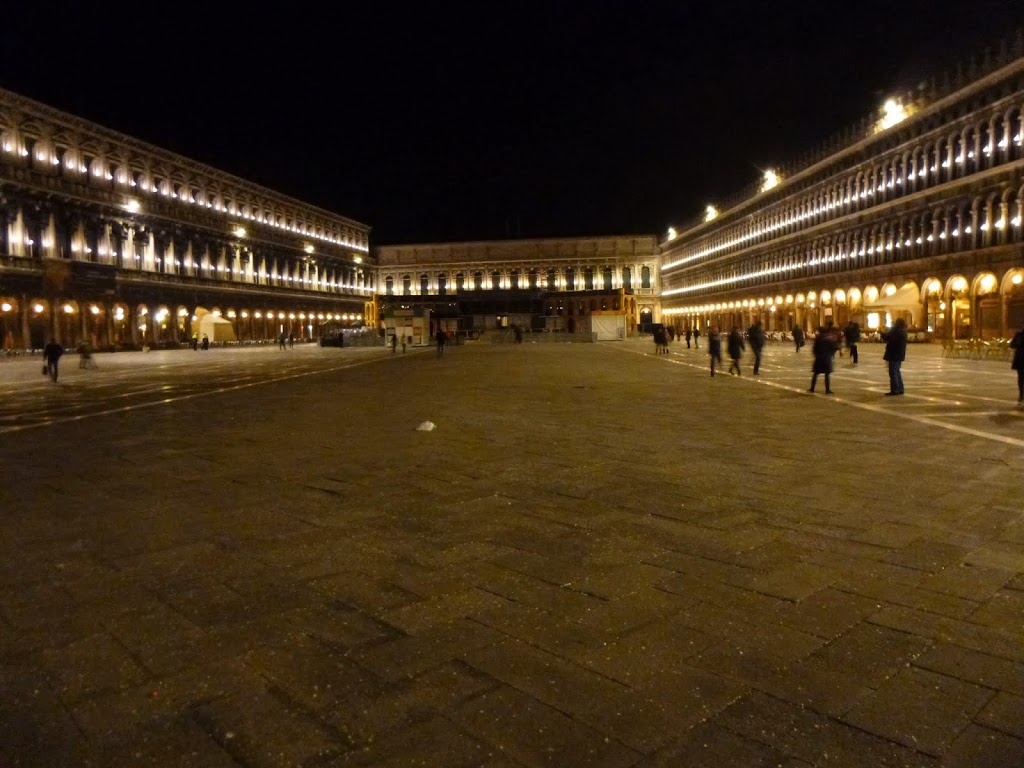 Piazza San Marco before carnival.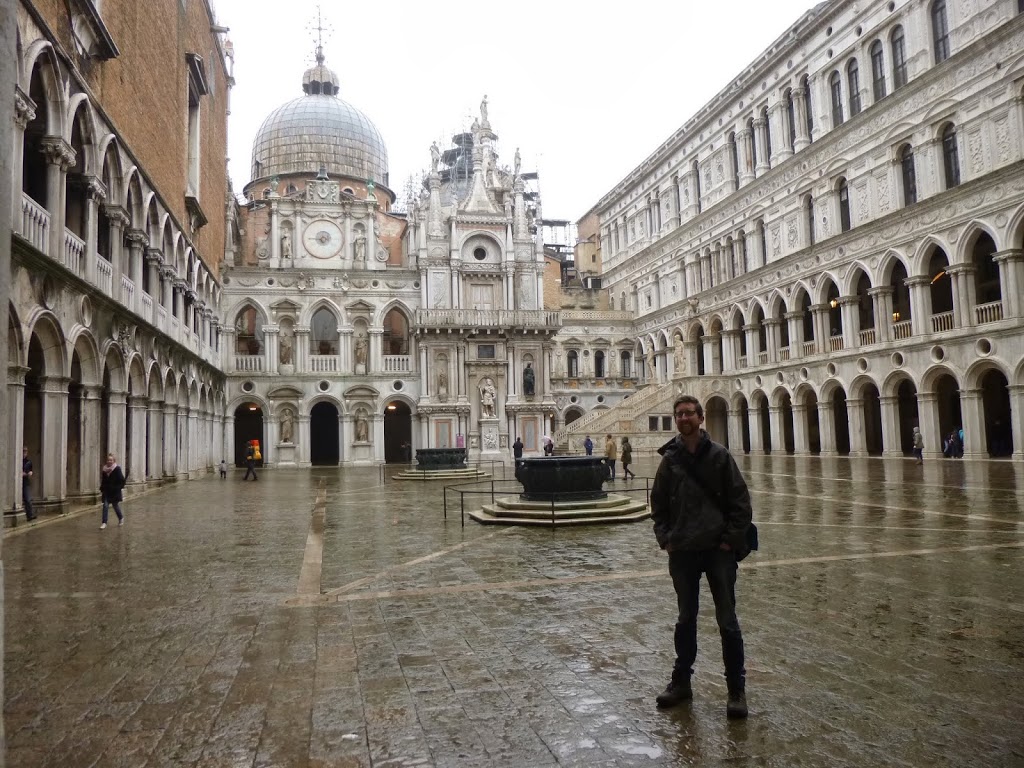 Courtyard within the Doge Palace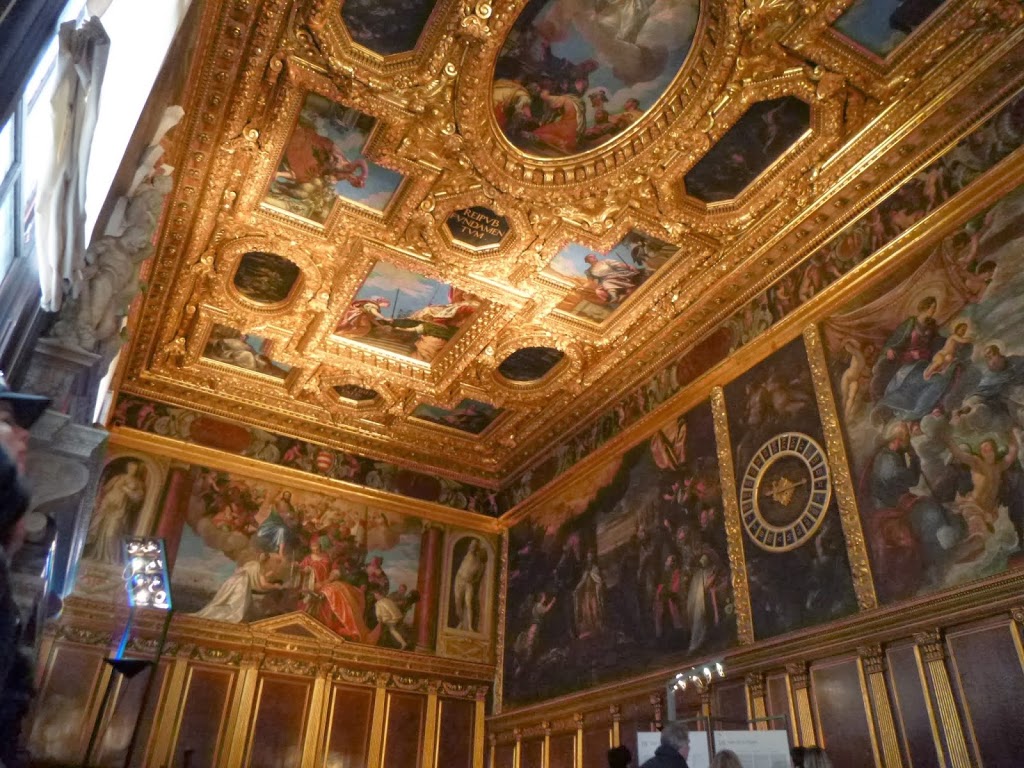 Not even one of the particularly ornate or large rooms
As we toured through grand room after grand room, I went beyond 'wow' and moved in to being annoyed about the inequality aspect. The amount of money and work that went into these façades, oh the things they could've done for the people instead! But no, it was a big swinging dick contest to wow traders and things. Nothing new really (infact it dates 1340), and hey it's amazing heritage and just magic to visit. Guess I was feeling particularly lefty that day!
From a wee side-door in the massive central council hall (like the above but the size of a football field) you can cross the bridge of sighs and enter the prison. A starker contrast to the palace couldn't be made!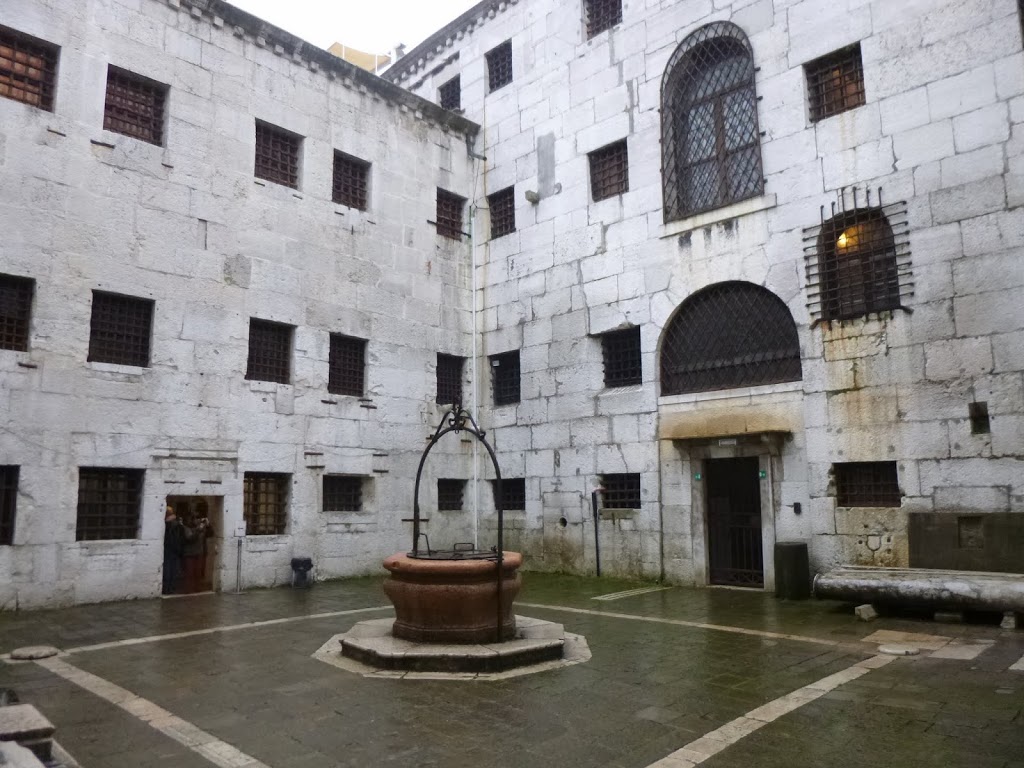 Prison courtyard. Actually not that bad I guess, but inside was horrid.
The big church in the square is St Mark's Basilica. She's an old bird, 828. The entrance was flooded, but inside it's quite a unique church. Everything has gold plate. Medieval.
The next day we boarded one of the various buses cruising by our apartment and headed to Murano, an island off Venice. The bus took us all around Venice and it was quite the free tour – though a bit diesel stinky around the back!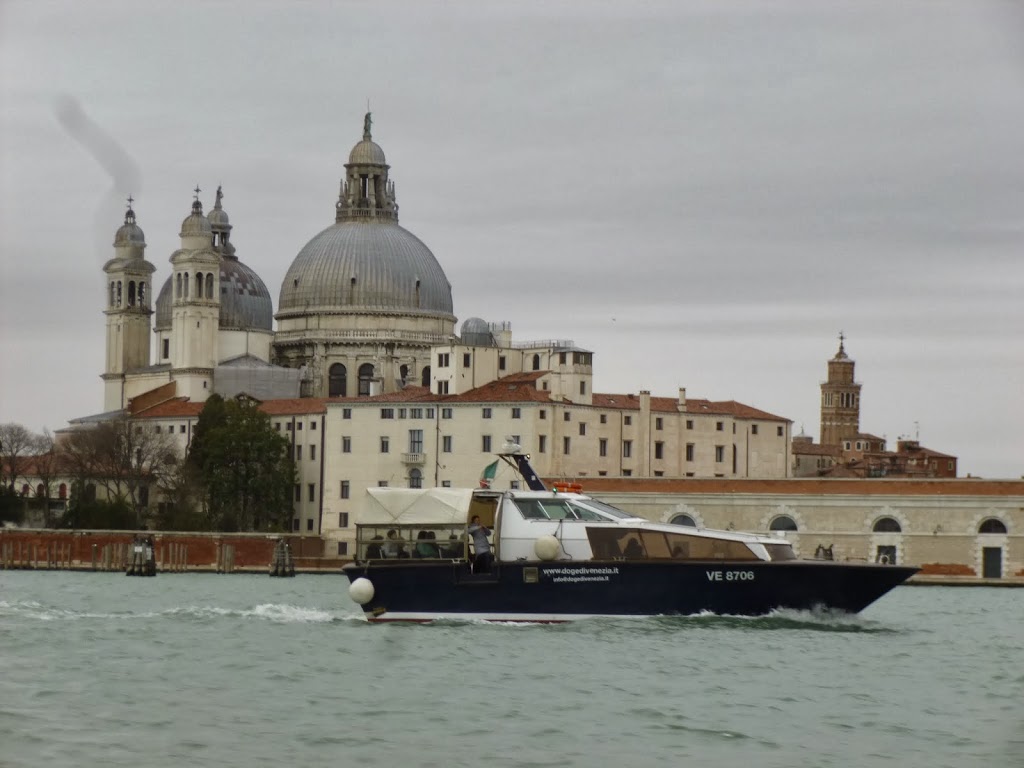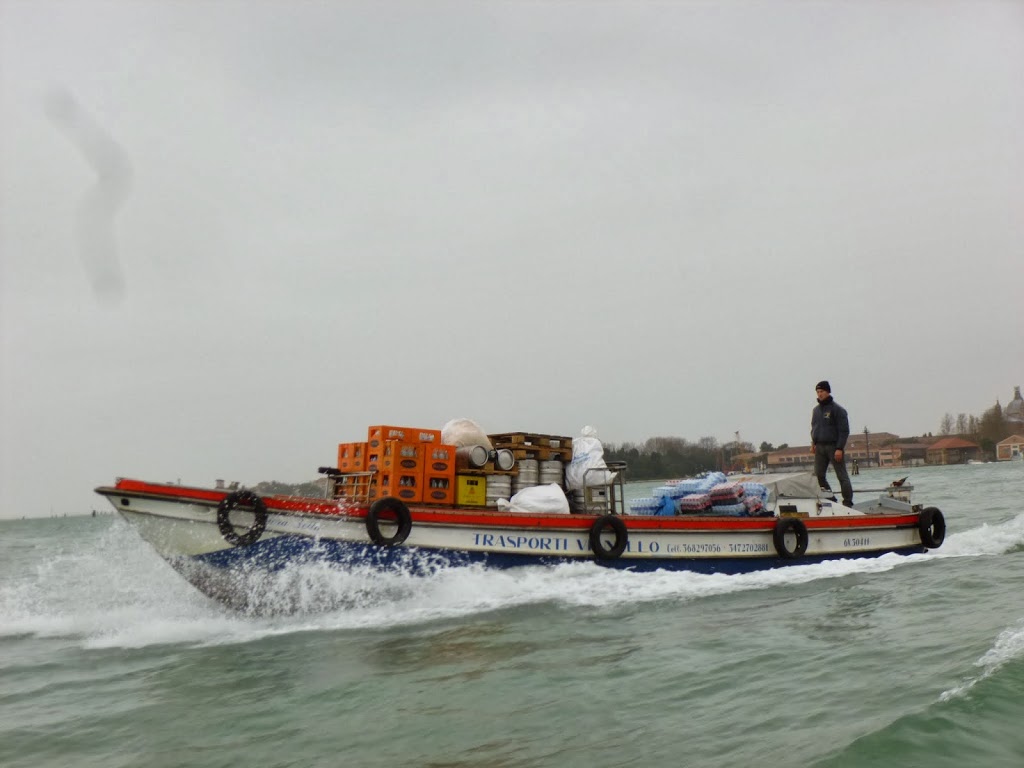 The island of Murano is to Venice what Lower Hutt is to Wellington. That's a wholely unfair comparison to Murano but in Venice everything is wonderful! We walked around a bit, had a nice cheap italian feed at a wee cafe, then headed back.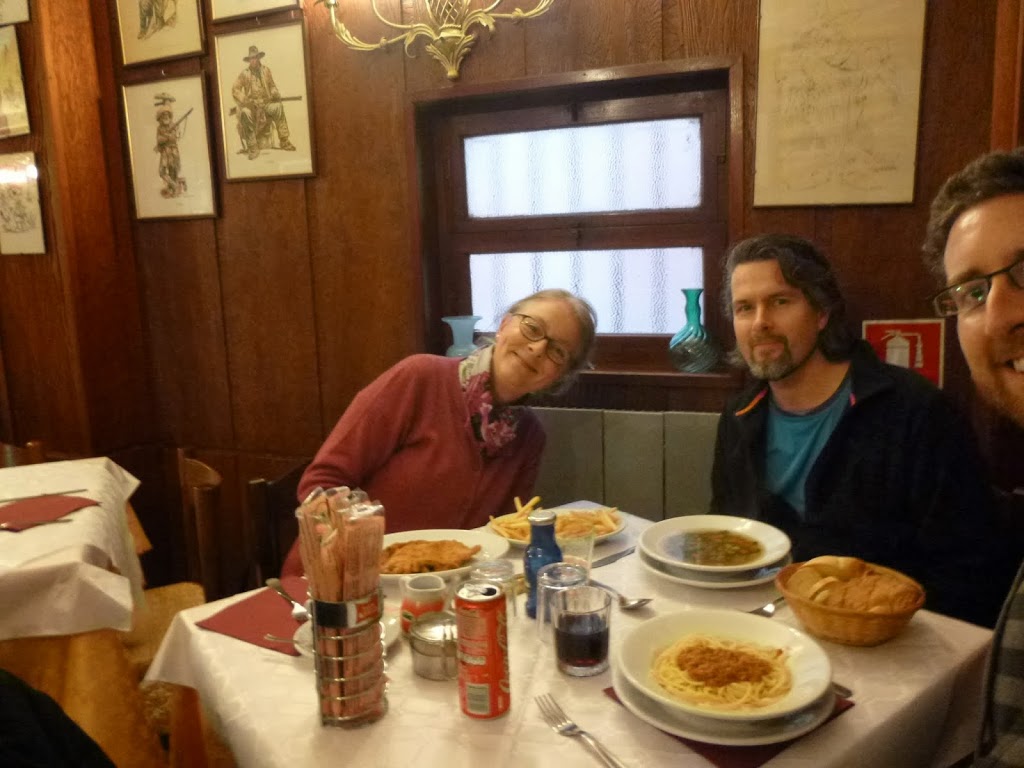 My selfie skills failed me here.
So in this restaurant here, they brought the milk for the coffee in this little jug. As Anneke was pouring herself some milk, I noticed the jug said 'HAG' on it, which totally amused Dave and I. HAG is a brand of coffee over there, but hey. We taught Anneke a new English word!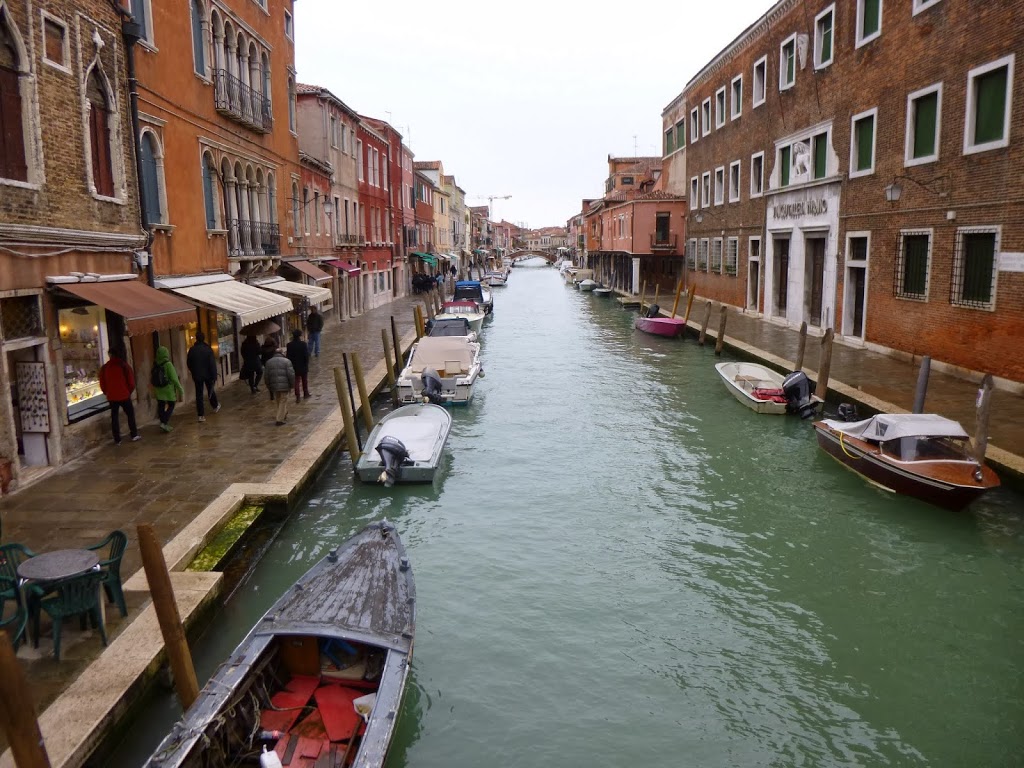 Murano. It's the same, but kinda soul less in comparison.
On our journey over there we had our tickets checked – so it was just as well we figured out how to buy some!
Back in Venice, we chilled out for a bit – Dave and I watched a lot of Family Guy (gotta love Netflix). Later in the evening we wanted to see La Fenice, the main Venice opera house – but upon arrival we were shepherded back out as a show was to begin within the hour. Naff! But still, good that these things are in proper use, not just tourist traps.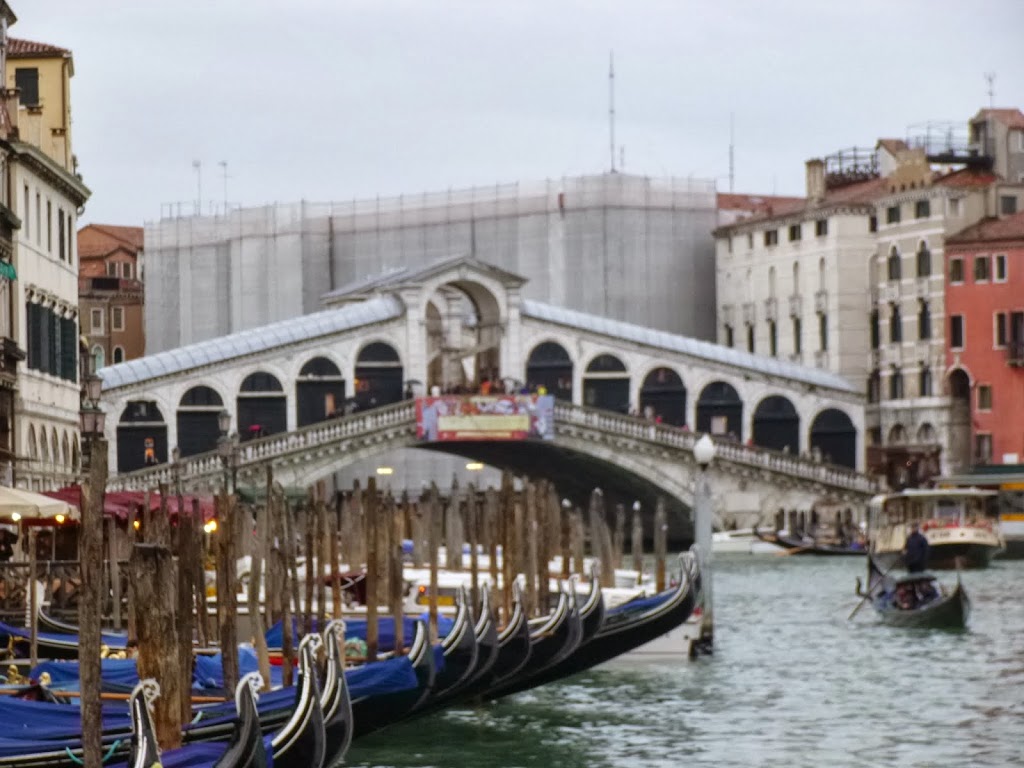 Could there be a more Venice photo?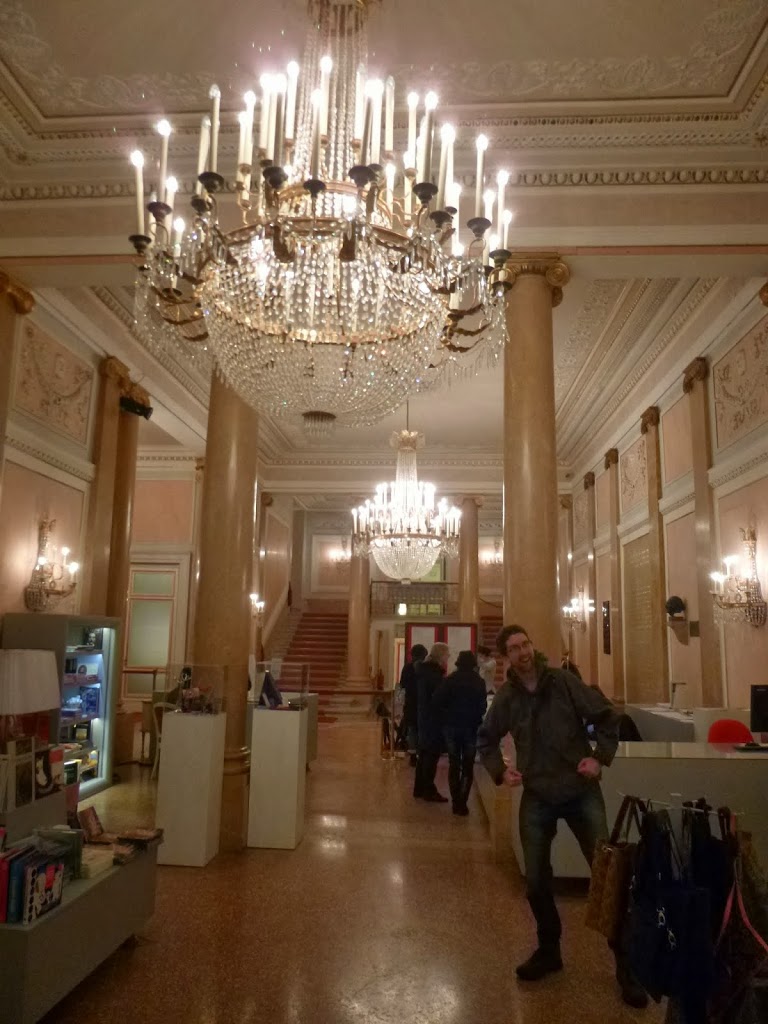 In the theatre. Being disrespectful since we didn't get what we wanted.
In the evening, Dave and Esch cranked out what we'd come to Venice for – their Carnival duds. Donned in their sweet outfits, we ventured into the night.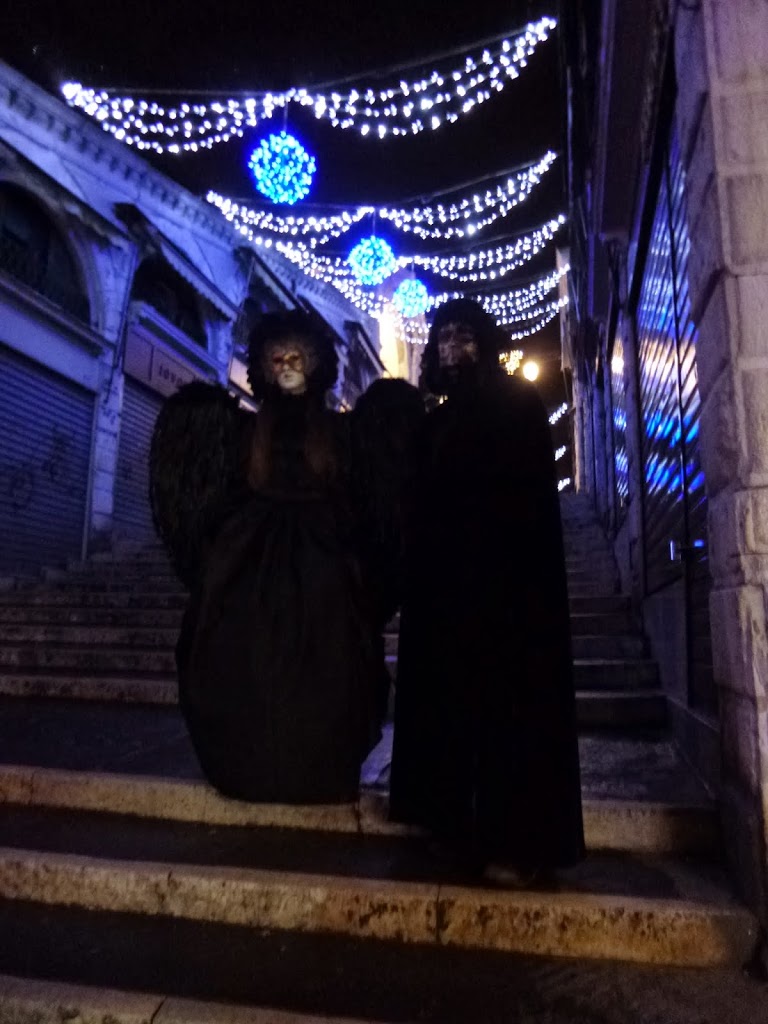 The dogs on the Rialto bridge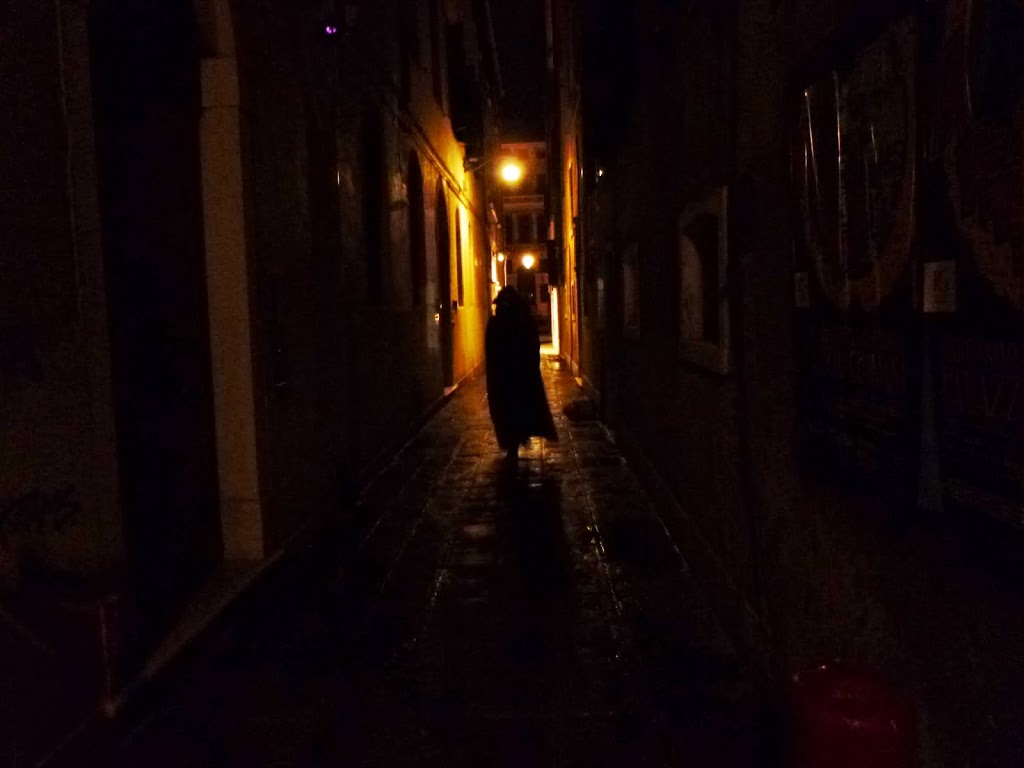 Dave being spooky
Esch being spooky
It was quite an experience following these two about – the tourists love it! We would pass groups of people and they'd turn around and follow, take some photos. They'd stop them for photos and that. Was pretty crazy.
That evening was nothing compared to the next day, when Esch donned her robe and wizard hat and ventured into Piazza San Marco. She likened it to entering the arena in Gladiator – all heads turned. The photographers flocked like pigeons to a crumb of bread. Esch was like crack to them, they just had to have more, MORE! And Dave, like a dealer, kept leading Esch to better and better photographic locations.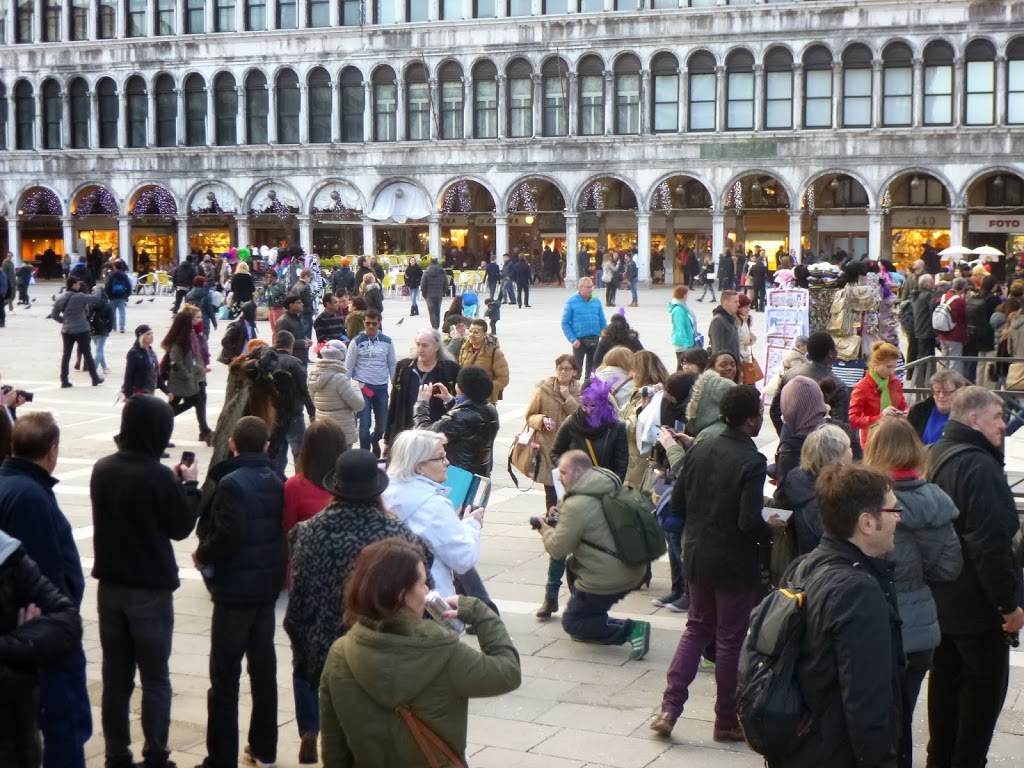 Esch is in the middle of this circle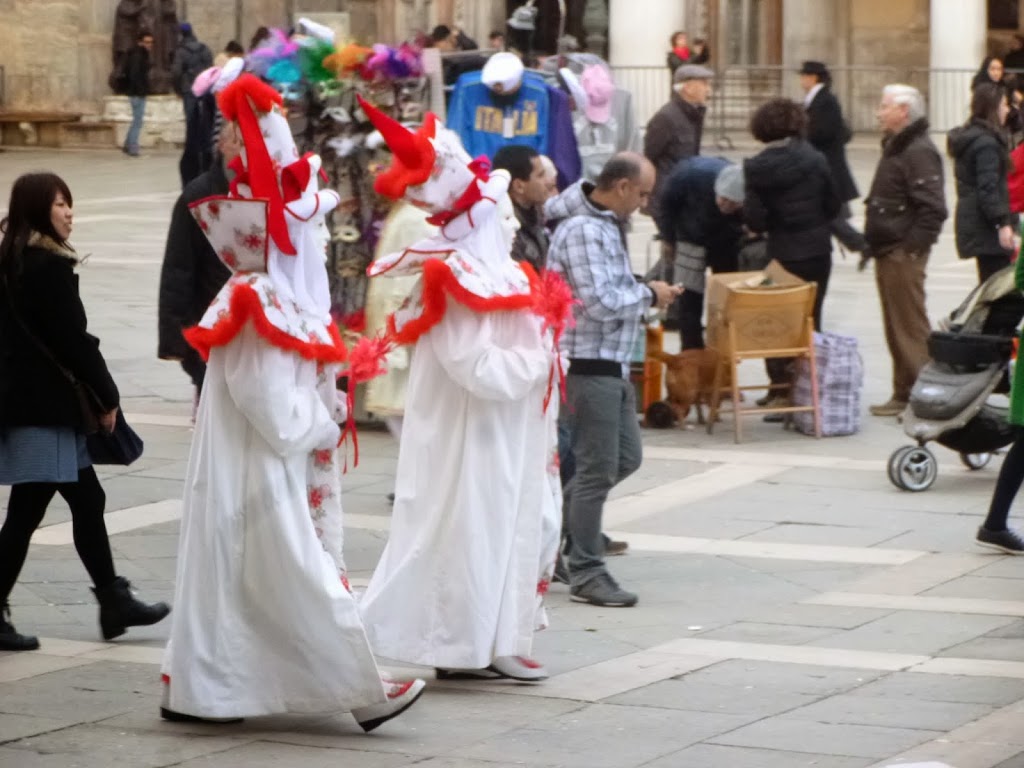 Some clowns. There were a few others about.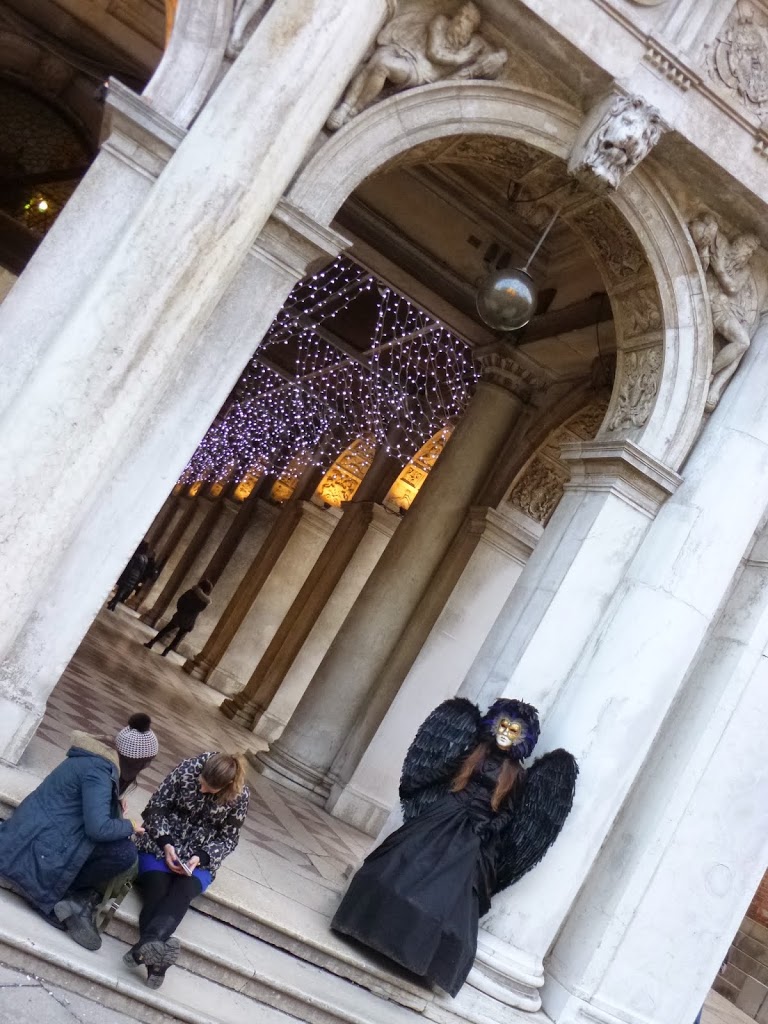 These poor girls were driven from their sitting spot by the photographer horde.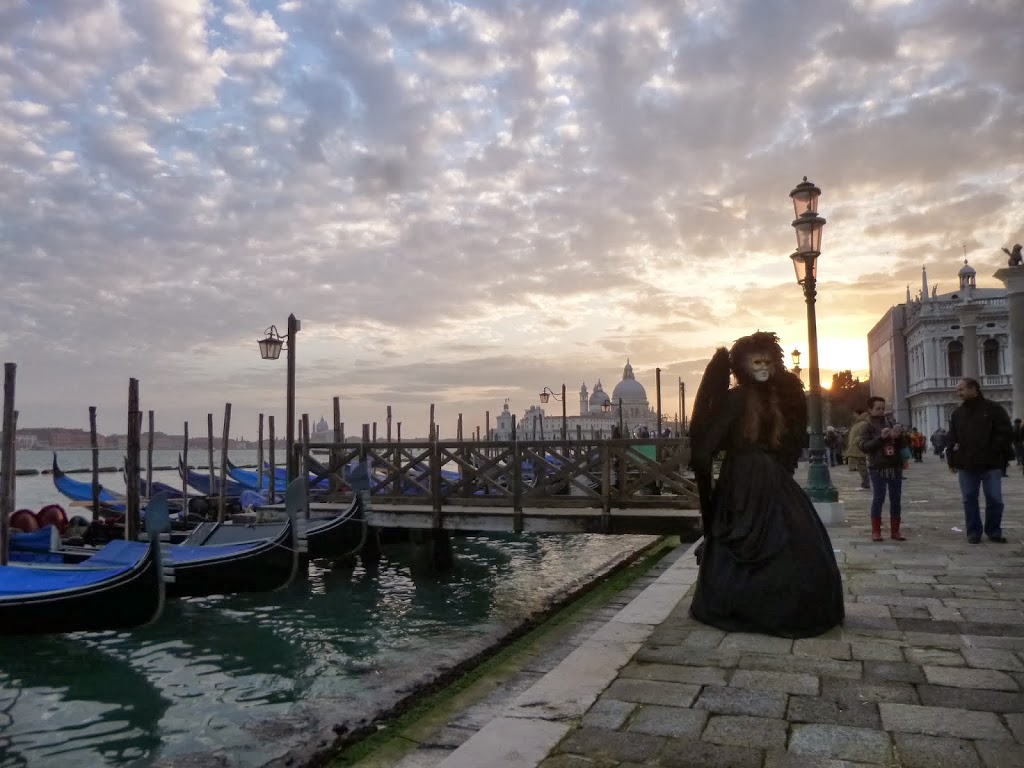 I found the photographers quite horrid – like buzzards or parasites, felt like they were attacking little Esch. This one dude kept getting in all the shots, his camera like 4 inches from Esch's eyes – trying to get that 'eye behind the mask' shot – oh it was bothering me something chronic. If I ever have a good camera I'll never use the bloody thing if that's what it takes to get a good shot.
After night fell we returned home. The next day saw Anneke leave for Holland, and us getting back in the world of cars – next stop: Austria.
I loved our trip to Venice – it's a magical place. You could sit just watching the boats for days. And every alley, every square, is just flooded with history. Bit of a pain in the ass not having cars but that's the charm of it. It's a little world in itself, so foreign but familiar, not too different from hundreds of years ago. Much love.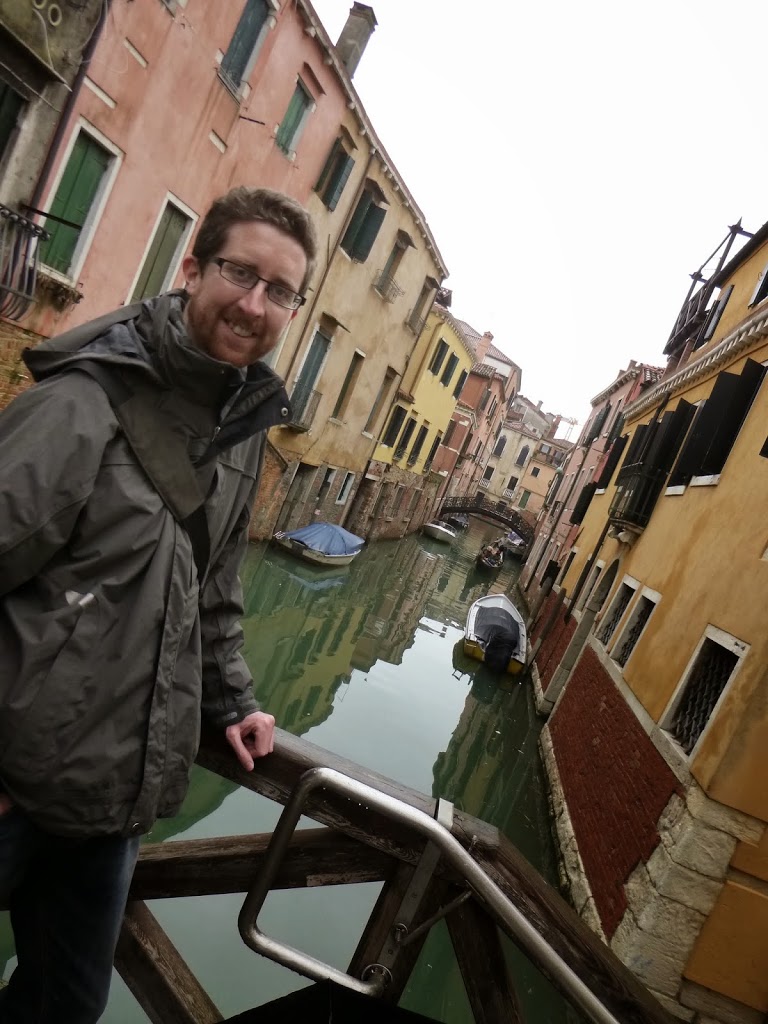 A random canal since I realise I didn't actually put any in this entry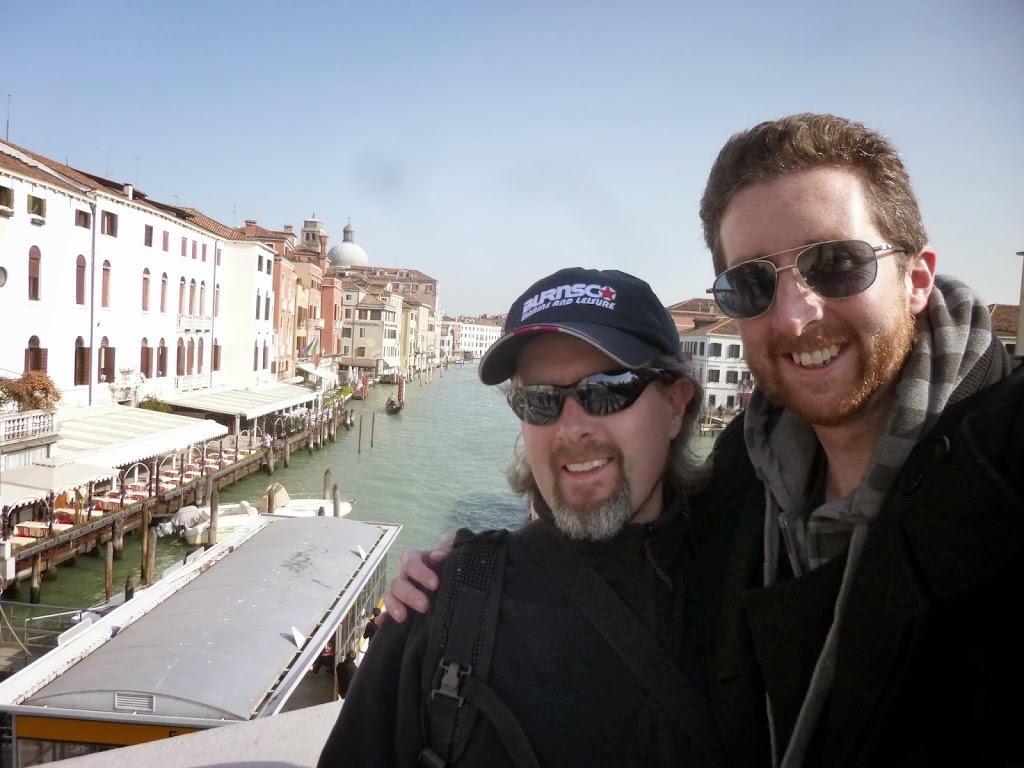 Last one – Dave and I. We wandered around a lot in the mornings!