Well, I put 70p in the drier and it didn't quite dry my clothes. But I only had a pound left, so I put a pound in to polish it off. Now the drier is spinning for even longer than the first round, locked, so I am rather nervously awaiting the outcome. I hope for piping hot underpants but suspect Ken doll underpants. To distract myself, I shall write this final entry on the awesome March Europe trip.
If you cast your mind back to when we last left our brave adventurers, we were just leaving Venice. (22nd March 2014). It was this point that I had a – OH GOD MY LAUNDRY.
I had a mini-explosion over our payment scheme. We didn't really have one on the trip you see – we'd all paid for most of our accommodation beforehand, but we hadn't really organised a payment scheme for the ongoing trip expenses. This led to a couple of moments on the trip which was rather needless on hindsight – but the team took my little explosion with good will and much better conflict resolution skills than I have – no problem.
We were headed to Kitzbühel Austria – ski capital of the world! And also where Esch spent many of her formative teenage years, doing what teenagers do. (Giggedy).
It was to be a rather long drive, so it was unfortunate that we didn't check ahead, and took a random mountain pass, the name of which is lost to me. The road thinned with the traffic. Through light industrial areas, we eventually passed a crumbled and decaying Mental Asylum. On we drove, and onto the pass. And this is what we saw:
I'm not sure if you can see that, but that's the end of the line. We came toe-to-toe with a huge plough doing it's thing on the one lane pass. A plough who wouldn't get out of the way. Eventually they managed to get alongside to tell us the pass was closed – which became rather obvious as we tried to find somewhere to turn around! Such are the occasions where you don't Lesen Sie Deutsch. But hey, fun story now! Just a bit shit behind the wheel for Dave.
When we finally arrived in Kitz and circuitously found our accommodations, we discovered our hosts to be an odd bunch. Tight pricks wouldn't let us use the washing machine. (I'm all about washing today). I did however get an excuse to use my one non-WW2 related German word I know due to the view!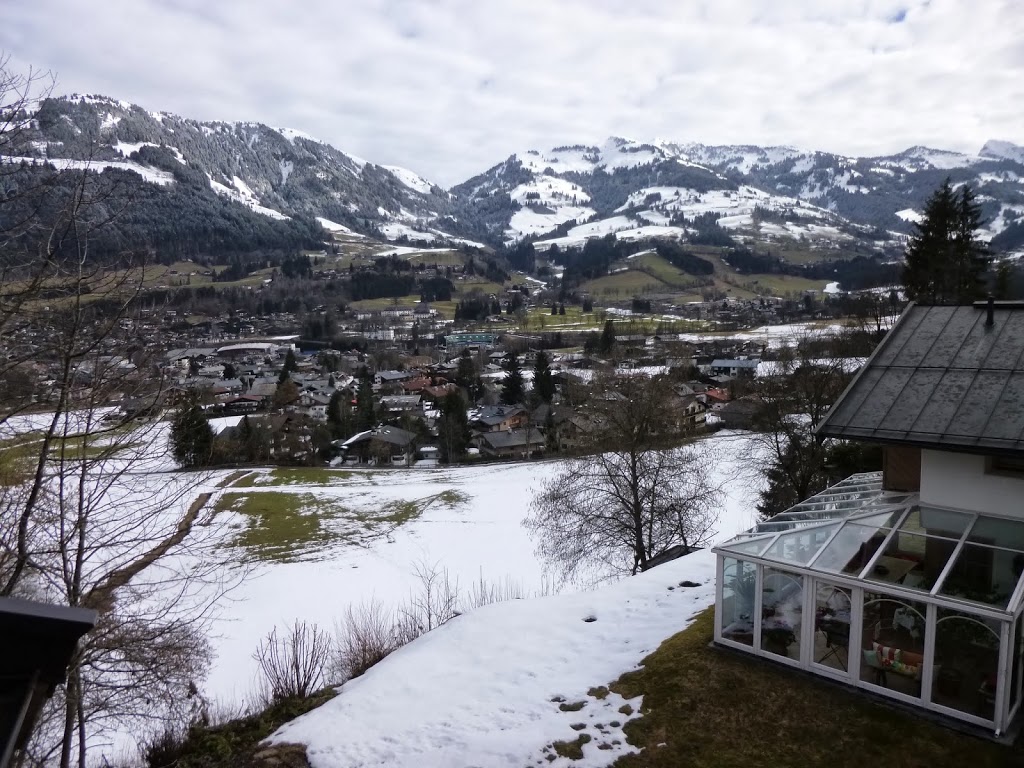 "Wunderbar!"
In the morning we wandered the town as Esch regaled us with tales from her early teens. Recollections as sordid as these are not fit for the internet.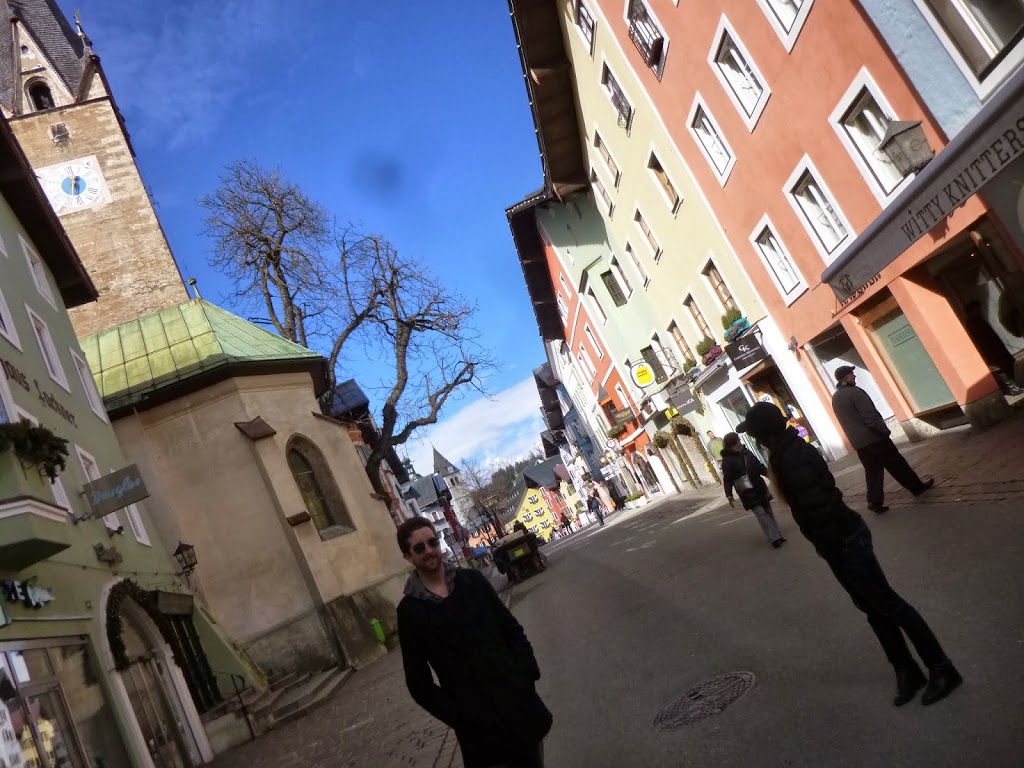 Up the main street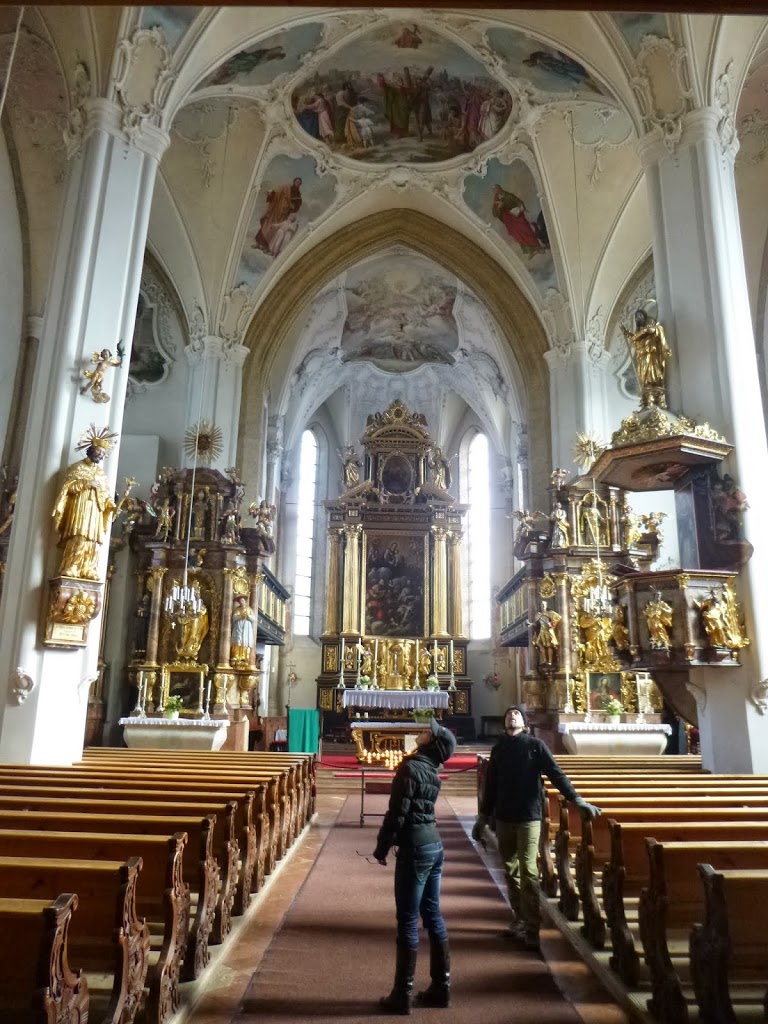 The church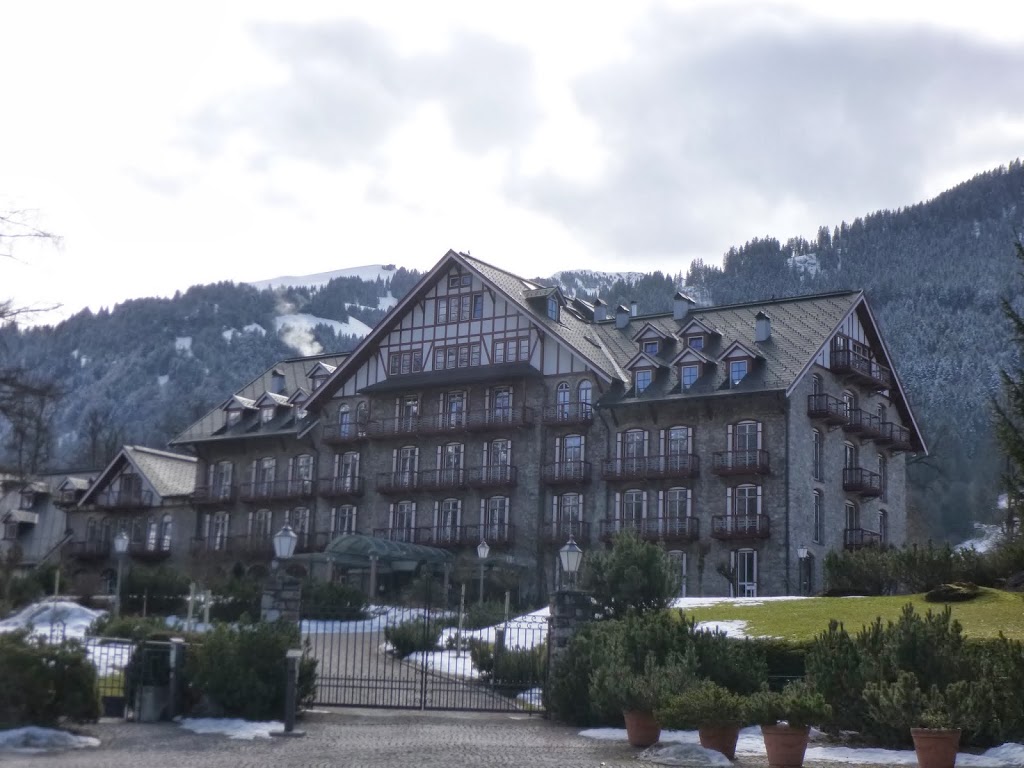 The HITLER HOTEL. Hitler used to hang here with Stalin n that when they were buds.
We discovered the knock off Amaretto in Kitz – €4 for a litre. Dave and I put three bottles away in Kitz.
On the 24th we went up the Horn Bahn, a gondola up the hills into one of the ski areas. There we had some classic Austrian tukka – I had a curried bratwurst and chips, Dave a schnitzel, and Esch – well Esch had two Austrian desserts, a tophenstrudel and something else. They have such cute names, I shall call the other one a snugglepuffstrudel.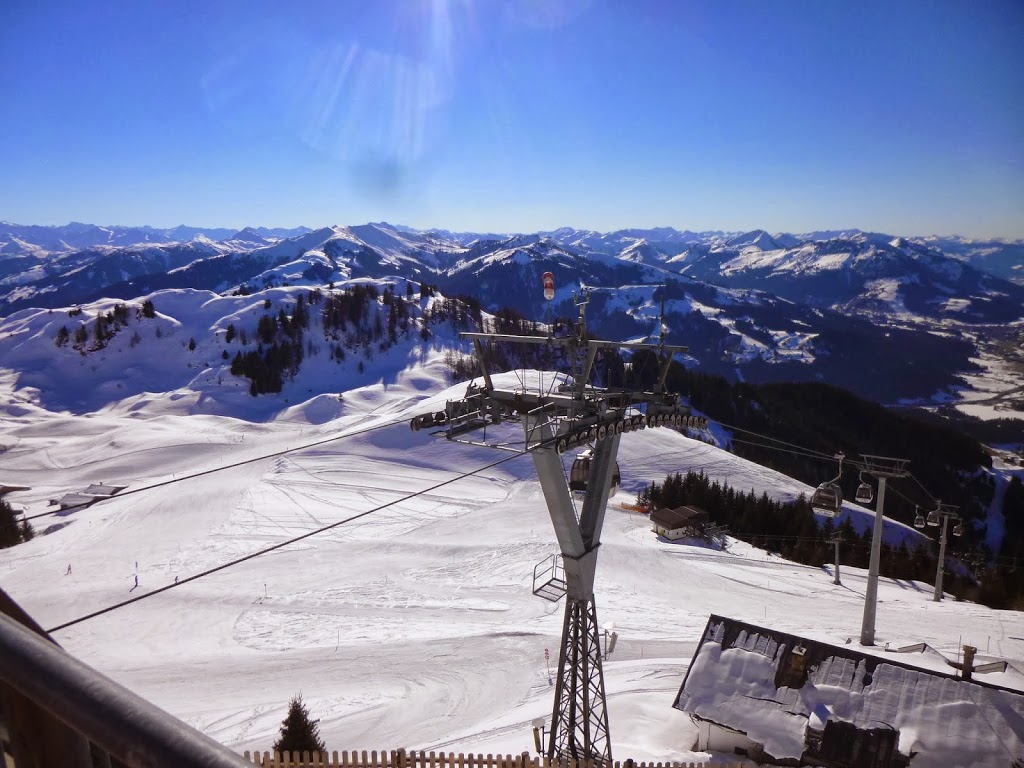 The view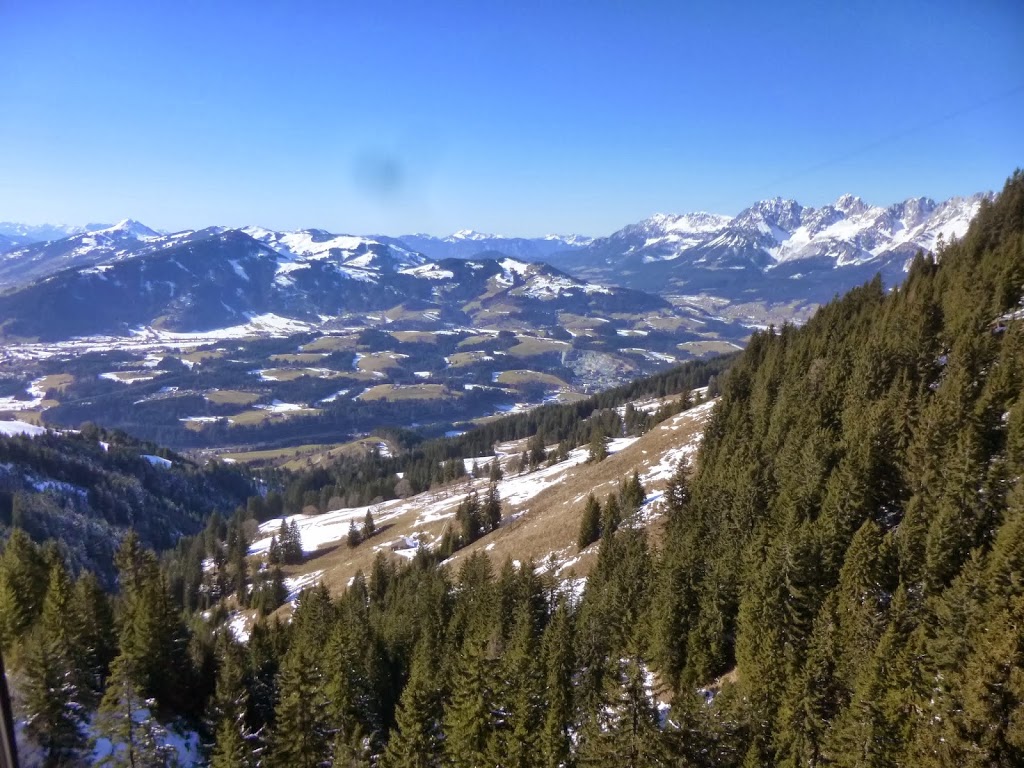 Another view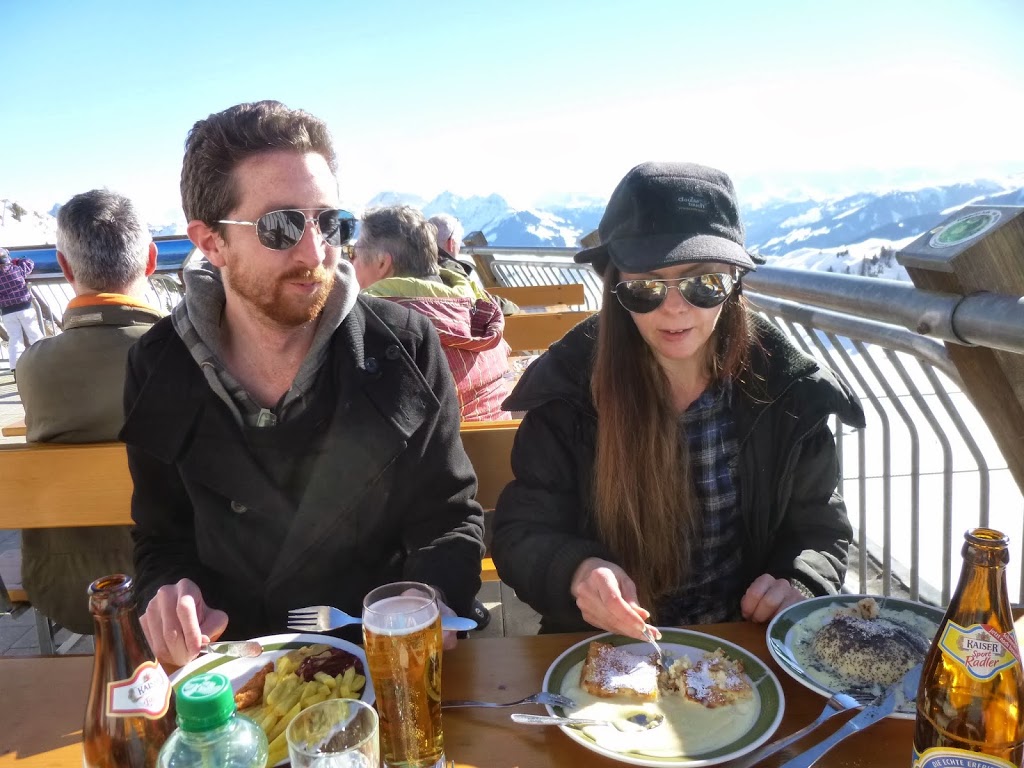 Esch loving her strudels.
We decided, with such a nice day, we'd walk down from halfway (the gondola goes through a mid-point slow bit). This proved to be a bit foolhardy, as the track was relentlessly downhill and a mix of ice, slush or mud. Then it turned into a logging road. But nevermind!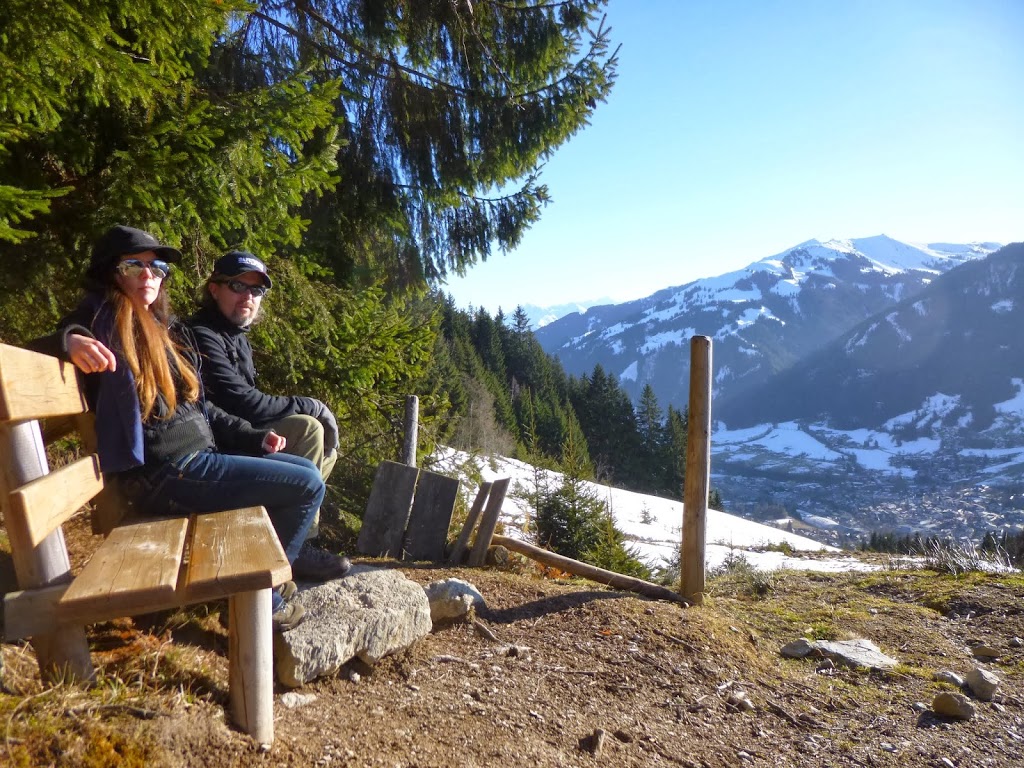 Just walking the dogs.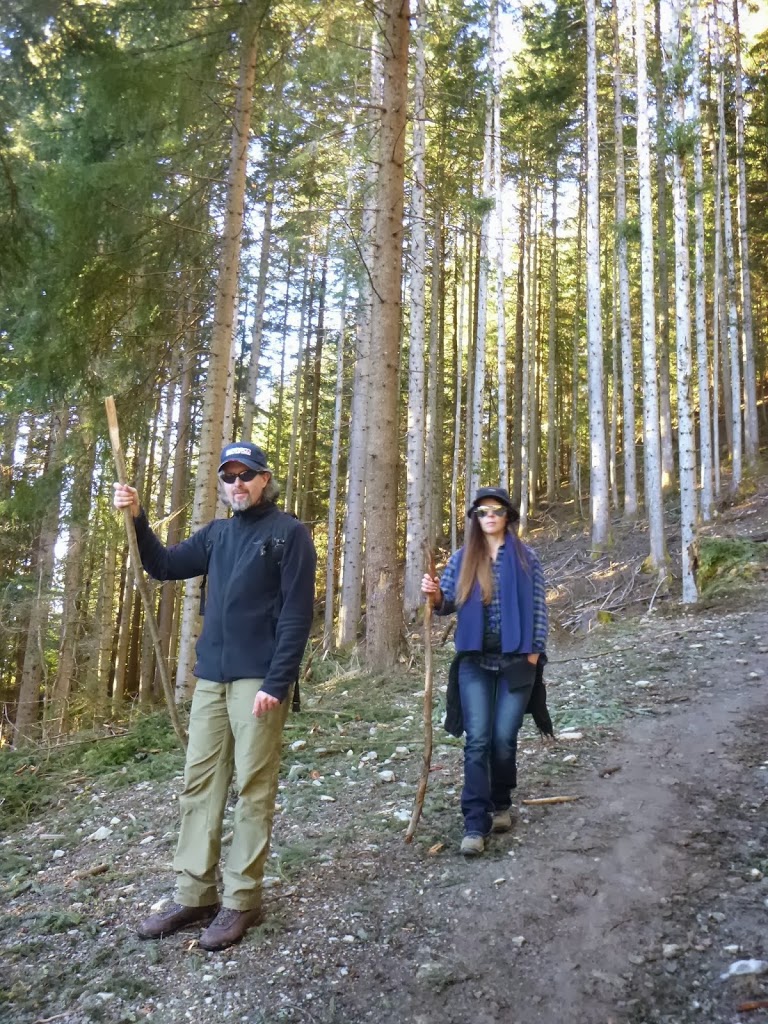 Wizardry.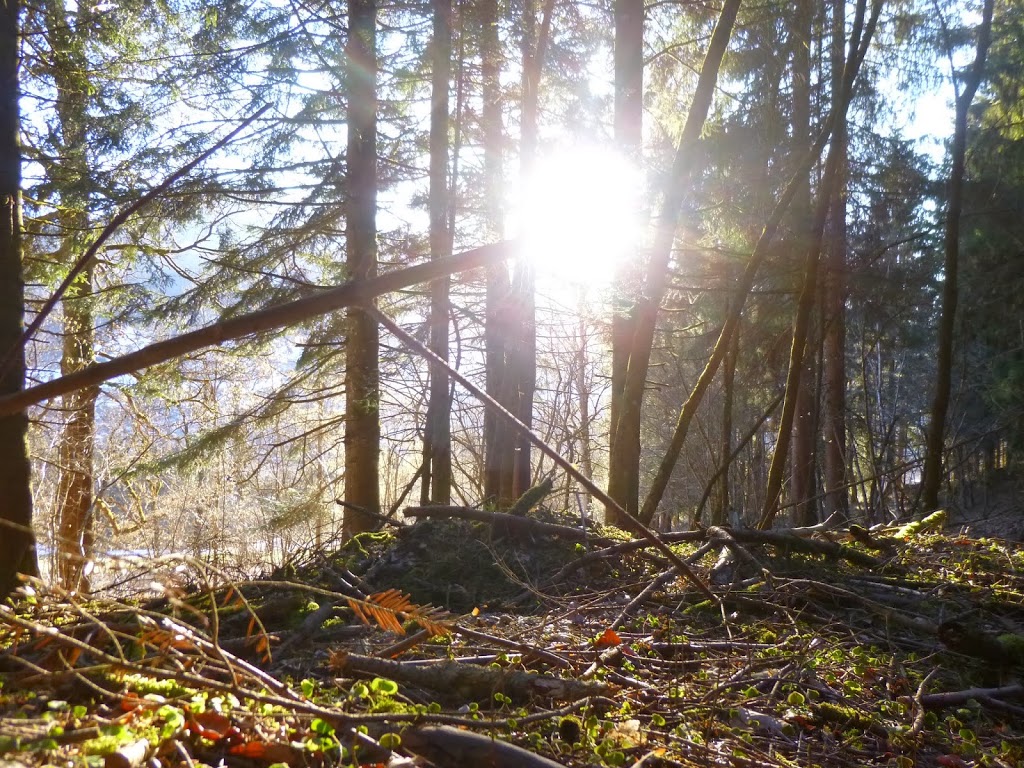 Pretty. Pretty shit photography.
We hadn't had enough walking when we got home, so we jumped in the car and headed to the other side of the valley – to 'Bibi's. Now, if you have money, Bibi's is the place to be. The path up to Bibi's is via a ruinous single lane road carved into a steep hillside, but that didn't deter Bentleys and Porches from honking up there. One can see why, as we walked up a neighbouring hill we were rewarded by views even nicer than those from the Horn.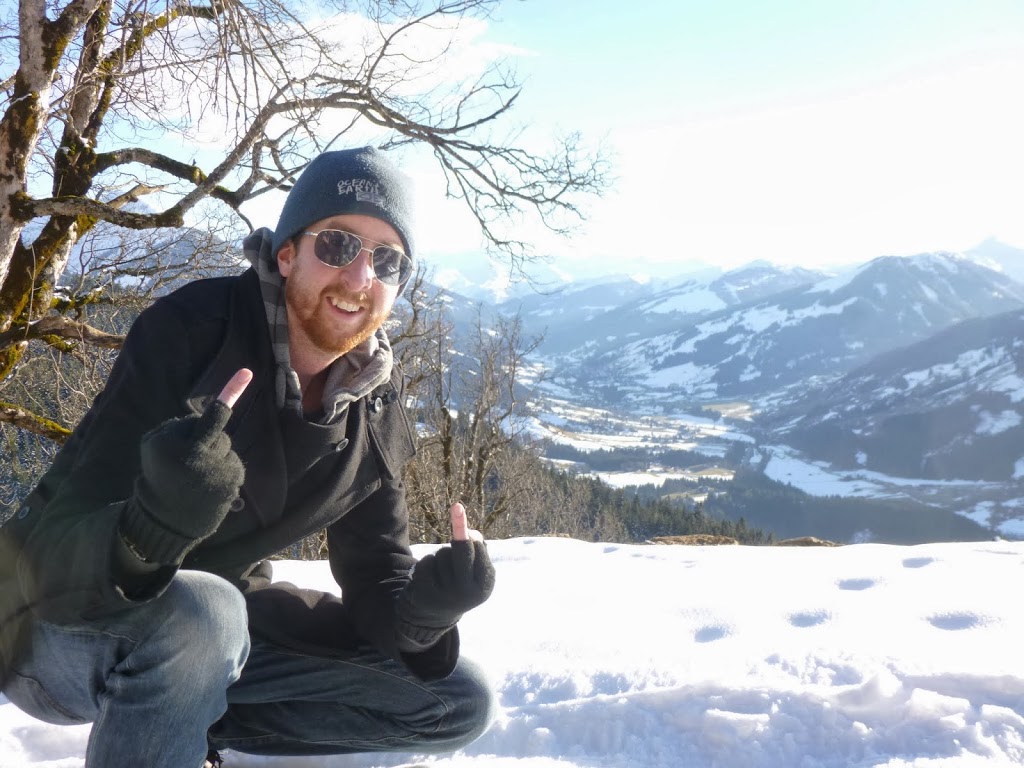 Dave said I could never use this photo after I ruined it. WELL I'M USING IT!
We were a bit tired in the evening – evidenced by Esch trying to light a fake candle. Lulz.
The month had taken it out of us, in Kitz we were pretty comfortable to just sit around and relax. We caught some sunshine and I read a romance novel. It was absolutely terrible and I have no idea why it was on my Kindle. Emotionally damaged sheikh with honourable responsibilities falls for strong-willed American pilot. Never again. Later we walked around Southsee Lake – still frozen, mostly!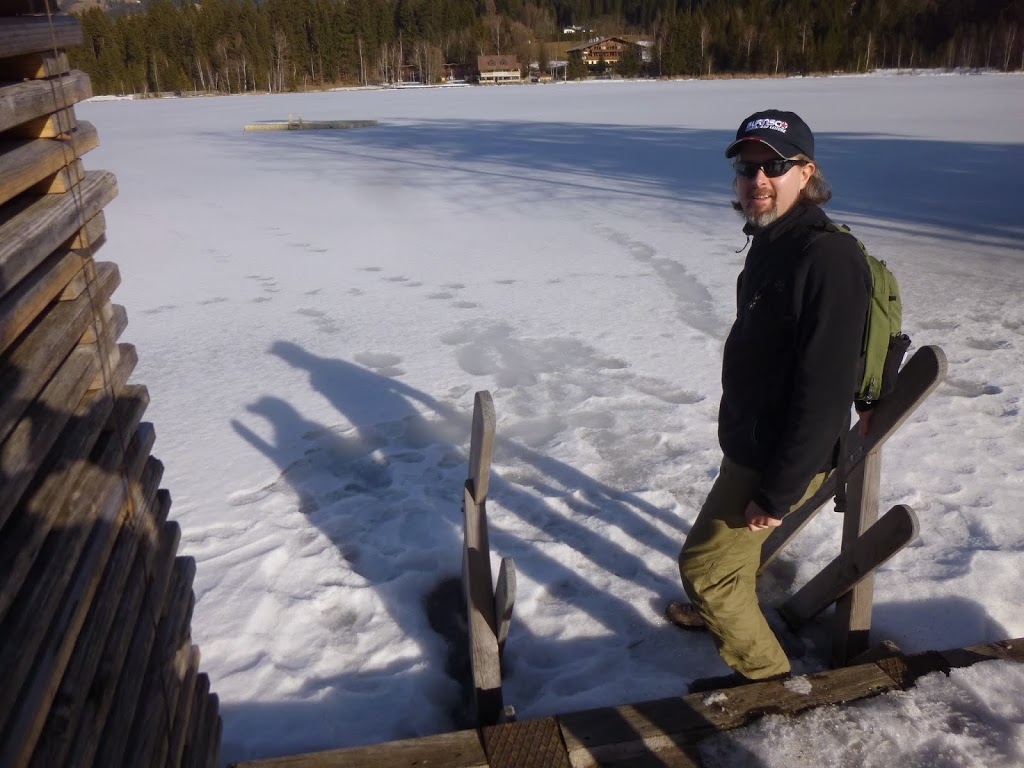 Foolhardy!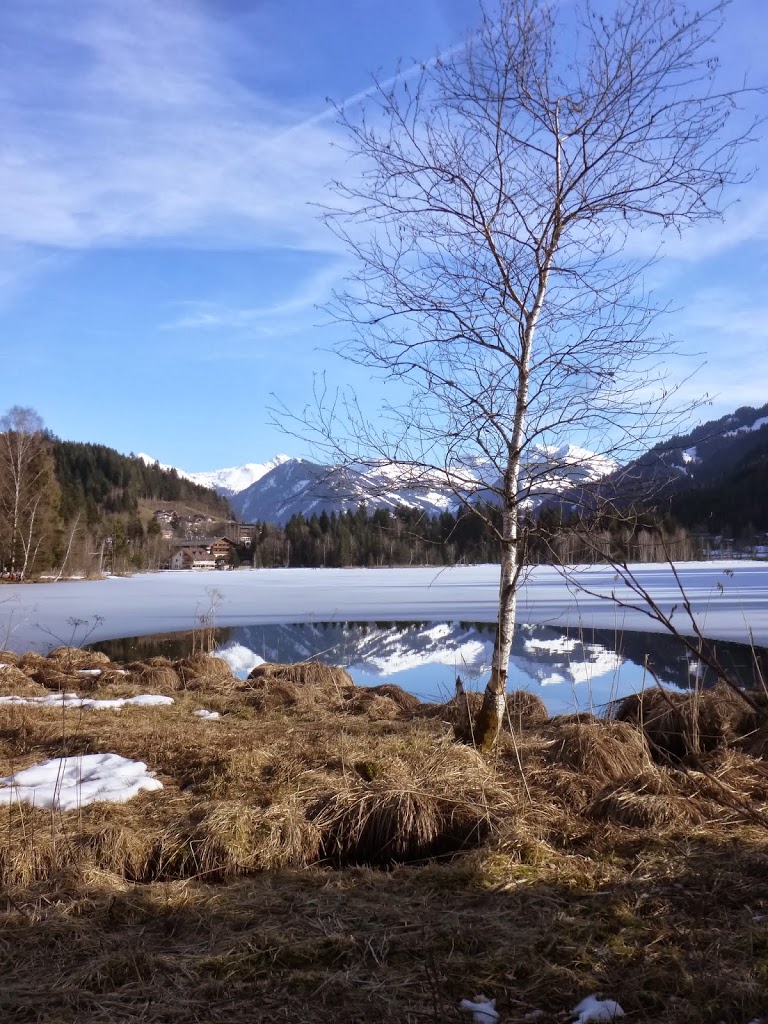 A melted bit
We dissolved the group on the 26th – Dave went snowboarding, I went for a walk up the valley and Esch went shopping.
We went on a day trip to Salzburg, an hour from Kitzbühel. The old town is a beautiful place with amazing churches, palaces and a castle commanding over all.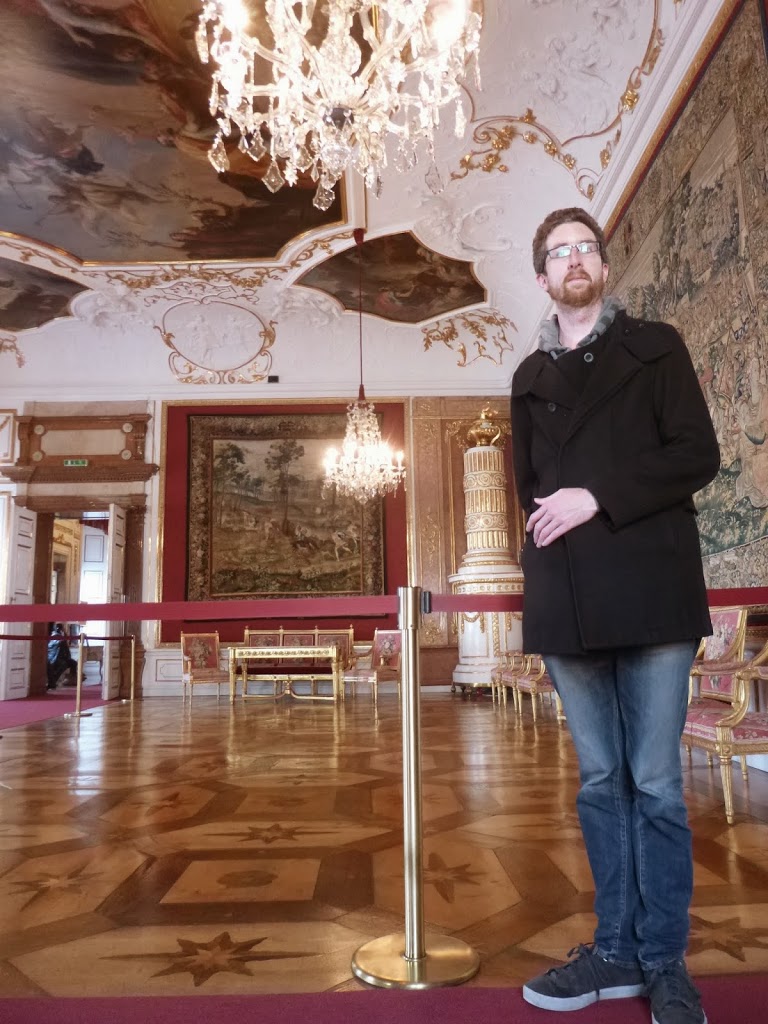 Snooty in a palace.
The only thing wrong with Salzburg was the footy fans. A game was on, and the streets, rather than being filled with Mozart's symphonies, were filled with the European equivalent of OZ OZ OZ! Hats off to Austria allowing public drinking in these beautiful places, that's lovely of them. What wasn't so lovely was the disrespect shown by the football hooligans – I didn't mind their loudness, their crassness – what pissed me off was their not cleaning up their beer cans once the game kicked off. Douchebags leaving three dozen Heinies outside these historic buildings.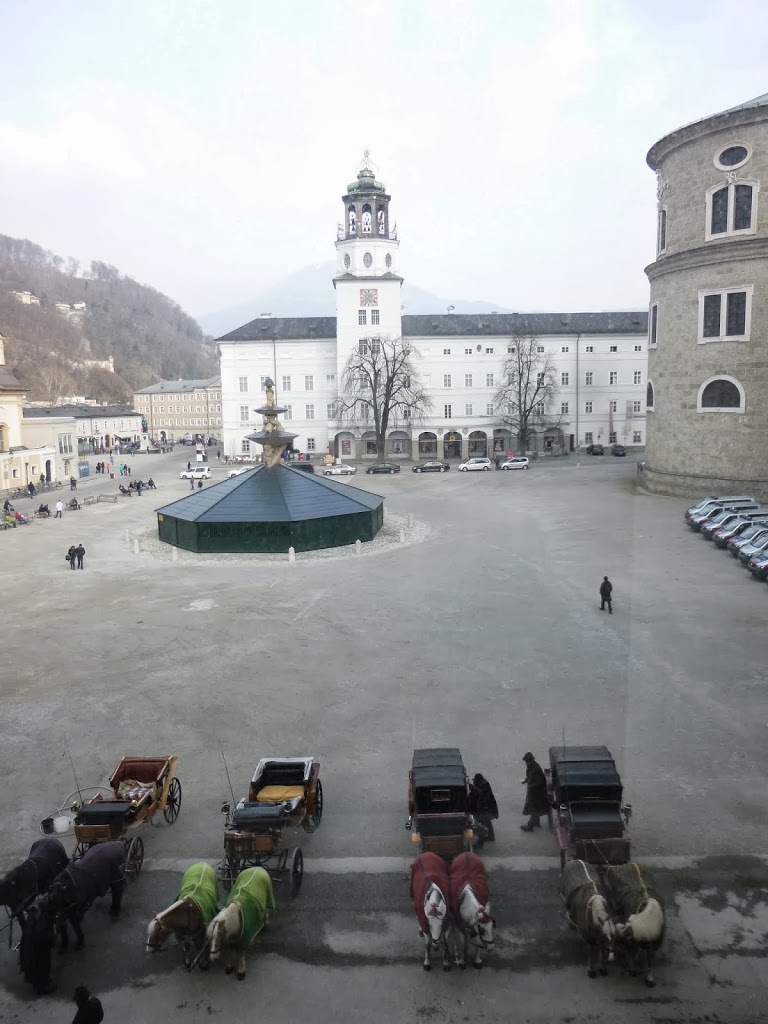 Cops out in force (vans on right). Ready for a laugh riot?
Dave got a taste for salt sticks, like a horse. He ate four of them in Salzburg.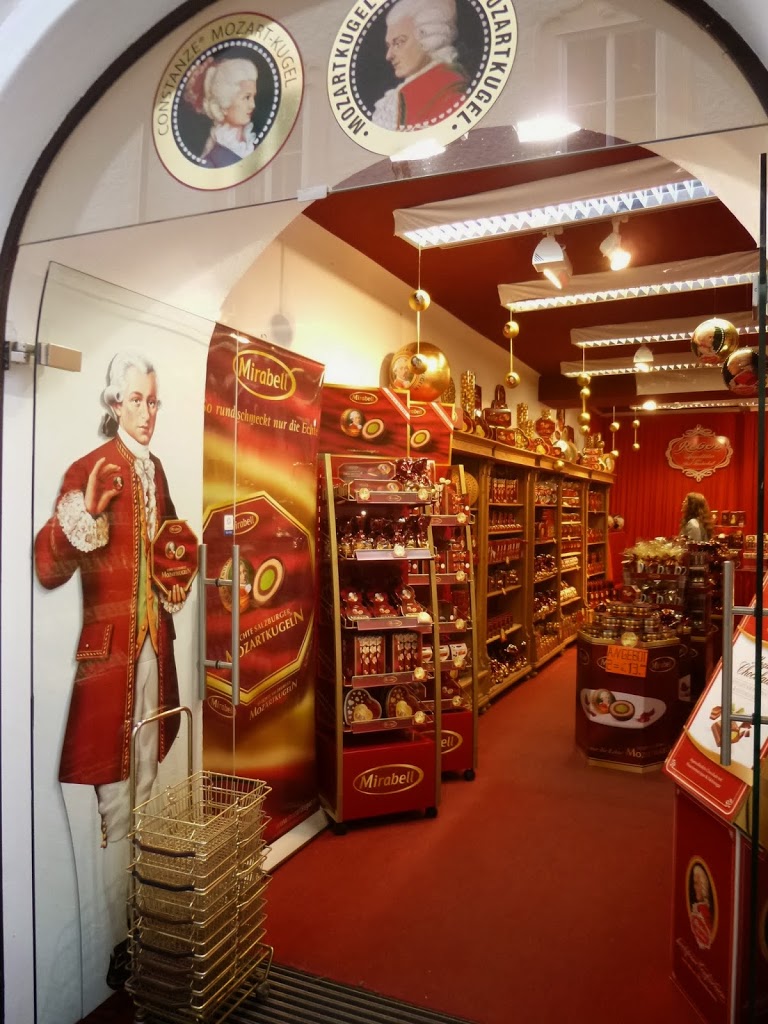 Mozarts balls. They love 'em.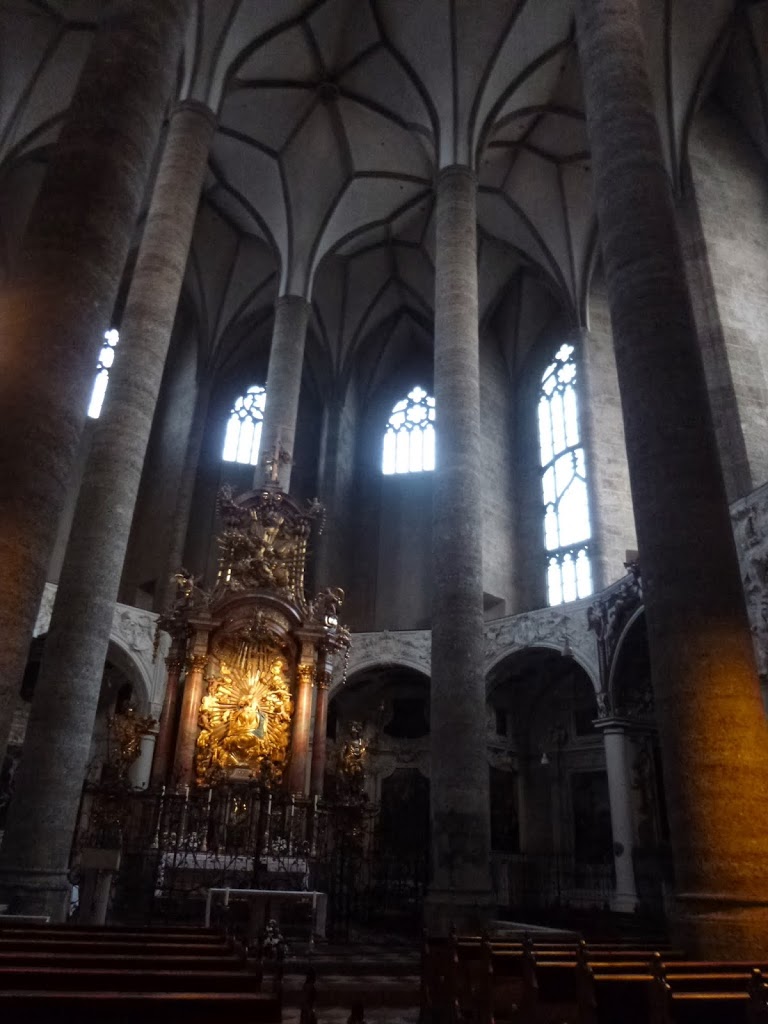 A gothic church – interesting to compare, Baroque and Gothic right next to one another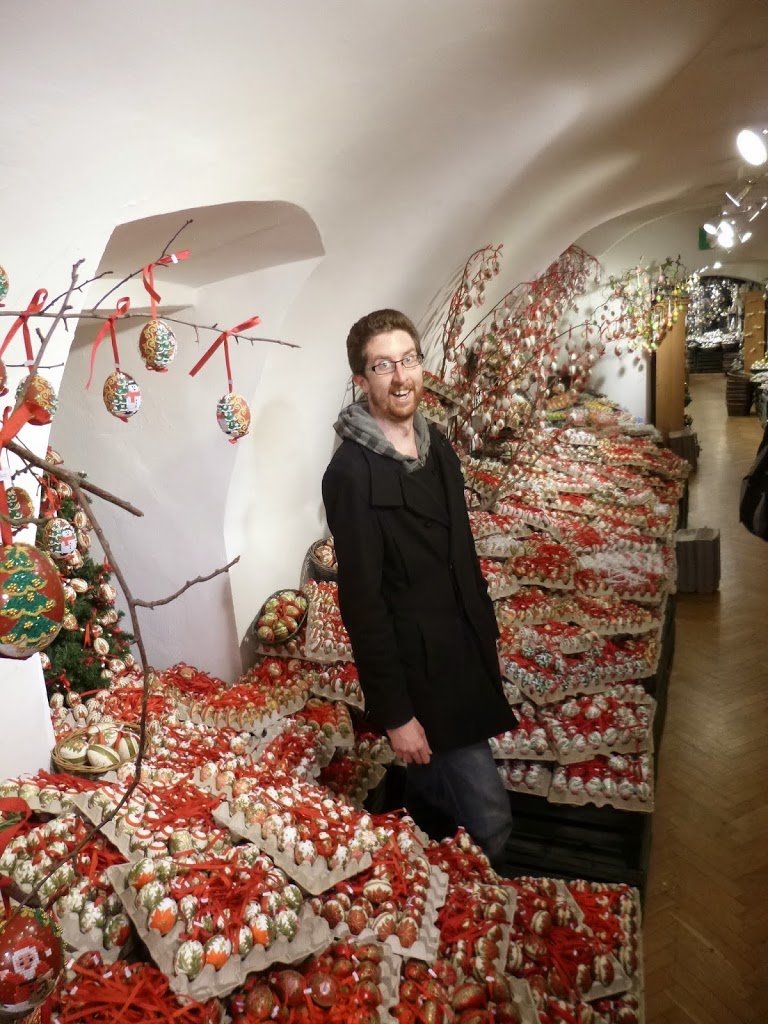 Egg painting. Holy hell, there were about 70 million hand-painted blown eggs in this store. Adorably barking.
We were a bit sour on our hosts for not letting us use the washing machine, so it was rather odd when they saw us off, all friendly like. Anyway, we packed it in and headed for the Hague for a few days before we were to head back to our respective homes.
In Europe, as in the UK, most of the week stays do a 'saturday to saturday' kind of booking arrangement. What this means is that the roads on Saturday, in all these improbable places, are absolutely tail to tail gridlocked with holidaymakers moving to and fro. The autobahn was moving at 20 kph. This puts a lot of strain on the services – the toilet lines go out the door, it's music festival-esque with guys pissing on anything anywhere.
We really needed to go, but we were not going to get that feral. So we took the first turn off we possibly could and found ourselves in a random town, next to a wee diner. We had a lovely lunch in an authentic German cafe away from the hustle – definitely a travel tip I shall try and remember for the future! Much better than a services stop.
Enroute we stopped in Bayreuth. The plan was to see the theatre there, however in the morning we found it was closed! ANNOYING. So we continued to the Hague to be reunited with Anneke and Helmut – and it was with some relief we were to take a few days off. We did however enjoy some prowling of Holland (though not as much as I need to do in future I admit!) Dave and I walked the beach and dunes, and we all went to town one day and visited parliament and that.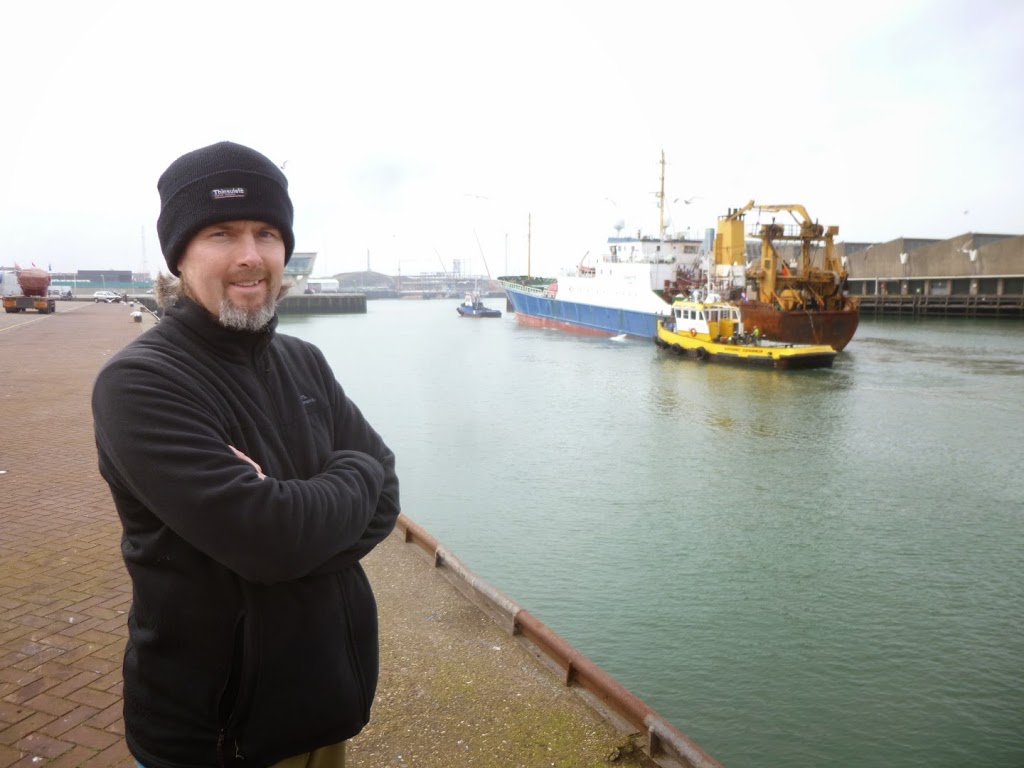 What an old salt.
Unfortunately and all too soon, with tearful goodbyes from all parties, it was time to go back to our real lives. My real life right now is a non-stop holiday so that was something of a consolation, but to say goodbye to Dave and Esch – that sucked balls. But if you're going to experience the joy of an arrival, the price is the sorrow in the departure. It was a small price for such a wonderful and amazing trip, one I shall cherish for the rest of my life.
In summary
This trip was wonderful, and couldn't have come at a better time. I was having a pretty crap time in the UK up until this point, and hanging out with my big brother really re-energised me for round two of trying to make a go of the UK. (And the UK is much more me outside of the big city I have discovered!)
I found Switzerland to be just the most beautiful country, and with the changing seasons, a real place of adventure all year round. Lucky Swiss, and they have the rest of Europe at their doorstep should they ever feel the urge to leave – though one would wonder why!
I was on the receiving end of a lot of kindness from folks I don't know well, or at all, on this trip. It made all the difference in the world for us and is something I wish to pay forward. I'm talking that dude in Burgamo leading us to our hotel, Ennike and her family's warm and generous hospitality (she'd never even met me!), and the continued support from Esch's folks – it just made the trip what it was. Wonderful people making the world a better place, small gesture by small gesture.
I was also humbled by my weakness in language. I mentioned this earlier, but being 'the foreigner/s' was a really rewarding experience for me – I hope to ease the discomfort for non-english speakers in future when I have the chance, now I know how it feels.
I'm a bit bummed to fire this blog off to be honest, as it really polishes off the trip. But hey, what a moment in time! What an adventure! I am a lucky chap and I can't thank Dave and Esch enough for all the planning, organising, driving and company that went in before during and after this trip.
And my undies came out normal sized, by the way. It's a great day to be me.