I only got the van on the 13th of March. If this month is anything to go by, the time is going to disappear in a flash and it will be a very long time indeed before I want to leave these Isles!
As recently as the start of March I was joking with Dave and Esch about returning to the 'Poo K' – I was not a happy chap. But this month, being able to explore the countryside, see the sea most days, go where I want, when I want – once I got my mind around the plan, it has been bliss. Pure bliss. And this country! What a beautiful and amazing country. So much I have discovered by chance, my mind boggles at how much I have missed in the regions I have visited already. But enough of that! What did I do in March?
I went to Brighton


Just bedding in with the van mostly. Brighton is a nice enough city, but it is definitely a city. I don't know why I was thinking some kind of sea-side fun town sort of thing – it has that! But that's not all.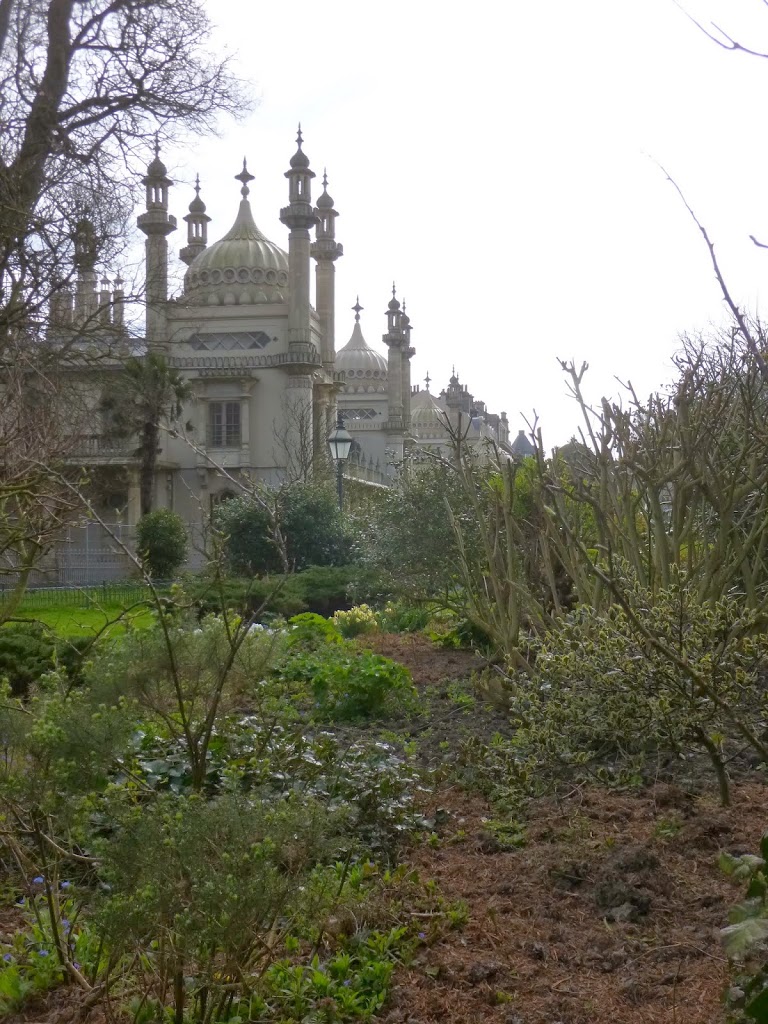 Brighton Pavilion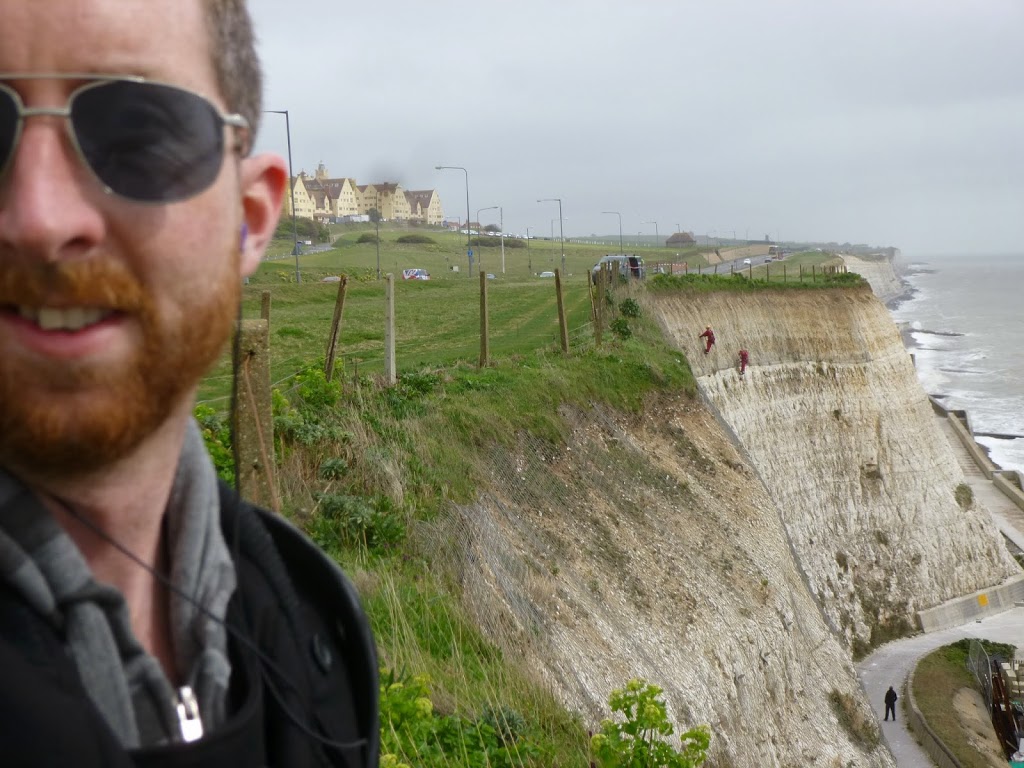 Some abseiler engineers? Checking the dodginess of the cliff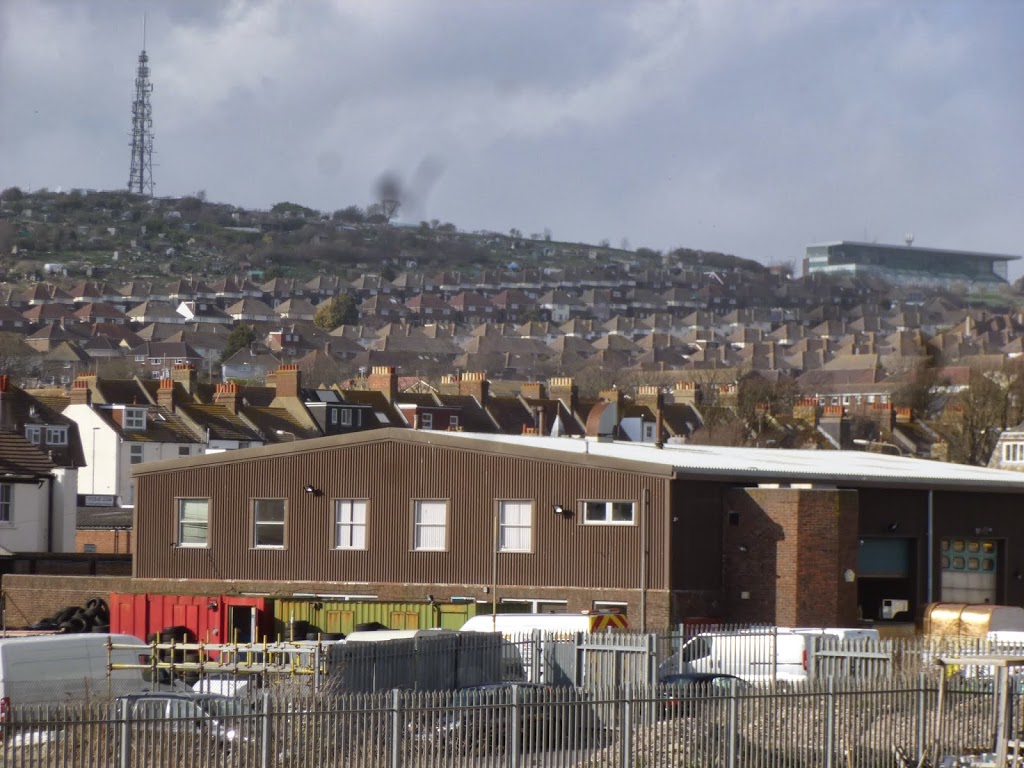 Brighton's bleak in some places too!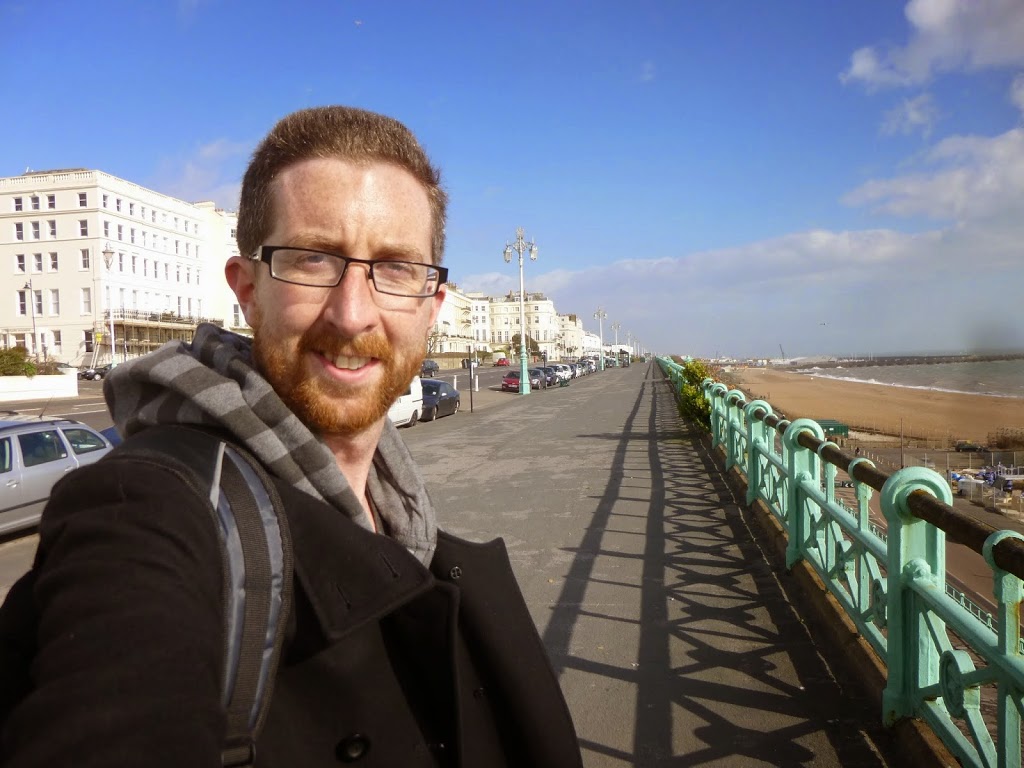 But also quite lovely!
In Brighton I bought a wee radio from ASDA. It's just a £4.50 analogue piece of crap but it has been one of the best van purchases of the trip. BBC keeps me company and the lack of ads offers much more longevity to a station. I'm like some old guy in a fishing boat with his ratty little radio.
I ran the coast walkway to Hove which was nice.
Geez, I didn't really do anything in Brighton! Oh well, not going back.
On my way to my next destination I went past Seaford to see the Seven Sisters.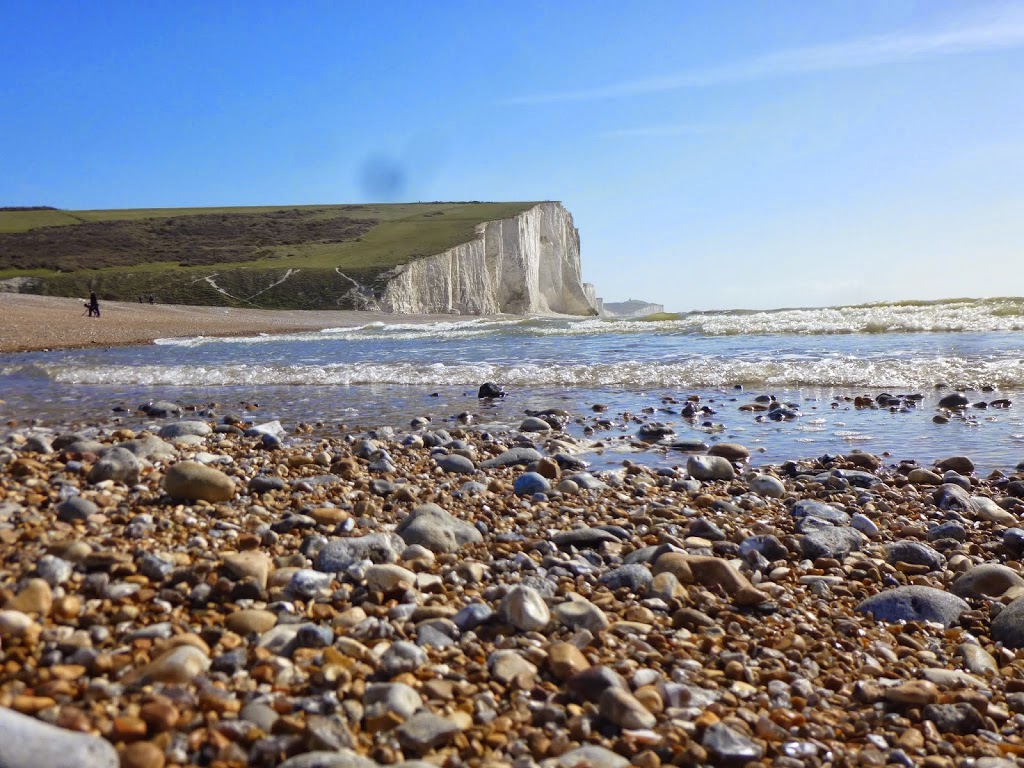 Just one sister.
To go to this beach in the middle of nowhere on a weekday, £5 for 2 hours. That's $10 for you New Zealanders. I paid coach prices, some places decide motor homes are coaches not cars. I did talk to a National Trust woman though and she said I was a car, so no more of that. So for my £5 I had this nagging 'get back to the car by 12:40' thing going on, which really ruined the exploration for me! Beautiful spot though. I just have to get over this whole 'pay for everything' thing, and always have a pile of pounds on me. That's just how it works over here – not so pinko commie as DOC back home!
I went to Chichester
Went where? I agree. But I had to go somewhere and on my map it was a city in the centre of all these castles symbols and beach towns, so I thought – hey that'd be a good base! And it was. Chichester has a beautiful Cathedral and the town is nestled inside city walls dating back to Roman times, 280AD – and they've been constantly neglected, destroyed and rebuilt throughout English history since then. They've got a little heritage walk along the wall with plaques – neat!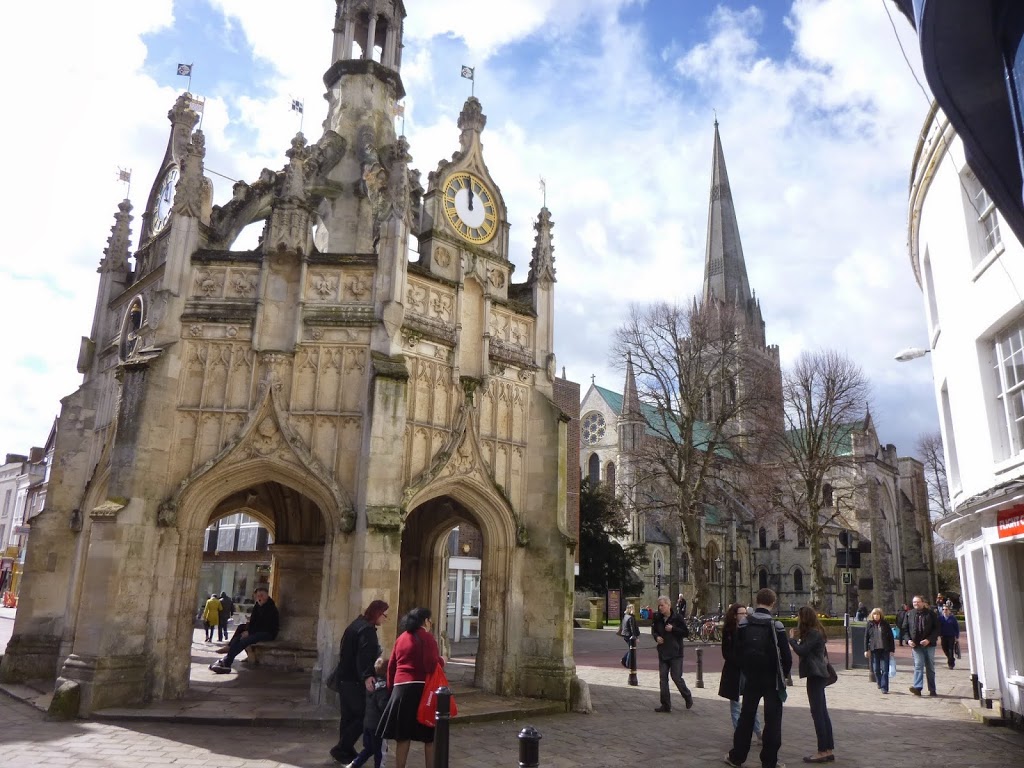 The market square with Chichester cathedral in the background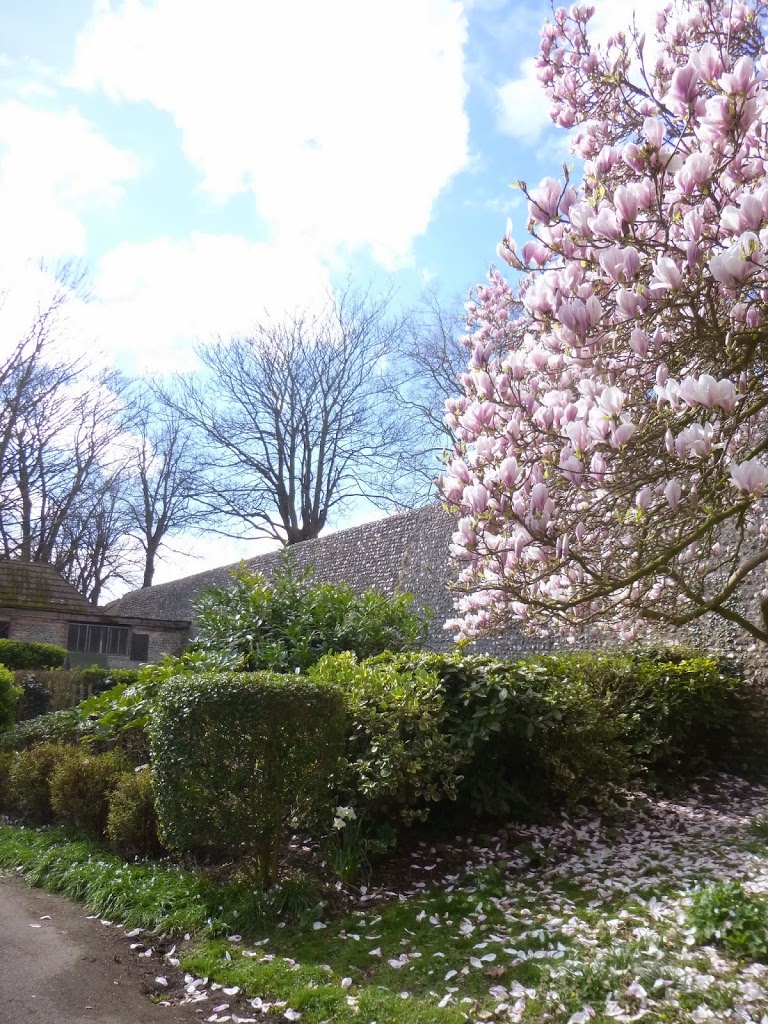 The city wall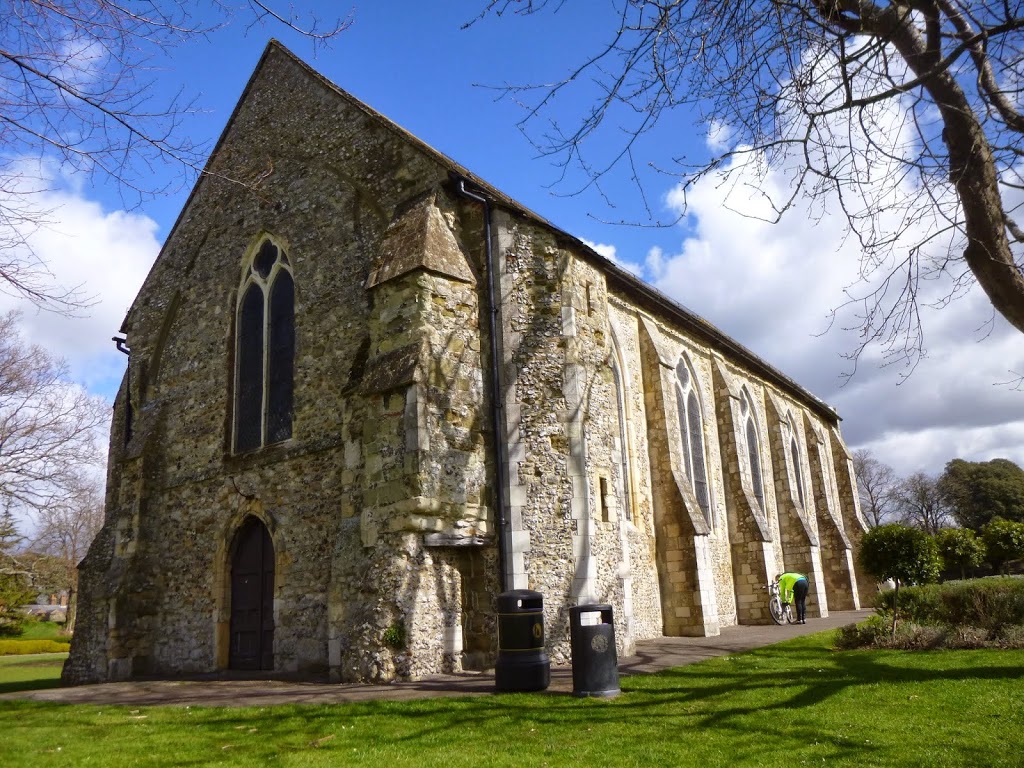 A priory on the site of an old Abbey. The rest of the site is a cricket pitch – so English!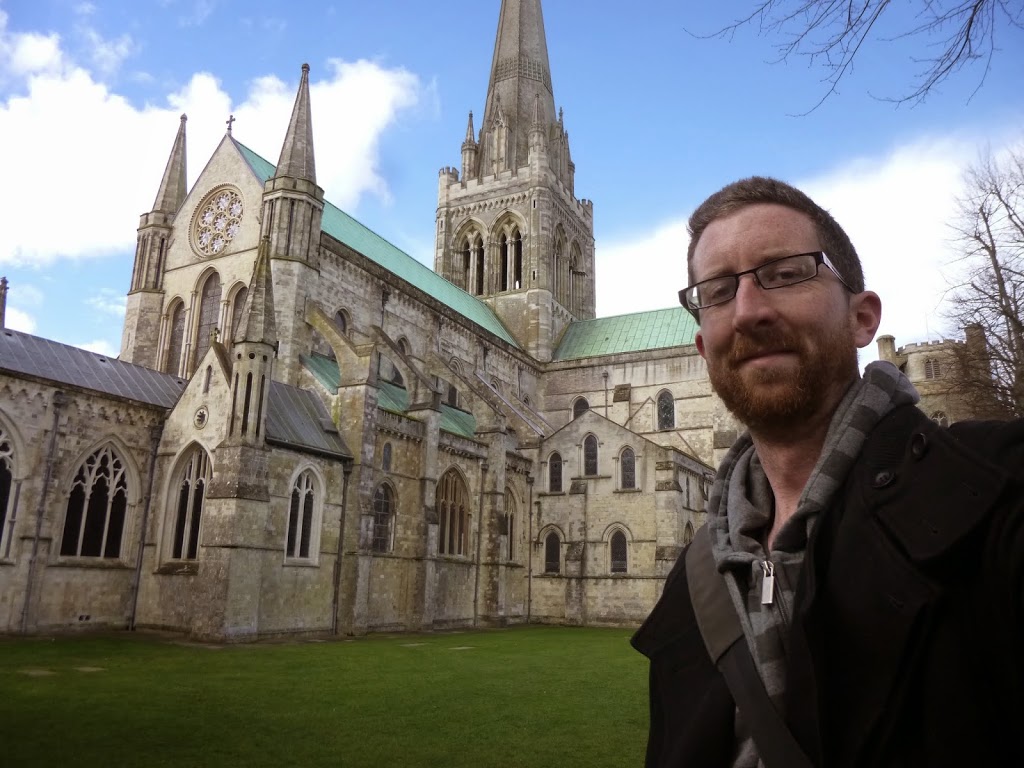 Chichester Cathedral
Also in Chichester I was able to get my internet sorted out, which has become extremely critical to my existence! I'm now on a monthly plan with unlimited mobile data (including laptop tethering) for £23 a month. I can keep in touch, back up my photos and use google maps with abandon anywhere in the UK. Bangin. T-mobile.
So the place I stayed at during my five nights in Chichester was a 'Holiday Park'. If you're from New Zealand you equate that with a 'Top 10' – it's a camp site, with a base level of cleanliness and facilities – the McDonalds of the Campsite industry. But over here, they're something else entirely.
Upon arrival the 'Sales Office' is far more prominent than the Reception office. And the definition of 'Caravan' has been pushed to it's absolute limits. It's pretty much a semi-mobile subdivision – these homes are perched on wacky little beach buggy wheels, somehow supporting a trailer as long as anything Australia can come up with – I am sure they are as long and wide as allowed under English law. Weatherboards, central heating, ensuite bathrooms for 2-3 bedrooms – they're little houses. Good luck touring with that.
But you don't tour with them. You rent one, or rent one to buy. Then you pay a weekly rent for your piece of concrete to park it on, sectionless, fenceless, with all the rules of the park to abide. You also pay for all your own utilities.
I went to the bar on my first night, it's on a lake, and I was enjoying the view. A bloke came out and we got to chatting. He'd left London because of all the 'towel heads' on the building site. I kid you not. This racist had sold up his life in London for a life by the lake side – but seems like they nickel and dime these people for their little piece of heaven. And in the morning I noticed two porsches parked in the 'Sales Office' parking area – way to keep it on the down low! Anyhow, the site was mostly geared around that business. It's a wee community, with live bands, bingo nights, all the shit – like a little cruise liner. I found it all rather fascinating as it is something so very foreign to me! Dorky as though.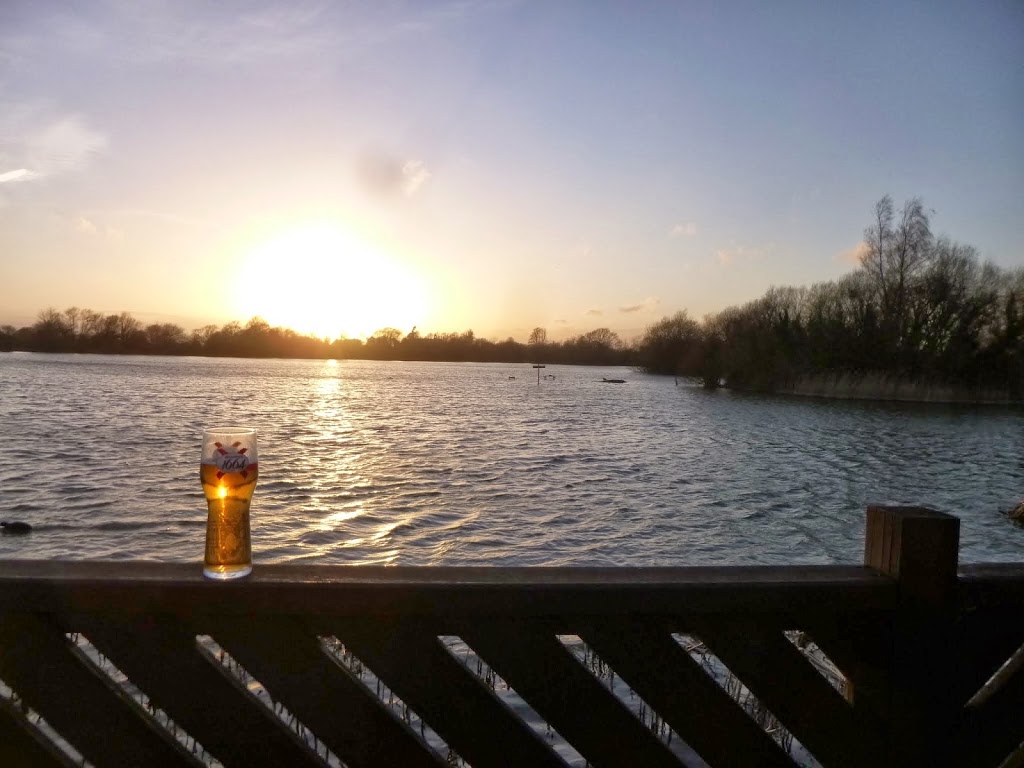 My beer by the lake.
'Touring caravans' as the traditional type are called, were relegated to the lawn out the back. And boy was that lawn muddy.They mistakenly told me to take a powered site, though I only paid for unpowered. So I was all, score! Then promptly got stuck in the mud trying to park in the powered site. There's karma for you.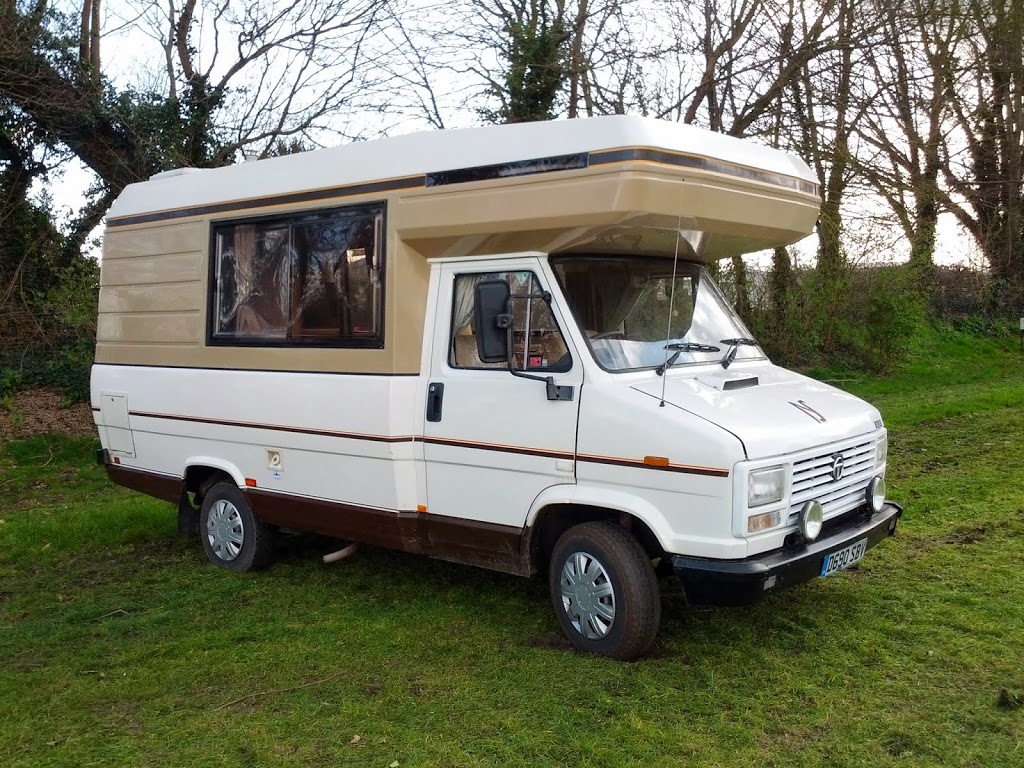 You're a real stick in the mud, Log.
With shame on my face I returned to reception and they sent maintenance to help. Within 10 minutes a tractor rumbled up, and the bloke was rather disgusted that I hadn't a tow rope all ready to go. Add that to my list of things to buy. Anyway, after I found what looked a bit like a D ring under my front bumper, we hooked a chain to that and gingerly dragged me from the mud. The tractor dude was all, 'there's nowhere to tow it from' – I was worried we were going to twist the chassis or something ridiculous, but no worries. Yet. I parked with my tyres on the access way the rest of the nights there, and enjoyed newcomers pointing and laughing, then getting stuck themselves, over the next four days. This one guy in a transit, hahaha man. He'd stuck sticks under the tyres and after I came back from a walk there were trenches 20cm deep and about five metres long. Wish I was there, dude didn't give up!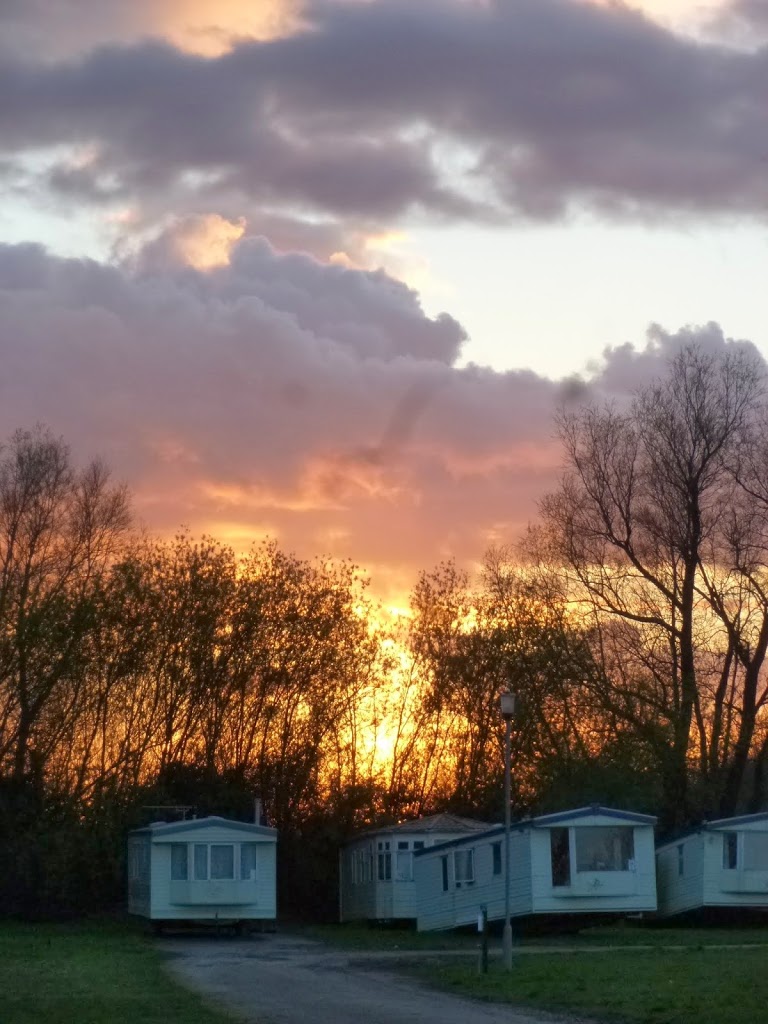 The little units who couldn't at the end of the touring lawn.
For all my ragging I will say – the reception girls were absolutely lovely, as was the warden bloke. And the lakes are peaceful, I wandered around. All along in little lay-bys, little bivvies were out with solo fishermen doing their solitary, avoid the wife thing. You take your tranquillity where you can find it.
Chichester wasn't a destination really – and I did satellite out from it. A few kilometres away was the Tangmere Military Aviation Museum. I popped in and did my first naughty tourism – in that I went around the barrier. Some scout group or something was looking at a harrier outside (boring) but in doing so they'd opened a gap in the external fence, and there was this Vixen jet which I had never seen before. And a picnic table. I took the picnic table as a sign, and hands in pockets, rocked that boat. I did get to take my photos and investigate to my satisfaction before I got hassled to get out.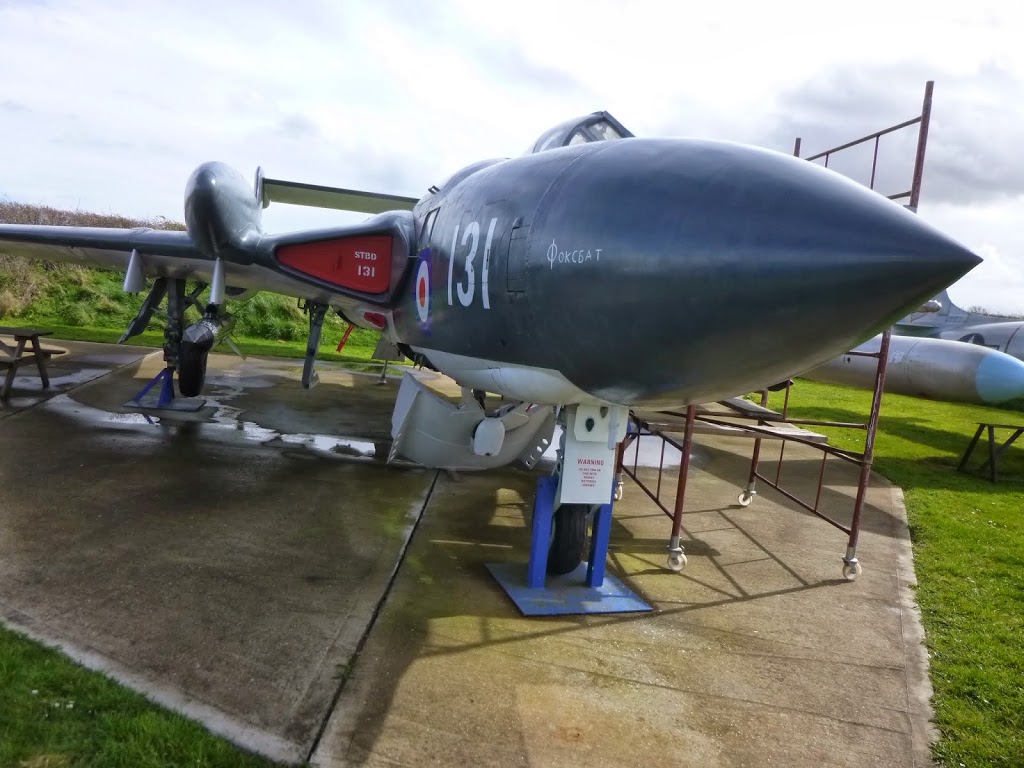 Sea vixen – what a minx.
The reason I bring this up is because of the Englishness of the exchange. This English old timer comes around – 'Excuse me sir – it'd be OK if one of us were with you, but if you bumped you head you'd want to sue me and we can't have that'
'Sorry, my bad, I saw a gap in the fence and I took it. I've never seen a Vixen before – I kept my hands in my pockets!'
'It's our fault really'
I blatantly ignored the fence and admitted as much and he still apologised. Such a polite country, I really don't get it – you'd think Germany could have invaded and the home front would have said 'sorry, are we in the way?'. I know there's fire in these bellies but I am terrified of what it might take to find it, and what it would look like once I do! It does make driving an incredibly slow and cumbersome vehicle around much more pleasant though. I just don't understand the boundaries yet. I'm like a child, forever testing – but I'm yet to elicit a response to demonstrate the limits of tolerance. Haven't heard a hoot yet!
Some old lady today ignored me offering her a supermarket basket, and then said 'do you think that's the right thing to do?' as I was in her way to get one. I said 'I got this for you' and she was all 'Oh did you?'. Yes, that's why I was giving it to you. GOD. SO READY TO ASSUME THE WORST. I bet she was being sarcastic too, like 'I know you didn't really get it for me, but since I called you on it you're pretending you did'. Oooh, the rage.
I'm a nice person you dessicated crone!

But back on topic, the museum had some interesting stories about the SOE operations during WW2 (British spies into occupied Europe). A lot of them flew from Tangmere in Lysanders. Ballsy people, and mostly just regular men and women who happened to have a desired language skill or a favourable heritage!

From Chichester I also went to Selsey (nothing to see), and then I almost got the van on fire grilling some cheese on toast. Just as well I was watching – good lesson on the grill and cheese bubbles! And when I see a fire extinguisher I shall buy it.
The evenings were so cold my watch stopped most nights around 3am – the battery was tired and just couldn't take it. It was roughly zero. So I was in long-johns, thermal top, sleeping bag, hot water bottle, and duvet on top – and perfectly comfortable like that. Which is just as well as that is all I've got aside from wearing all my clothes.
Emsworth
I went to Emsworth, a wee fishing village between Chichester and Portsmouth, to get my camera fixed. Turns out the dude was retired but he had a crack anyway – left a big splodge in the middle of the lens but got rid of the rest of the shit. A stroke of luck finding him as I really didn't want to send my camera off! While he was cleaning the camera I walked through the wee town and it was just lovely! A hidden gem. And fortunately the cellphone camera was working fine!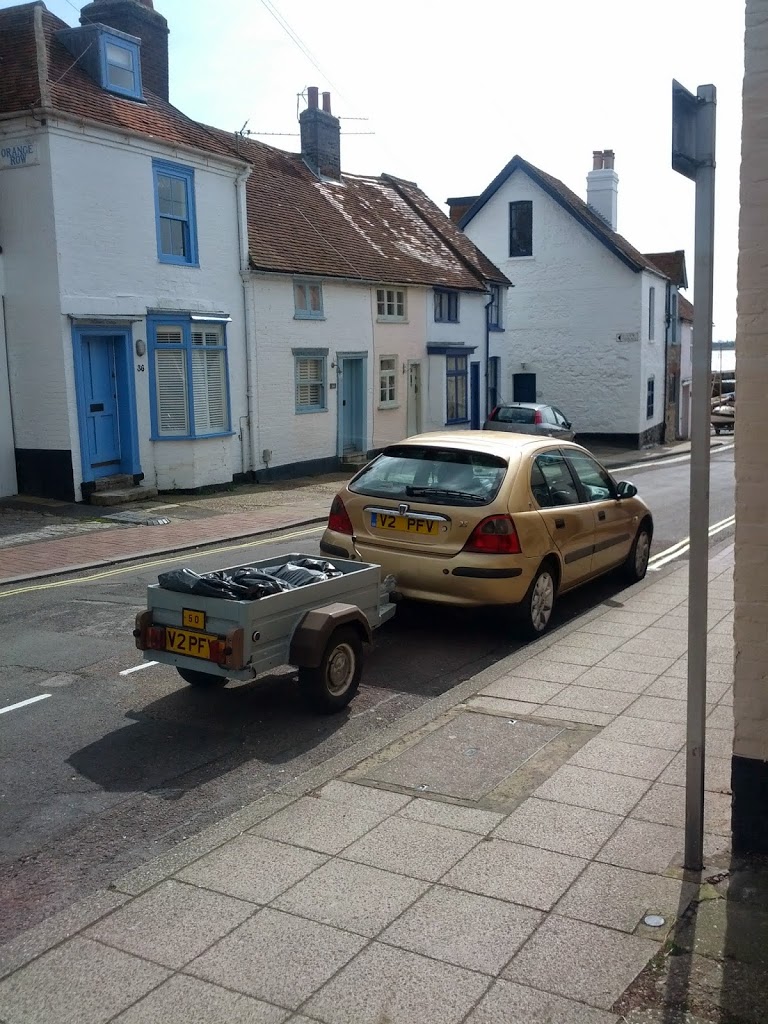 THE CUTEST TRAILER IN THE WORLD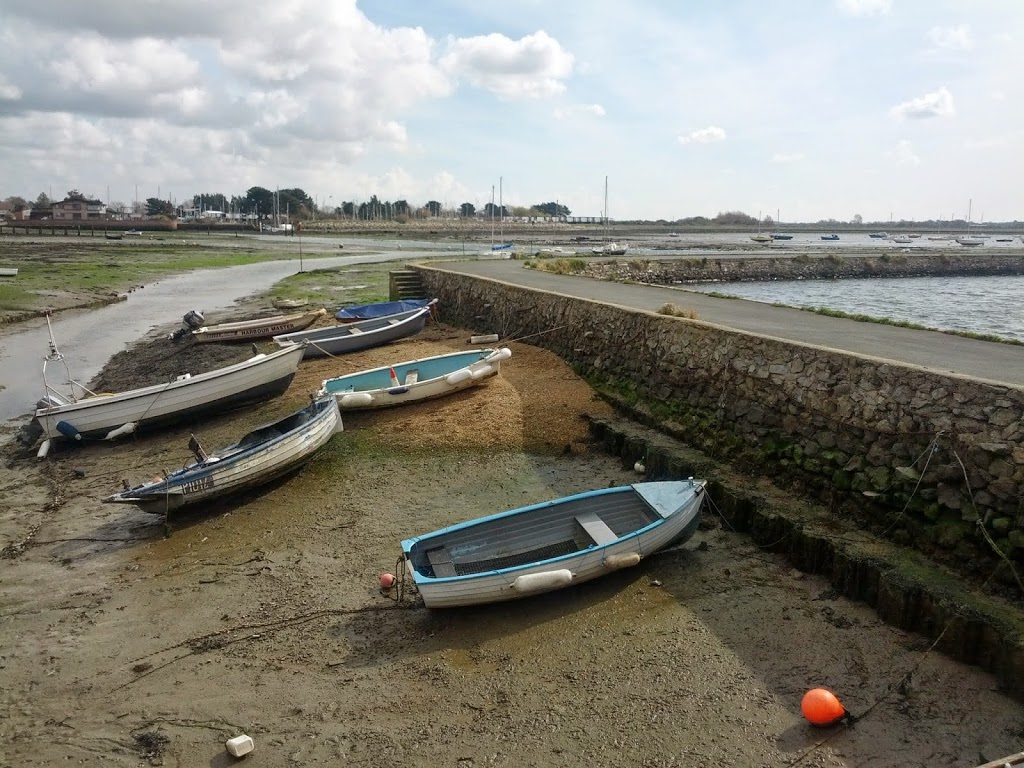 The Oyster Trail on the mudflats – built so the fishermen could horse-carriage their catch into town.
I arrived at an old church, St Thomas a Becket, Warblington. Historic and remote. Around it was an old cemetery, and little huts. During the renaissance or whatever when all the doctors were into cadavers, the remote cemetery was prime body-snatching territory. So they had watchmen installed in all four corners! Bleak!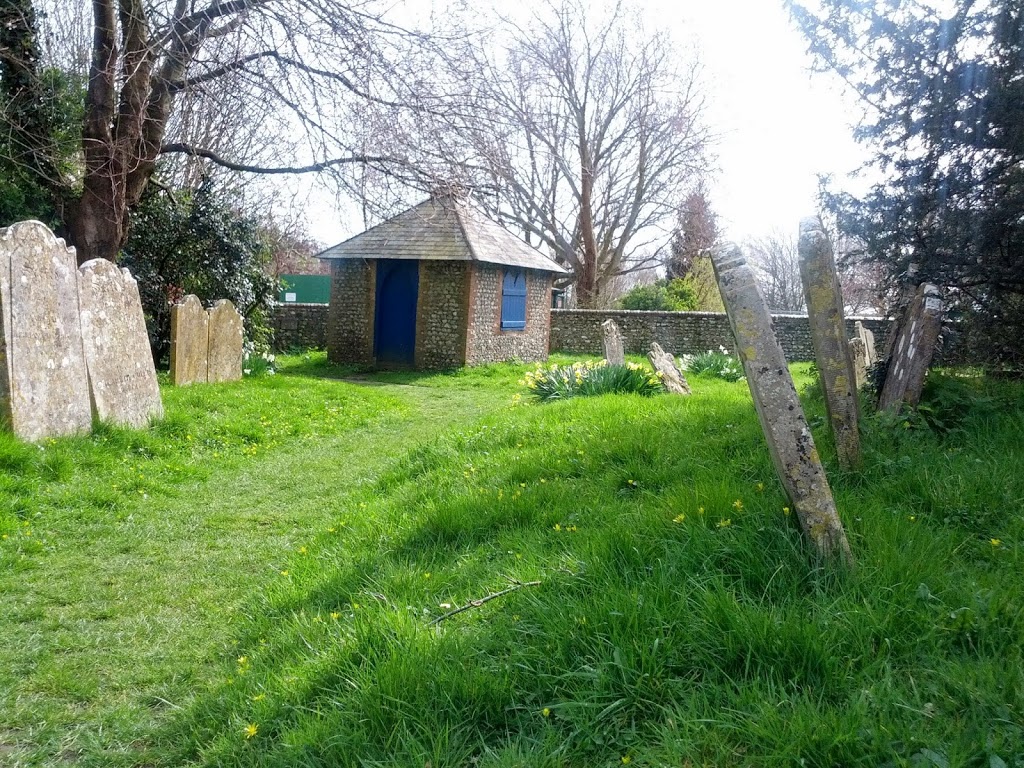 Must've been a neat job, sitting in the cemetery at night.
For lunch I thought I'd try one of the wee pubs, it being a cute old town – so I went to 'The Something Duke' and had a Gammon and chips. Gammon's just a thick bit of bacon really, about 8mm. It was nice, but pretty depressing. It was a week day, the only other people were this woman and her elderly mother with dementia.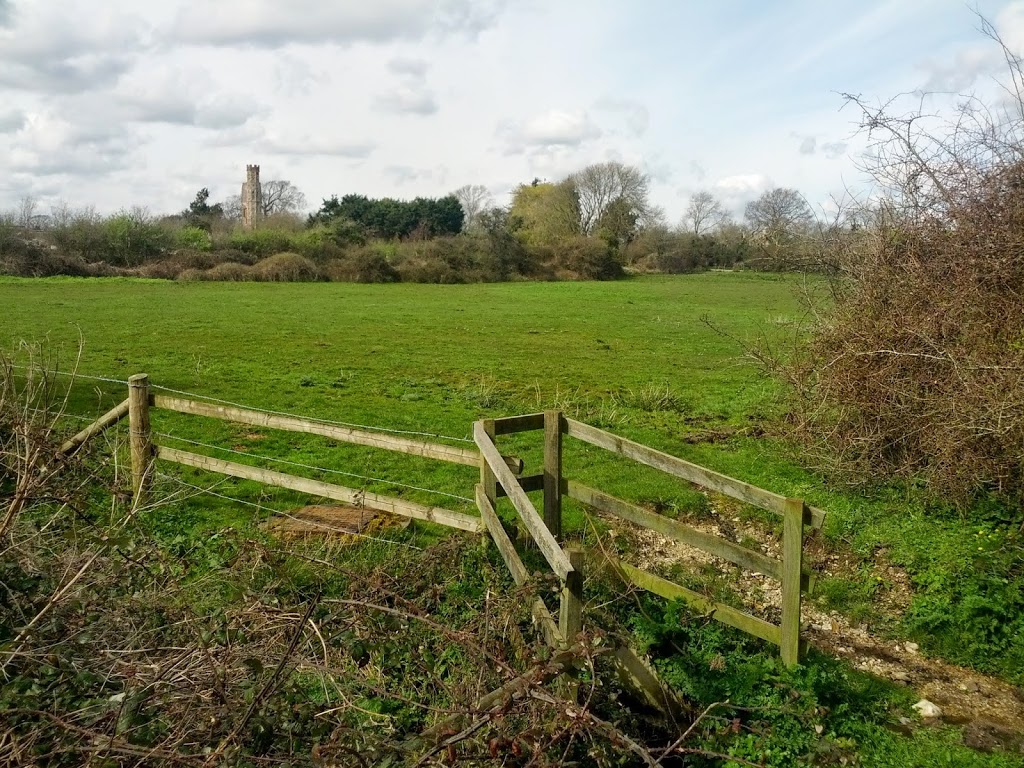 I wanted to go see this castle turret but it was on private property. Lousy!
Back in the van, I eventually ran my leisure battery dry, so couldn't use the laptop. This was the plan, I need to know my range! So I found it, and it's not as long as I'd like (but when would it ever be?) To try recharging while driving I drove over to East Wittering and watched some surfers hooning around. It charged a bit but not heaps, you'd have to drive for quite a few hours to charge it back up from nothing – not a goer if I'm staying around one location a while!
Arundel
Time came to head back toward Brighton-ish area for potential paragliding, so I headed back east. On my way I went to Arundel, another historic village – and home of Arundel Castle. Unfortunately the castle wasn't open for another few days, so I wandered the town and the grounds and went to another pub for lunch.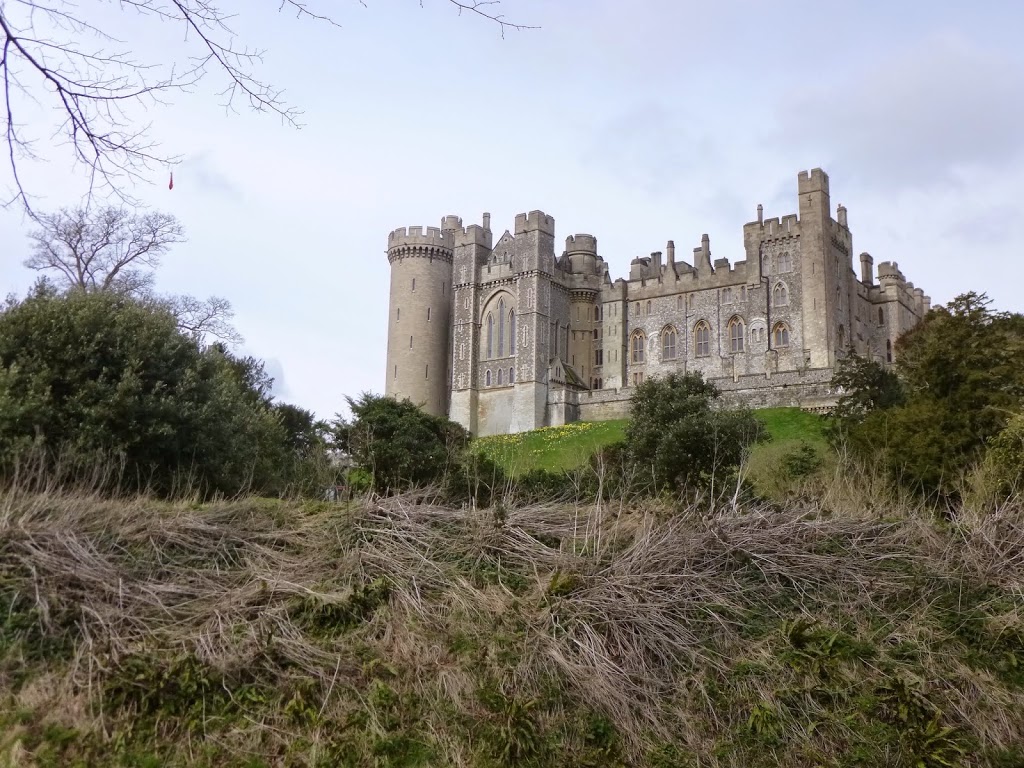 The castle. My timing was quite a shame!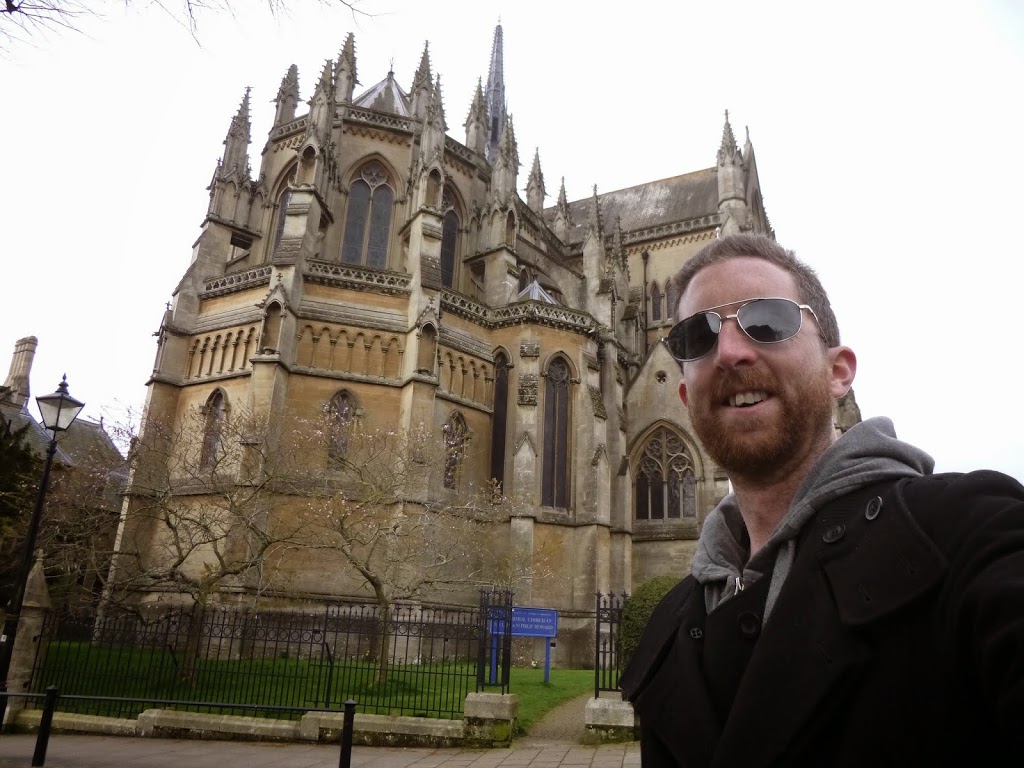 The cathedral – a beauty!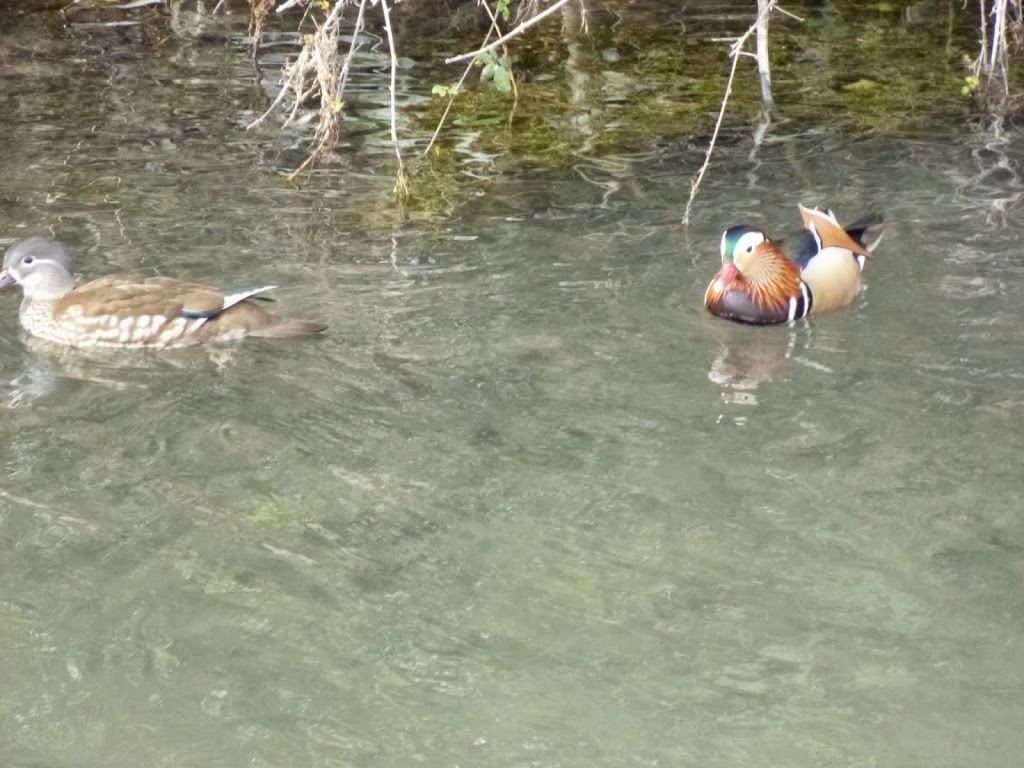 This neat duck! I read about this duck on Reddit a long time ago. Was weird to just see it in person!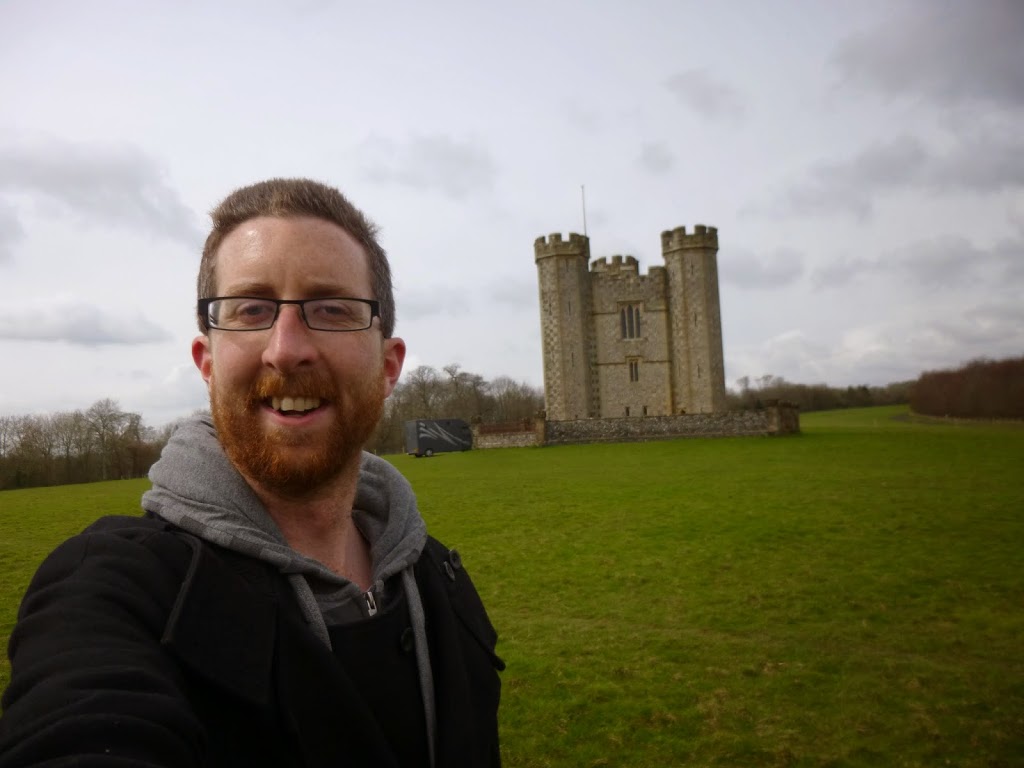 Heiron Tower (?), out the back of the castle. Apparently it was in Doctor Who.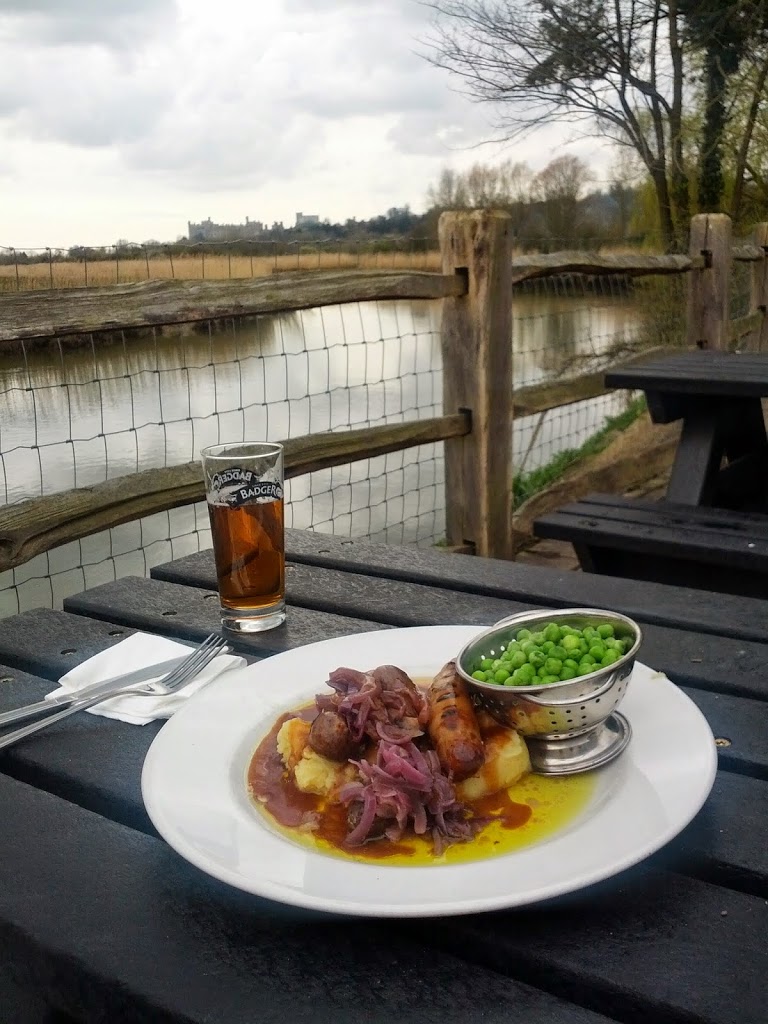 Three way sausage (lulz). Nice view! And a half-pint because I am a sensible driver.
Seaford
After that interlude I continued on to 'Buckle Caravan Park' in Seaford – a bit pricey but right on the beach. I'm not sure what the price was for to be honest – the facilities were the pits and it was unclear what was road noise and waves most of the time, unless you were fortuitous enough to wake up at 3am.
A pre-summer Mr Whippy.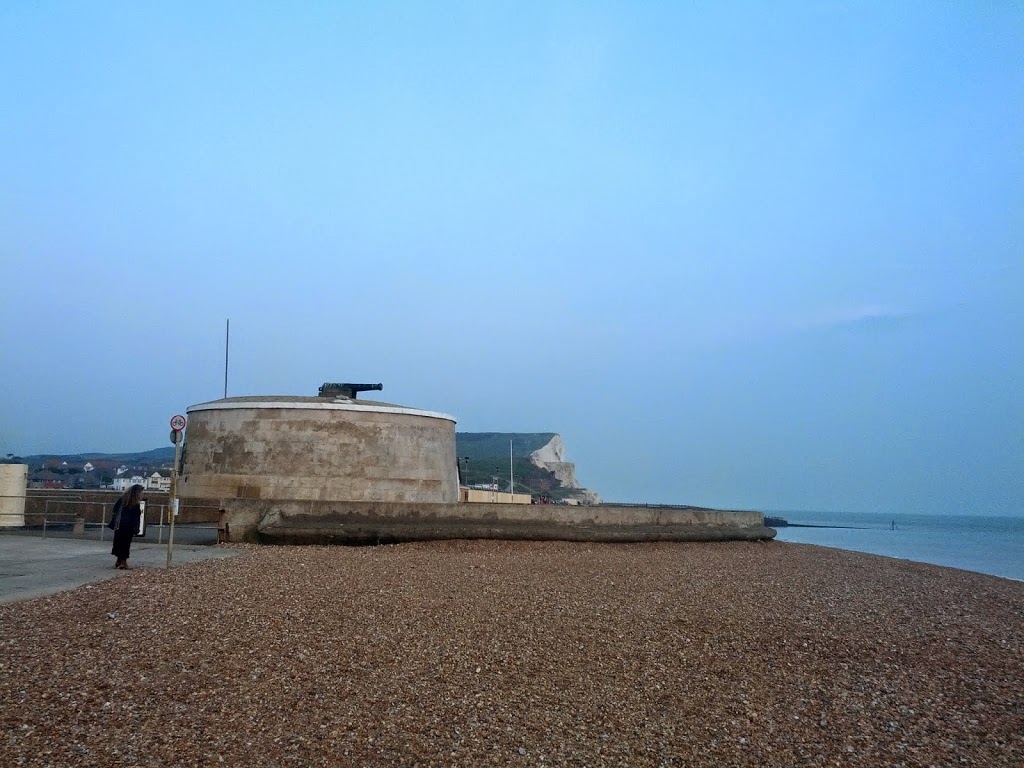 Coastal fortifications for vs. France, way way back. There are WW1 emplacements at the other end of the beach, and a 13th century old fort down the other end. Pretty neat beachfront.
Battle
I was camping out in Seaford for my Paragliding day – but it was cancelled. So with a few days to burn before the next booking, I went over to Battle. Battle Abbey is the site of the 1066 Battle of Hastings – the decisive battle that saw the Normans conquer England. I knew and now know so little about English history, it was incredibly interesting and quite an experience to be there. I must learn more!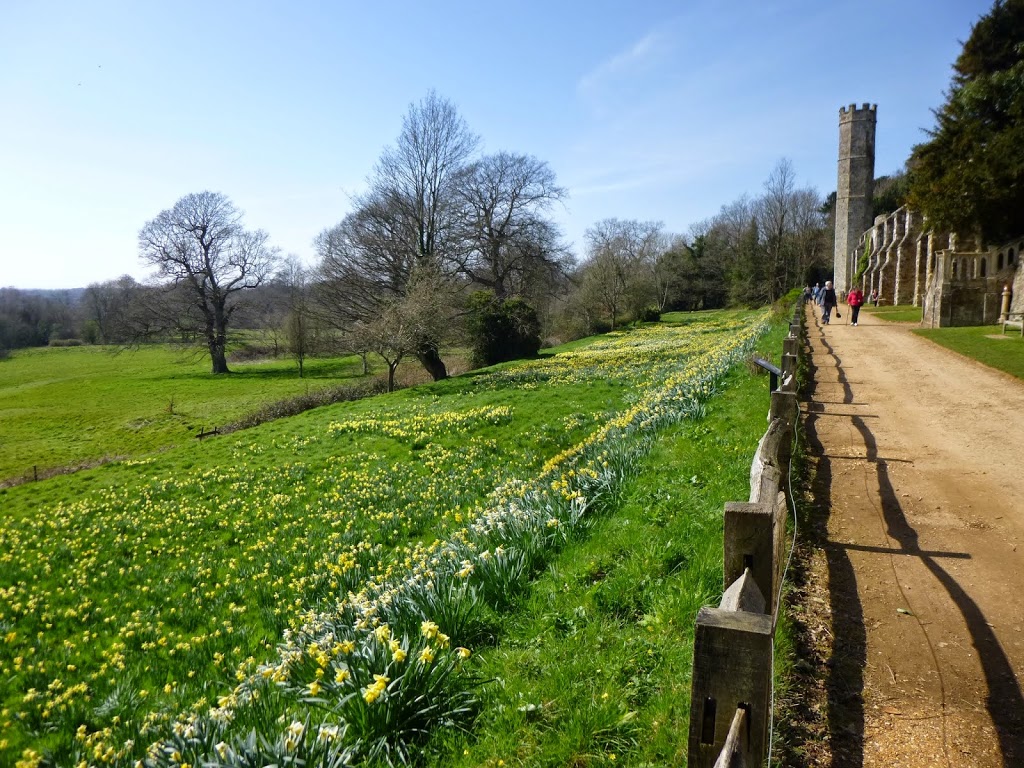 The top of the hill where the Anglo-Saxons were defending (now site of the Abbey).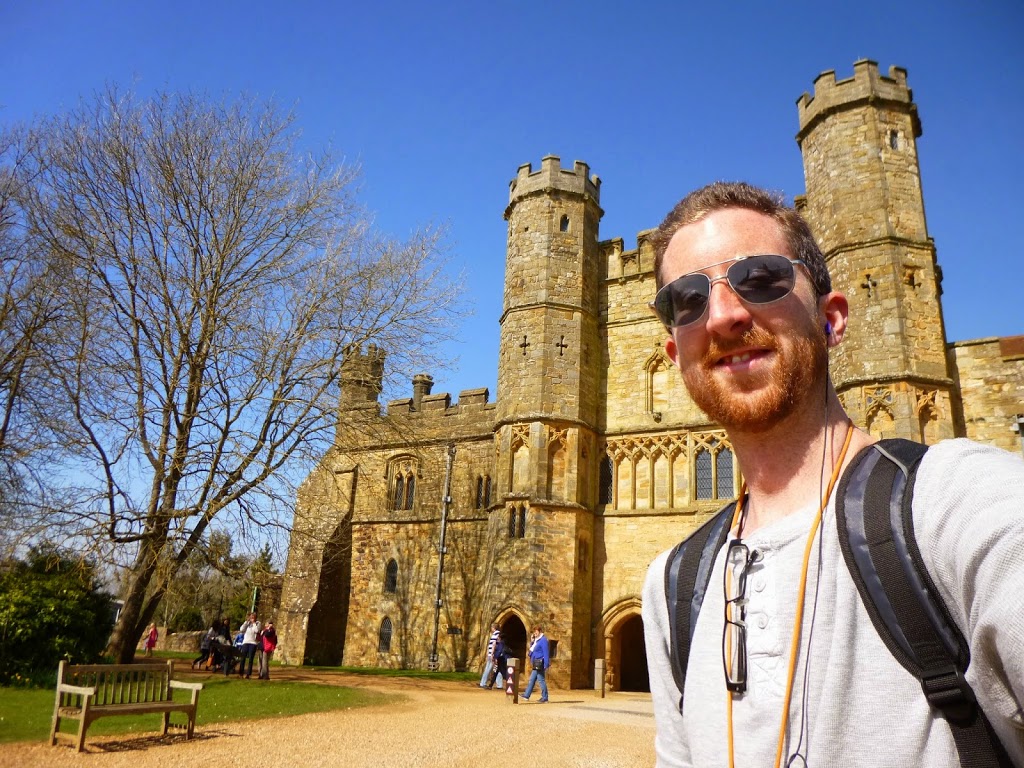 Abbey gate house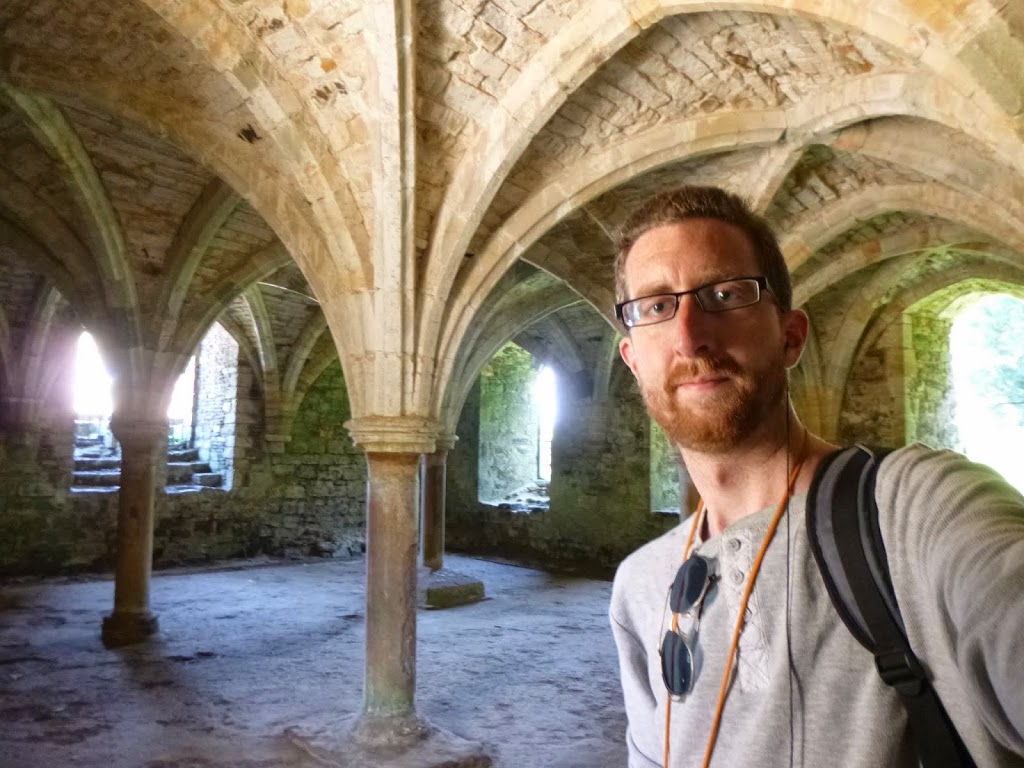 One of the rooms below the dormitory building of the Abbey (everything else destroyed).
In the afternoon I headed north to Bodiam Castle – an iconic castle-looking castle.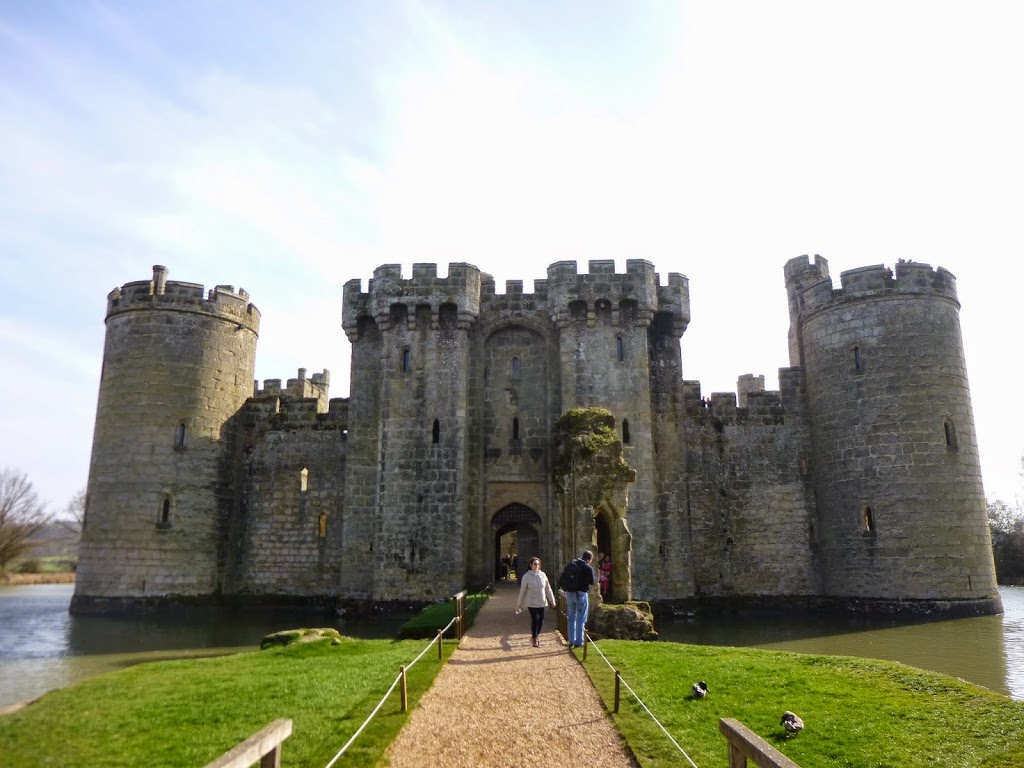 Iconic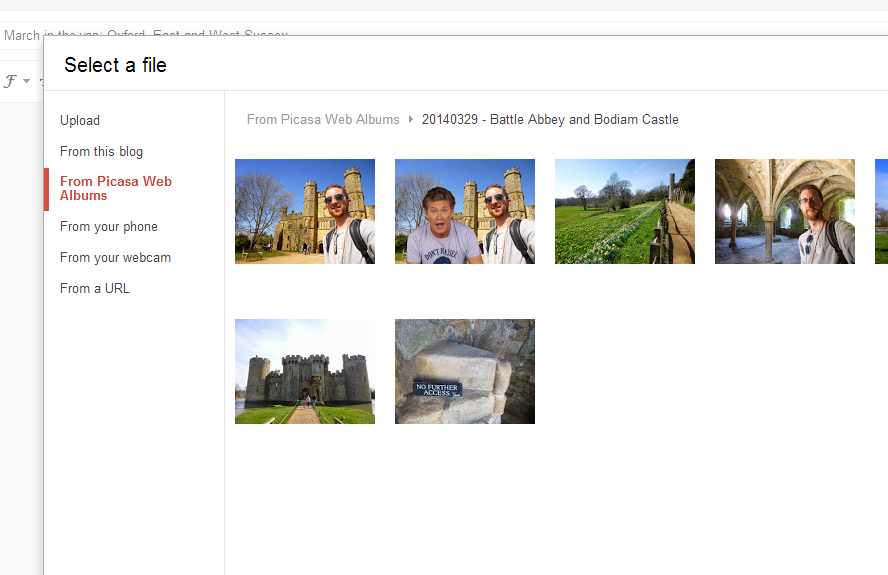 It's April fools today – I was picking my photos and this Hoff photobombed my photo! Scared the shit out of me!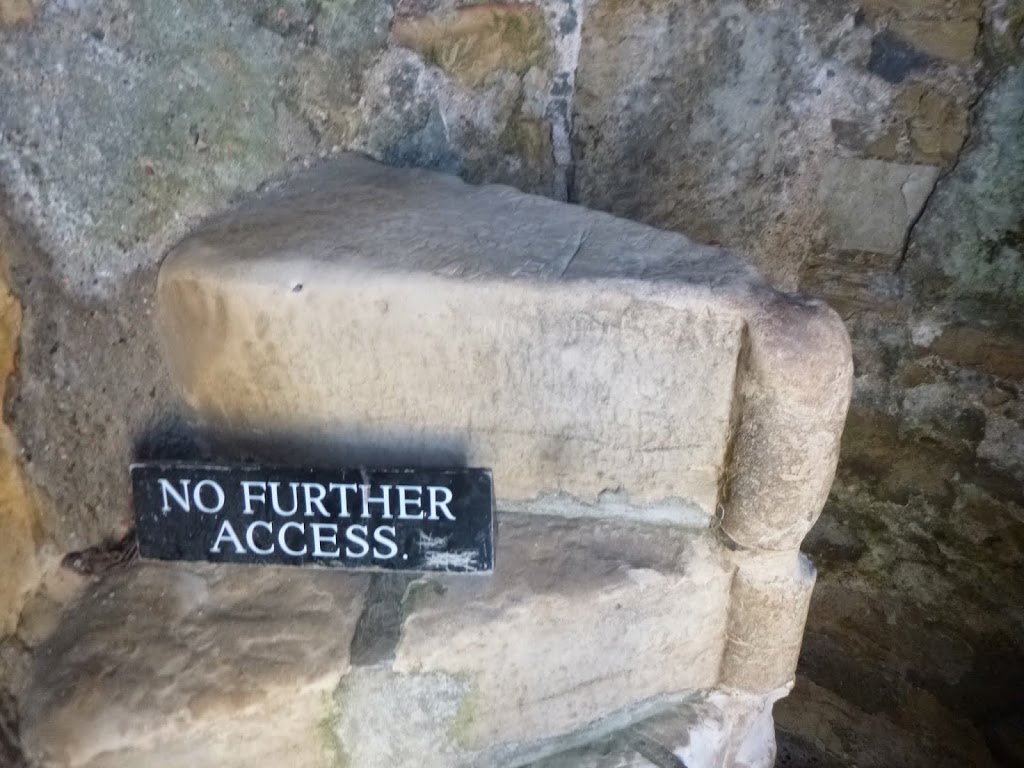 No shit!
At Bodiam a bunch of volunteers were dressed in medieval garb, and did a talk in the kitchen. Rather interesting, hearing how they cooked and prepared meals – I was a bit overtaken by just how neat the UK is, so steeped in history, by this point!
I was so enamoured and excited about the potential exploration of these amazing sites for the rest of summer, I joined both English Heritage and the National Trust. Between the two organisations I have free or heavily discounted access to 900+ areas and properties, and free parking at all of them. I am pretty sure I will get my pounds worth out of those, and it's a good cause anyway. Whenever I am feeling a bit down I look at those handbooks – they are just chokka with amazing places I can't wait to visit!
To round out March, I got my paragliding day on the 30th. What an adventure! I awoke early and hit the road to Glynthe.
From Glynthe, we piled in to the Airworks van (and various cars) and travelled wee country lanes to one of their launch sites. I was the only first day student, so I had a trainer to myself – a very experienced and lovely guy called Ross. The others were all at different stages in their training, but were taking off from higher slopes – so I could watch their landings and things, but from afar!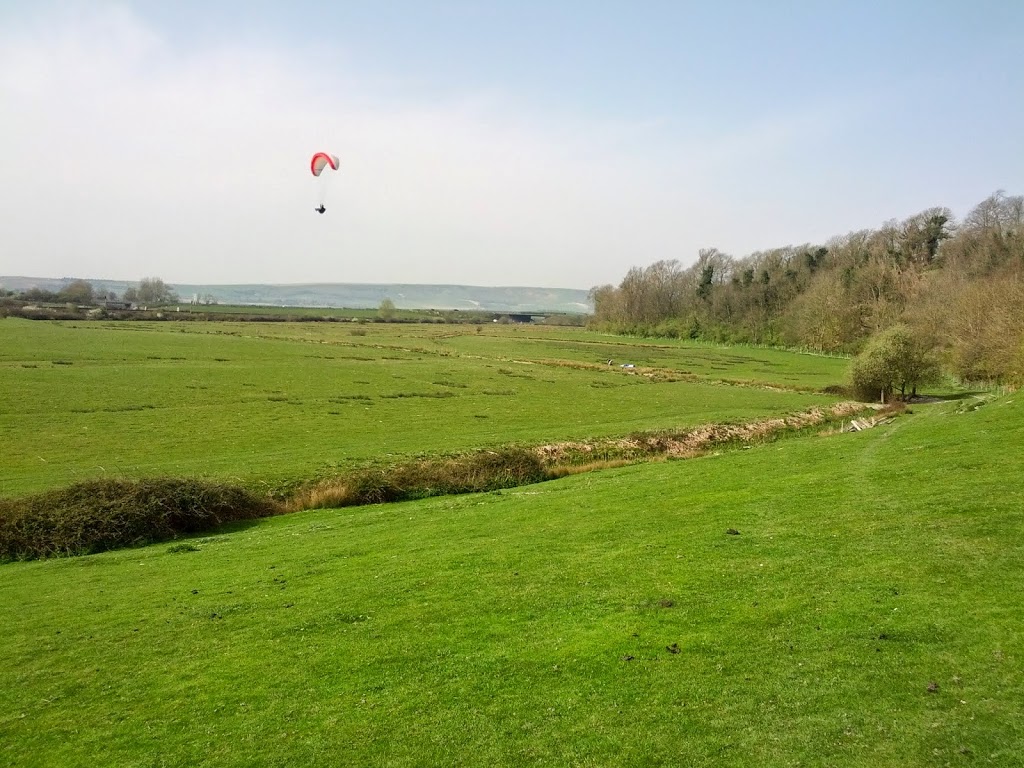 Our first site – one of the other trainees coming down.
First we did emergency rolls (paratrooper kind of, legs together landings), then I learnt the mechanics of the wing and how to do a pre-flight inspection – with the added benefit of becoming acquainted with the gear. Including unpacking, packing and mushrooming the wing. After this we hit my hurdle, which was pre-launches – getting the canopy up and running to launch. I ended up banging my arms to bits trying to fight the wing and was getting a bit disheartened come lunchtime.
For lunch we went to a roadside burger trailer – a burger never tasted so good! Then we headed to a site to do 'small hops'. The wind was not right though, so we ended up having to go to a higher site – so my 'first hops' were a bit higher than most. That first run down the slope, floating 10 metres or so at like a metre high, was just magic. And the second was even better – I even managed a wee turn, a bit of control.
The rest of the afternoon was spent with me labouring back up half the slope, getting my breath back then having another crack, fixing and refining my launch form. I got to do a couple of wee turns, some successful flares before landing – stayed on my feet half the time. What a sport!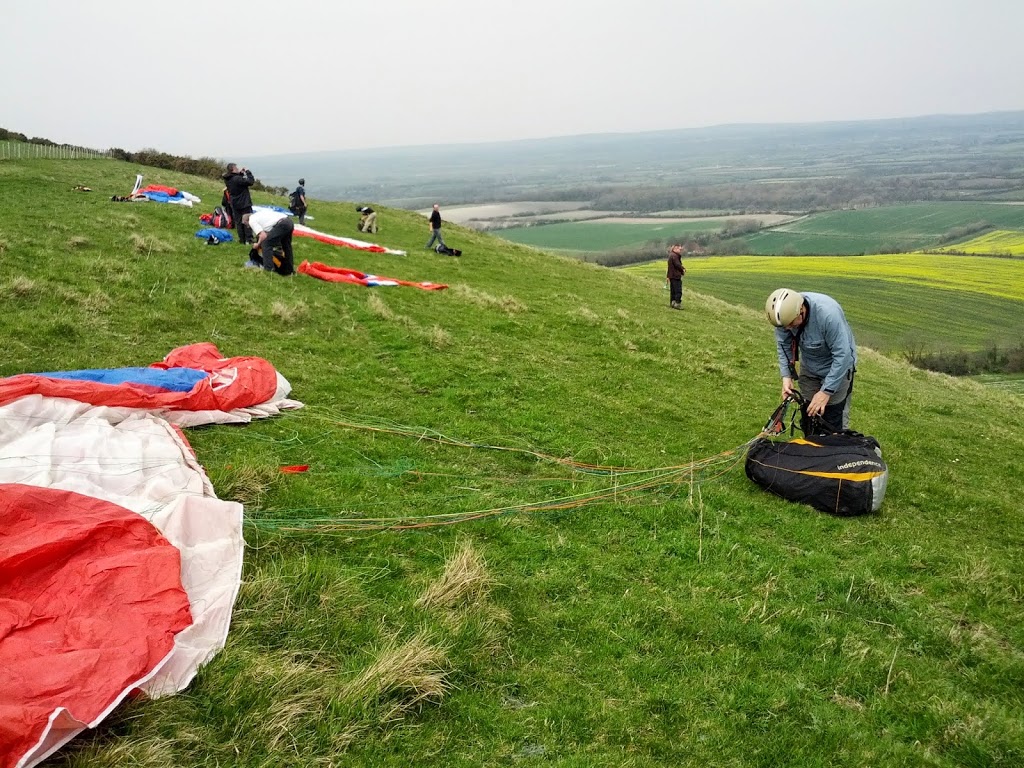 Ross getting the wing ready, he flew down to my launch spot. I had to walk, stinkers!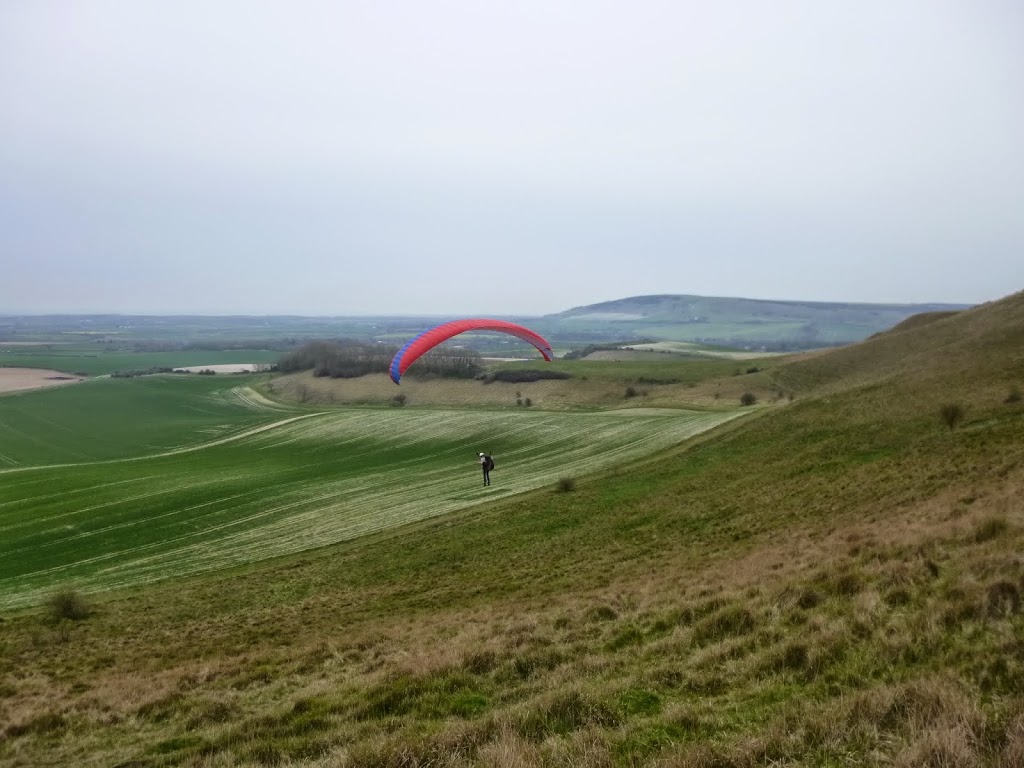 Me on one of my later flights!
Everything went like clockwork really, except for one launch. As I ran the wing pulled me left – the left side was snagged on its lines and wasn't inflating properly. A good launch is about going all in – so I was just pushing my hardest running down the hill. Ross was close to telling me to abort the launch (we had radios), but it filled properly and up I went! Straight toward the only hedge at the bottom of the hill. I looked at my fall rate and thought I could turn right in time, so I pulled my control and managed to avoid the hedge. With so much to think about I fudged the landing but it was pretty exciting! Bit of a non-event I guess but so exciting, such a blast, I must do more.
Returning from paragliding, I was on a high. I had the world on a string. I was sitting on a rainbow. So when Google suggested I take the same route I took to get to Glynthe to get back to the Caravan Park, I said No. That was a stupid little one-lane thing, what if there's traffic – not doing it again. So I forced Google onto the A roads. All was fine until I missed a turn and was rerouted onto the most potholed, flooded and ruined lane in the country. So I'm bouncing along and thinking, 'that's typical isn't it, ha!' when I come across a horse and rider. I stop, and they stop. And we both sit there a while. She's not suggesting to me to do anything, but not moving, so I figured there isn't enough room for them to pass. I pull slightly closer to the hedge, and my wing mirror gets snagged on a branch. The branch bends back, building energy, and then BANG! snaps back across the mirror. The horse loses its shit and the woman is just like, DAGGERS. SO MANY DAGGERS FOR ME.
So yes, that was March. Pretty sweet kick off to this van scheme. The future? Probably getting my club pilot licence for paragliding, so I'll be sticking around in Sussex for most of April I guess. Plenty to down there, I need to buy a bicycle.
STAY TUNED.