This entry covers Kate and I's tour out of South Wales, through the centre and out to England so Kate could catch a train for a reasonable price.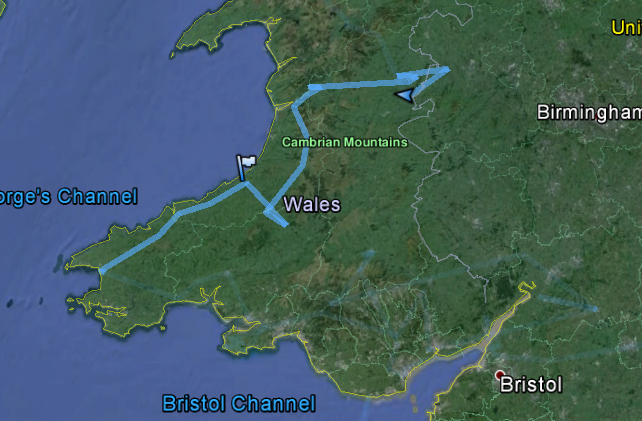 06.07.2014 – 09.07.2014
We woke just below St Davids, in an empty layby with sea-views through a farmer's fence. Taking a windy narrow lane through Bryn-henllan, we were to visit Dinas head – a small headland perched like acne on the top of Pembrokeshire's 'upper pincer'.
We stopped at a nice wee beach long enough to pop off a photo and poke a jellyfish before heading back up those same windy lanes.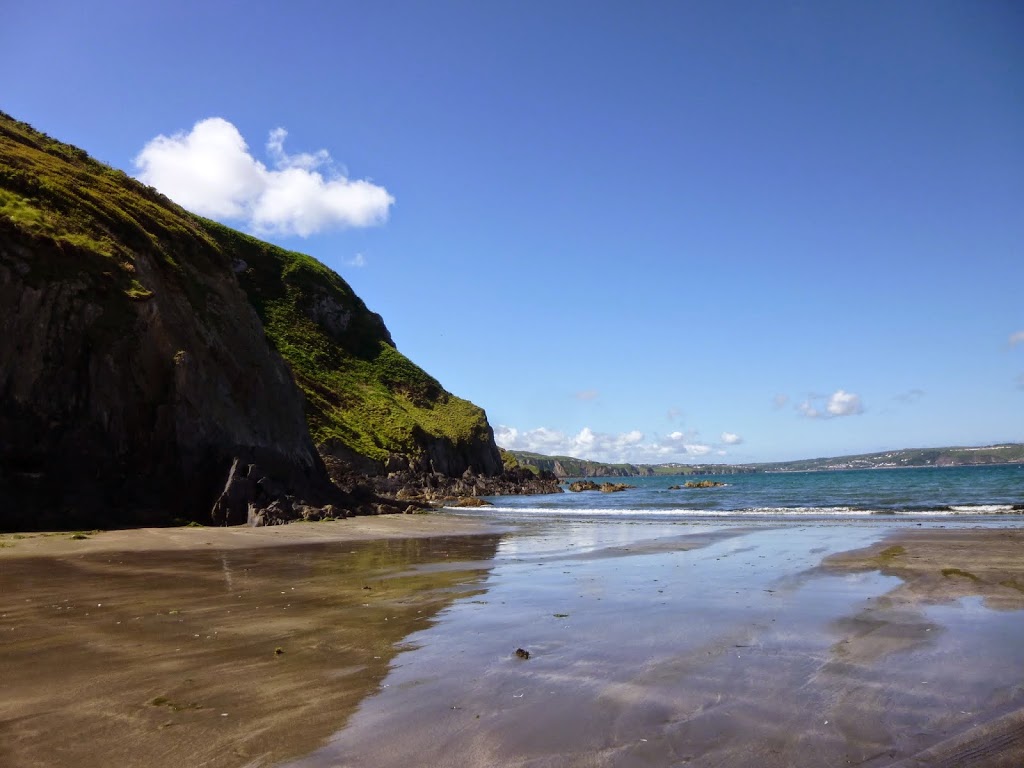 A beach on Dinas head
There's a constant struggle with our touring – how long do you stop and smell the roses? We've got a lot to see and most of our manors and things only take visitors between 10-4. Kate's quite happy to relax – she lives here! But me, not so much – five minutes of relaxing sees me itching to get moving again. Between us we find a nice equilibrium – I've been able to read my book again and take more enjoyment in moments, and Kate's, well – she's on tour. Anyway, I won this one, and on we went, passing by Fishguard.
We pulled in to a viewpoint to find a wee track to Fishguard Fort. An audacious plan by Victorian scientists to man defences with fish – or an old coastal battery? As soon as we saw the cannon we both had one photo in mind – you can see why we get on so well.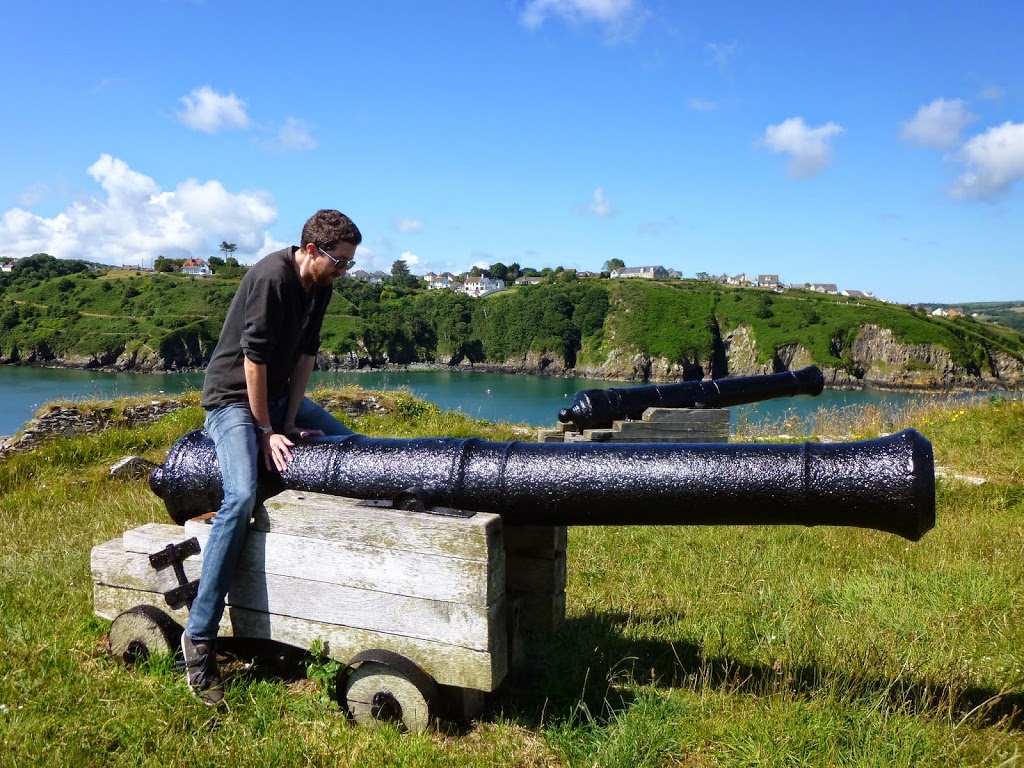 Fishguard Fort and I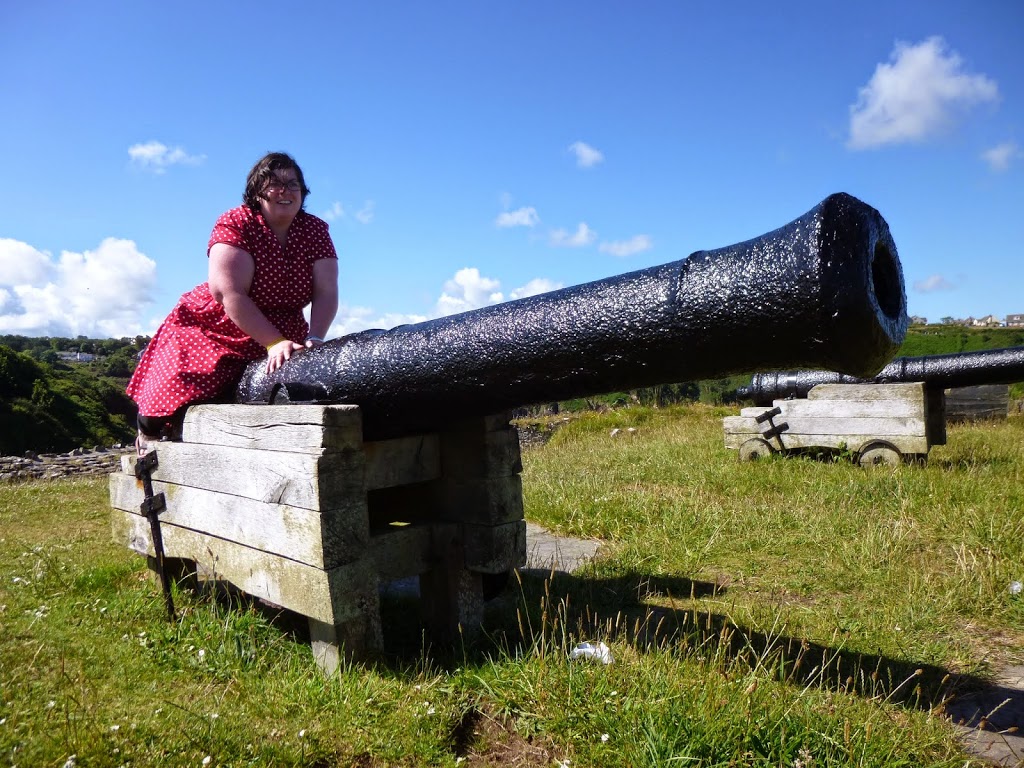 Fishguard Fort and Kate
East of Fishguard is the nice Newport (the village as opposed to the southern city), and we stopped there briefly. We'd got our tour plan wires crossed in the morning – I'd mixed up a two hour hike climbing the Mynydd Carningli with a trip to the Pentre Ifan, a burial mound. So I was looking for signs to the burial chamber and Kate was (unenthusiastically) guiding us to this two hour hike. Damn Welsh names I can't even phonemically attempt! That sorted out, we promptly skipped the hike and headed to the burial mound.
A family reunion departed as we arrived, and we had the Pentre Ifan to ourselves. A 16 tonne slab held six feet up by equally large stone pillars, with the Carningli mountain behind – this was a moment to smell the roses.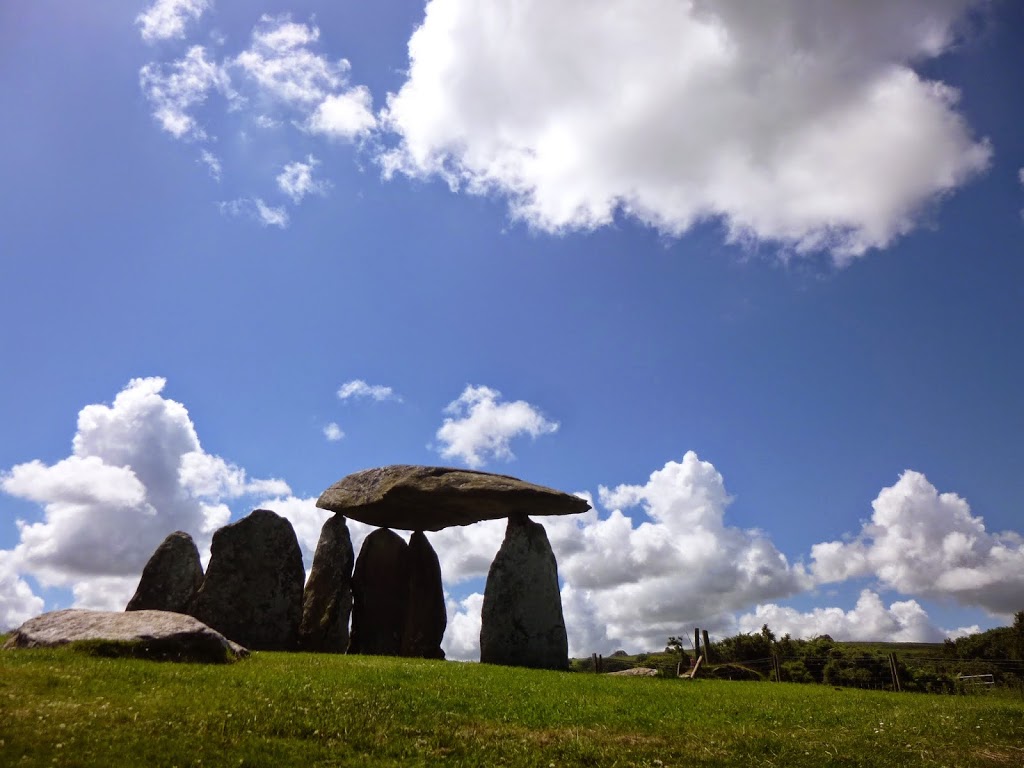 Pentre Ifan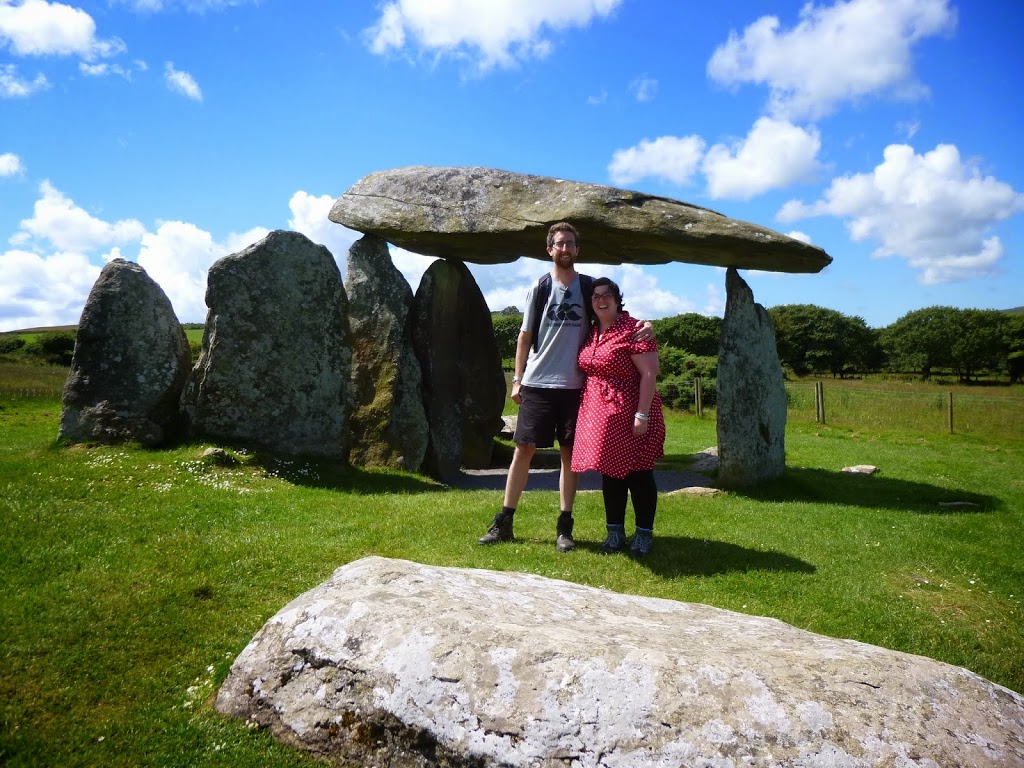 Humbled by our insignificance before this ancient monument, we headed to the small town of Nevern. The church there was part of the pilgrimage route to St Davids, but what drew us were the Yew trees in the cemetery. The Yews never stop bleeding a sickly red gum. Legend has it that they will only stop bleeding once a Welsh king again resides in the neighbouring castle. We scrambled up the nearby bank to check out the castle, but there's not a lot there – those trees have a lot more bleeding to do!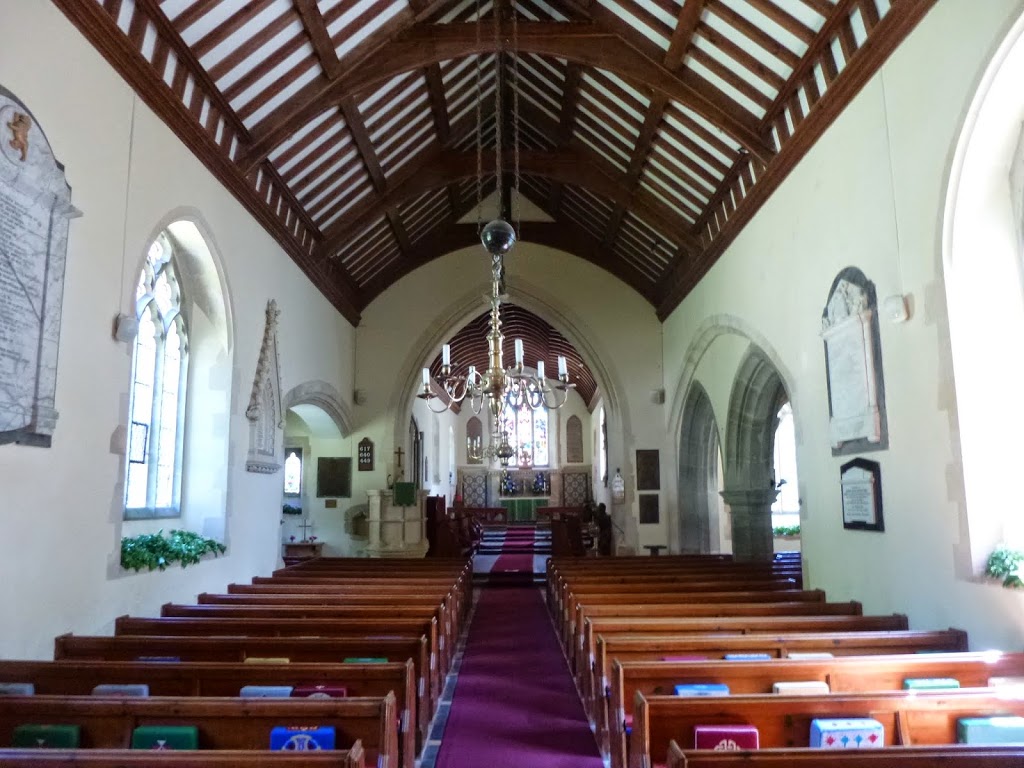 The church at Nevern. The bend is supposed to represent the tilt of Jesus' head on the cross – sounds like a builder excuse to me!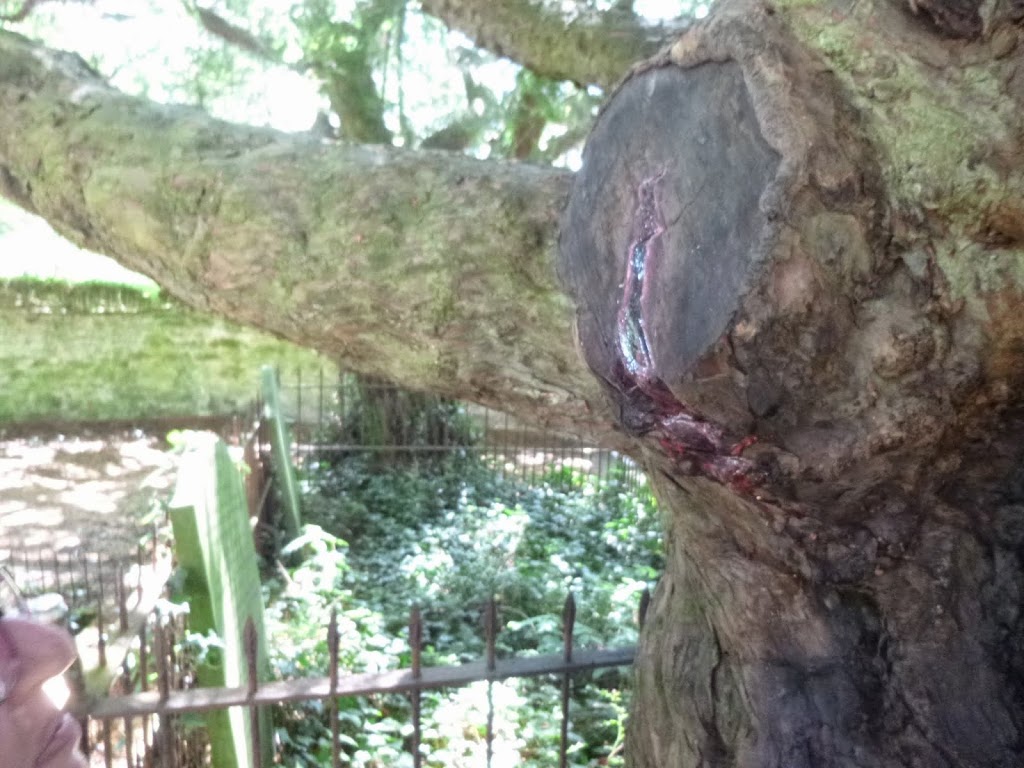 Gum at Nevern. Gross.
With the heat, Dorothy's toilet was venting a delicious ammonia aroma throughout the van, so we decided to stop at a campsite for the evening. A nice relaxing evening was had, albeit with too many wines! In the morning, head pounding, I managed to empty the toilet cassette without any extra horrors occurring. I considered this a success.
Llanerchaeron house was next on our hit list. It was a bit wet, but they had a farm machinery museum and a petting zoo! So off we went. The house was pretty modest, considering the extent of the 'service areas'. Not that opulent. Though we did get to see some wet ducklings, geese and some damp lambs, and a tractor. What a blog!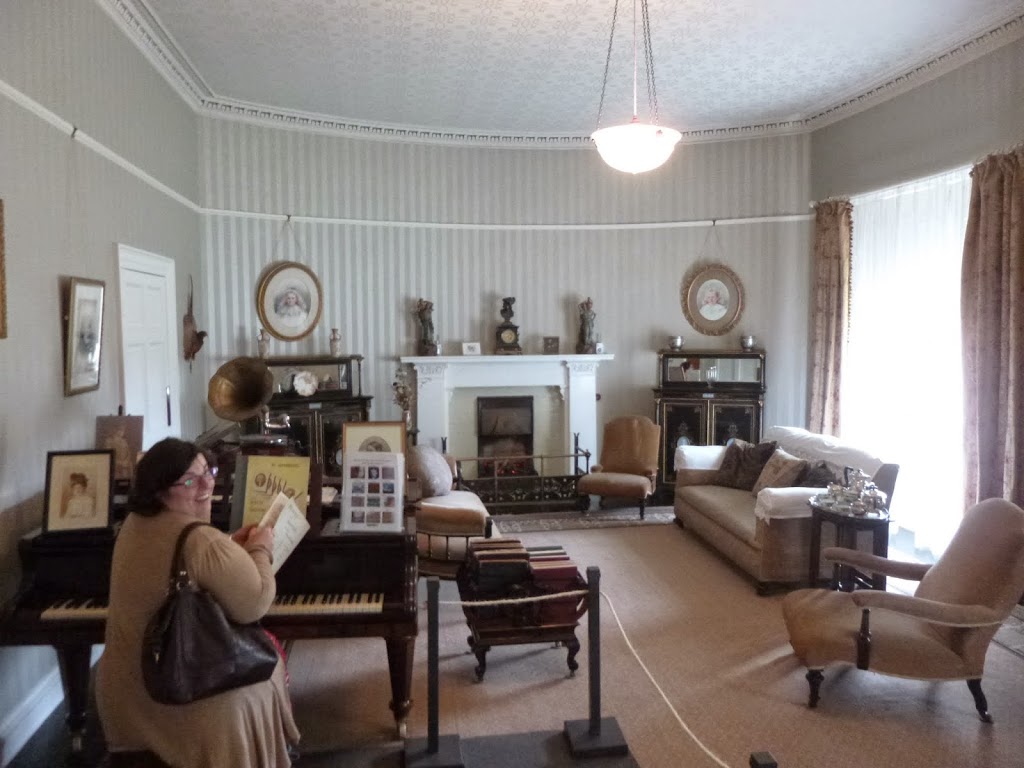 Llancerchaeron house. Not OTT at all, any old well-off old person!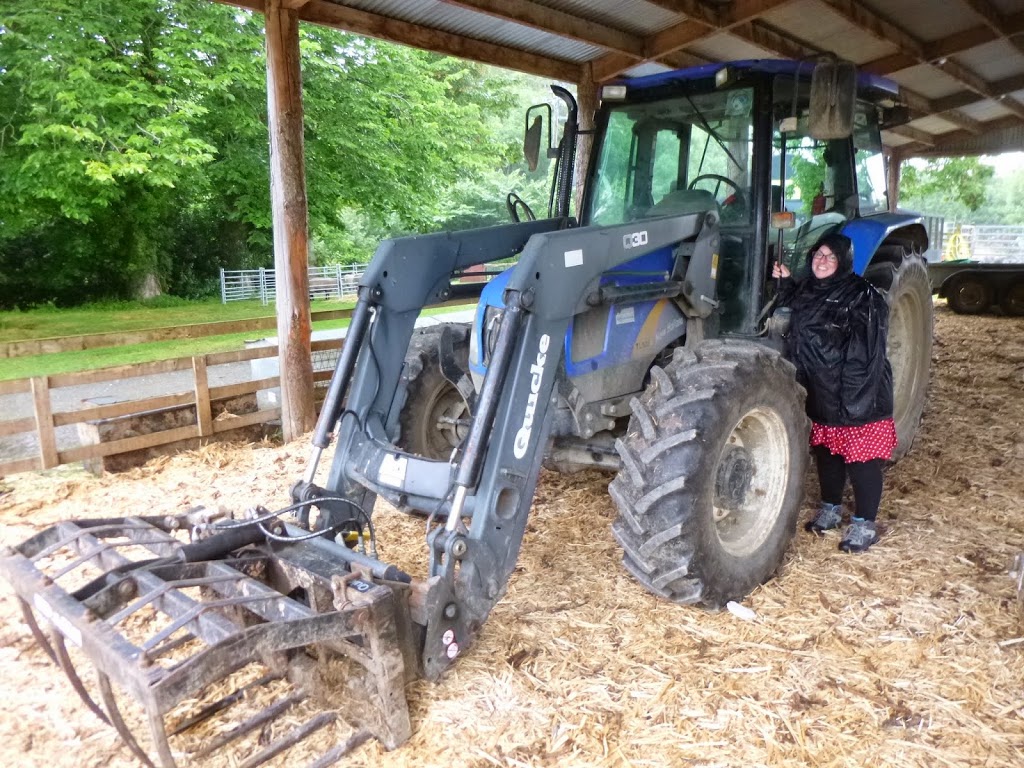 An aTractorve picture.
In the afternoon we headed south east to the Dolaucothi Gold Mines. Arriving at about 4, we were the only visitors on site for the last tour of the day. The gold mines were Victorian (?) and in their day extracted a lot of the pinkish Welsh Gold. We donned a hard hat, 1970s mining lamps and headed in to the mine.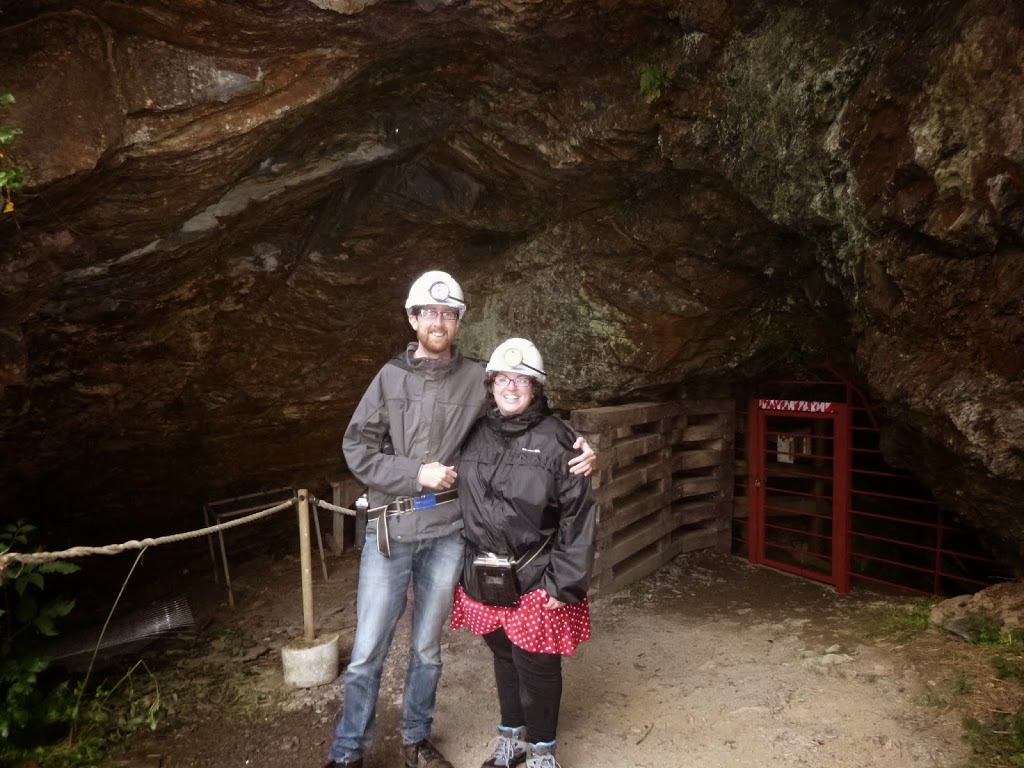 Dolaucothi Gold Mines tour
Inside the mines, parts of the walls sparkled, as if silver. It was actually a symbiotic relationship between a fungus and something else (?) that created these wee colonies, and the silver glints were due to dew collecting. This is one of the few mines that had this going on apparently, so that was cool to see.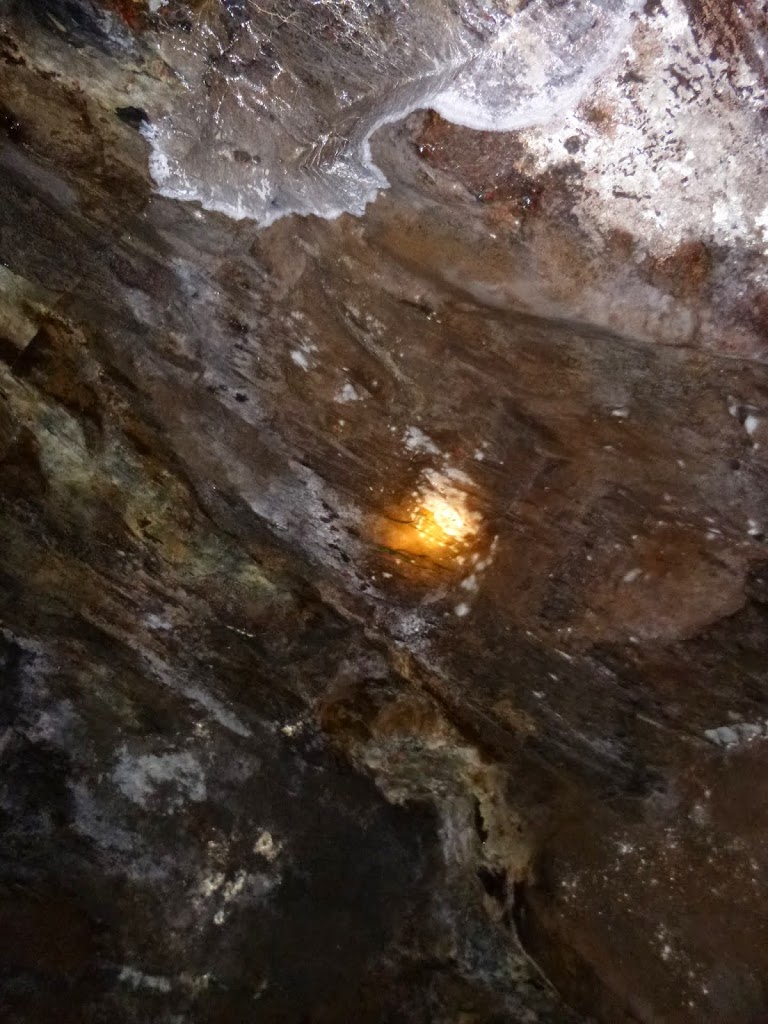 Silvery stuff. More convincing and less gross without the flash!
The mines were extensive. Our guide demonstrated this by jumping on a wooden plate over a vertical shaft. The echo reverberated down, down into the deep. The LOTR sound department could've done some recording in there – it was choice!
Another bit which amazed me was a huge cavern above a quartz seam within the mine. The Victorians had blown a shaft a little further, then found it completely flooded. Once the water was pumped out, they climbed into the chamber above and discovered the area had already been mined by the Romans, 2000 years before. They'd blown the bottom out of the Roman mine and the water that had accumulated had flooded their lower mine. Fascinating!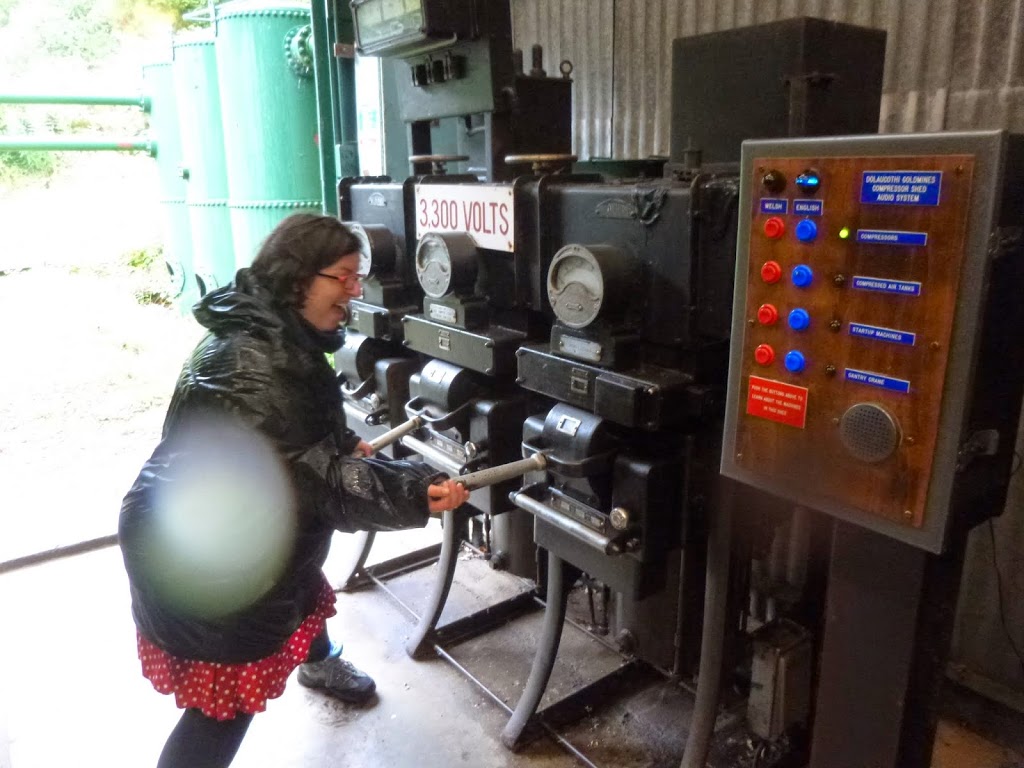 HIGH VOLTAGE
The next morning we headed north to Strata Abbey. There was bugger all left of this abbey, just one stone arch and some decorative chapel tiles. The best bit was watching Kate putting on a monk outfit.
I made the best of what was on offer at Strata Abbey.
Further up the road was the Devils Bridge – a wacky spot with 3 bridges built on top of each other, each higher one superseding the lower.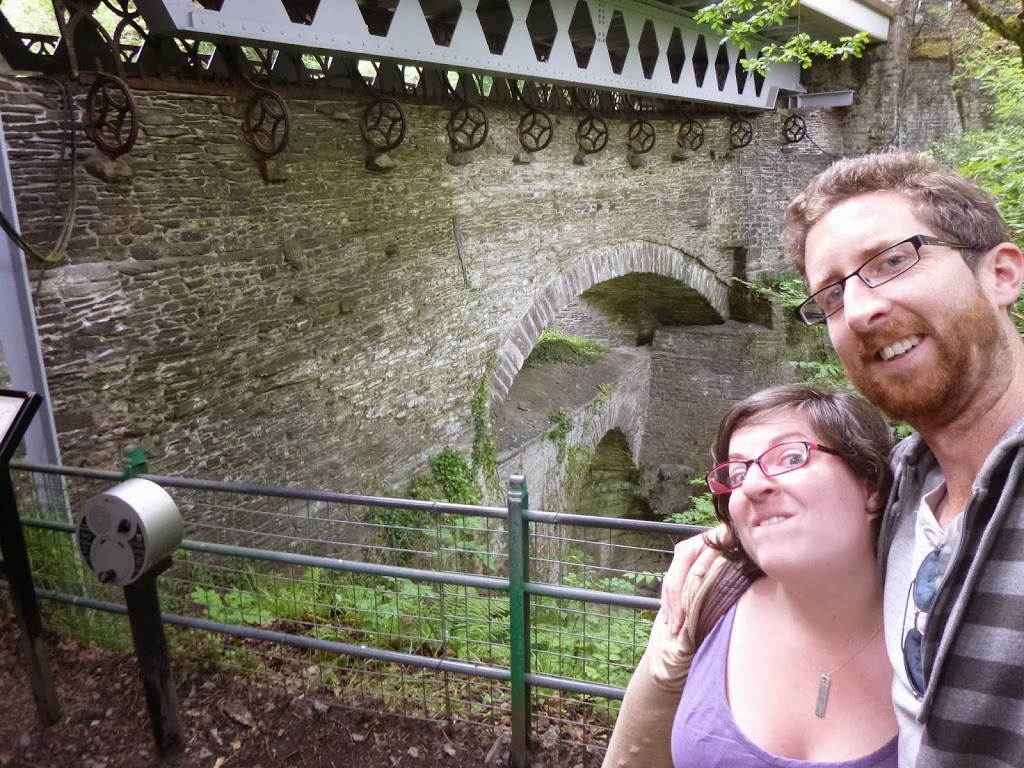 The Devil's bridge – three bridges!
The bridge/s cross a chasm, home to the Mynach falls. We paid our £2.50 or whatever to scramble down tracks DOC would be ashamed of, to see views of the falls.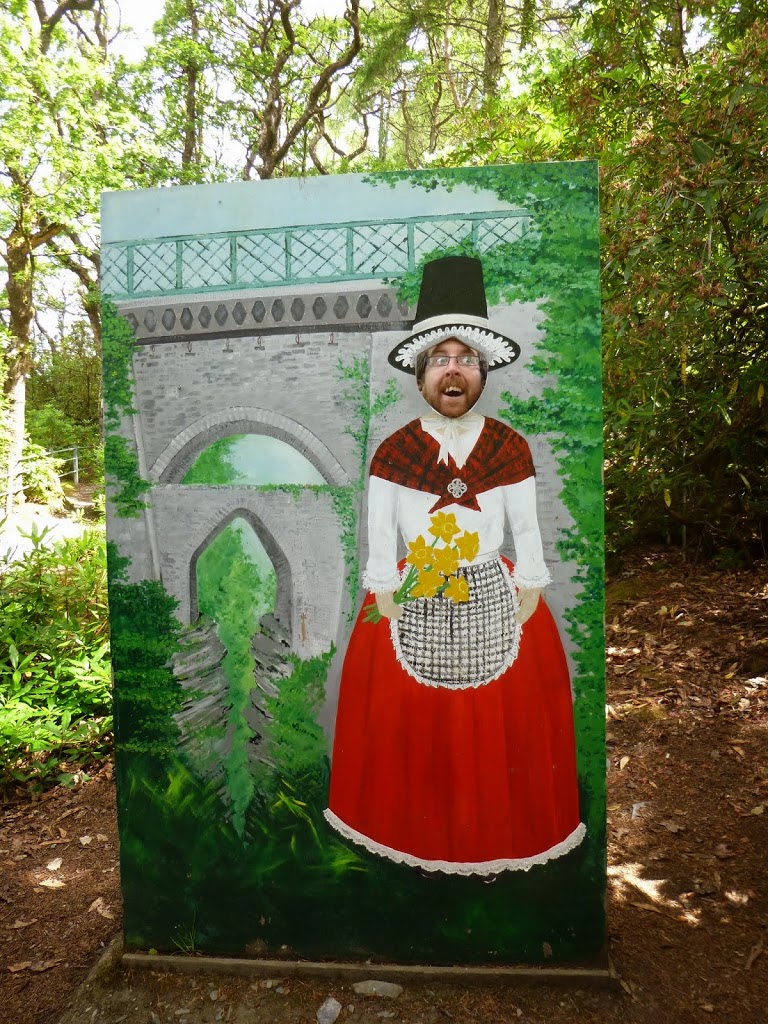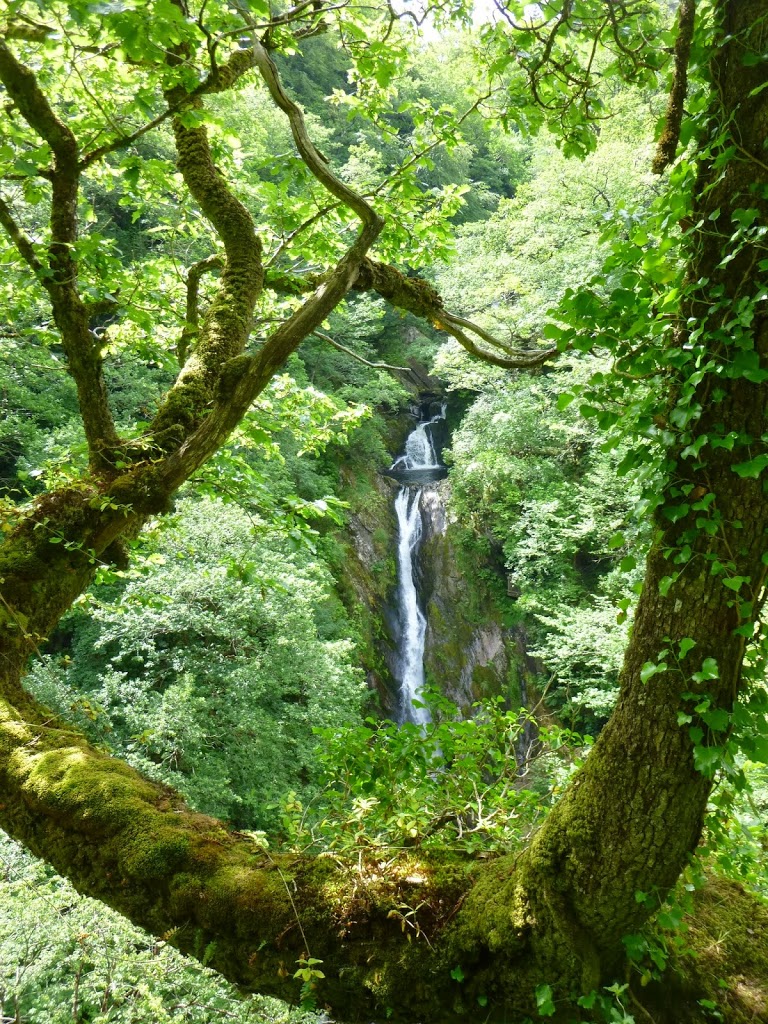 Probably better in winter when you can see stuff.
The falls were OK, but I still have my kiwi mindset – having to
pay
to see a waterfall? It's never going to sit right with me. The highlight for me was some dodgy kid infront of us guiltly leaving a viewpoint ahead of us, and a dog coming along and taking a bite of a suspiciously human-looking turd shortly after.
The less-gross highlight was being flown over by two F-18 jets, twisting and turning, chasing one another. Their engines reverberated through the valleys long after they'd departed. This whole area of Wales is part of the low-flying training area and we were treated to heaps of neat planes buzzing low over the next few days.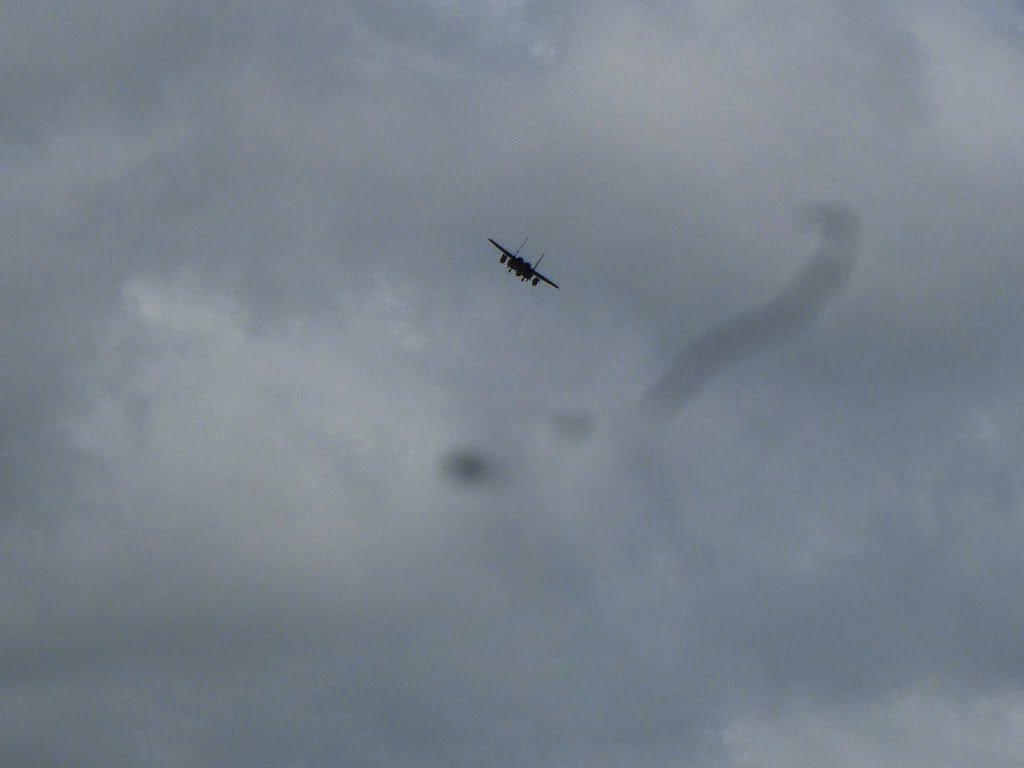 F18 (?) – Awesome! Just another day in Wales!
After a nice ice-cream we headed into the hills to see the Red Kite feeding at Bulch Nant yr Arian. The Red Kite is a bird of prey and was almost hunted to extinction, but now there are like 500 breeding pairs. En-route to the centre we saw about six of them hunting – we thought that was pretty awesome.
A Red Kite – creepy silhouette on this one!
Arriving at the centre, we were two hours early for the feeding, and to park there long enough was going to cost about £4. NOT LIKELY. So, deciding we'd been luckier to see them in their natural state, hunting not being fed, we carried on. Later Kate read ahead in the Rough Guide – the feedings are a frenzy of 200+ kites all fighting over scraps of meat. DAMNIT.
We headed to Foundry – so named as it was one of the earliest foundries, a kickstarter of the industrial revolution – using the powerful river there to turn a waterwheel to power bellows and smelt metals. Unfortunately we didn't know about this, we were there to see a burial mound – which we gave up on since it was pissing down, and then only saw the foundry on our way out of town! What a run we were having!
Arriving in Machynlleth, we had a small amount of luck – the shops were still open. We pottered some antique shops, and I actually enjoyed it. I was thinking how I could pimp a den, once I have a den again – I've changed, man.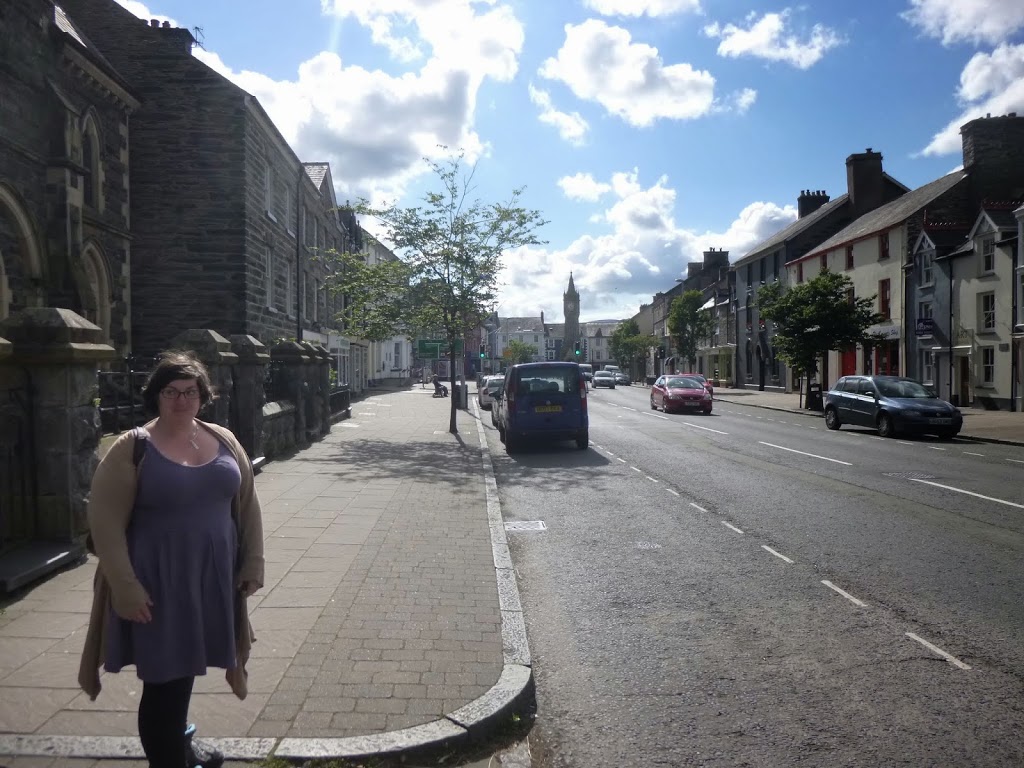 Machynlleth
In the evening we parked in a wee layby next to the river Dovey. Jets raced up the river valley, the night was clear. It was a pretty magic wee spot – so we didn't get it all wrong.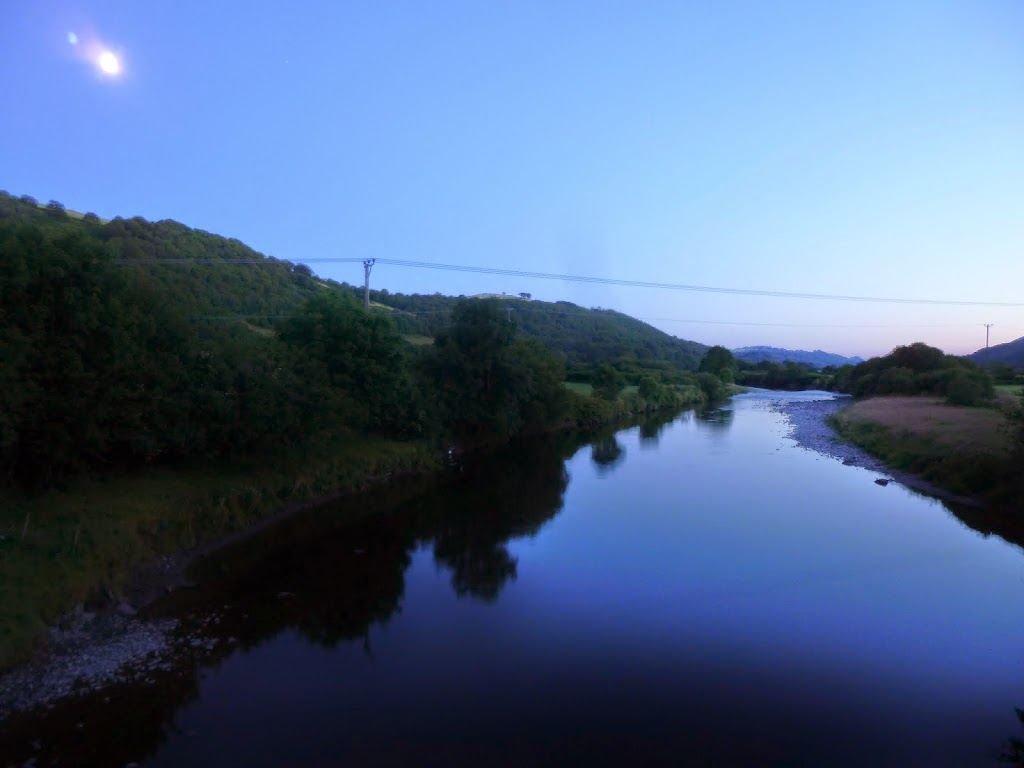 The River Dovey in the evening.
In the morning we visited the Centre for Alternative Technology. Similar in principle and ideals to the Cornwall's Eden Project, this one was much more laid back. You just rock up and can wander around as a variety of hippies go about their hippy business. They do lots of education things too which is cool, and there were tonnes of great hands-on learning experiences for us to play with – well worth a look in!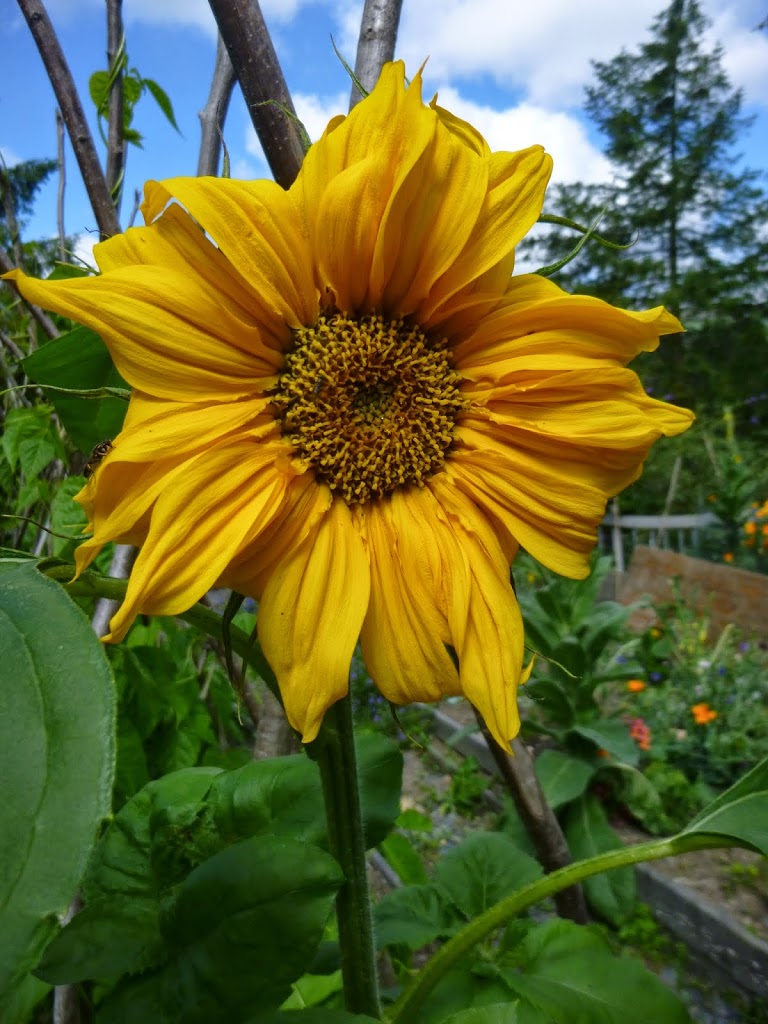 Flower power dude.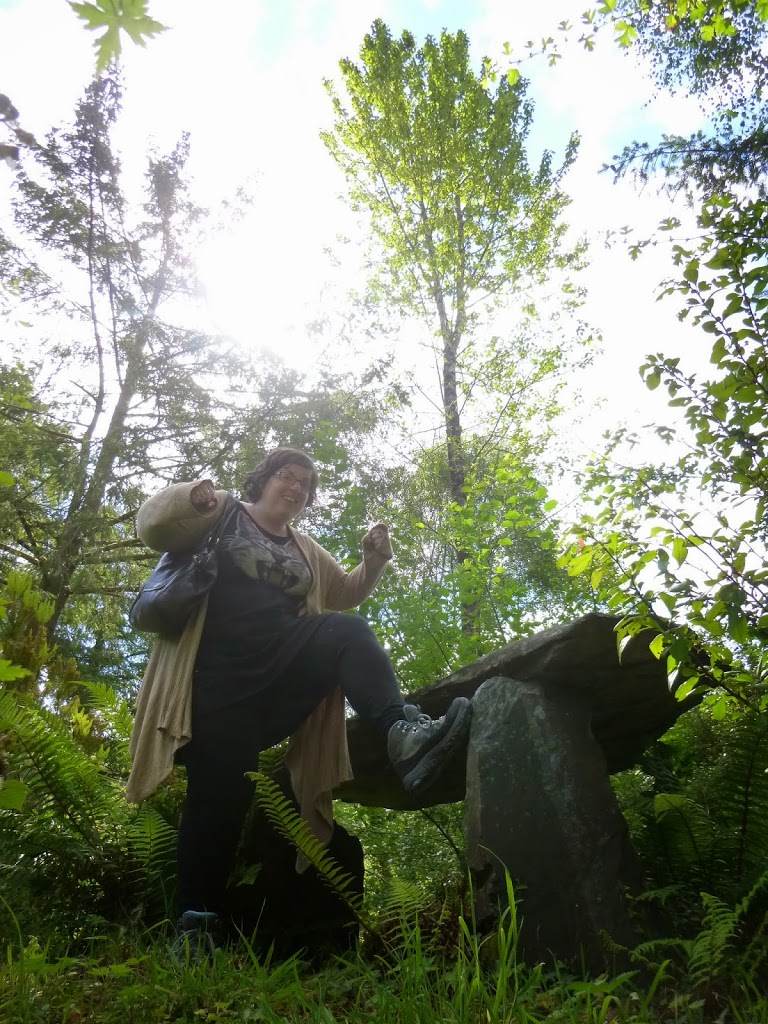 KATEZILLA CRUSH TINY PETRE IFAN!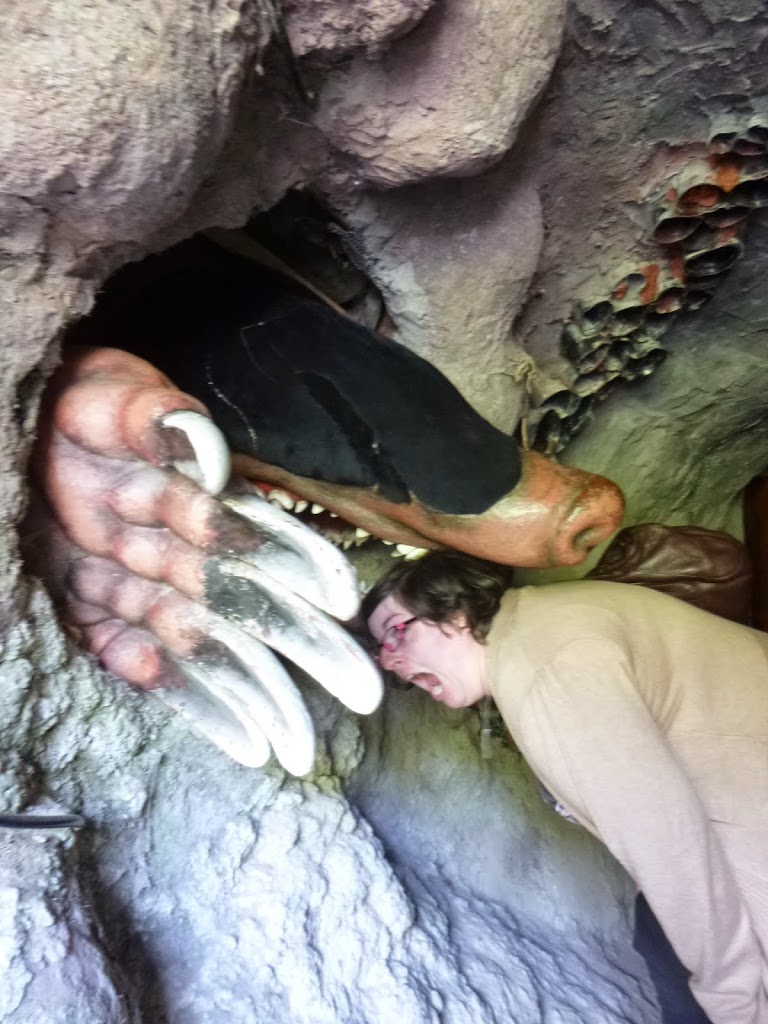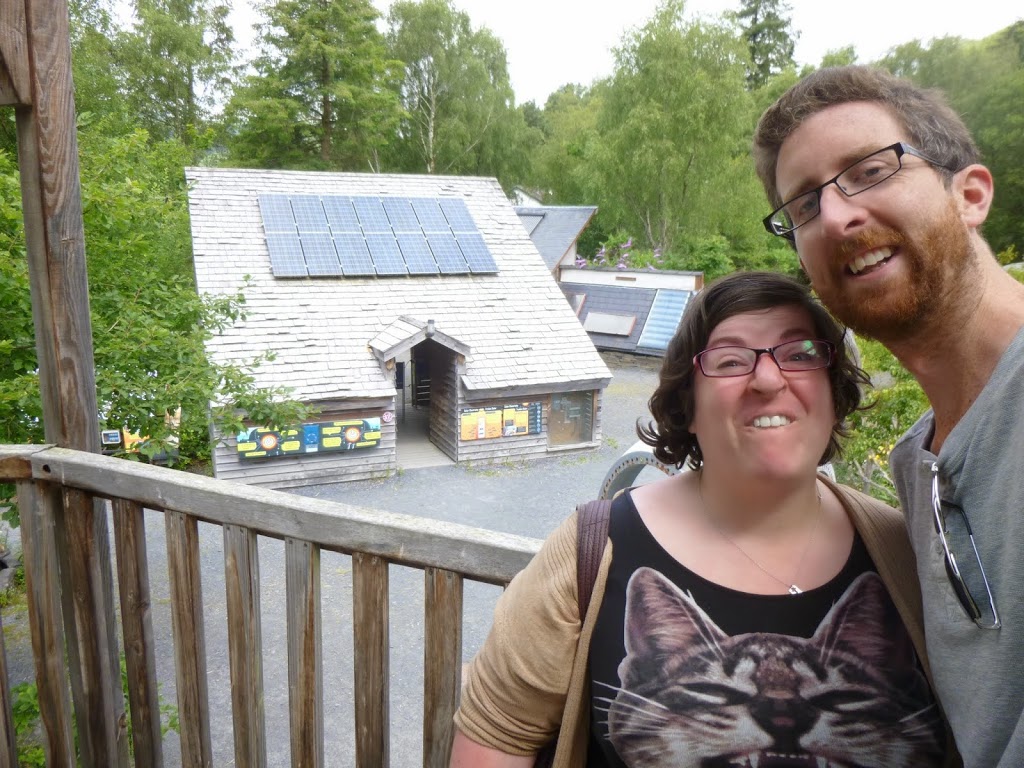 All piss-taking aside it was very good and we had a lot of fun too – the Centre for Alternative Technology.
We had to drop Kate in Shrewsbury to save about £60 on train fare, so we headed east and popped in to Powis Castle to round off this leg. This castle was spectacular – compared with the inside, the outside is fairly unassuming! Unfortunately we weren't able to take photos inside, but the place is ornate. Wow!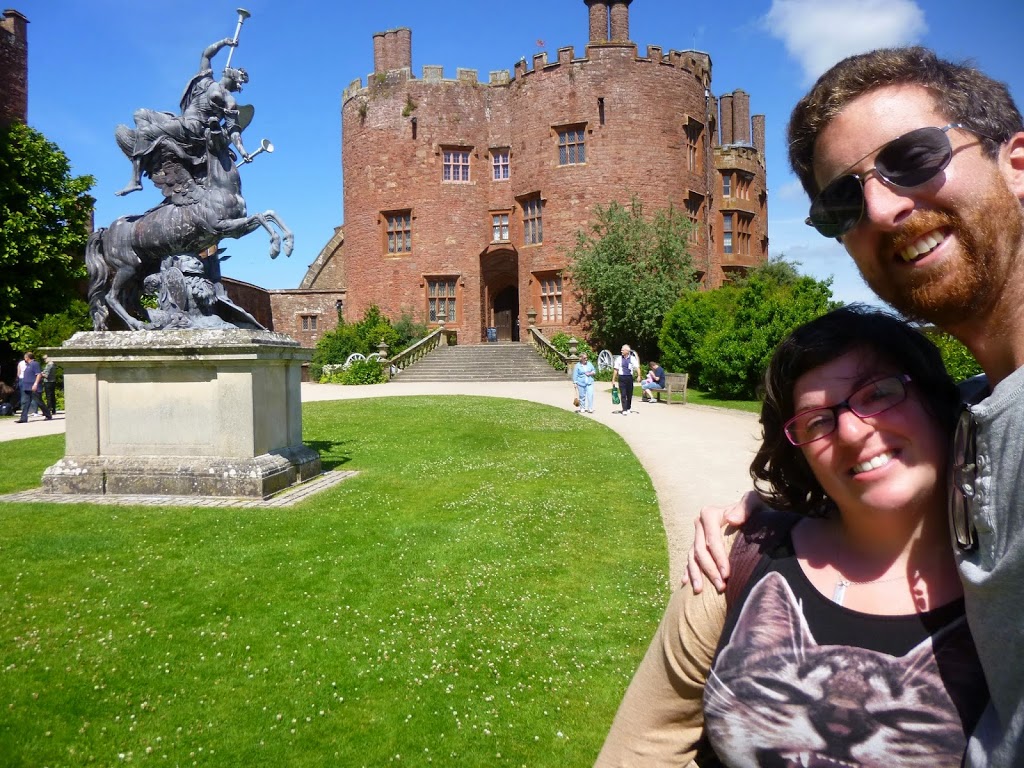 Powis Castle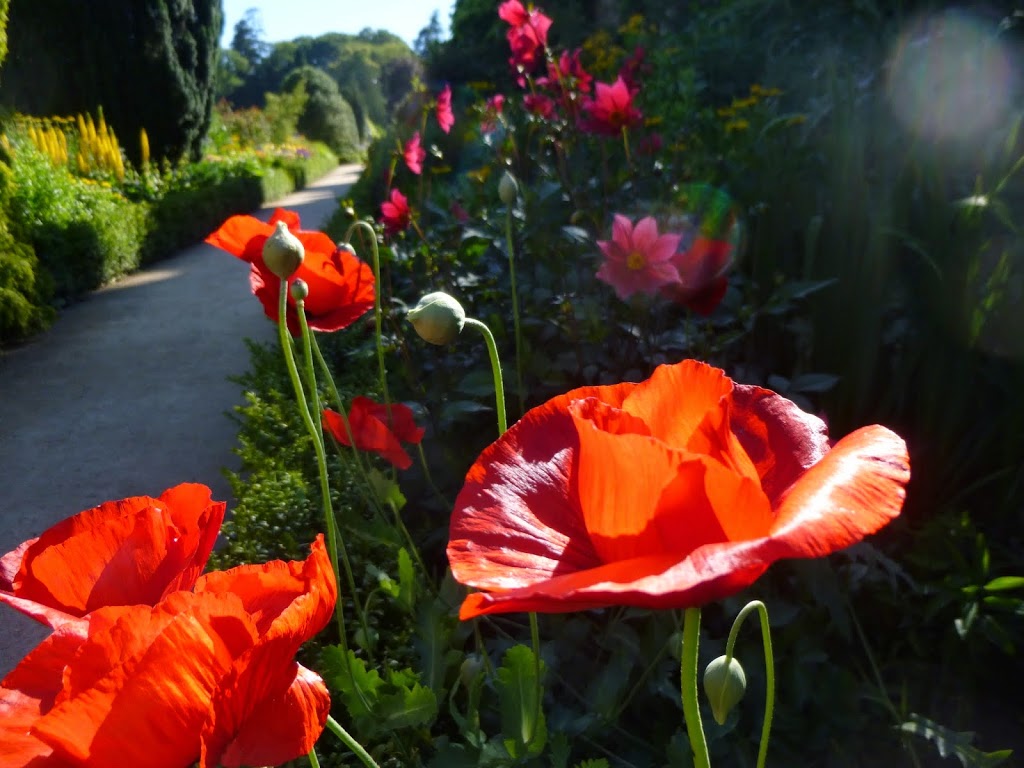 One for Michael Bay.
In the kitchens we came across a very bored NT volunteer, desperate to hear our life stories. She then proceeded to tell us how great we are together, how lucky I am. Awkward. And why do they never tell the ladies how lucky they are, huh!?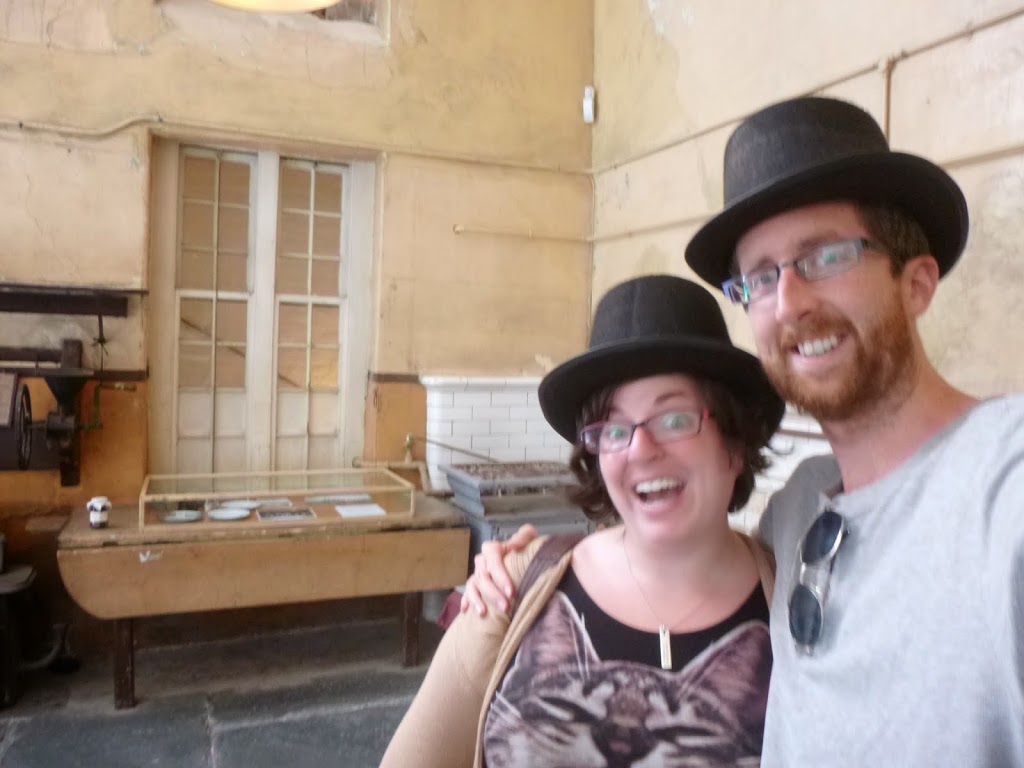 We celebrated the end of Kate's first tour leg with a pub meal. It was delicious, and I would have loved to down a few more pints, but £15 to stay in the back paddock was a bit much! So a wee journey up terrifying lanes found us a lovely secluded layby instead. In the morning I dropped Kate in Shrewsbury for her train journey south.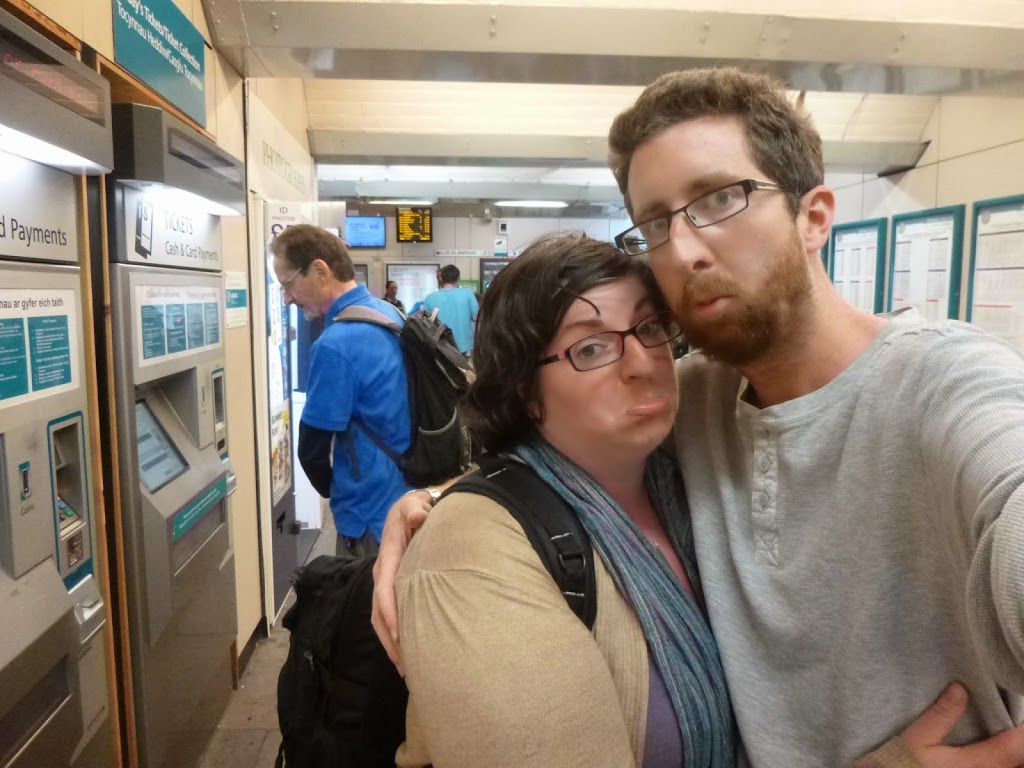 Stink buzz.