Avoiding Christmas this year, I booked a 10 day group tour in Morocco. A devoutly Muslim country, Christmas was barely a consideration, and many of my travel companions were in similar boats.
Click here for a super-average custom map of my festiveless trip.
Marrakesh
Marrakesh – Dades Gorge
Dades Gorge – Todra Gorge
Todra Gorge – Desert Somewhere
Desert Somewhere – Quazazate
Quazazate – Marrakesh
Marrakesh – Essaouira
Essaourira
Essaourira – Marrakesh
Marrakesh
So arriving in Marrakesh, my day one impressions weren't great. I'd had a bit of a nightmare getting to Gatwick for my flight, taking unfamiliar night buses across London all morning for 6am. I had hoped to be able to put my feet up once I got there, but it all appeared rather disorganised. The guides just weren't capable of communicating to such a diverse English speaking group, and hadn't the confidence to take charge of the pushy ones. The Dutch contingent kicked up a stink (surprise!) and after an eternity of talk, those who are chilled out quickly decided to, by whatever means, get on the other van in the morning.
That night, the tour unofficially kicked off with the quest for booze. We were fortunate to have a supermarket not far away, within which a surprisingly large alcohol section covered our needs – though it felt a bit like buying tissues, handcream and a womens day, such were the looks and treatment of the staff! Sheepishly clutching our illicit purchases, we were then unceremoniously shepherded out the back door into an empty dirt lot.
My room mate Papa Bear and I enjoying a Casablanca. Sharia didn't like it, we got moved on shortly after this photo.
Day one of the tour saw us meet a city guide Mustafa for a visit to a Palace, a mosque, the famous Jemaa el-Fnaa square and a quick exploration of the neighbouring souqs.
The palace, well, yea. What can one say. It didn't look much from the outside, and it didn't look like much from inside. There wasn't a piece of furniture left in the place so one had to make do with the mosaics. They were cool and very intricate, and our guide tried to make it more interesting with stories – but at the end of the day you're walking through a series of empty white stucco corridors in a non-descript building.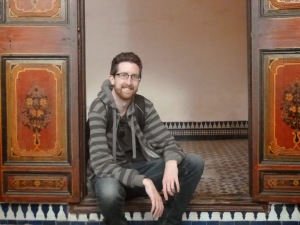 What a stud.
The mosque was interesting, but we weren't allowed in (not being Muslim).
Our guide was middle aged, fat and jolly – a regular Muslim Santa Claus. The Moroccan King is quite progressive in giving women rights and things, and someone asked our guide about all that. It was quite a strange exchange, he was so incredibly open about the inequality. 'Of course we don't like it, we can no longer control the women'. It was great to hear about his cultural views, but at the same time I thought he should be ashamed of himself! I think I rather naively just wanted him to want the change, rather than it be something being done to him – but never mind. He's old, things improve regardless and I respect his openness, he was a lovely warm chap.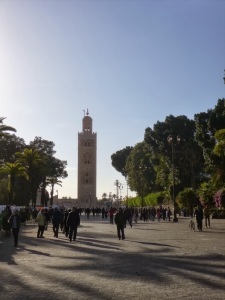 Mosque from the square.
The
Place Jemaa El Fnaa
was something else. Marrakesh's central market within the Medina (old city wall) it has been the heart of Marrakesh for hundreds of years, and has UNESCO heritage status to remain so. There were plenty of tourist trappings, dudes covered in cowbells, snake charmers, monkeys and the rest – but in the evening the place really came to life. Locals crowd around to hear oral histories from storytellers, and dozens of food carts are rolled out, tables set up and the place has a real carnival atmosphere. Aggressive sellers also make an appearance in the evening but overall it wasn't too bad.
I refused to photograph the snake and monkey abusers, as they demand money for the privilege and I don't think much of the practice.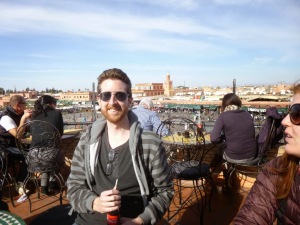 Tourists run to the rooftops to escape the sensory overload of the market below.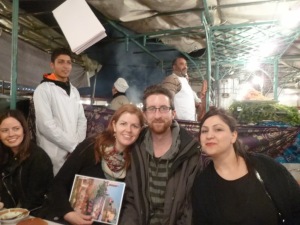 Some of my wonderful travel companions and I having dinner at the market. I'm such a tin-arse some times.
Before dinner we explored the Souqs. Kilometres of alleyways of narrow shops selling the same stuff. No matter the owners, or how deep and obscure you got into the lightless passageways, there's always the same five or six shops:
Ladies leather shoes
Ladies clothes and scarves
Leather bags
Some wooden stuff
Metal stuff
Spices and nuts n that
And repeat. I guess that's every mall really. I think it'd be a fascinating place to study retail behaviour. Such a labyrinthine place, but as you can probably tell – knick knacks aren't my ticket.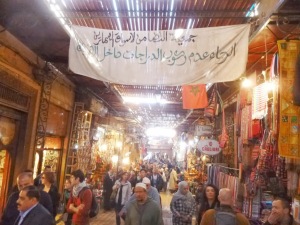 Having a souq.
Our souq tour went deep into the bowels, the forges where trinkets are made. That was interesting, arc welders and whatnot. As one of our group observed in his classic Australian drawl, 'this must be where Madonna gets her bras'.
The final stop of our souq tour was an encouragement into a 'Berber pharmacy'. We were shepherded into this room and given a spiel. This guy, what a salesman. He somehow whipped everyone into a buying frenzy – even my tight-arse bought some mint tea.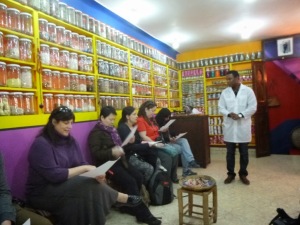 40 dihram for some mint tea is pretty cheap in the UK but in Morocco, one born every minute.
That's the end of Marrakesh really. We had a nice ginger tea after dinner, and we were offered 200 camels for the women, but I spent no more quality time there. Some other observations were that the curb is massive to stop people driving on the footpath, and they don't scrape up dead dogs anywhere near quick enough. They do however lead the world in chalk outline drawing, drawing a chalk outline around an unfortunate (but all too common) scooter rider who was still arguing fault, maimed in the middle of a busy intersection. They also somehow operate with cops whistling intersections, and no-one stops for pedestrian crossings. The souqs and the square are worth a look, but I found the city busy and chaotic (though I didn't explore very much so take my opinion with a grain of salt).
Another wee thing about visiting Morocco is that tourists regularly get travel guts if they drink the tap water. Everywhere sells two litre bottles of water, so you just carry those around everywhere with you. It was extremely hard to break my lifelong habit of using the tap to rinse my toothbrush – part of me wonders if it's a nationwide income generating scam.
Marrakesh to Dades Gorge
Day three had us driving to Dades Gorge. A winding passage reminiscent of New Zealand saw us through the Atlas mountains. The Party Van was able to nickname the other the 'Vomit Comet', with a 2-nil victory.
Some enterprising hawkers had pushed wheelbarrows of crap to the top of the mountain to sell wheelbarrows of crap to tourists – I told one I'd buy some 20 kg weights on our return trip if they could source some by our return journey.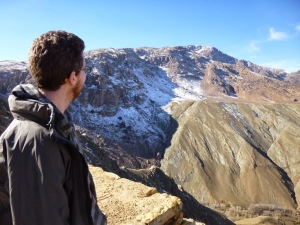 Atlas mountains – rock and roll. A rally driver would be in heaven, provided the other lane was closed!
On the other side of the mountains, we had a fantastic feast of Tagine at Quazazate, and a nice un-ashamed wine or three at this tourist mecca before proceeding on.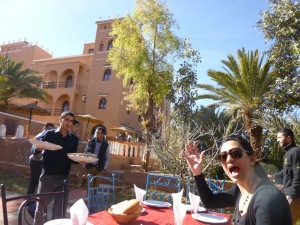 Some bloke with a one-string homemade guitar thing rocked out during lunch, was fun.
On the way, we stopped for a tea. Mint tea is a bit of a thing in Morocco. It is 'Berber Whiskey' I was told on at least five occasions – the social cue for everybody to chill out.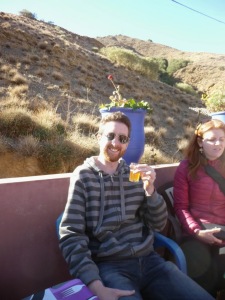 Except I can handle my mint tea.
Arriving at Dades Gorge, we had a Tagine for Christmas dinner (every meal was a Tagine unless otherwise stated). The meal was lovely, and Bob and Anne brought Baileys for us to share before we all headed to the hotel bar.
In the morning, we took a three hour hike through some fields and up a neighbouring mountain to look out at the village below. There were lots of fossils in the bare rock up there.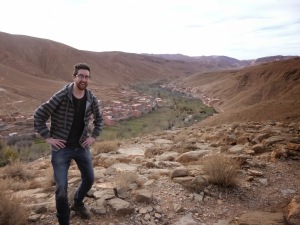 A thing I found curious about Morocco was the housing development. They've got so much land, they don't demolish old houses, they just move. In the picture above, the old village is on the left side, and the new village is on the right. A couple of people still live on the left, but otherwise everyone's just moved to the right. The developments are really foreign to me too – so many half-completed buildings popping up everywhere, but the towns themselves don't appear to be complete. A tonne of new houses being built, but no street or driveways or anything – just houses plonked down seemingly where ever was convenient at the time, and built until the money runs out. Like Doozers, maybe it's something to do. Lulz.
Dades Gorge to Todra Gorge
In Todra Gorge, I tried rock climbing. Upon arriving to the cliffs, I remembered I didn't like heights. They also didn't have any climbing shoes big enough for me so I had to go in my hiking boots – all in all a bit of a have but I've never climbed an actual rock wall (just those indoor things) so it was quite fun!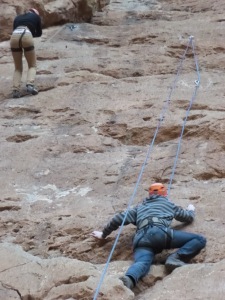 200 metres up.
We also went to a Berber Rug Co-op. Divorced or widowed women have banded together to make and sell rugs. These ladies are shunned by society, and made to live in caves in the mountains during the summer months – but in winter they're allowed to stay in the village so as to not die – how considerate! Anyway, we were shown how the Berber make mint tea and saw a bit of rug construction.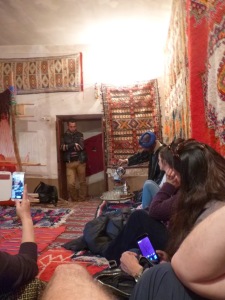 Tea making.
In these mountains, we all noticed our boogers had turned black. From dust, soot or what, not sure – but it was strange, and not something we had in the cities.
[picture of black boogers removed by moderator.]
Todra Gorge to the Desert
A highlight of the trip was travelling to the Berber camp in the desert via camels.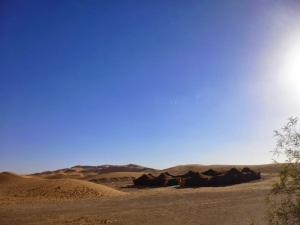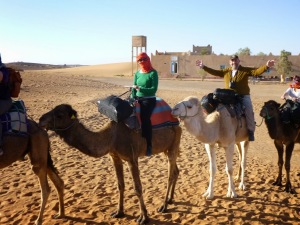 Camels.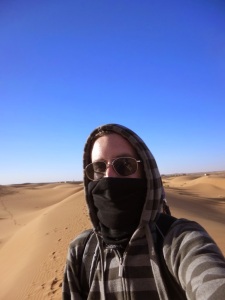 TERROR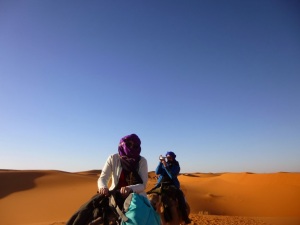 Riding camels is a lot more uncomfortable than one might think! I presume it's like biking, you'd get a camel butt eventually – but I think we all were thinking about walking back in the morning! I thought the footprints of the camels looked like a toddlers feet jumping together, until Bob mentioned cameltoe. Good times.
So once we arrived at the camp, we tried a bit of sandboarding. I was petrified but managed not to fall off – one of our troop wasn't so lucky and suffered a near concussion.
As night fell we played cards by candlelight in the tents, enjoyed a Tagine for dinner then sat around the campfire while the Berbers played some music. The stars were out and everyone got our their star-map apps, nothing makes you feel further from home than looking up and seeing unfamiliar constellations. A wonderful night!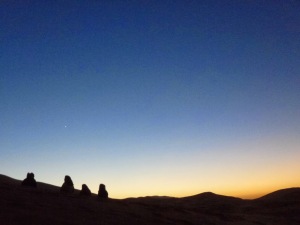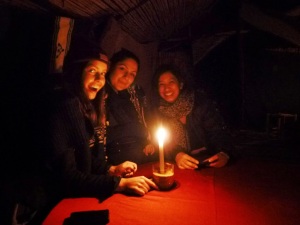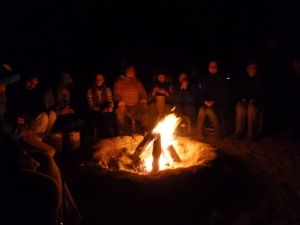 Most of us opted to sleep out under the stars, and it was cold. Just as I was considering sleeping in my camels entrails, dawn came. The camels started roaring and most of us were happy to get up (aside from our resident Canadian who lives at the 80th parallel, who found it rather balmy).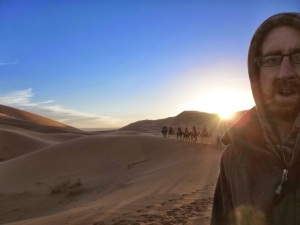 Dawn in the dunes.
Desert to Quazazate
After we got back with our camels, we pretty much drove all day. We stopped at famous 'Date Alley' – four stalls selling dates. A non-day! We did stop at these historic wells though, which was interesting. The wells stretch all the way from the mountains to a desert oasis. There are thousands of the wells with an underground water tunnel.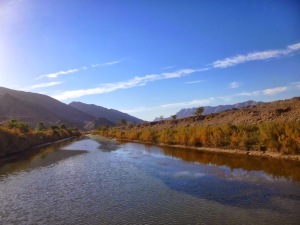 There was water in one location!
Quazazate to Marrakesh
We had the option of visiting the Quazazate movie studio in the morning. It was pretty banged up but I do like artifice and derelict buildings, and our guide was Michael Jackson as.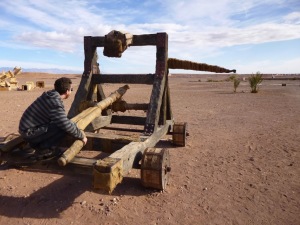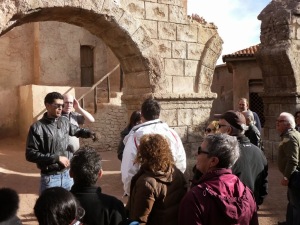 Heal the world, make it a better place!
Bit of a relax back at the hotel before we headed back over the mountains to Marrakesh.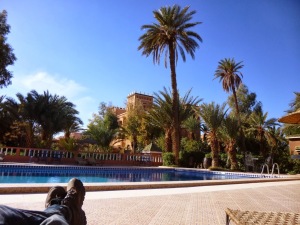 En-route to Marrakesh we stopped at Ait Benhaddou – an old fortified city.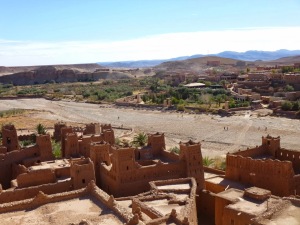 It's old and fortified.
Marrakesh was where my trip was originally to end; our group was made of two tours, those going to the beach and those who weren't. I wasn't but I wanted to, and someone else was but was worn out – so we swapped, which I consider extremely lucky for me! So the next day I joined the 'Surf' team and our cut-down group headed off to Essaourira.
Marrakesh to Essaourira
On the road, we passed trees with goats in them. Iconic for Morocco, we all piled out then noticed the goats were balanced on little bits of wood that had been tied to the branches. The goats looked miserable, being placed in a tree all day would have that effect – but I paid my five dihram for my photo and we left. We then began looking for the iconic Moroccan donkey and camel in tree, but it was not to be.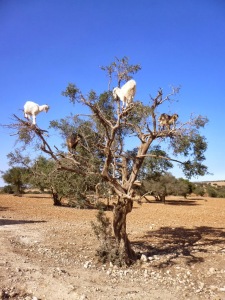 All kidding aside, I'd be gruff too.
Arriving in Essaourira we found it to be a wonderful seaside city. We were cut loose for a day there. I absolutely loved it, it has coastal battlements, markets, a bustling fishing port, real nice.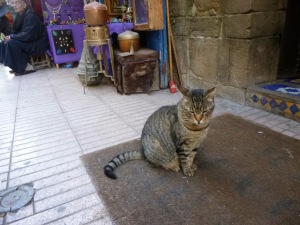 This guy reminded me of someone back home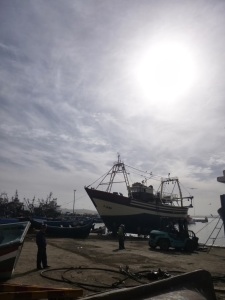 The port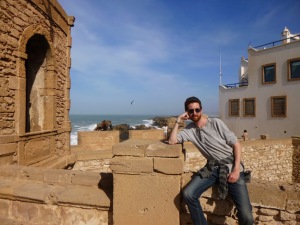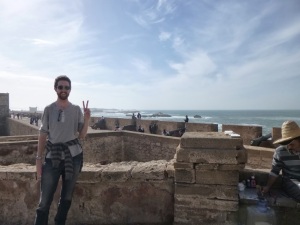 Battlements
We had a good prowl around the markets, I bought a small wooden camel, an even smaller wooden camel and a magnet. I had a nutella crepe and a delicious chicken quarma.
In the evenings we went to Taros Cafe, bit of a tourist haunt – nice rooftop bar with views across the city where we enjoyed some live music and some drinks.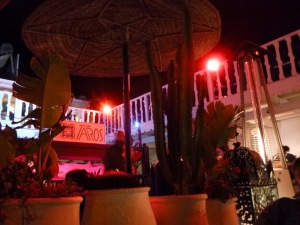 Later in the evening some Moroccan lads took a fancy to our ladies and shepherded us and some other tourists to some other bar later on, it was all a bit uncomfortable. I left shortly after arrival, but those who stayed ended up paying 100 dihrams for a coke – that's like 8 pounds for a coke. What a racket. So yes, keep an eye out – single ladies especially. No-one bothered me any, aside from telling me that four women was too much for me. Maybe, guy. Maybe.
New Years evening saw our troop at another rooftop terrace restaurant, paying tourist idiot prices for a nice but small meal. We had live music, though if I can be insular for a moment, I WOULDN'T CALL IT MUSIC. Never the less a bit of dancing and a great time was had – the singer was a bit bummed barely anyone danced his slow song, but it was pretty much a lonely heart tour, haha. The couples on the trip warmed my cold, cold heart.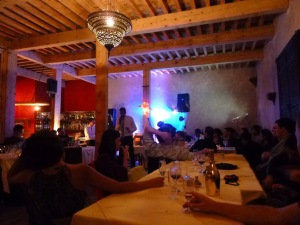 Why is this song 30 minutes long?!
After dinner we had a culture clash, with those from the Americas thinking we should tip, and those of English heritage thinking we'd already been fleeced like hell and the service didn't warrant it. Us antipodes just left in the end, haha. That was a really enjoyable part of the trip, exploring the cultural differences within our group as well as those in the country we travelled.
On the 1st a lazy morning was had, with a lovely stroll along the beach before returning to Marrakesh in the afternoon.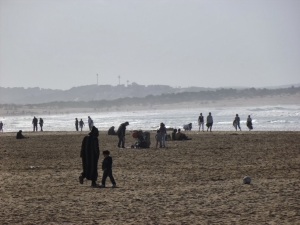 These aren't the droids you're looking for.
I found saying goodbye to the group rather difficult, you live pretty fast on a tour – though I imagine facebook etc. makes it a bit easier these days – then I was on my plane back to London.
This was my first multi-day group tour, and I absolutely loved it! Some massive distances were driven, but I was lucky enough to have such a great group of people to travel with and we had a blast. I wouldn't say I've seen Morocco by a long shot, but what I saw – it's a wonderful place to visit. The locals were all so friendly and welcoming, the food was wholesome, it wasn't very scary, and there are some beautiful spots. I can see why locals would move to France though, there was a lot of idleness and poverty – but to visit, great!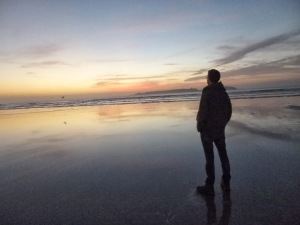 Sunset, December 31st 2013. What a year!
I did my tour with on the go – it was competently run, all the boxes ticked, but rather clinically administered with little heart.