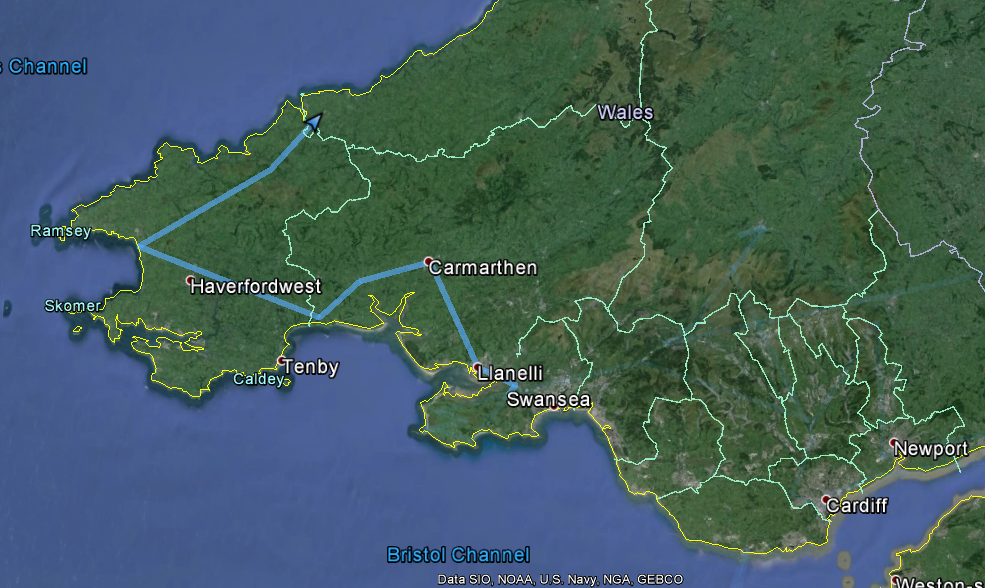 01.07.2014 – 05.07.2014 (approx – GPS app was being silly)
After recharging from the Gower power tour we headed inland, to the Carrag Cennen Castle, perched atop a cliff surrounded by rolling Welsh farmland. The mist and howling winds drove the crowds away. We were nearly able to enjoy this most romantic ruin on our lonesome.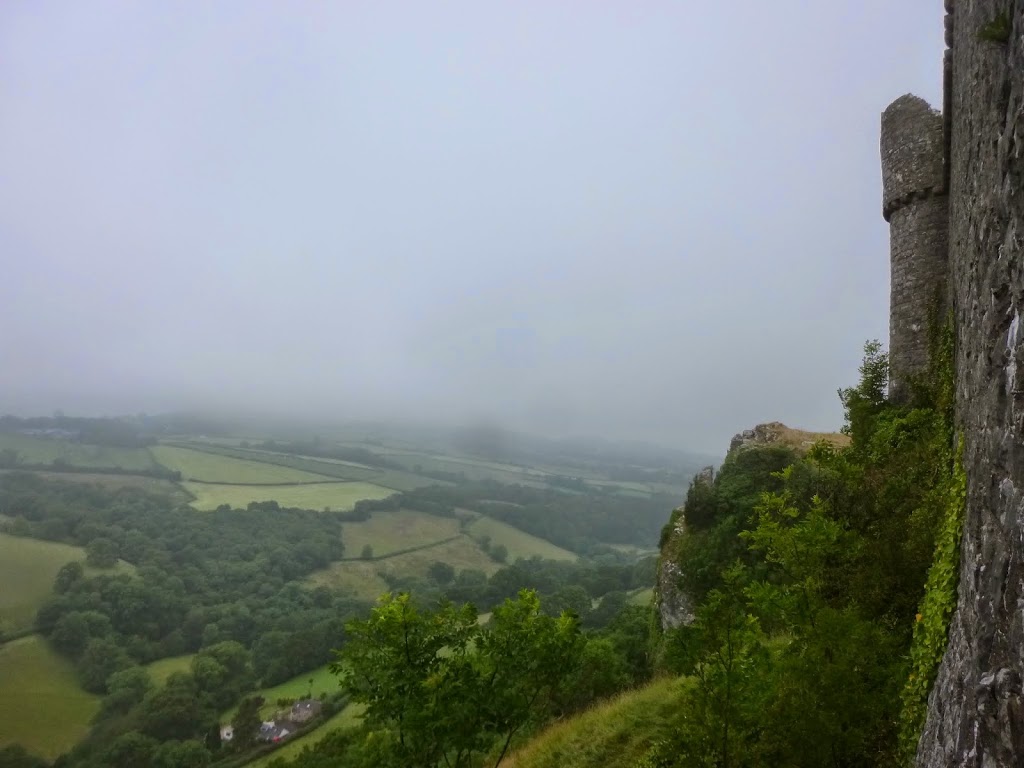 Out a battlement window at Carrag Cennen
Accessed via the castle, a natural cave ran some length into the hill. It had been incorporated into the defence, with arrow slits added. Deeper down we turned off my cellphone light to experience pitch darkness; an effect lessened by our experience of it at the Big Pit a few days earlier, but no less exciting!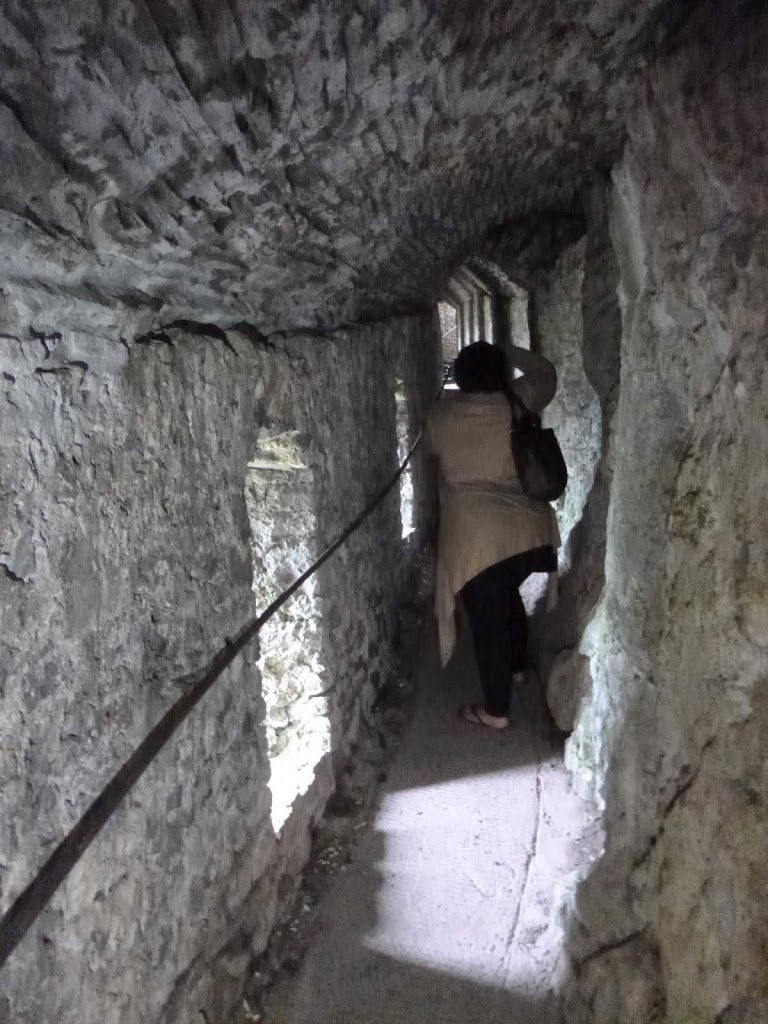 Up the cave tunnel.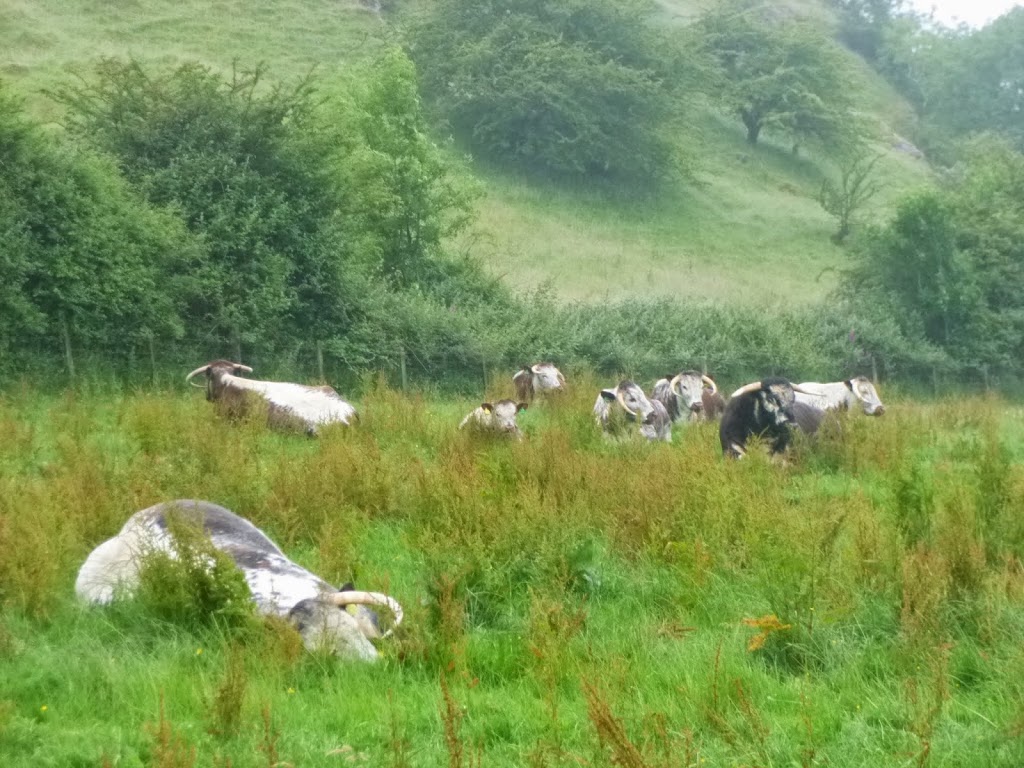 Welsh Longhorns
Carrag Cennen was part of a chain of castles and went back and forth between the English and Welsh princes, many enduring sieges. Nearby Dyvenor Castle was another, perched on another cliff top in Dyvenor estate. Within the estate is Newton House, the manor built to house the family as the family funds diminished. We went and had a look in there – Kate tried her hand at the piano and I was left wishing I'd attempted learning a little earlier – how nice it is to hear the pianos being played in these houses.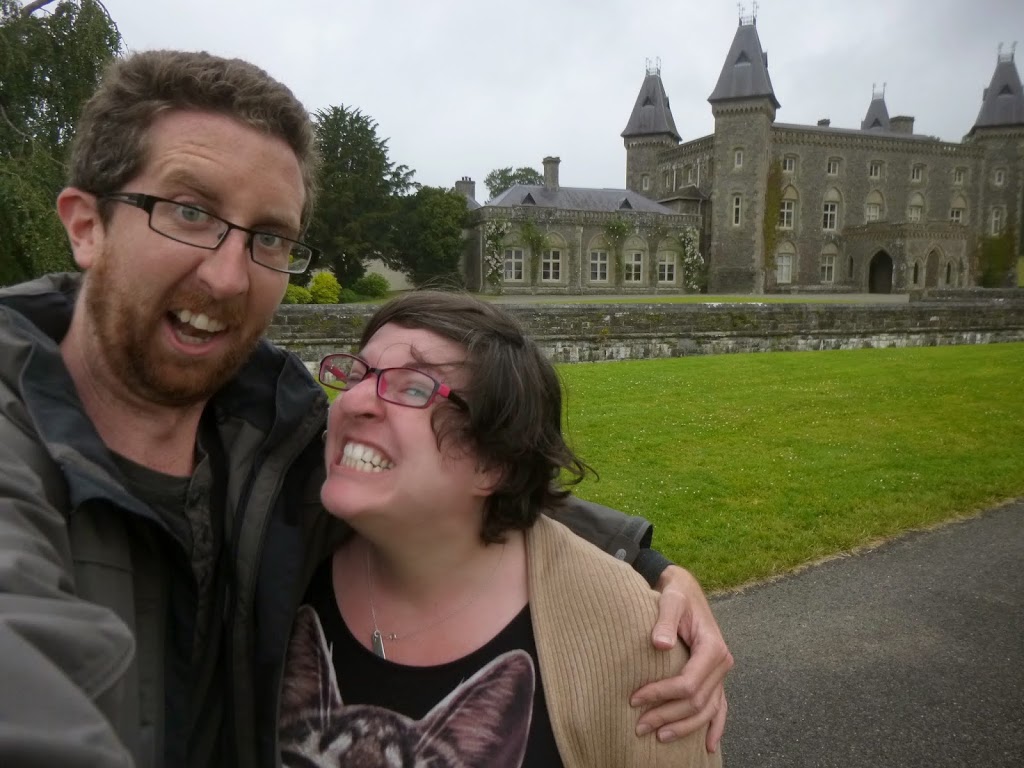 Newton House
This one was quite a new National Trust acquisition and our knowledgeable greeter talked us through the houses' development over 400 years – fascinating! Upstairs was a great exhibition on Welsh law and that.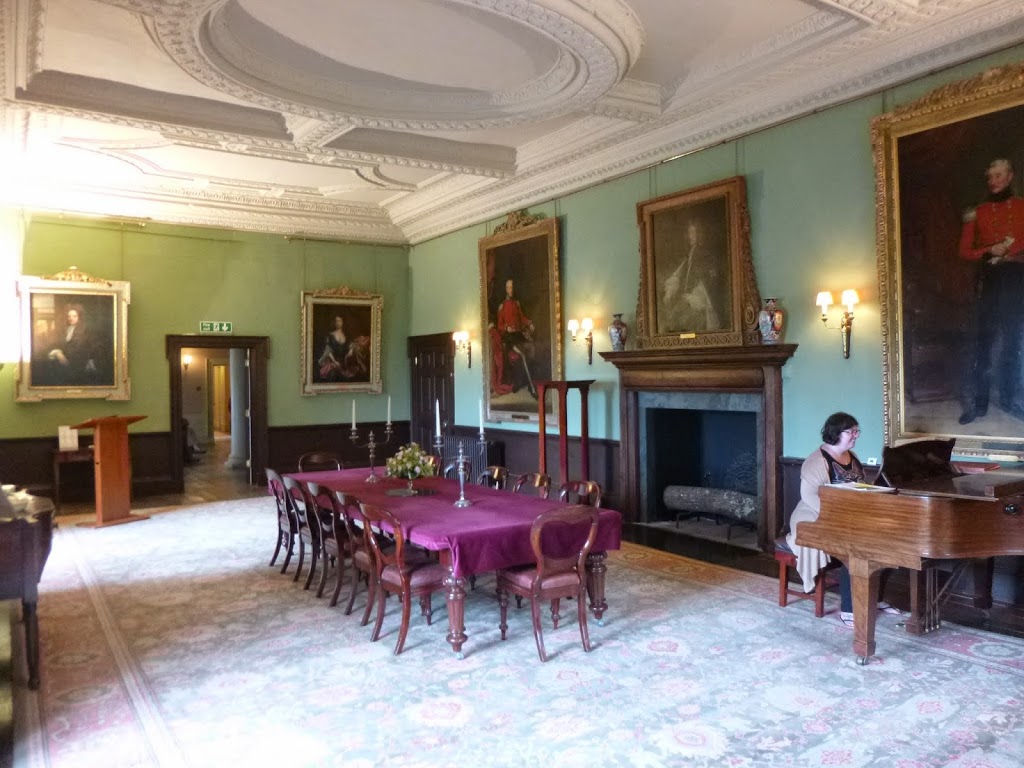 Regal.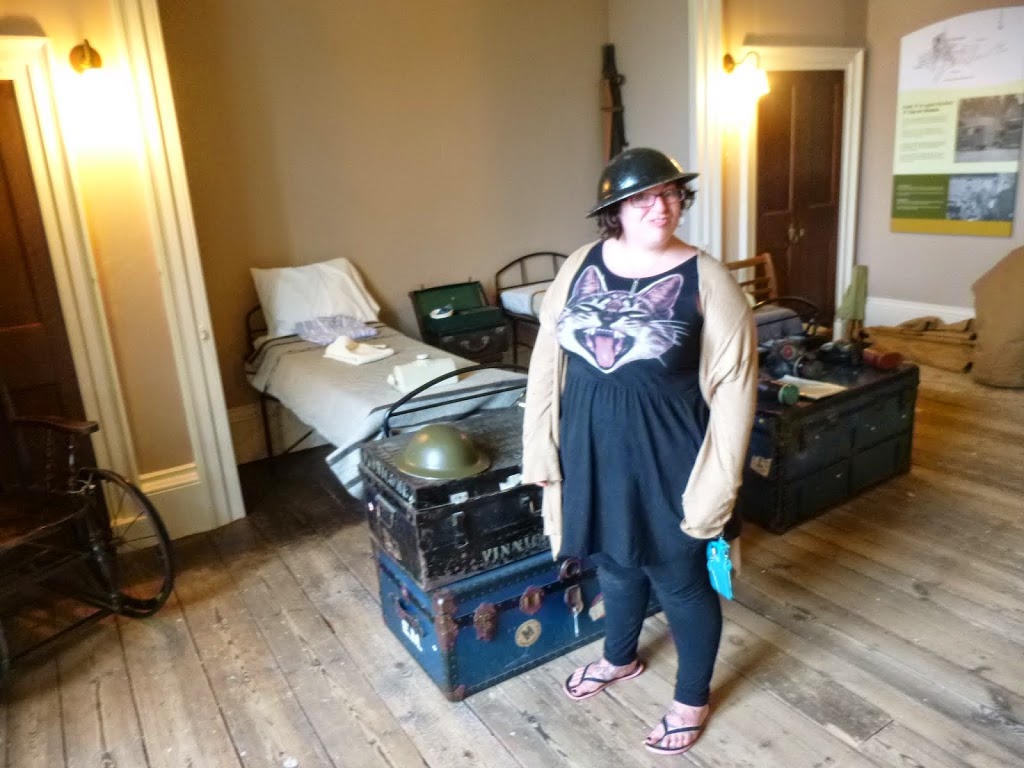 …regal?
After visiting the house we slogged the short slog up the hill to visit Dyvenor Castle. Climbing to the top of one of the remaining towers we had gorgeous views of the surrounding countryside, and once again, almost the entire place to ourselves. Stunning!

Panorama from Dyvenor Castle
We rounded up the day in a picnic area below Dryslwyn Castle, yet another in the chain – which we explored first thing in the morning.
It was another rainy day, but the castle is protected for future generations by a thick layer of sheep shit. These ruins were some of the most ruinous and we mightn't have stopped here, but having stayed in the carpark we thought we should! Later in our tour we read about the Prince who had his last stand under siege at Dryslwn Castle and that made it worth it. Unfortunately I have forgotten who, why and when and how.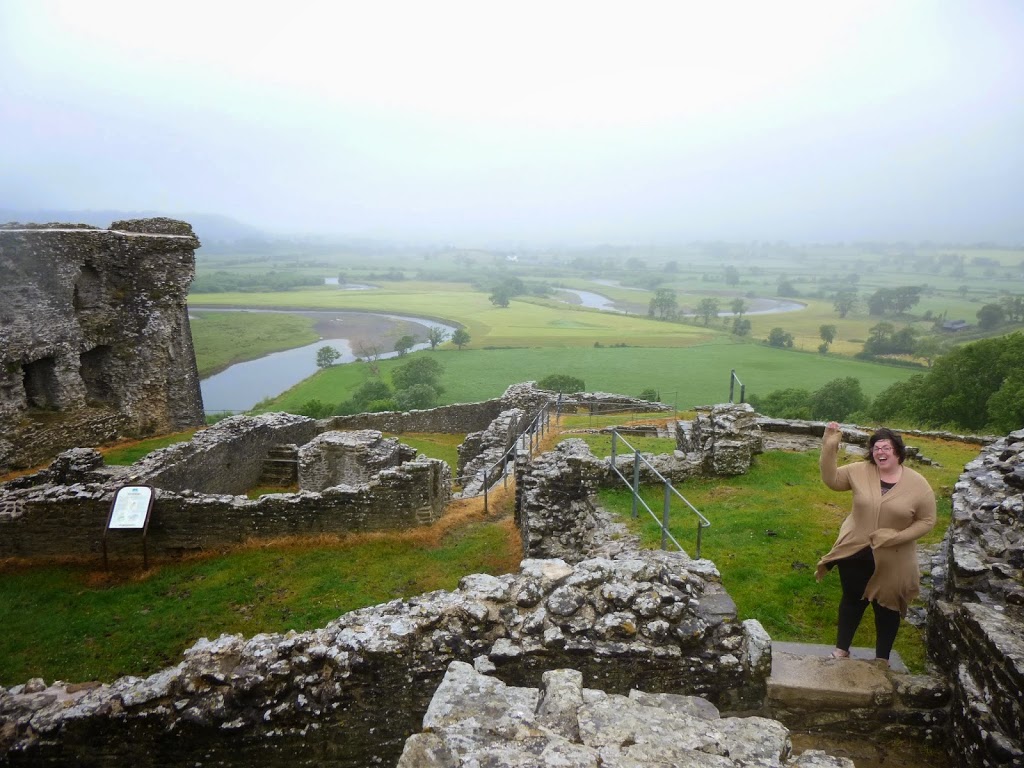 Dryslwyn Castle
From Dryslywn Castle we could see Paxton's Tower on a neighbouring hill. Built as a memorial to Nelson, it looked neat and we could climb it, so we drove over there. Up ridiculous lanes again, we passed the access road looking like a one-way street. Google gave us alternative directions which added 20 minutes to the journey along even more ridiculous lanes – it's hard on the heart at times! But we got there. The info board was gone, the view was mist, and the access to level one was locked. Can't win them all. We had a tea to settle my nerves and headed back out the little lanes.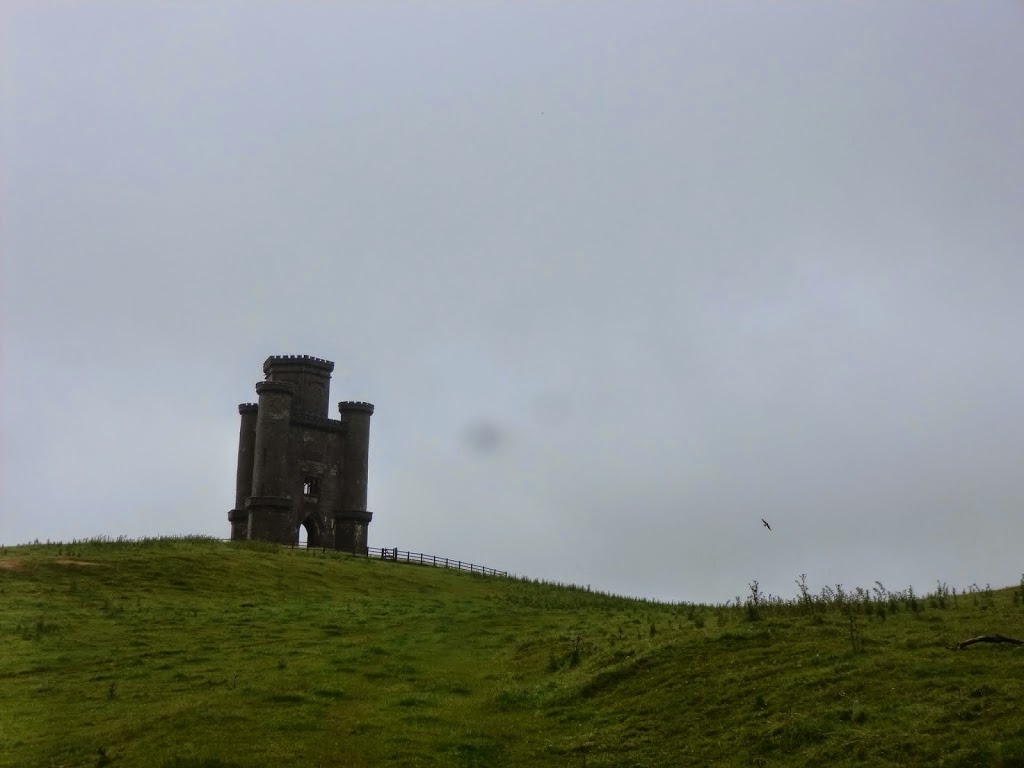 Paxton's Tower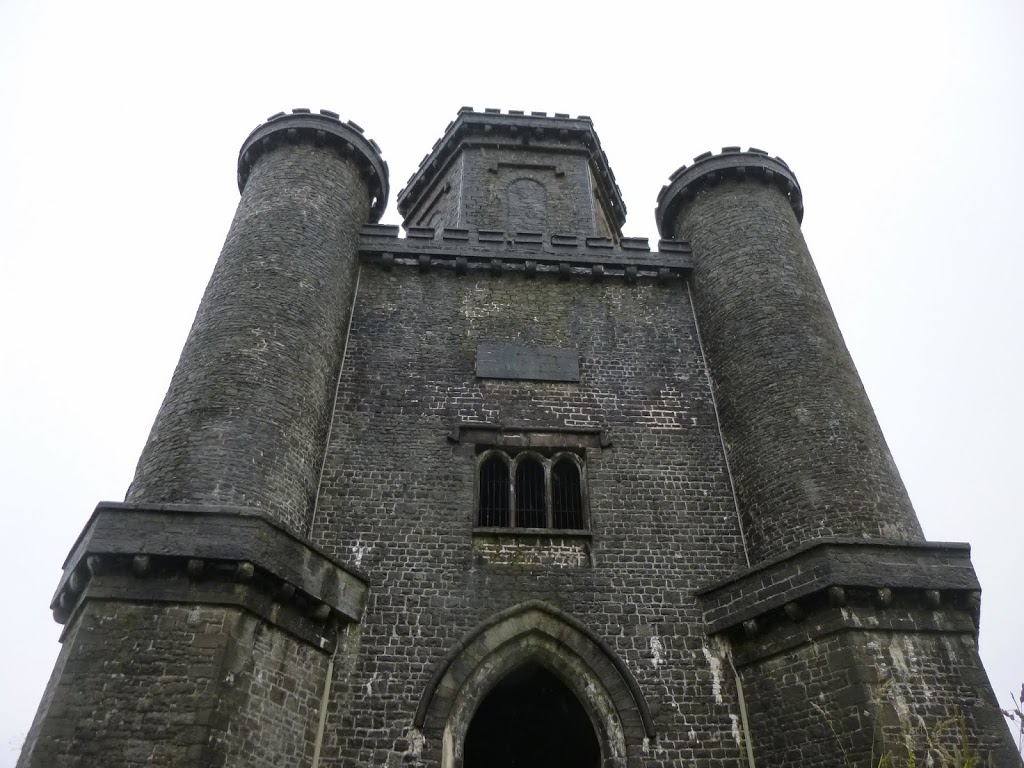 Better from afar.
On the way the driver windscreen wiper stopped wiping. Like a toddler at an intersection, it would sluggishly venture out into the path of the oncoming passenger wiper and one could do nothing but watch powerlessly at the horrific collision and resulting mangled contortions. After a bit of experimentation it now works OK – it idles halfway up the windscreen and if I wipe only when the windscreen is very wet, it works like a champ.
Kate had done 100% of these adventures in jandals (flip-flops) and the jandals were getting very sad indeed. So before she had to endure any more sheep-shit stained feet, impromptu hikes and dodgy spiral staircases, we ventured to Carmarthen to find boots and a rain jacket. We also picked up some cassettes from second hand shops, which we have enjoyed very much.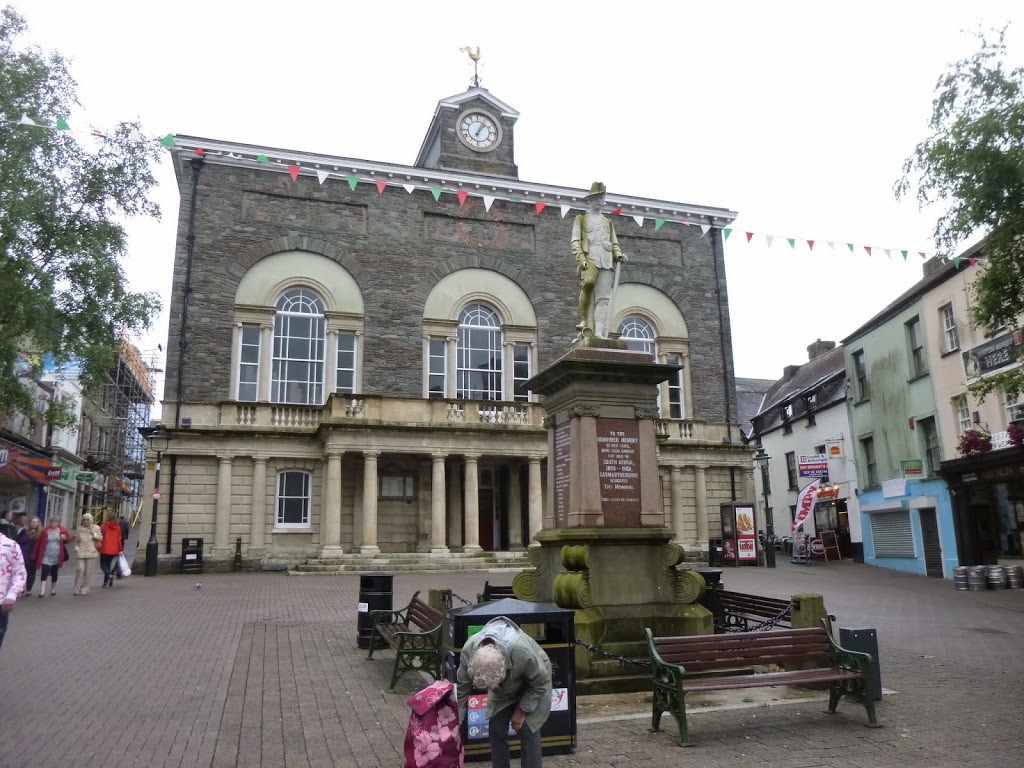 Carmarthen town hall (?)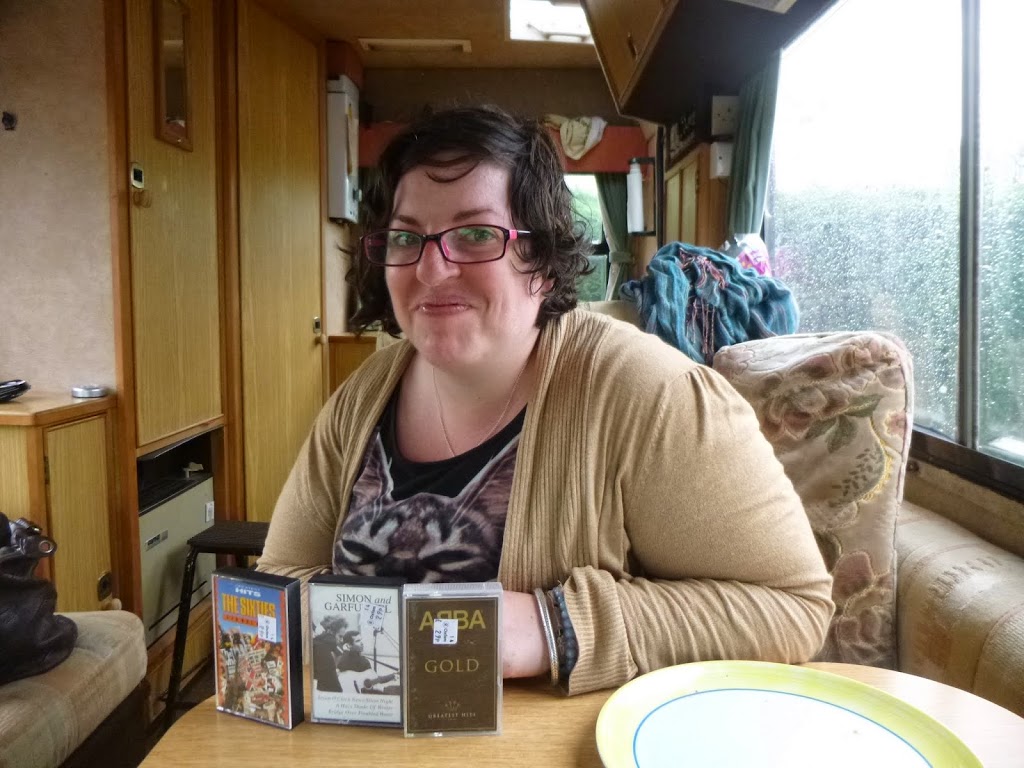 Our sweet haul of cassettes
Heading on to Laugharne, we parked in a carpark which regularly gets flooded at high tide. A wonderful spot that doesn't prohibit camping and is right next to the foot of the stunning Laugharne Castle, I was terrified for the van!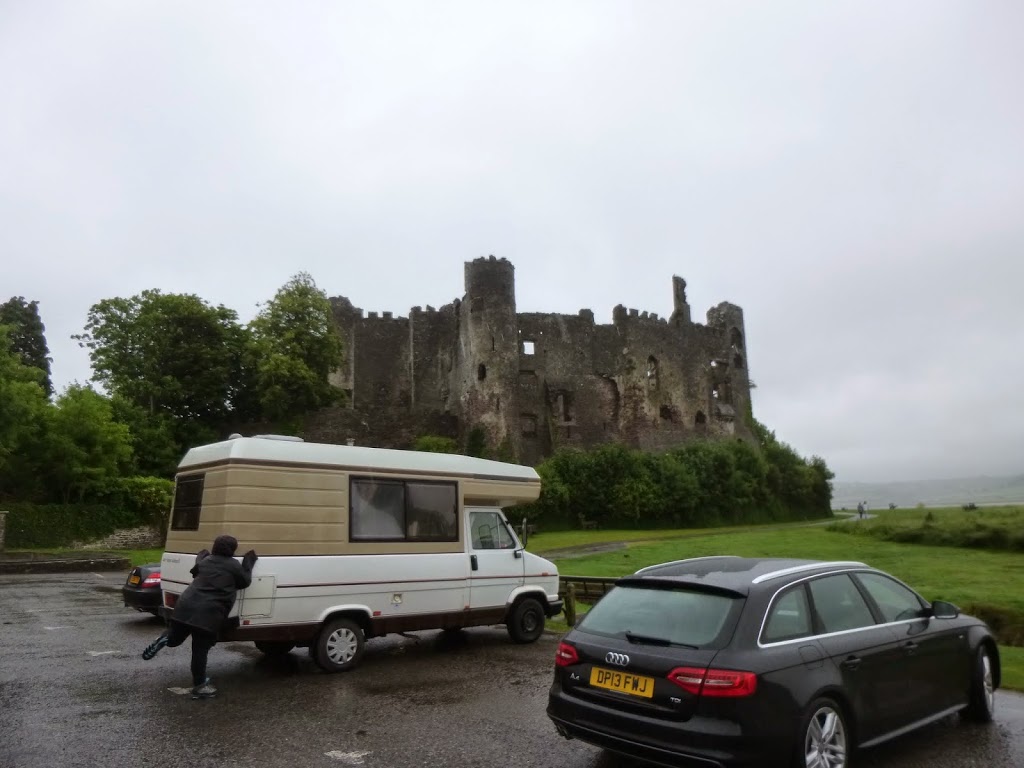 The castle and tidal car park (and Kate, who is coming to love Dorothy as much as I)
Some checking (double and triple) convinced me the tides were OK until 11pm – so we walked to Dylan Thomas's boathouse, where he wrote the bulk of his works. On the way we found tiny wee mountain strawberries growing on the stone wall which were delicious. The boathouse was very cosy and homey, though it sounds like Thomas spent most of his time in the pub and in his shed avoiding his kids! Sounds like a great way to raise kids really. An inspirational wee spot.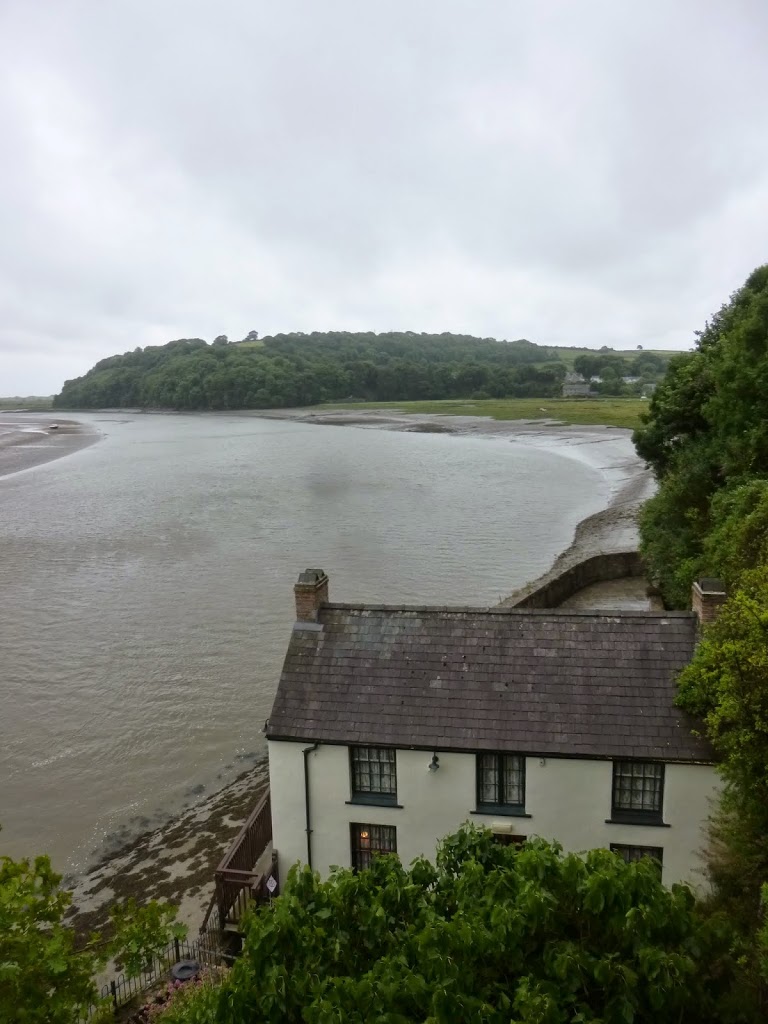 Dylan Thomas's boathouse at Laugharne.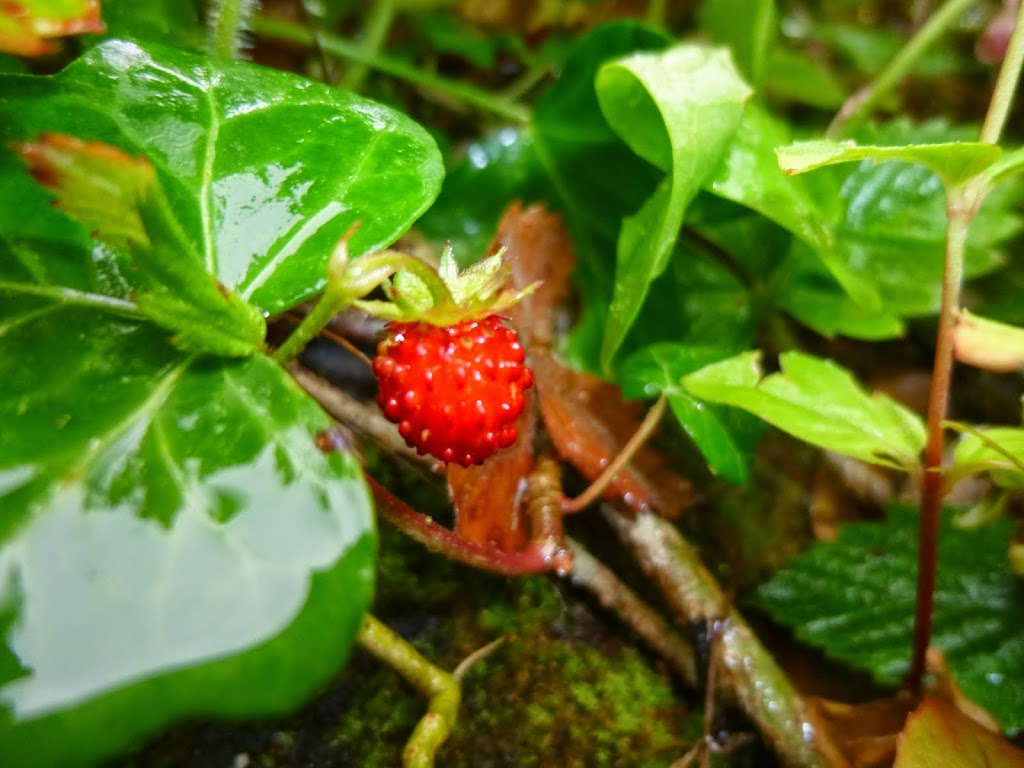 LITTLE THINGS ARE DELICIOUS.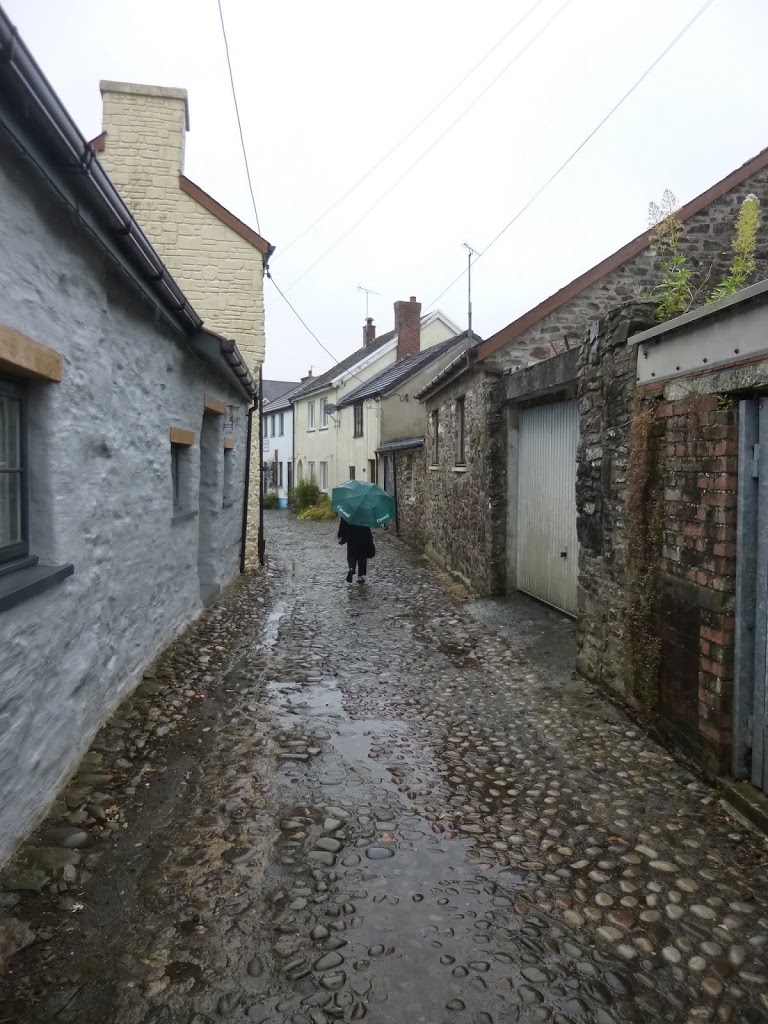 Wee lane in Laugharne.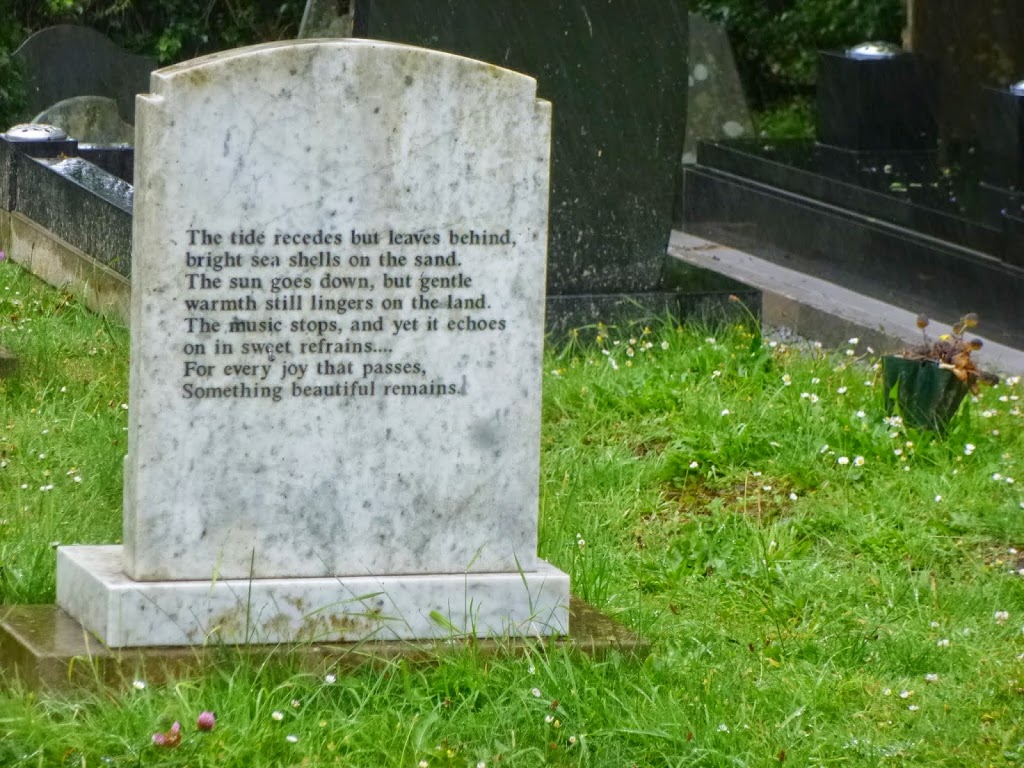 Poetry abounds – this one I thought quite lovely.
We then high-tailed it to Manobier, to a nice spot directly overlooking a nice surf cove. A sign said no overnight camping which got me extremely anxious, but a nice walk on the beach (and some wine) soon cured me of that.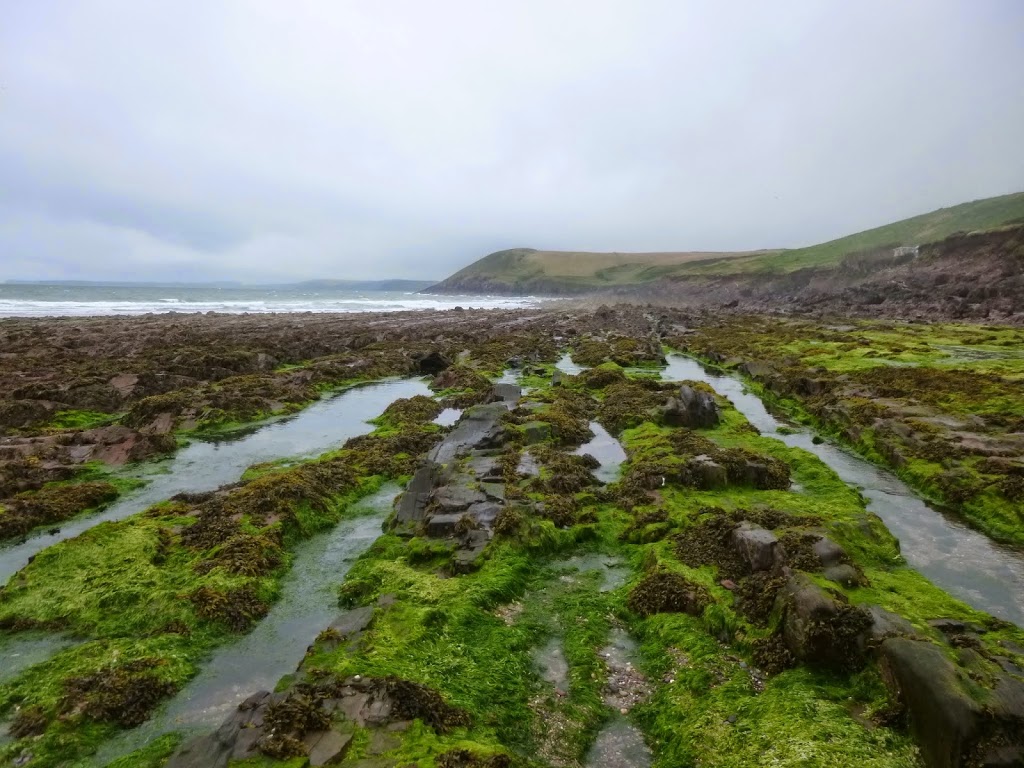 Manorbier at low tide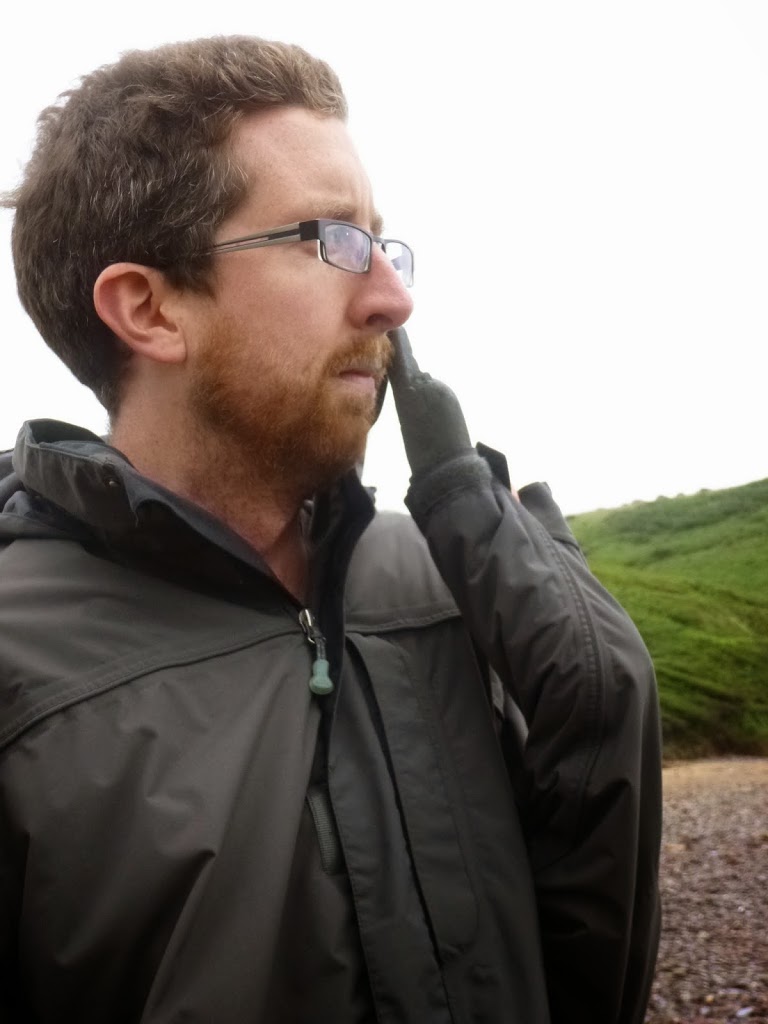 Pensively picking my nose with my rock hand at Manorbier.
My snubbing of authority could only last so long, even with Kate's maverick cajoling. Though we were surrounded by about 4 other overnight camping surfer dudes and a german motorhome, I couldn't handle it. THE SIGN SAYS NO. In the morning Kate showed considerable restraint in not kicking my ass as I moved us down to the main carpark at the bright early time of 7am.
The weather had turned gorgeous again, and after breakfast we headed above the cove onto the Pembrokeshire Coast path to enjoy some nice craggy-cliff views which reminded me of Cornwall. We saw another burial cairn thing and popped in to the cute St James' Church.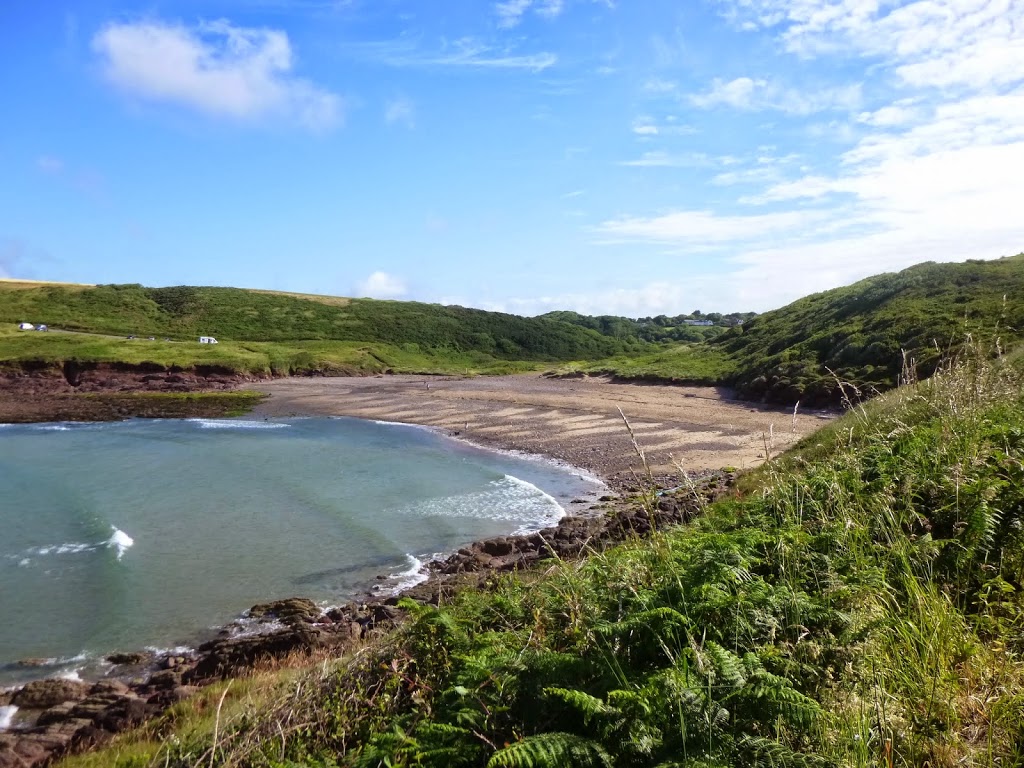 The cove, and our slanted carpark on the left.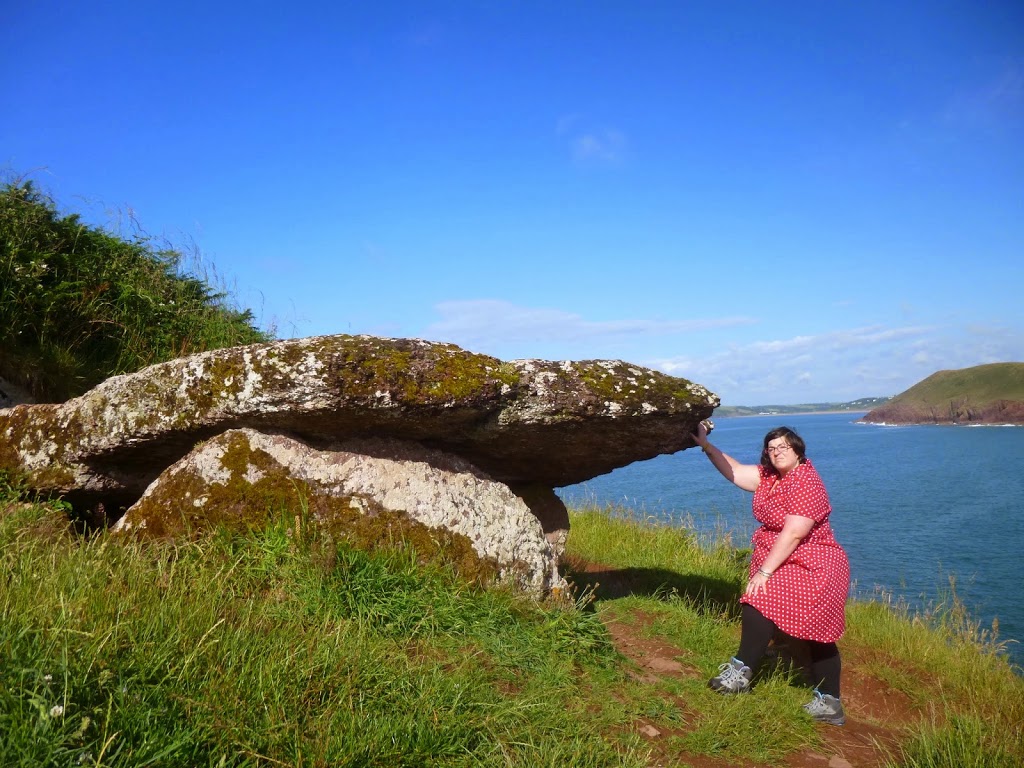 Cairn thingy at Manorbier cove.
Heading further around the coast, we drove through a Ministry of Defence firing range to St Govans to visit the tiny St Govans Chapel, 600AD. Legend has it the Chapel marks the spot where the cliffs closed in to protect Saint Govan from pirates on the coast. Watching the waves in this wee cove, next to a 1400year old chapel, made me feel like a very small cog in an infinitely large machine.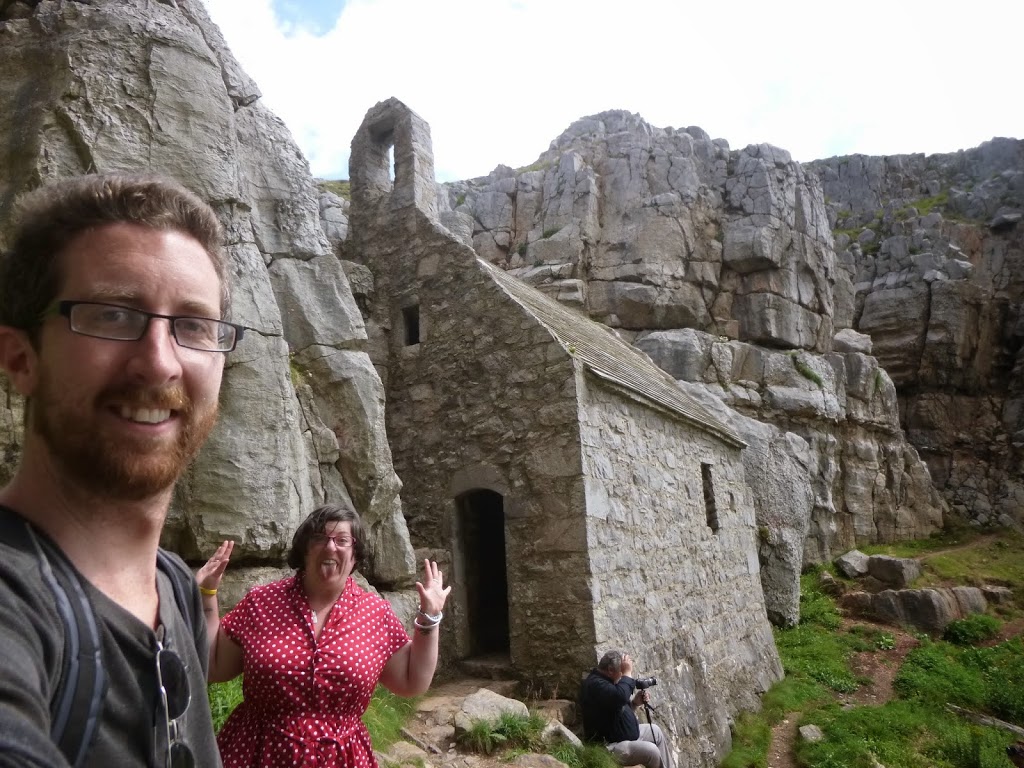 St Govans Chapel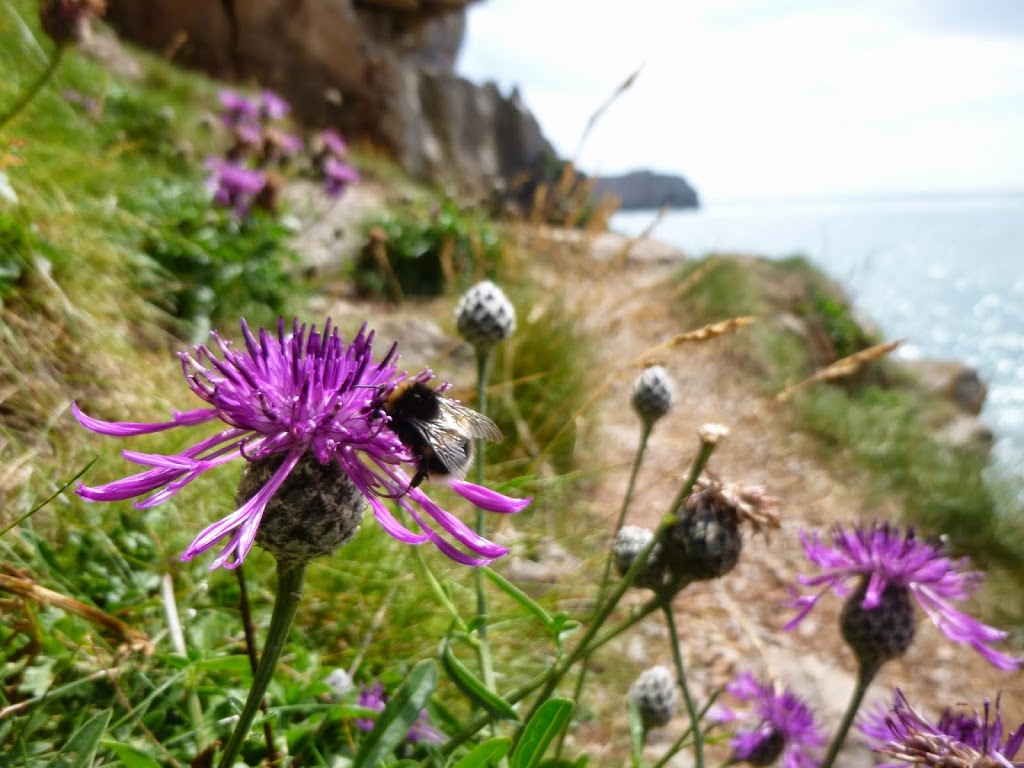 A BUMBLE BEE. I discovered Macro on my camera.
After a delicious bacon and brie wrap for lunch, we headed into the MOD site along the coast path to enjoy some more gorgeous cliff scenery.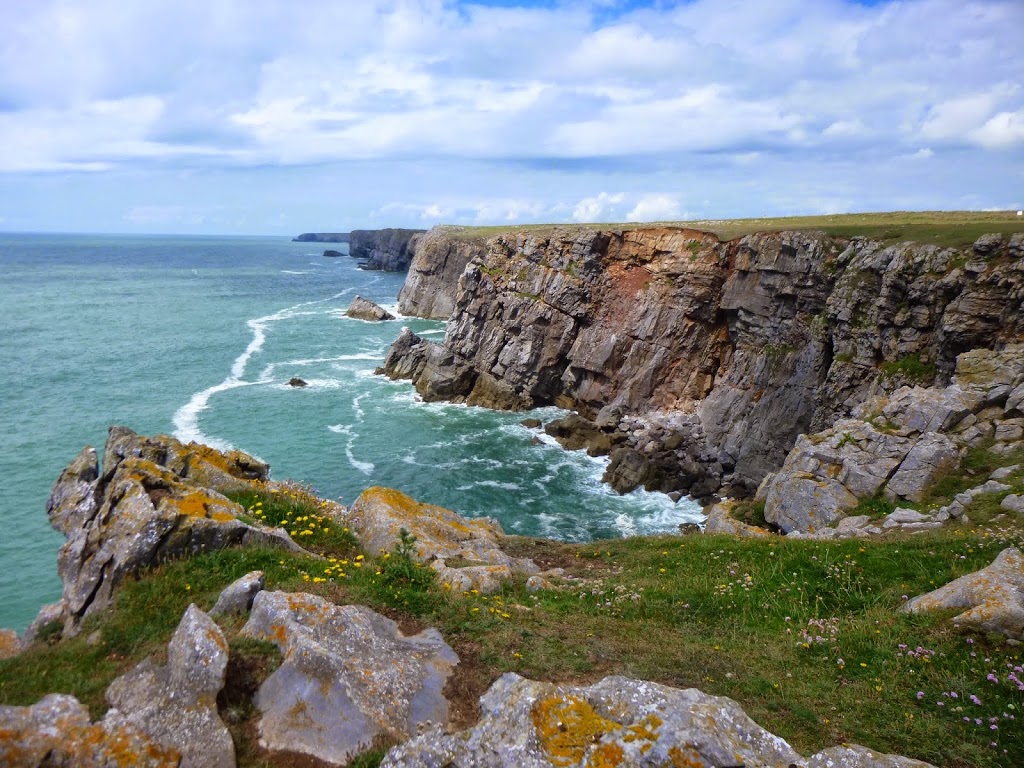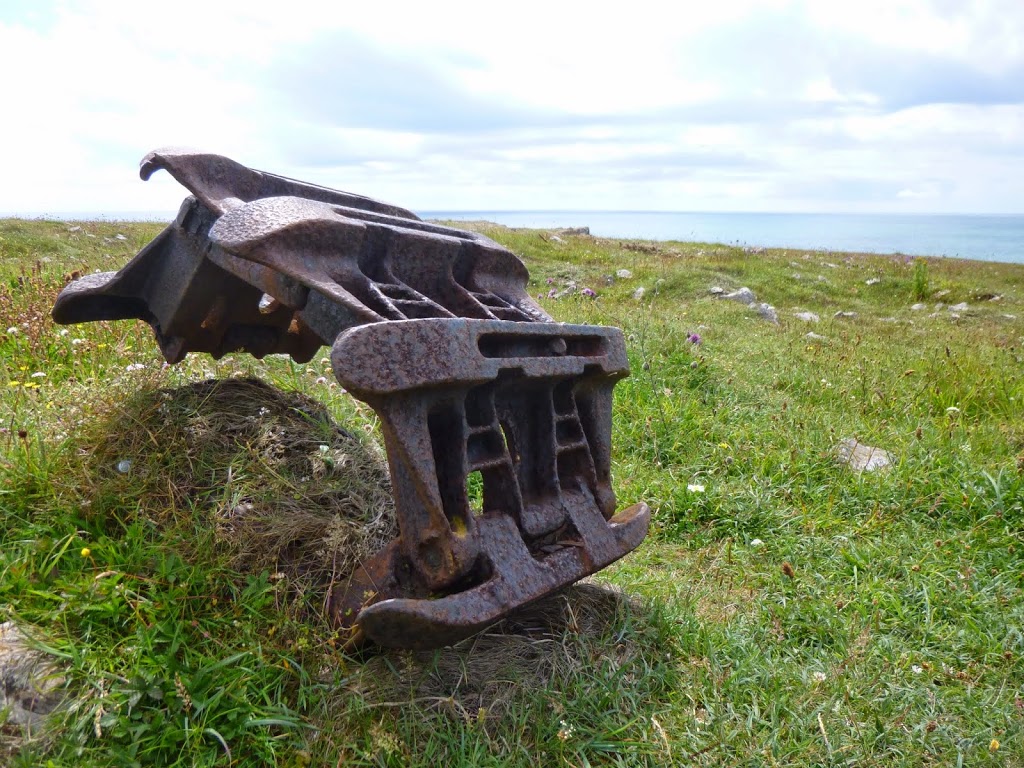 Old craters abound in this MOD test firing range.
Deciding to only walk 2k or so rather than the 10k we had planned, we drove on up the A487 to St Davids. There were so many nice things to see from the A487, it became something of a favourite road. As we've travelled further north the area has taken on much more of a laid-back, holiday vibe. No-one's in much of a hurry, the roads are empty and clear – it reminded me a lot of holiday journeys at home.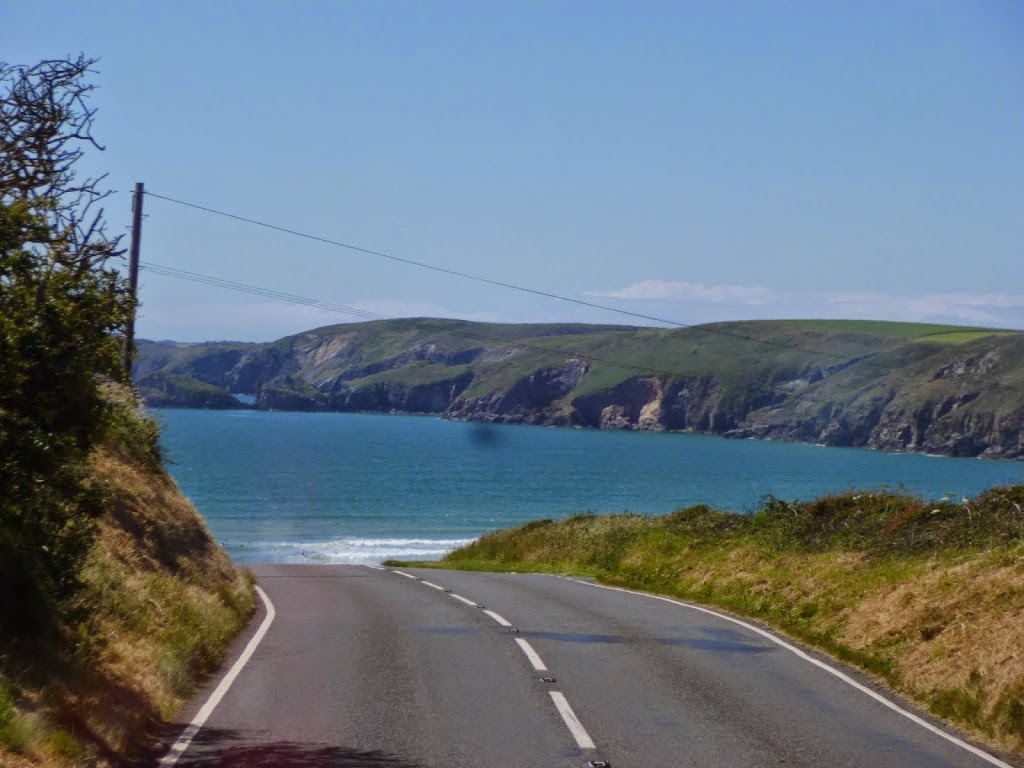 The open coastal A487 – looks like home huh!
Passing a bunch of lovely coastal towns, we eventually arrived at St Davids. With only 1600 inhabitants St Davids is Britain's smallest city – but having a cathedral gives it city status. The Pope decreed that two pilgrimages to St Davids equalled one to Rome, so it became quite the pilgrimage mecca.
We ventured in to the cathedral which is surprisingly gorgeous, with its wooden panelling. I found the ceilings wonderful, and though the chap practising on the organ was horrendous, we've all got to start somewhere and it was lovely to hear. A small exhibition space shows ornate golden staff tops (technical term) and chalises from the 12th and 13th centuries – pretty lovely. William the Conqueror made a pilgrimage here.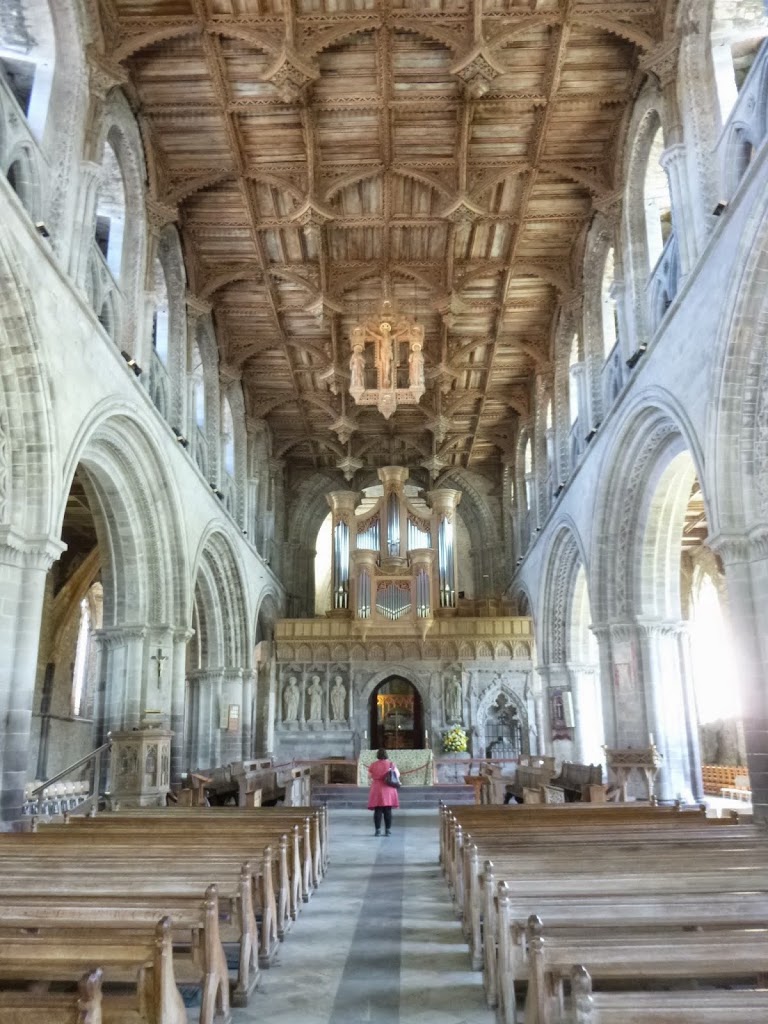 In St David's Cathedral
Across a small stream lies the ruins of the Bishops Palace, where the various administrative and hosting functions associated with being a pilgrims' destination for high and low classes were performed. The palace was demolished but the ruins are in pretty good knick (for ruins) and it was fascinating to explore a site for entertaining as opposed to the defensive ruins of the castles. Some patches of purple tiling remain as well as other bits n pieces – cool. The information points scattered throughout had the most charming lilting Welsh accent, and Kate and I raced each other to press the buttons.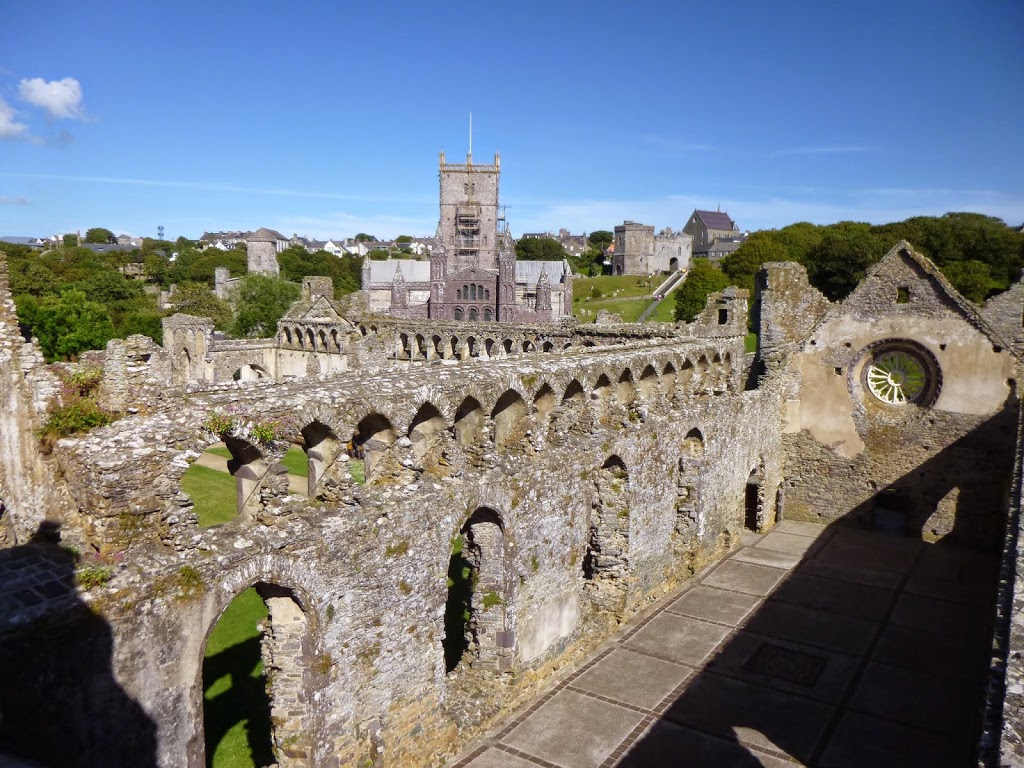 St Davids Cathedral behind the ruins of part of the Bishops Palace at St Davids.
That was our Pembrokeshire coast adventure! Much faster and less comprehensive than my Cornwall exploration, but you can't hope to see it all and I don't want to only give myself a week in Scotland.
As for travelling with Kate? It is probably clear from the writing and photos that the trip is much more enjoyable with her along! A clown to share the adventure with, it's a real pleasure.
With Kate on tour I've heard a lot more from locals. Everywhere we have gone folks come out of the woodwork and chat away, it's totally lovely. In Kate they see a sympathetic ear or something – the scowls that were reserved for my lone travel are transformed into sometimes desperate chattiness. It's great! I don't have to do anything either, just stand and listen. Listening to locals chat about their challenges and whatnot, it's part of the charm of the adventure. And it hasn't happened for me by myself, as though I try and be friendly, I am a cold evil bastard. People pick up on that.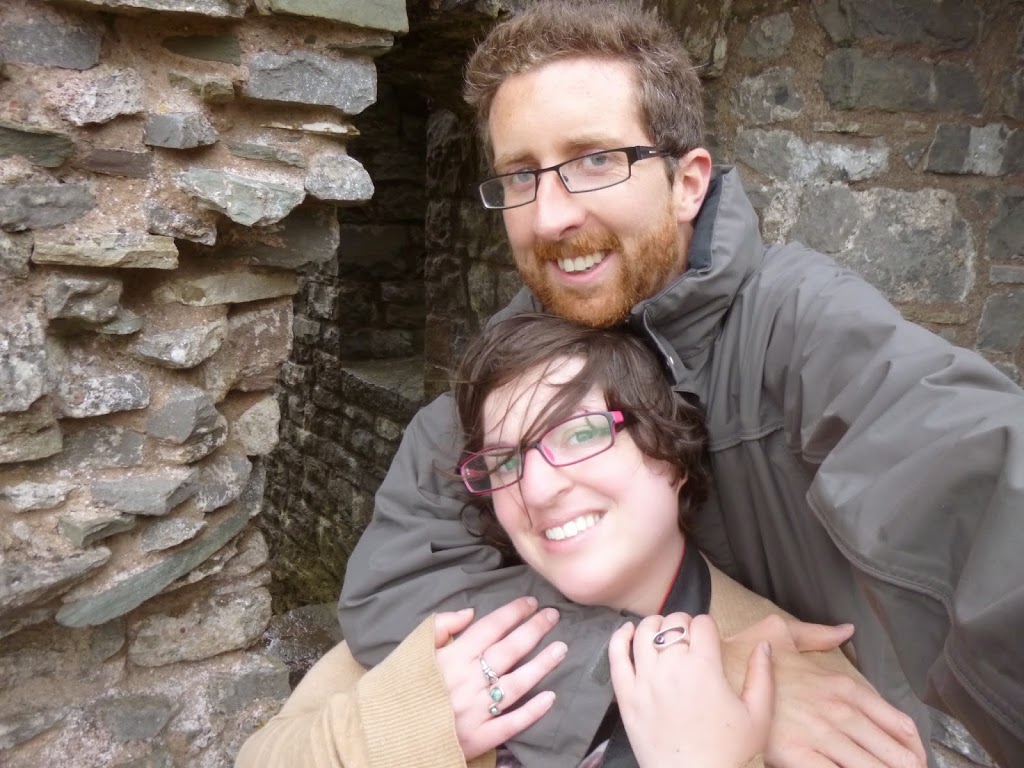 Daw.