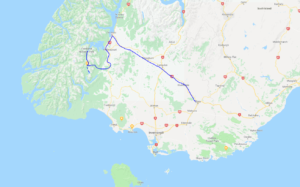 I depart Gore's Goregeous Dolarmore Campsite after a sleep in on New Years Eve 2017. My destination is Te Anau, a town perched on the lake of the same name, third only to Queenstown and Wanaka for it's foreign-tourist focus. The rain pelts down – it's set to clear in the afternoon, and is partially the reason I am bothering to deviate two hrs north from where I'm going – I'm spending the rain hours buying a map.
Te Anau's DOC centre is a hidden a block away from the main town centre – I assumed it would be obvious, but have to use Google Maps to find the thing. Private enterprise have leases on the lakefront, and plaster their tour offices with 'Information' icons all over. Disingenuous scum.
Inside the DOC office, I find only two of LINZ's official maps. Both cover the local great walks – both useless to me. How could this DOC centre, the DOC hub of Fiordland, not have the topo maps!? I decide there must be something fishy. I queue for the desk, and upon demonstrating I am not a complete muppet, have the relevant map procured for me from the rear – Monowai. My destination is the 12 bunk Green Lake Hut, surrounded by mountains teasing the edge of Fiordland National Park. The map only has about 3 tracks on it, and nothing I couldn't have followed on my phone – but it's the principle of the thing, and the rain – good to have something physical.
Map in hand, I double-check the road is open and head south.
Heading out on the dirt road to Lake Monowai, I start following great power pylons along the valley. Mountains close in, and the pylons remain. Soon I am beyond Borland Lodge, and the Jazz is spitting up mud on the '4×4 only' warning sign bordering the gravel Borland road.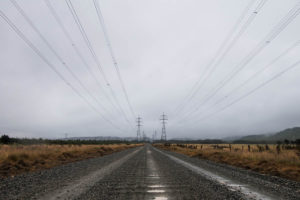 Borland road is both a gem and scar. A road built and maintained for the massive Manapouri hydro electric station's power transmission, it skirts the valleys for 44km, providing road access to the great pylons which transfer that power 99km to the Tiwai Point alumnium smelter at Bluff.  Interestingly, in the 1960's, the plan was to raise the water level 30 metres, making Lake Manapouri and Lake Te Anau one giant lake. Opposition to this was the start of New Zealand's environmental movement.
The station was made specifically to power the smelter, and whether it should exist or not is another story. Now it's here it's a great little route into remote fiordland for the time-poor. I am awed, driving beneath these peaks – it is incredible. If you're down this way, make the trip.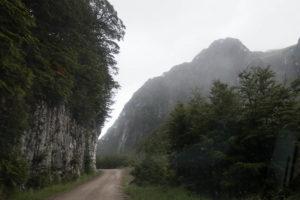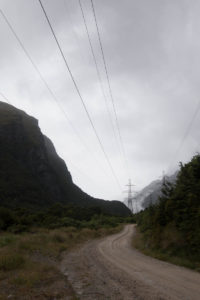 Crossing the saddle and descending a switchback, I eventually park next to the Borland Biv – a simple 2 person shelter between the bush and a pylon.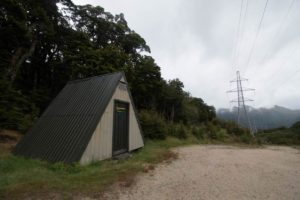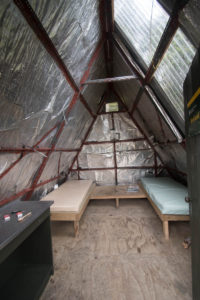 I have my lunch, find use for the insect repellent and don my tramping gear, readying to head out.
Two big 4x4s pull up. Godamnit.
When the first passenger door opens, I make an effort to not sound annoyed by their presence – 'Good morning!' I say.
There is no response.
'GOOD MORNING!' I say again, vehemently. A middle aged man looks at me.
'Heading to Green Lake I suppose' he states, more statement than question.
'Yep, you too?' I reply.
'I hope there's not more of you' he states, before turning to gather his gear.
I am taken aback. I have not had such an encounter in my adventures. Tramping folks are generally open and friendly people. Sure, noone else wants anyone there, but it's the dice you roll. It's not my fault I'm ruining their perfect NYE outing, just as it's not their fault they're ruining mine. Fuck that guy.
I depart and fortunately have some polite chit-chat with the leader of the other car at the biv. They're a group of ten, around retirement age.
I head into the bush – wonderful, quiet beech forest, unlike anything I've seen. But my mind can't just enjoy the bush now, I have this dislike of my existence following me. It follows me three hours, through forest, tussock, bog and stream, all the way to Green Lake hut.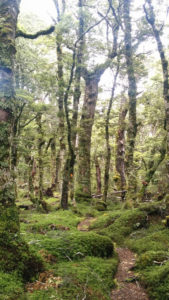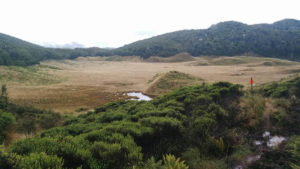 I arrive to Green Lake Hut, beautifully placed and empty, oblivious to the descending storm. I unpack, have a tea and read the visitor book. It is a peaceful 30 minutes, albeit with the guillotine of the geriatrics' disdain hanging above my head.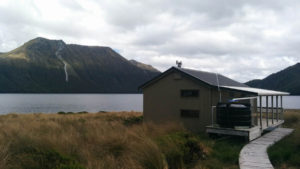 I decided I would make the most of it, and have a good time with this group of oldies – they can't all be arseholes. This is travelling – one rolls with the changing plan. I keep an eye out the window – I'll boil the billy when I see them coming, help break the ice.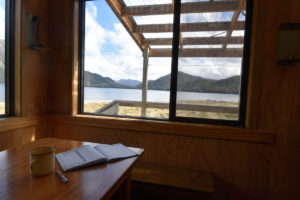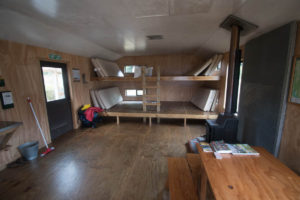 Movement comes from the east, not the west. It's a group of 20somethings arriving from the Lake Monowai end, 6 hrs east. 'Well Larry, hope you weren't hoping for a quiet night' they announce, dumping piles of booze about the place. There are 17 of them, descending from both ends, loud and excited but warm and friendly. Not what I wanted but night and day from the old pricks. I am quietly chuffed they arrived to claim the bunks first and put the oldies on the back foot.
The oldies trudge in and make quick work of making everyone feel like crap. 'This is my worst nightmare' mutters one.
The young evacuate to the beach to discuss their options.
I decide to leave. It's 5pm, with a 3hr tramp I'll be out at 8 – plenty of daylight, if I leave now. As I repack my gear, a geriatric throws extras of hers on my still-occupied bunk. 'This is for Lorraine'. Grotesque, got mine, entitled attitudes. Every baby-boomer stereotype is borne out by this group – I detest them.
As I put on my wet boots, they stand and watch. One just stares at me, the strangest thing. Says nothing. I leave.
The young folks on the beach intercept me. 'You don't have to leave man, we can make it work – we've got some tents and that'. That's generosity, that's tramping. These kids are so much more than those cranky fucks in the hut, a third their age and five times the wisdom. I wish the youths a great night, wish I brought my tent so as to spend the night with them, and head back on out.
One can stew on things on a tramp. If your thoughts are unhealthy, it's an unhealthy thing to do. My mind rains bile on the boomers near-indiscriminately, for another three hours. I stop to enjoy the bush occasionally though, and without the 'following darkness' on the route in it is the most peaceful thing.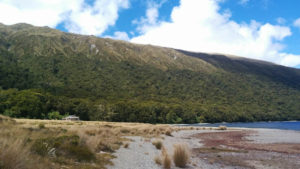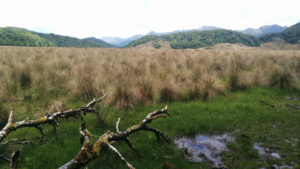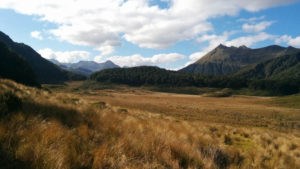 Back at the road, staying at Borland Biv would be too depressing for words. I leave a bitchy note under the old pricks' wiper and continue north on Borland road.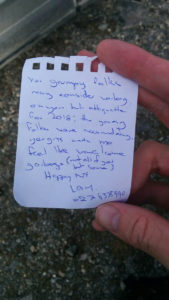 The road ends at the Old South Arm Campsite, on Lake Manapouri's South Arm. I figure there'll be a bit of grass left to pitch the tent. Some stunning kilometres later, I am not disappointed.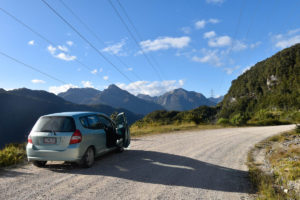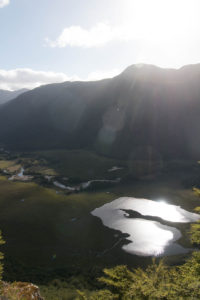 The sandflies are legion; equal to the Isle of Skye. The tent is pitched with great haste. I lather myself generously with repellent and don my balaclava. Unfortunately they discover my tent builder's crack and any other uncaught locations, but soon I am ensconced in my tent and admiring this view, all for myself: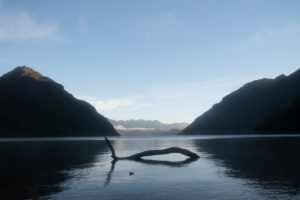 As the light ebbs, I can't believe how things worked out. I smile, thinking of the old guys having 'their worst nightmare' at Green Lake, while one of their miseries scores the best spot of the night, driven to it by their abysmal attitude.
My only company is a bright blue ute while I eat dinner, tearing down onto the beach. They stop a second, then drive back out – I wonder if they're put-out, doing a big 4×4 trip, only to see a Jazz towncar at the road end too.
As dusk falls, the sandflies sound a light rain on the tent fly. It's an idyllic spot, an adventure of a day, and one new years I shouldn't forget.