It was a long flight getting to London, I didn't sleep at all – thought the A380 is a much, much nicer machine than the smaller plane I took from Auckland to Singapore!
As soon as I got through customs, I picked up a sim from a vending machine for my phone, was chuffed to see my bag actually make it (glad I checked with Singapore Airlines in Auckland by the by, Air NZ in Wellington said 'yea it'll be there no worries' but Singapore Airlines had no idea until I told them). Then I jumped on the Heathrow express to Paddington Station.
My mate Hugh told me to close my eyes getting to Paddington, that looking at the housing between Heathrow and Paddington is the most depressing thing. And he was so right! But with a recommendation like that, how could I not look? I felt like I was watching Luther, Life on Mars, any of the classic British stuff I love – all set in total shitholes.
Jumped in a cab from Paddington to my other mate Hugh's place in West Hampstead, for a quick hang before heading to the tube to set up in his old flat.
The tube is idiot proof. I was feeling like a pretty big idiot, no sleep for like 40 hours, shaking from adrenaline alone, carrying a pack during rush hour, but I still managed to top up the Oyster card and get here first pop. I'm very impressed with it!
Last night on my way home from a flat viewing, I experienced how it is when it is not ideal, and it was still not too bad. I waited for a train to Wimbledon, so I could just go straight home on that line – so yea, all good for a bunch of stations, then the announcement – "theres a fire on the tracks outside Southfields". They're exceptionally good at keeping the commuters informed whenever anything happens, unlike at home!
Anyway, the train was diverting to another destination. I was completely lost, I have no idea about the buses an it's 8pm, I've been walking around all day and am hungry, and soon to be completely lost. So I pathetically ask the business man next to me, "Excuse me, I'm new here – what do we do now?"

The people I have talked to so far have been incredibly friendly and helpful. I guess everyone was new here once and he actually went out his way to ensure I got on the right 'other train'. The 'other train' was going to stop a few stops before where I needed to be – and we'd need to get a bus from there. Already full, our entire train piled in too. I was desperate not to lose my new friend, so I crammed in too and ended up rubbing my junk all over this other guys ass for a couple of stops. We didn't share eye contact. We knew it wasn't love.
The train was a similar deal, but 800 people trying to fit onto a 60 person bus. Somehow I got on there, and had to ask another random if he could tell me where to get off. Ended up chatting to him for ages, he gave me some nice ideas of places to go and we talked about New Zealand, he told me about my new flat location, Bethnal Green (hipster). At the end he gave me his card and said if I ever get in a pickle, give him a call! How lovely is that! Not sure how long I can milk the 'I'm new here' phenomenon, but I feel really welcomed by the city with interactions like that.
I also went to the Natural History Museum. It is summer holidays here for the kids, 6 weeks off, and the museum is free, so there were kids in droves. I decided to go anyway after Carly told me it's a 6 week summer holiday, not a 2 weeker I was expecting!
Kids are dicks.
Here're some photos.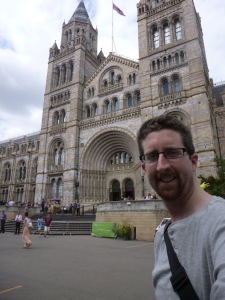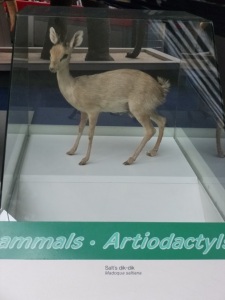 This is called Salt's Dik-dik. This amused me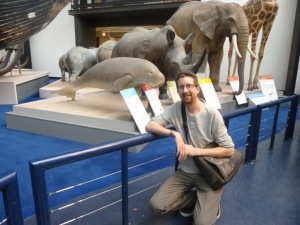 Me with a Dugong. I would've taken a better photo with a selfie but thanks for trying random. Stand on the opposite side of the room next time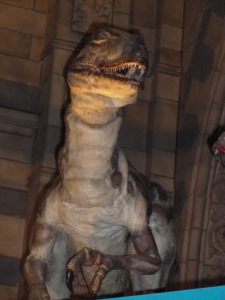 A little something Darwin threw together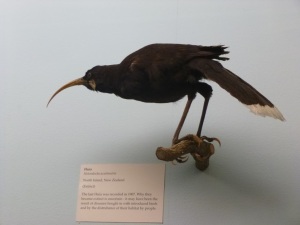 A wee taste of home. Pity they aren't still rocking about! There was also a Moa in the foyer, and a Kakapo.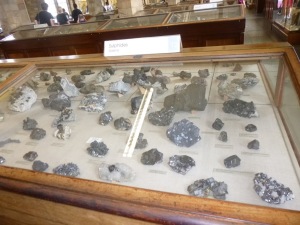 You know what rocks about geology? Kids are even less interested than adults