95,000 people descended on fields in Weston Park this weekend for the V-Festival, and one of them was me. The scale of it was mindboggling, my biggest music festival to date had been Homegrown. Smallfry as!
My friends got me from the Fleet station for the drive up to Stafford, and we met their 3 other friends en-route. Our party of 6 brought way more booze than necessary. We overloaded our packs with alcohol, me moreso than the others in my ignorance of what was to come next.
We had to tramp those extremely heavy packs and all our gears a couple of kilometres into the park to set up camp. It was well worth the hike, but I'm pretty sure I've lost an inch or so of my height in the doing. The mud was sucking my shoes off, but I dared not fall over – as I would NOT be getting back up!
Once we had our camp site all sorted it was smooth sailing, and we hit the booze. We took way more than necessary but we took the scout approach to drinking – always be prepared.
I've never seen so many tents, I guess that's what a refugee camp is like, all fun and shit.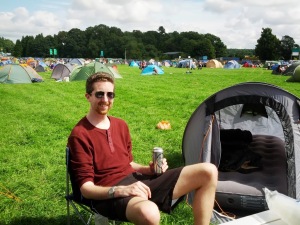 Me enjoying a well-earned beer as other campers continued to move into the camp. That's my bachelor tent there.
As for the toilets, "there's just one big toilet, and they make you all go at the same time".
They don't really though, I was pretty impressed with them. I thought 'Wow they've even got chairs to wait in while you wait for a toilet – plush!'. Turns out those were open air urinals for the lads, so I am glad I didn't try them out for comfort. Nothing so good as cutting past and looking into the queued ladies' eyes as you relieve yourself – good to be a guy.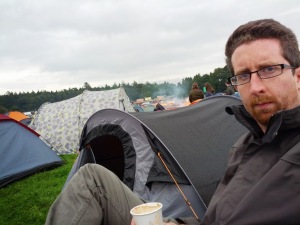 Strangely intense coffee drinking the morning after. You can see I have seen some shit.
The music was pretty out of control. I totally loved The Stereophonics and Kings of Leon on Saturday night, but it really went proper mental on Sunday night with Beyonce. You should have seen All the Single Ladies! Being such a big beyonce fan I wasn't entirely sure why I was hearing the turbine-like shrill screams of 50,000 women losing their shit, but she did put on a hell of a show!
The only problem was my height. Usually I'll stand to the side or the back so I don't get in the way, I hate blocking peoples views, but it's a bit impossible when you'd lose your friends for the night if they were a metre away. So it was with a heavy heart that I got close in there, and got coated in piss.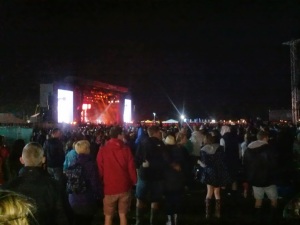 This is Kings of Leon I think, after I lost my mates so ended up out the back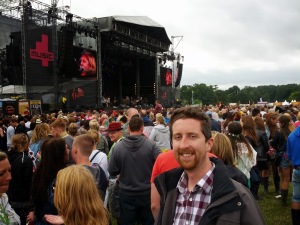 Some dude with a piano on the 4 Music stage, man what was his name? Surfer dude? I look like a mole.
So yes, piss everywhere. Every tall guy in there was wearing his rain jacket hood, sensible, sensible men.
This woman next to us also splashed what I choose to believe was lager at Dan and I, the dudes in our group. We turned as one to look where this splash of lager had come from, and there she is, this little blonde chick with a baseball cap on, and she looked us in the eye and boy did she look sheepish. She looked guilty as sin, it was the strangest thing. What did she expect, she was literally right there! I can't tell if she felt bad, or just felt 'oh snap'. But yea, quite weird. I'm not sure of my slurs yet, but I believe she may have been a 'chav'.
I didn't care though, I just think it a fun aspect of the evening to share with you lot. The festival was just awesome, I loved every second, was a great view into some of the culture and that of Britain that I mightn'tve got to see for some time if at all, and seeing those huge bands on the radio all the time (even if they aren't on the stations I care to frequent) was still pretty neat. Had some great laughs in the campsite too, was fun camping – again a thing I didn't expect to be doing!
So now after a day of doing nothing but recuperating and catching up on Breaking Bad, I'm in my new home in Bethnal Green. My room is sunny and sizeable enough with plenty of storage, the bed is comfortable, and I can finally stop walking around with a pack.
I'm like, 2 minutes away from the tube (Central Line) and Bethnal Green Park, and heaps of neat places around the area. I haven't done that much exploring, just bought some curry dinners and then prowled up and down the street. It's very multicultural which is kinda neat, I've always lived in very honky-ass areas and I feel like I'm missing out. I'll explore the other side of the hood tomorrow I think, and do some tourist stuff. And buy a duvet. Here're some photos.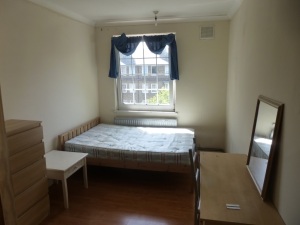 Where the magic happens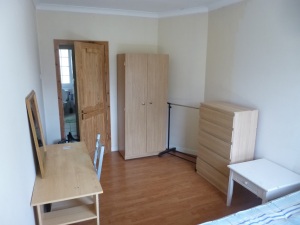 Walls and floor and door and shit. Enough room though, and the desk will be great for remote work.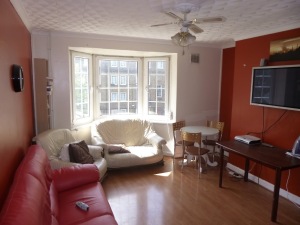 The lounge – nice and sunny, nice to have a lounge – not a given in London flat hunting!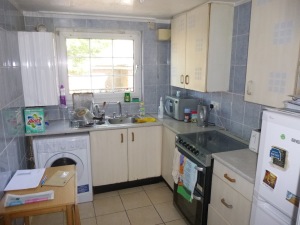 Kitchens over here are pokey as – this is pretty big really!