Date: 08/04/2018 – 09/04/2018
Party: Larry & Dave
Night location/s: Boar Inn (DOC sole occupancy)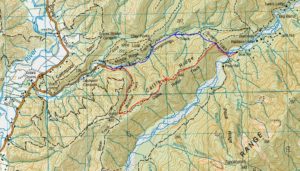 A little brotherly outing on a Sunday night, Dave and I set off from the Catchpool carpark at 3:30pm. We climb the Butcher Track, a consistent 300m climb over 1km, entering the Beech forest characteristic of this side of the ridge, with plenty of fantails for company. After 50min we reach Cattle Ridge and head east. The track is pretty level and we are treated with great views out to Wellington, Wainui and neighbouring valleys.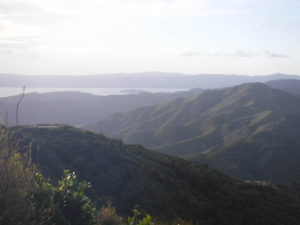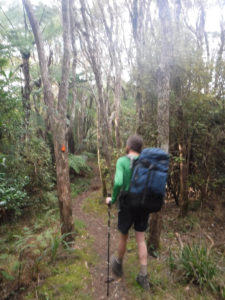 After an hour on the trail, the golden light of dusk comes and goes. We delight in it, but recognise we have a bit more walking to do so don't enjoy the moments too long!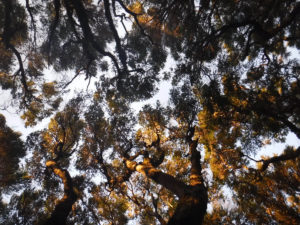 At 5:45 (1.5hr from roadend) we reach the intersection of Browns Track (clearly marked with a post) and take the southern arm, dropping 200metres at a 1:1 ratio. Parts of it are the steepest I have tramped, here or anywhere – this is not the Orongorongo doddle I half expected from this area of the park!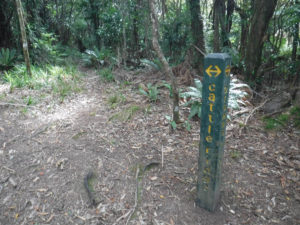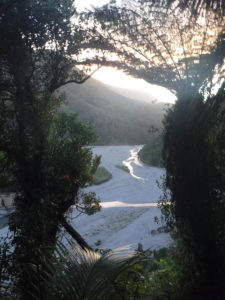 We reach the Orongorongo river at 6:10, 2.5hrs from roadend. We barely wet our feet crossing the river and north a short way stumble upon a large orange track marker and a small Boar Inn sign. Yet to don our headlights, we hurry along in the gathering dark. 100 metres along the track is another more clear signpost for Boar Inn. We arrive at 6:15 (2hr 45min from roadend) and punch in the combination for the lock.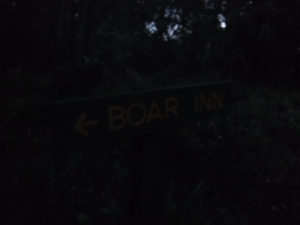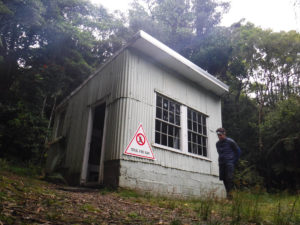 A rustic corrugated iron cube, the Hut is a character. I can't find its age or history – which is nice in a way. It looks almost like a pioneering schoolhouse; its name belies hunting, and its concrete pad is clearly made from cement using rocks from the river. Many huts in the Orongorongo valley are or were in private ownership; I don't know when DOC took control of this one, but now you have to book it for sole occupancy at $40 a night.
Outside is a new woodshed (pretty much empty), an old stile guttering thing we assume was used to drain game blood (not recently; there's a 4 metre punga in it) and an old longdrop also of character.
Inside are four bunks, plenty of seating and bench space, complete with crockery and utensils (but bring your own gas). A woodburner has been installed instead of the open fire, but it's still a single-layer corrugated iron hut; would be frigid at times!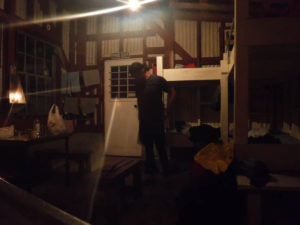 Unfortunately there's a lot of hair in the inside rat bait station; the place smells like death, and it's coming from here. We can't remove the trap without mangling property, so we enclose the stench in a plastic bag. I brought a little gas lantern for some old-school fun, and it is great. We enjoy the candles and fire, a nacho dinner and retire to bed.
Kiwi are mentioned nearby, and I may have heard the scurry of one outside, but the Morepork (Ruru) owls are plentiful.
We take a leisurely morning, collecting firewood to replace what we burned, and several fires more. To the south east a buck roars in the bush, but we are yet to see a hunter. Dave is a pyro and burns all our collected wood, so we collect even more, heading out at 12.15.
Taking Browns track again, we reach Cattle Ridge at 12:50 and descend the other side of Browns. This northern side is clay, well rutted and with makuka, small Rimu; varied vegetation and nice views;  worth the detour!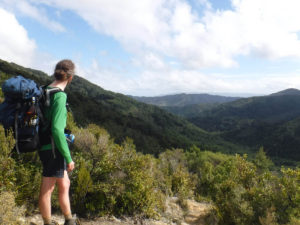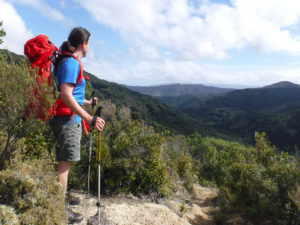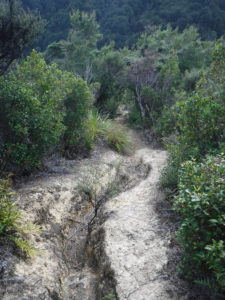 At 1:15 we reach the main Orongorongo track; Browns track isn't well marked from here, but it's east of a bridged stream (bridge not on map) and there's a sign hiding further up a tree.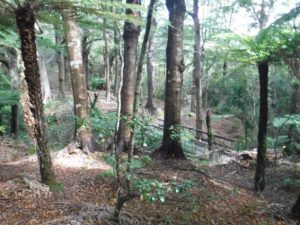 We toddle out the Orongorongo track, but it's Monday afternoon. We don't see a soul. The track is so different and sings without the 600 dogs, children and gun-totters one usually sees going the other way.
We reach the cars at 2:30, a leisurely 2hrs 15 from Boar Inn.
A great little escape, especially in winter – and no reason you couldn't do this as a weekday life shakeup, with an early start to work!  Boar Inn – it isn't boring! I said to myself I wouldn't do the pun, I wouldn't do it, but there you go.