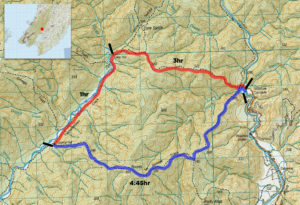 We meet at the Waiohine carpark. We're a party of six randos from the Meetup tramping group on a repeat of my first meetup tramp. To mix things up and make the most of the weather we take the loop in the opposite direction from last time.
We've got Kev, Mark, Mich, Nik, Carol, me and Carol's young dog Max. After a challenging crossing of the great Waiohine swingbridge Max bounds about us excitedly, desperate in his desire to kill anything he finds living on our path.
We climb down to Coal Stream and splash across with dry feet; everything's drier than expected. We climb the steep ridge and work up a sweat before it eventually eases off. The bush is beautiful, the texture and hue of the beach trees and kidney fern such a treat to enjoy again. It's a beautifully sunny day without a breath of wind, though we could have used some on the climb!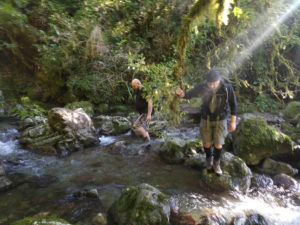 On the Mt Reeves track there's a new shallow plinth indicating the centre of the New Zealand continental plate. Convieniently located; I'm not sure if it were down in the headwaters of Coal Stream that anyone would be interested. Nik uses it as a small helipad, and Max grizzles about the great buzzing gnat hovering above us over lunch.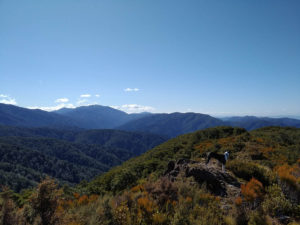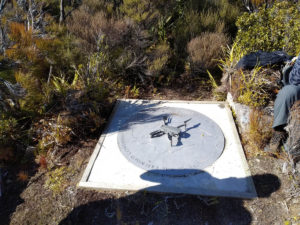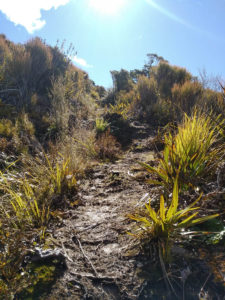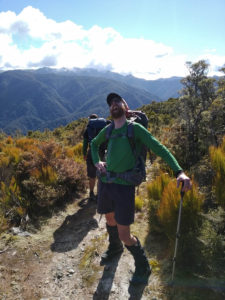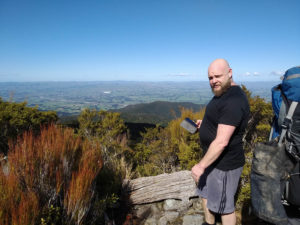 After lunch we finish climbing Mt Reeves's 899 metres and begin our long descent to Tutuwai Hut. There's a lot of chat and I find myself trying to dawdle away from it to enjoy the peace of this forest I've missed over winter. I am by and large unsuccessful.
My knees are happy to find Tutuwai Hut (4hrs) and we set in to relax. There's a smell of death on the deck, but it isn't from the old bloke baking in the 2pm sun. 'There's a dead possum under the deck' he says, a retiree who enjoys the solitude of the bush during the week and delights in the company of the huts in the weekend. He gets a-chattin too.
We claim some bunks and a few of us head off following Carol to visit Joe Gibbs Memorial Hut, one of the various unmarked huts of the Tararuas. I'd say where it is but IT'S A SECRET. Max finds something to kill on the way (hopefully a possum and not a blue duck) and soon enough we're there – Joe Gibbs Memorial Hut. 'I'd rather sleep in my tent' says Nik, and I agree – though it'd do in a pinch I always think with these off-piste huts, what if the 'usual guy' turns up and finds you in there! I doubt I'll ever risk the wrath.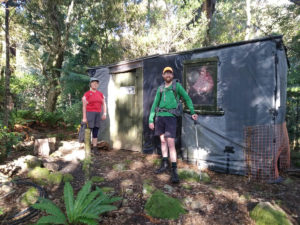 Back at Tutuwai Carol hits the sack and the rest of us idle about as the hut slowly fills. An enjoyable evening is had, though my bowel encourages my regret in bringing just friday's leftover Pizza for my tramping food. It's a well-insulated hut and the temperate stays high; I use my bag as a duvet about 3am but it's nice and warm, barely feels like winter at all.
Three shots ring out in the morning, and a hunter returns a while later with a couple of legs under his arm. Max looks on jealously.
Mark grizzles about my 8am departure timing but to his credit he's ready to go and we're away and enjoying the rising rays of the sun lancing through the riverside forest. It's quiet and picturesque and everything I wanted, so beautiful, aren't we lucky, and so on.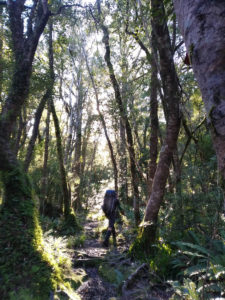 We reach Cone Hut an hour along the riverside – only two people possibly stayed here last night, a surprise for a weekend! After some of Mich's chocolate treats we begin the climb to Cone Saddle and back down to Waiohine carpark.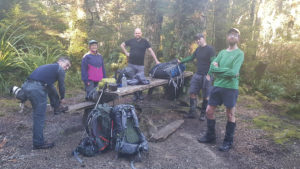 Along the wide ridge, near point 682, I mention to Kev how I always thought there would be some track along this ridge. A little further along we spot a little track heading south; to explore another day! I never spot anything on the Mt Reeves side, I wonder if it goes that far.
The steep drop back to the riverside is not too horrendous with the lack of rain, and then we're off having an icecream, saying farewell and getting on with our sunny Sunday afternoons.
Good to get back into it – thanks all!
I flagellated myself over forgetting my jacket, the most stupid, dangerous tramping sin I have ever committed! But when I get to the car it's not there, and it's not in the house; it's under the pack liner in the bottom of my pack, along with my bloody forgotten spoon too.