"You be careful" folks say of my wandering. "Don't you go doing anything stupid". It's a bit late for that, but the concern for my safety is heartwarming, well-founded and heeded. I booked on OTNZ's Advanced Bushcraft course some time back. This entry covers my experience this weekend.
I write this in the hopes it will encourage you to book yourself in for one in future as I found immense value in it.
---
The course is split between one theory day, and a week later, a Friday > Sunday practical tramping and camping trip with an instructor.
Theory day is spent with N and F, out at the Lower Hutt Tramping Club. There are four of us attending:
J, a middle-aged chap interested in walking the Te Araroa (length of NZ)
M, a wonderful sense of humour getting back into tramping after his long haitus
MB, a keen-as-mustard seeker of all knowledge and experience tramping
And me, of moderate experience seeking more.
I suspect the theory session is largely a day to weed out the ill-prepared and give them a week to get things in order. Fortunately our group is pretty sorted, and we crack on. We watch videos on river safety by the Mountain Safety Council (not these modern videos but more detailed ones, though those linked are cheesily brilliant). I recognise lessons from Sarah and B in here.
N is an old hand in the western Tararuas, having been part of LandSAR search and rescue since forever. He leads effortlessly. We are enraptured by his lived, high-stakes stories, each illustrating specific lessons for us. F is younger but well-experienced too, and the duo are a fount of knowledge for us. In terms of gear and considerations, each bring particular viewpoints.
They share what they have in their emergency kits. F has her 'bottom lines' and N has his – both very sensible, both borne of considerable experience. It's great to get multiple tested viewpoints. An emergency kit is yours to build – there are common elements but you're the one who has to decide which tradeoffs you're comfortable with and where you'll draw the line.
We do a bit of navigation practice, taking bearings and talk about diet.
We wrap up trying to organise ourselves as a group to bring 'group tramping kit' next week. We are a bit crap at that to be honest, not organising a group trip and all – J and I have eyes for solo only, we don't need or have 'group gear' (e.g. big billy's or large flys) but we vaguely design plans over many days and two-thousand emails.
All too soon we bid a fond farewell to F and N. Next weekend is where the real business begins.
---
On Friday evening we converge at the Rimutaka Forest Park.
H introduces herself, our instructor for the two nights and days – a veteran tramper, sailor of the globe, guider of girls and knowledgeable about everything. We pepper her with questions the entire weekend. We can take turns, she can't – but she never fails with an answer. A passion for training us coming from the desire to make us better bushfolks, to upskill us as best she can in her time with us. It's a pure and non-commercial drive we so enthusiastically accept – she's a paragon of decency, excellence, experience and intelligence. We we are a ridiculously lucky four.
We head 15 minutes to Graces Stream Campsite, a lovely spot beneath beech forest. Tonight we pitch tents and have a yarn, talking food, fly setup and various.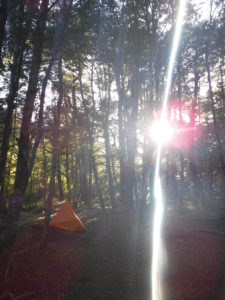 We have a leisurely morning, rising around 7 and toddling out around 9:30. H doesn't miss an opportunity, explaining the vices and virtues of our various cooker setups.
Packed and ready to tramp, we learn about estimating timing. Rules of thumb I enjoyed are:
On easy ground, 3km/h is pretty speedy. You can expect 1.5 or 2 in the Tararuas generally
If you get your distance, you can count the elevation lines and add 4 minutes per 20metre climb, and add 2 for every 20 down.
Not timing based, but each 'blue' gridsquare on a 50,000 scale topo map is a kilometre. Somehow that passed me by until now.
Soon we are off, heading up Clay Ridge to Mt McKerrow. We stop regularly, discussing active navigation – reading the map ahead, visualising what you'll might see, identifying any features which will help you identify where on the track you are. And we do! It's smashing – the McKerrow track is extremely obvious but we can apply the principles here, and they will be applicable anywhere.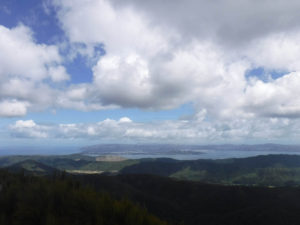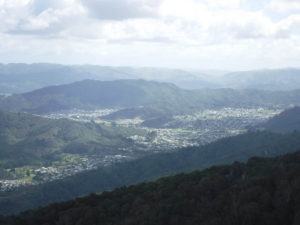 Lunch is had at McKerrow summit – a bunch of others had similar ideas and we share the spot – then we are off down McKerrow track, doing the same again.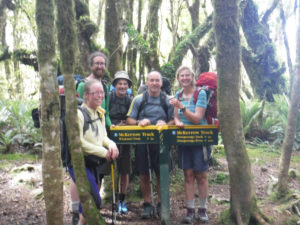 Meeting the Orongorongo River, we practice river crossing despite the river being ankle deep. It is exactly as I learnt with Sarah and her buds which is neat; always good to have more practice and it's new to the rest. We learn a bit about local plant-life, a single Onga-onga seemingly placed there for the purpose of being pointed out and avoided.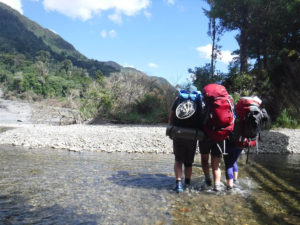 We head back to Graces Stream Campsite. During this walk, we have swapped leaders throughout, and learnt ways to organise and manage a group. I didn't book the course to learn this stuff but I can see it is immensely valuable – if not to lead, then to be a decent and helpful group member.
At Graces Stream, we begin the task of building impromptu shelters for the evening. I say we – J and I shamefully don't participate. I kinda lay out an emergency blanket in a spot which would work, but it's a bit small and I dunno. I can see what I should do if I needed to – but I don't need wetas from this fallen log in my face while I have a good tent in my pack, so I sleep in the tent. As a potential group leader I will need to find a fly to use and practice use of that in future.
We practice fire starting – MB proves herself a dab hand. (tip: manuka bark is the business).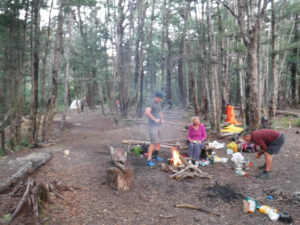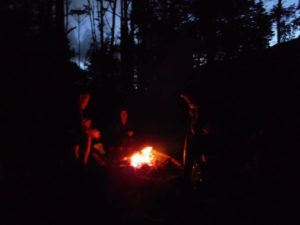 ---
In the morning we set up and experience a mountain radio. You can't buy them anymore so the practical use is somewhat limited, but I love it – very Cliffhanger, lest I forgo mentioning Cliffhanger in a blog post.
We pack up and practice off-track navigation, using the leapfrog method. Pairing up, we take a bearing and use one another as posts. It's great practice and an illustration of techniques that will prove invaluable in claggy tops (as a pair at least!).
We move on to basic search and rescue techniques, finding H after 'getting lost going to the loo' and hollering to us, then having real trouble finding her after she incapacitated herself. We use a 'comb' type method like you'd see Police do on TV, and a point-radial method, each of us searching along a bearing before returning to the start point. It's a great insight into the technical work involved in Search and Rescue, and also really good practice of groupwork and compass use.
After lunch, we don our packs, climb Middle Ridge track and then set our bearings to north(ish). We're going off-track. It's great fun and a great practical application of our leap-frog bearing following, then following the expected contours of the land from reading the map.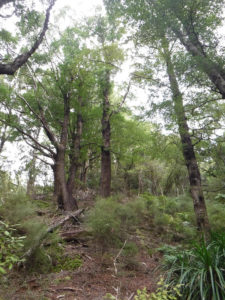 We walk out and it's all over. I'm keen to get home for a shower and all, but it's a bit sad to end it. A great group, instructor, course agenda, all round weekend. Learnt a lot. Much recommend.
---
Outdoor Training NZ have taken on the mantle for this type of training after the Mountain Safety Council stopped doing it a while back. It's a volunteer organisation – they do it for the love, the cost for this course is $80 – it's a pittance for what you learn.
I thoroughly recommend the course to anyone who has any interest – you have a great weekend, learn a tonne and set yourself (and anyone with you) up to be confidently safe in future.