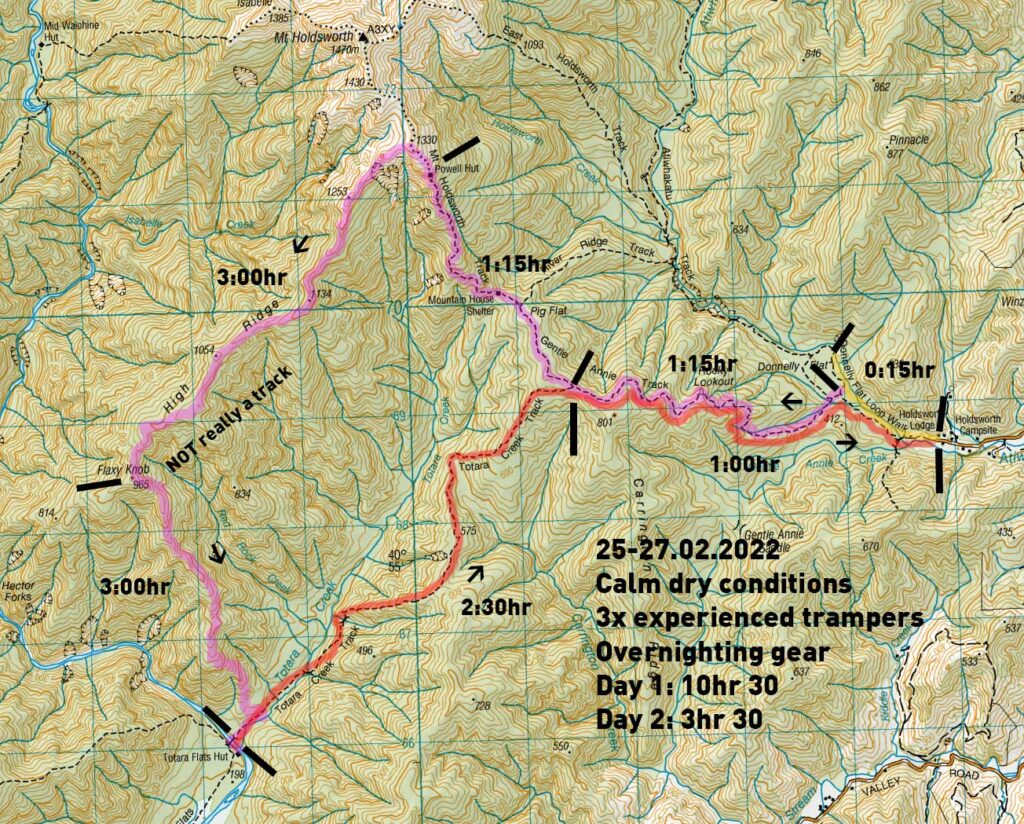 Three of us head out on an impromptu two-night loop adventure along high ridge – the seductive ridge SW of Powell Hut – with a wooden sign and not much else.
---
"You guys free this weekend?" I asked. Fortune smiles and it's a yes from both Loretta and Nick, so we organise to head out on Friday – destination Donnelly Flats.
It's a 15 minute stroll then we're the only ones out there tonight. We enjoy an evening with the great table from the South Wairarapa Tramping Club, and make use of the shelter in the morning as a light drizzle dropped overnight.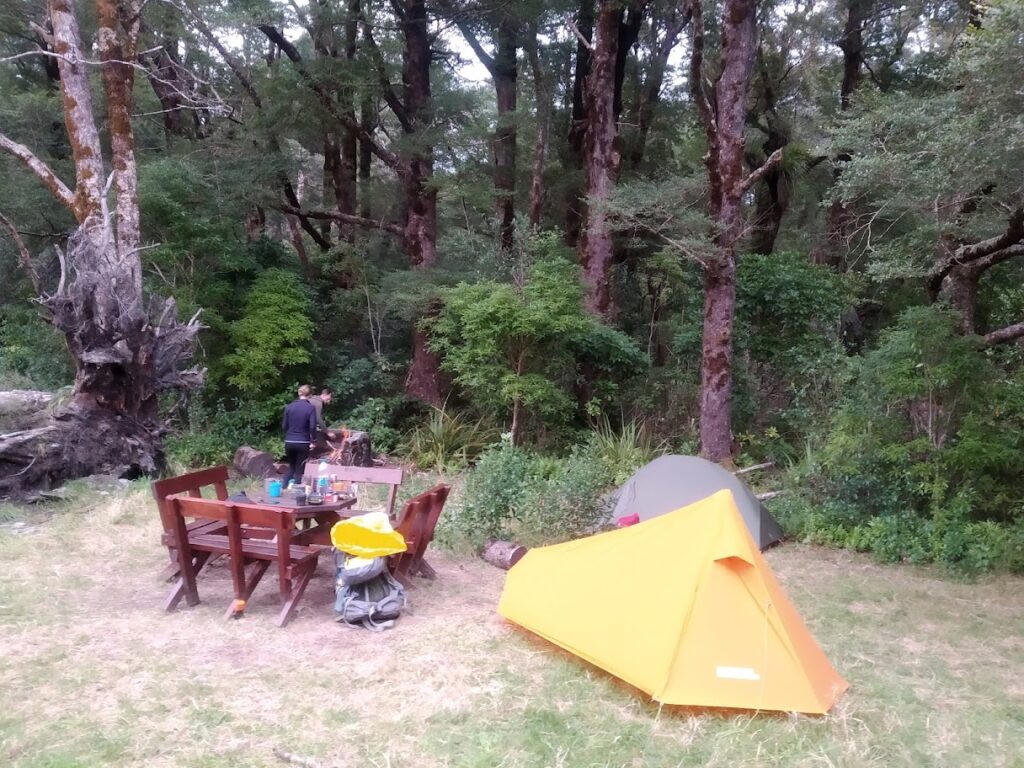 In the morning, we get moving at 7:30 and boost it up to Mountain house. Having referred to other trips to High Ridge from the WTMC, we'd considered staying here to save a bit of time – but it's a bit of a dank spot isn't it! We clamber up to Powell Hut, just as the morning fog burns away and we're treated to stunning views.
Above the bushline we perch on a rock, surveying where we're headed. 'That's high ridge there' we say.
"Did you say high ridge?" there's a couple of daywalking guys doing our same loop, crossing paths with us here. Small world! All the more surprising as we get up there and see the state of things – but that's yet to come.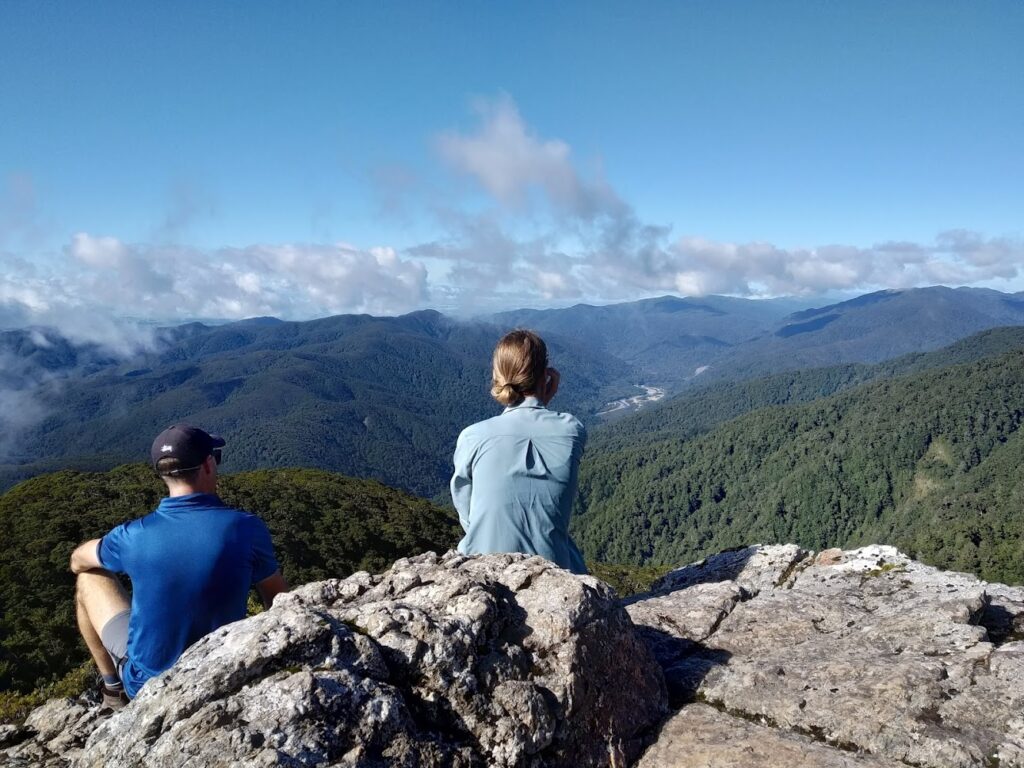 Up at Powell we have a snack. Loretta threatens Nick with her weird squishy sunblock bottle, and it pops off and sprays sunscreen across the deck.
A hiking couple are there – "do you write a blog?" They recognised me from the blog, and referenced it while they knocked off all the Tararua huts. Real nice to hear it's useful, from trampers so much more experienced than I!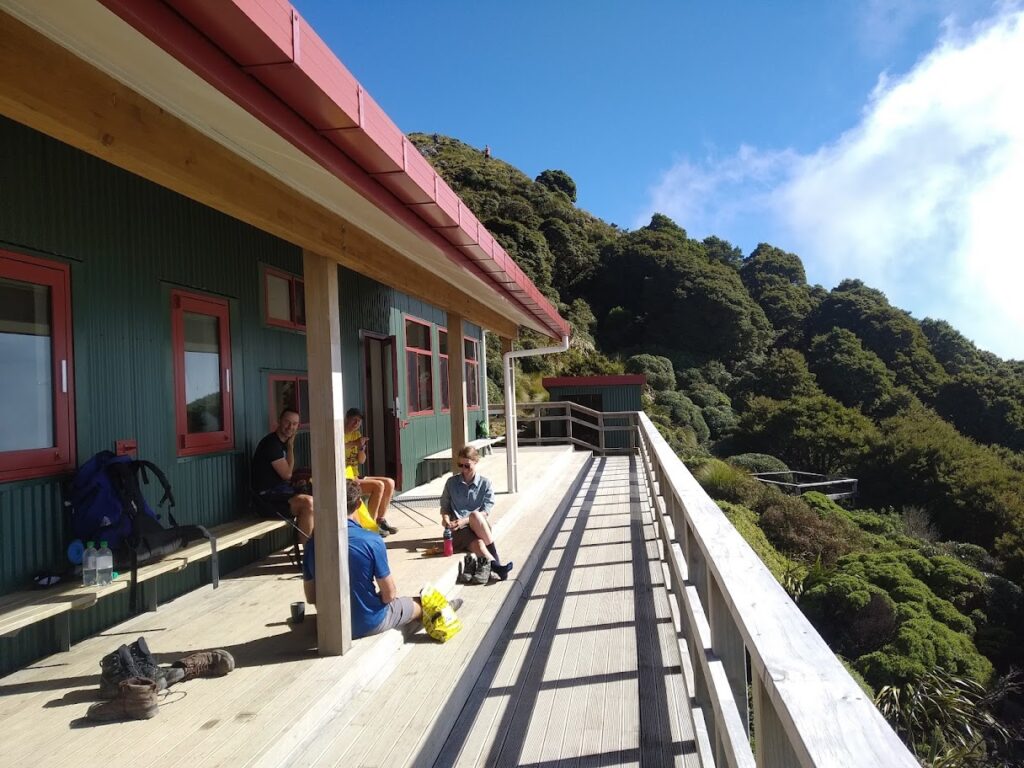 After a bite, we climb on another 100 metres up to the sign pointing to High Ridge and Mt Holdsworth. You can't miss it. But this time, unlike so many others – we take the spur.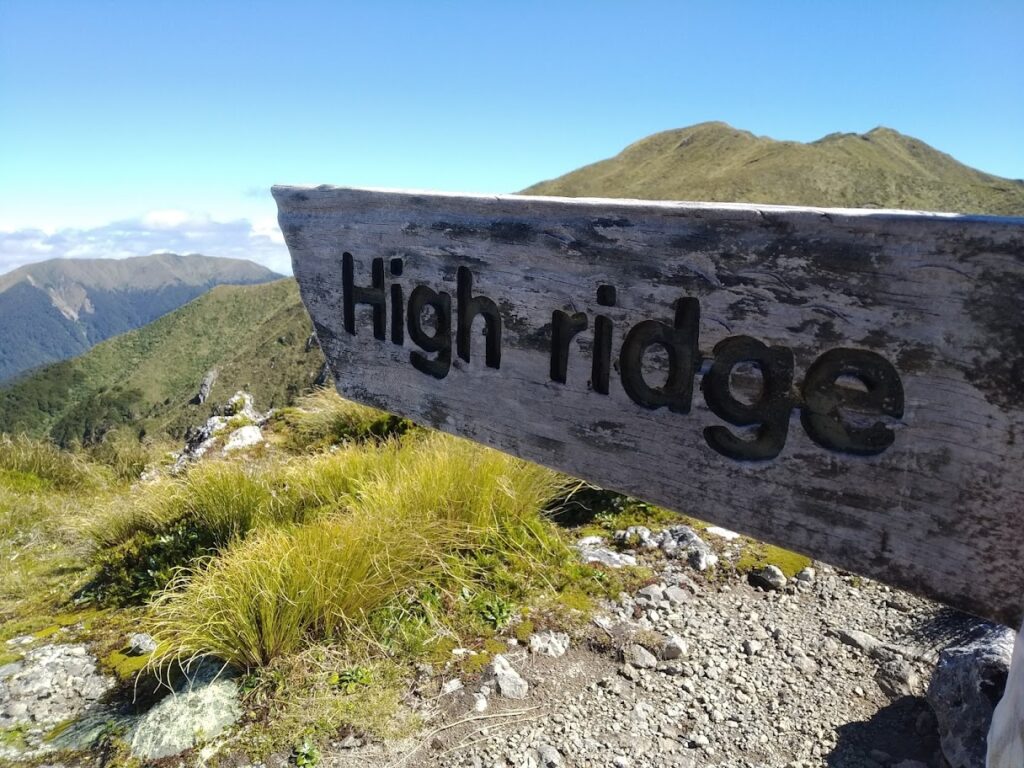 It's an easy walk, a gently descending ridge dropping 400 metres over 4km. The bit above the bushline is lush with alpine flowers, red berries and butterflies, not a breath of wind and not a cloud in the sky. Perfect. We have lunch.
A little further along we see a memorial to Lester Tweeddale. It's a beaut spot, and a soulful place to have a memorial. Looking him up now, I read he was a young Policeman who came to grief at Isabelle Creek after visiting Mt Holdsworth in 1969. The land is certainly inhospitable over that side – we remarked on it over lunch – rest well Lester, respectfully remembered.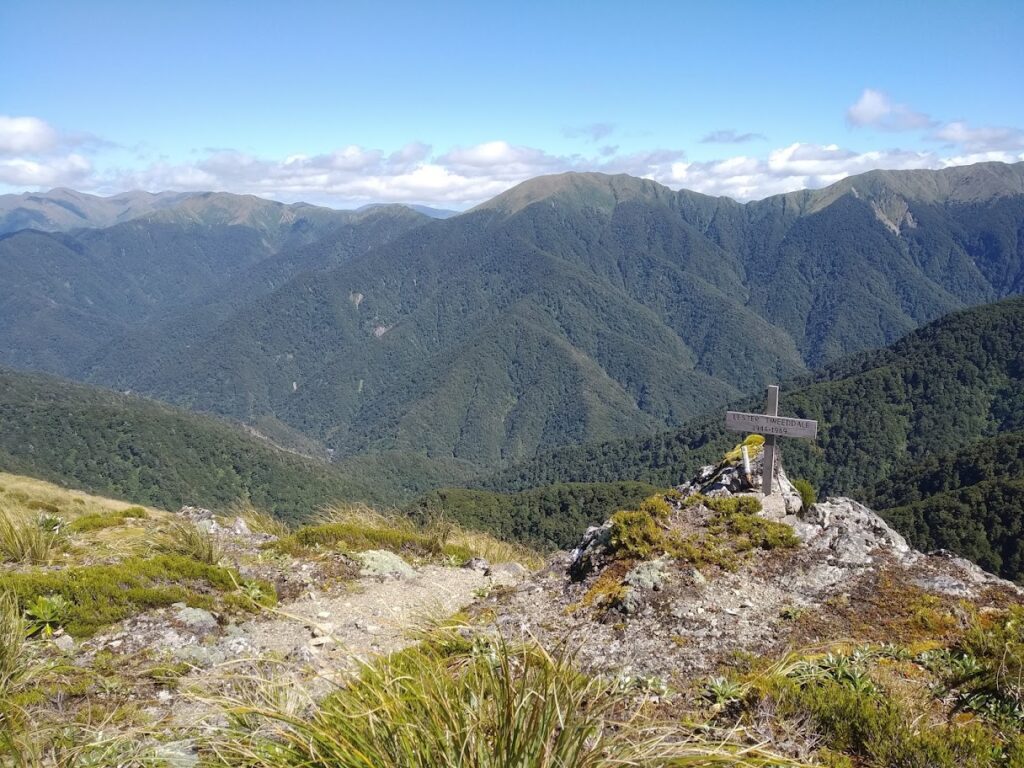 Wandering on and down, we head off the wrong spur ourselves a bit trying to avoid the bush when it comes, as we expect it'll be a stunted horrorshow like I found on my last trip beyond Kaiparoro. Backtracking to 'push into the scrub', we follow a tiny hole (with tiny bit of tape on a tiny branch), and walk into instant goblin forest, well-above our heads. What a treat!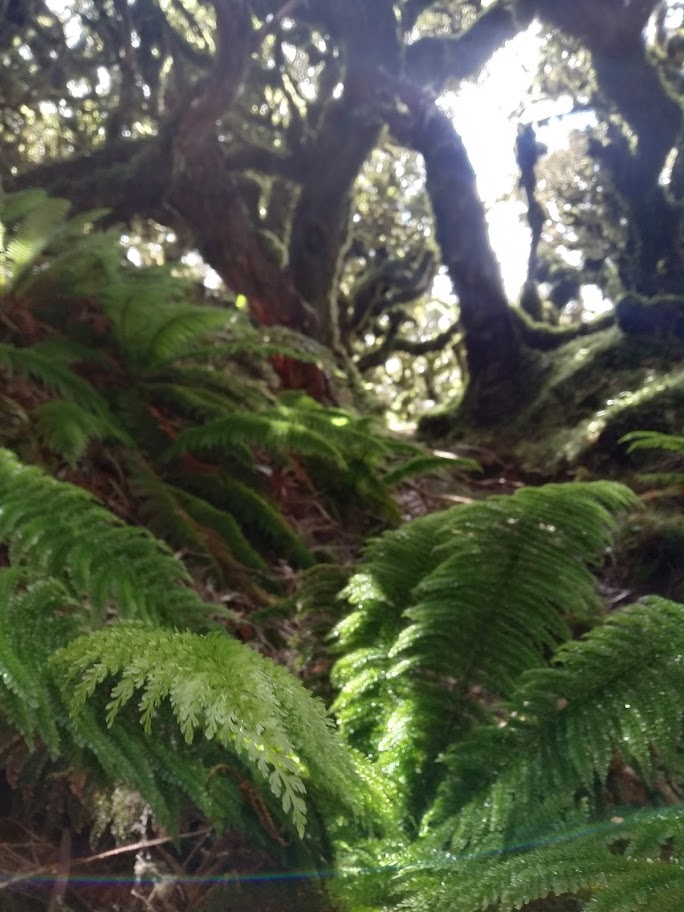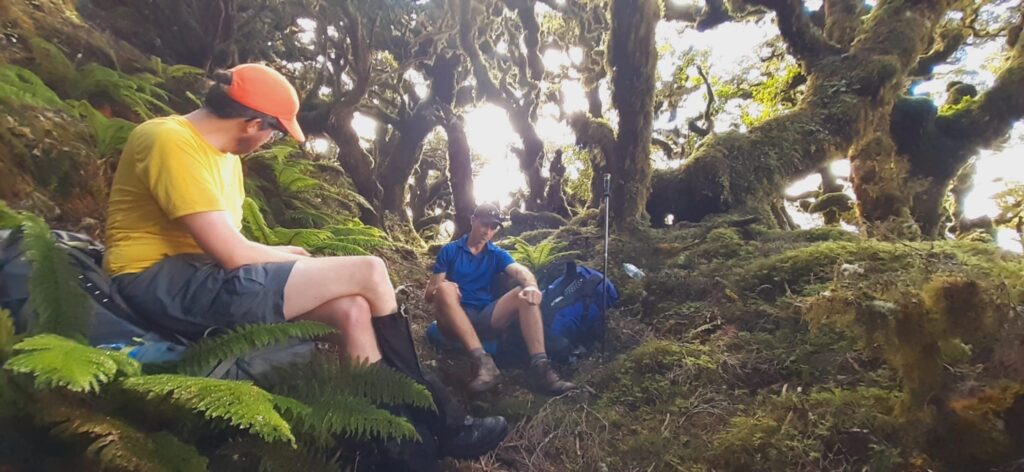 The rest of the ridge is much like that, cruising along through the goblin forest. The trail is there most of the time, with a few tape markers here and there. It is definitely not 'a track' like those on Pinnacle, with sparse tape markers and no groundtrail at times – but it's a wonderful forest to wander in, with little treefall and easy walking.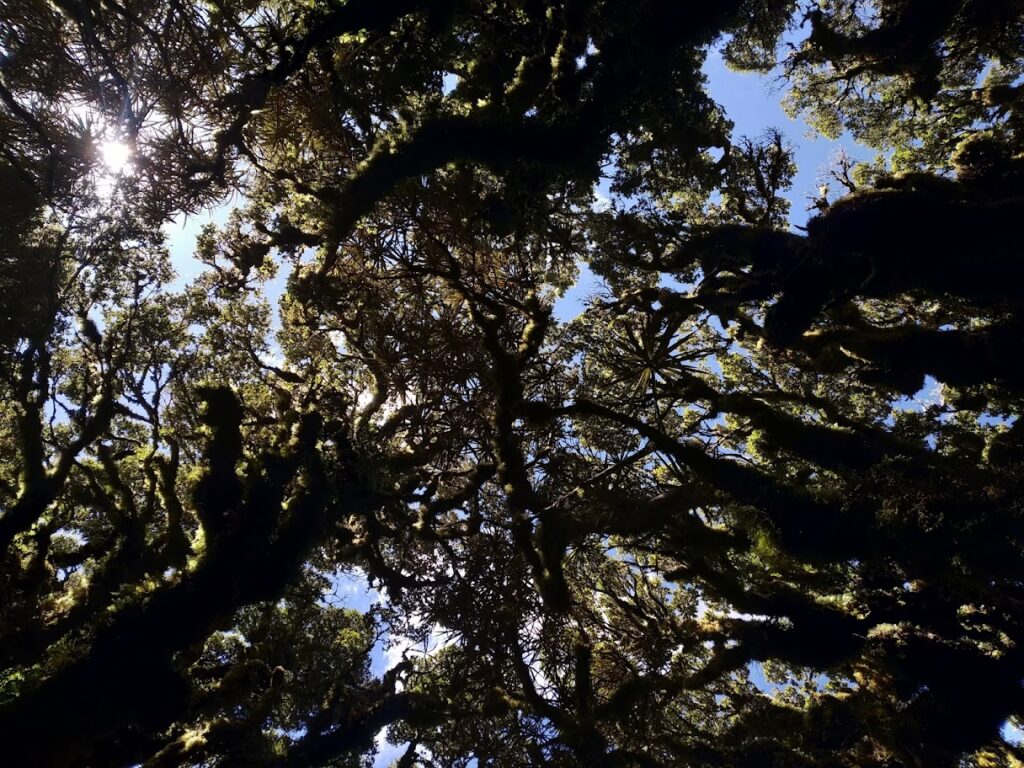 Three hours along at Flaxy Knob, we spot the old sign to Totara Flats.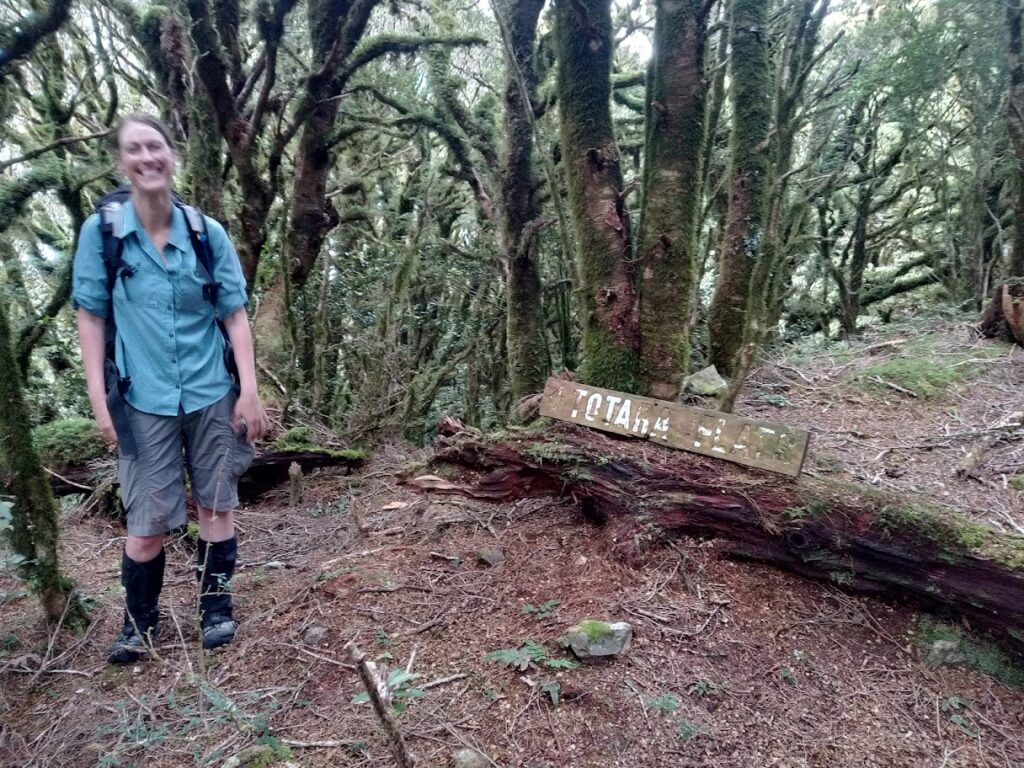 A quick snack and we're on our way, dropping on down. We're all pretty fatigued at this point, so we are quite liberal with our GPS checks. Someone has semi-recently marked the trail at particularly challenging or confusing places with bits of cut pack liner or pink and orange tape – but it still requires all three of our wits at full alert to make our way down 'on track'.
It's a good lesson for us, about not just lazily 'following the leader' but contributing and sharing the burden of track-finding. We all spot markers and 'tracky bits' at times, changing the lead as the 'right route' is spotted. I'm quietly impressed with the person who's marked it latest; they've just done it where it's really required, no more (and sometimes less). Still quite a wilderness.
We spot Totara Flats through the forest and, while we've stuck with the 'route' our full three hours down the ridge, we lose it so close to the base. Instead, too lazy to cut back uphill, I encourage the others down into a supplejacked valley. We push through and around, and get to a ~15 metre steep drop. Opting to head upstream for some odd and tired reason (following where we thought the track may have gone), we eventually give in and slide down tiny gametrails to the proper DOC track to Totara Flats with whoops and cheers.
We cross the new Totara Flats bridge (beaut! And holds five at a time, so efficient too) and finish our 10hr 30 day.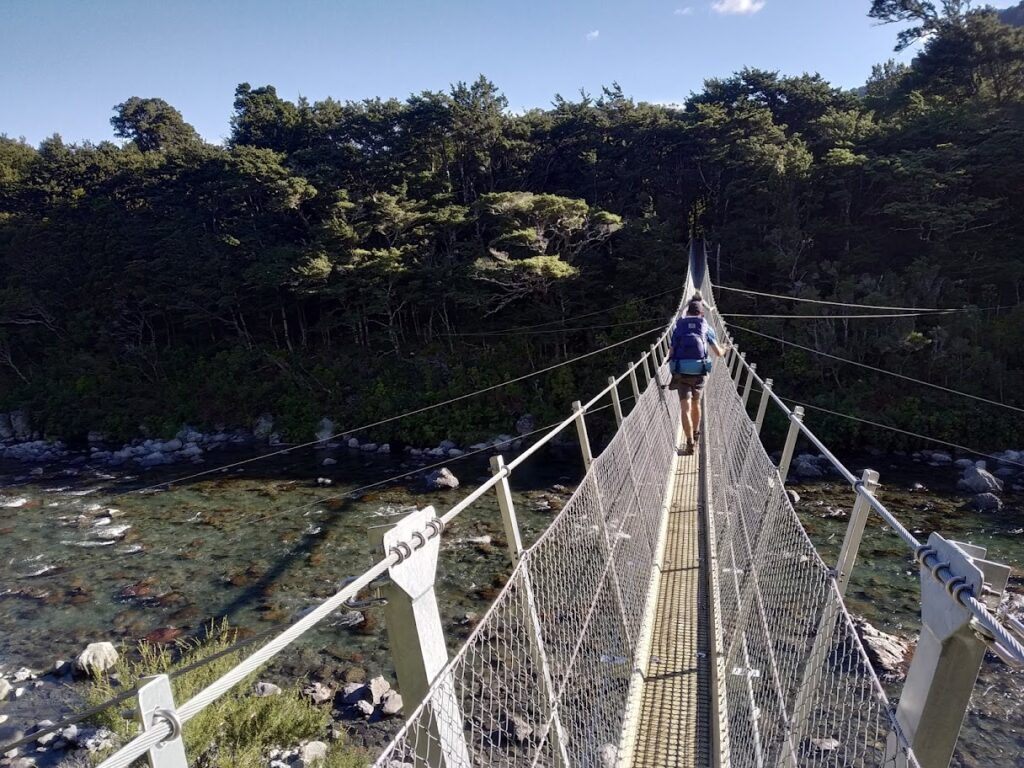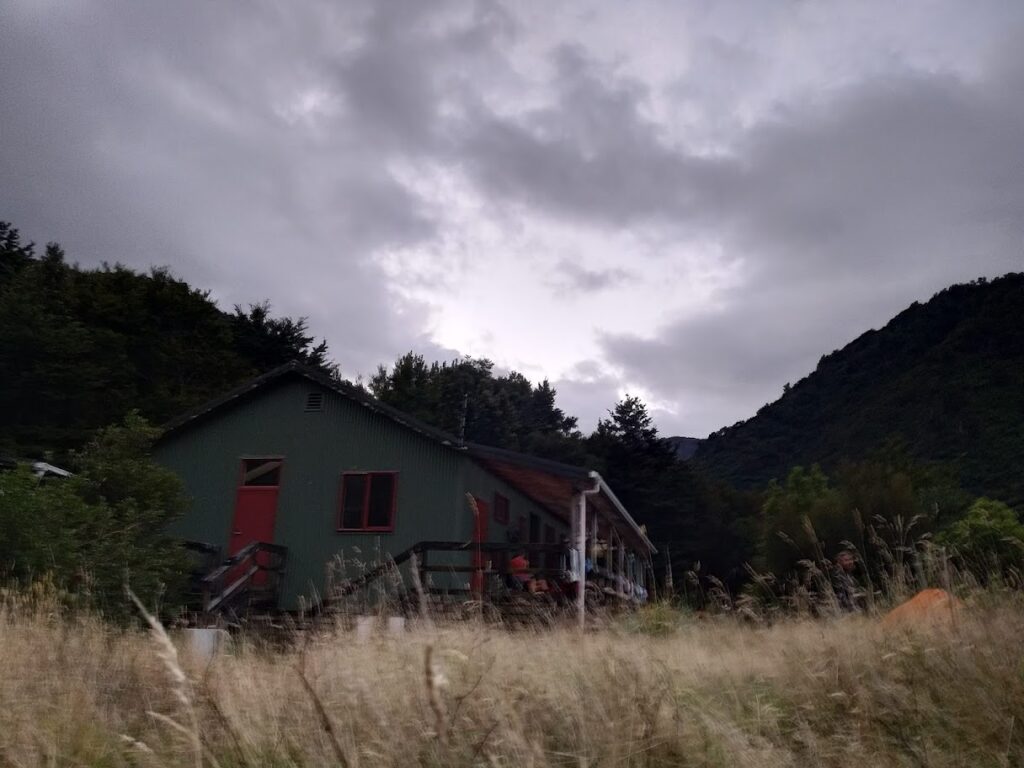 The hut is pretty rammed with kids and parents. There's even a bunch of folks with a combination of packrafts and inflatable mattresses keen to float out to Waiohine Gorge tomorrow. Those high-ridge daywalkers are not to be spotted, so while we didn't see them and pushed through many fresh spiderwebs on our way down the spur, presumably they got out!
I'm using a little Intents Outdoors ultralight tent tonight; it's tight. A one-hiking-pole jobby (900grams), it really relies on good pegging, and the riverflats dirt is pretty thin. As I lie there and the rain pours down, and the gusts whip at me, I think of one peg pulling out and it all being over. "why didn't I just bring my bivvy!" But to the tents credit, it stays up, and I stay dry and warm.
We leave early in the morning, and blast it on out to the carpark. I was pretty sure I'd spot the cairn marking the base of the High Ridge trail I'd seen on earlier trips here in 2019, but I totally miss it.
Not much to report on the way out, except that the Totara Creek Track is beautiful for the ridgey bit, and an awful rocky creek for the steep bit. We had considered hiking the old Totara Creek trail today, but opt for a quick exit instead. Another day.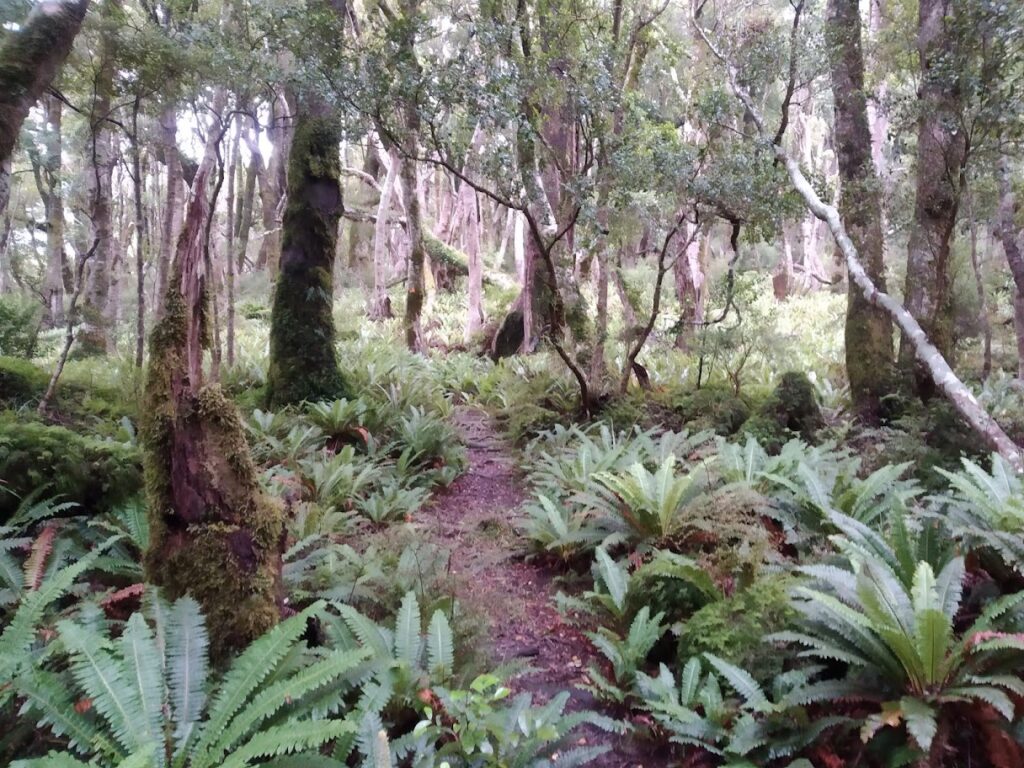 A mint trip. Wonderful company, excellent forest, fun camping and exploring a range not often visited.
If you want my advice, I would suggest staying at Powell Hut on the Friday, as that'd give you a few more hours to enjoy the ridge, make it a ~8hr day instead of our 10hrs. The High Ridge route is not really tracked – reader beware! Alternatively, stay at Totara Flats and go up, as you can't really screw up 'go up' too much.