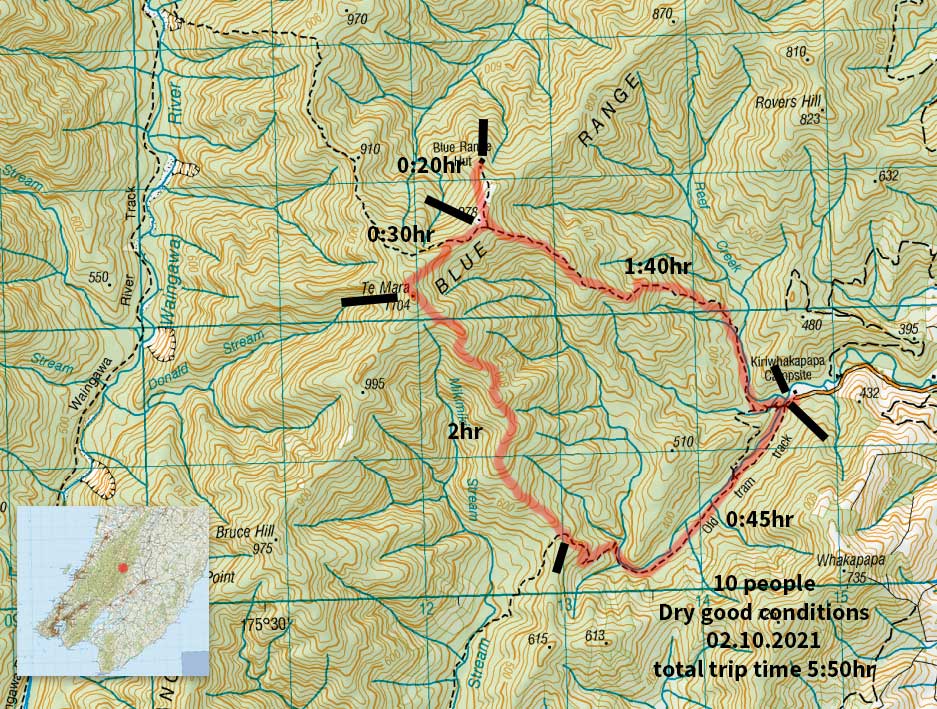 A bunch of Bushcraft Wellington Meetup folks camp and tramp a daywalk loop on the eastern Tararuas similar to the popular western Tararua Kapakapanui circuit. We are Mich, Mark, Hannah, Hannah (they can decide who's first) Mike, Alain, Loretta, Ange, Nick and I.
We head over the Remutaka Range in various cars at various times, many of us convening at Featherston's Vixen burger for dinner. We eat excellent burgers and chips as the sun dips below the range. As we move toward summer, this place is a definite Friday-evening-revisit favourite – brilliant burgers and chips!
From here we semi-convoy beyond Masterton. Keen for a speed comparison we serve onto the Masterton bypass by the golden shears, only to find everyone else taking the same route. Our destination is the Kiriwhakapapa campsite.
Logging is going on nearby, so the early bit of gravel road is in a charming pyramid shape. This is great in my small and overloaded town car, as we bottom out slightly and often, showering gravel. It is but a fear, and we make it to the campsite without a push from those behind.
Kiriwhakapapa campsite is pretty charming, and pretty boggy. We don't spend time appreciating it, just throwing tents up in the waning light. As night settles in we get a fire going (courtesy of some dry wood from Wellington), I get playing with a tarp for no reason and Ange gives us an impromptu tour of the cosmos as they're so clear tonight. Pretty awesome bunch. We retire with strict rules – 'be ready to leave at 8am'.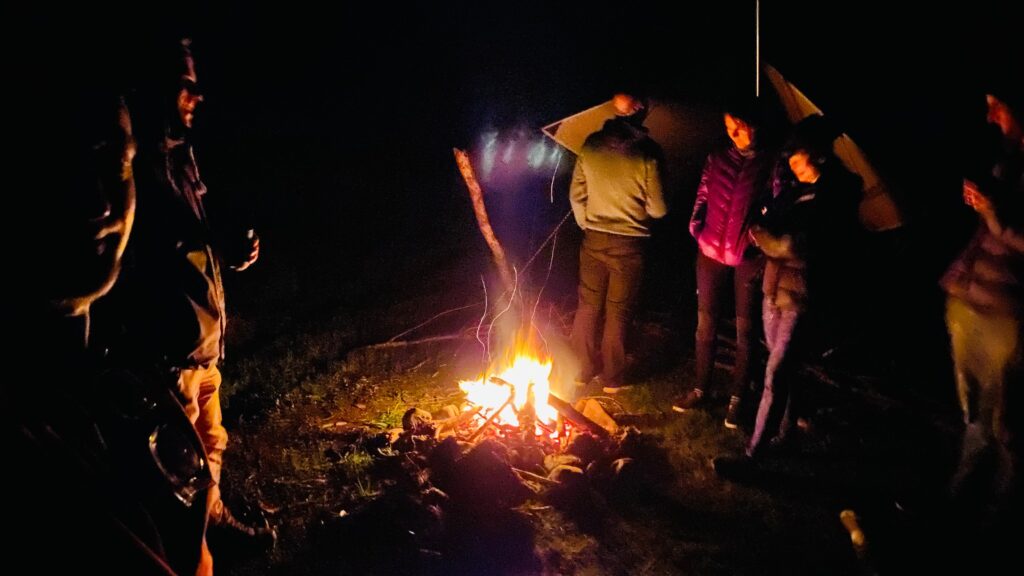 At 8am everyone's waiting for me to leave. I got distracted with a cute starling couple building a nest, and playing with a trangia knockoff. We follow the old tram track and begin a climb. The bush is looking stellar.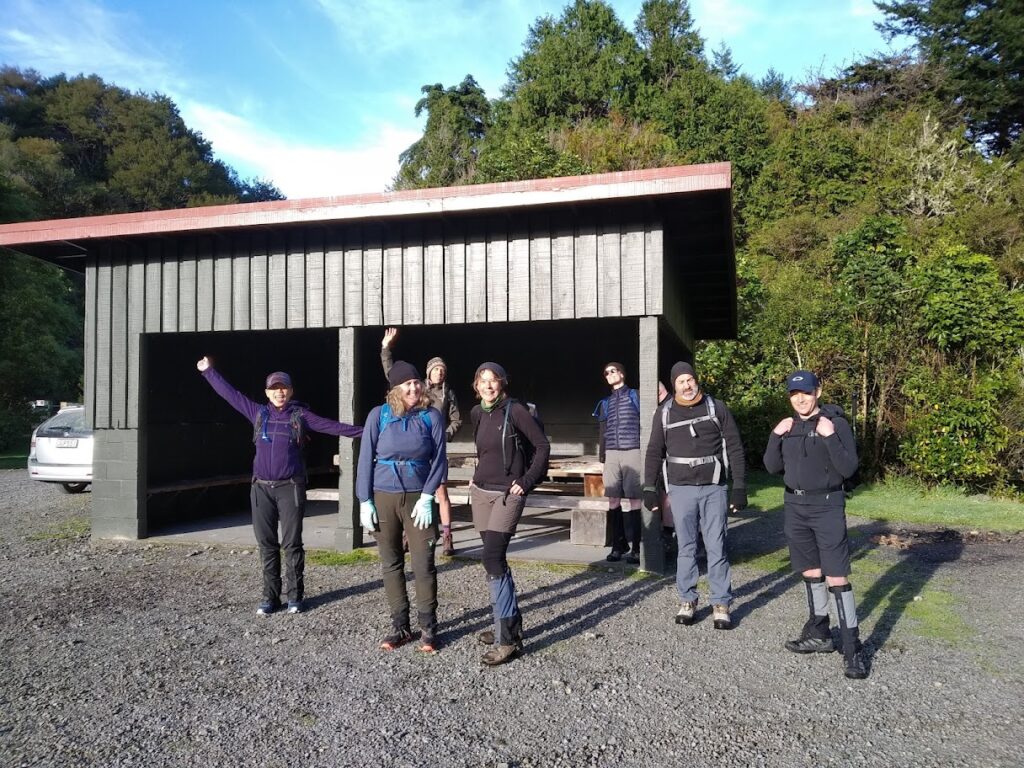 At the peak of the saddle (~535) we break, then get climbing NW. The bush is beautiful, plenty of crown fern and regenerating totara. There's a little ground trail at times and the odd pink tape, but often not (or we miss it), and it's a steep slog, but we make good time and enjoy the bush.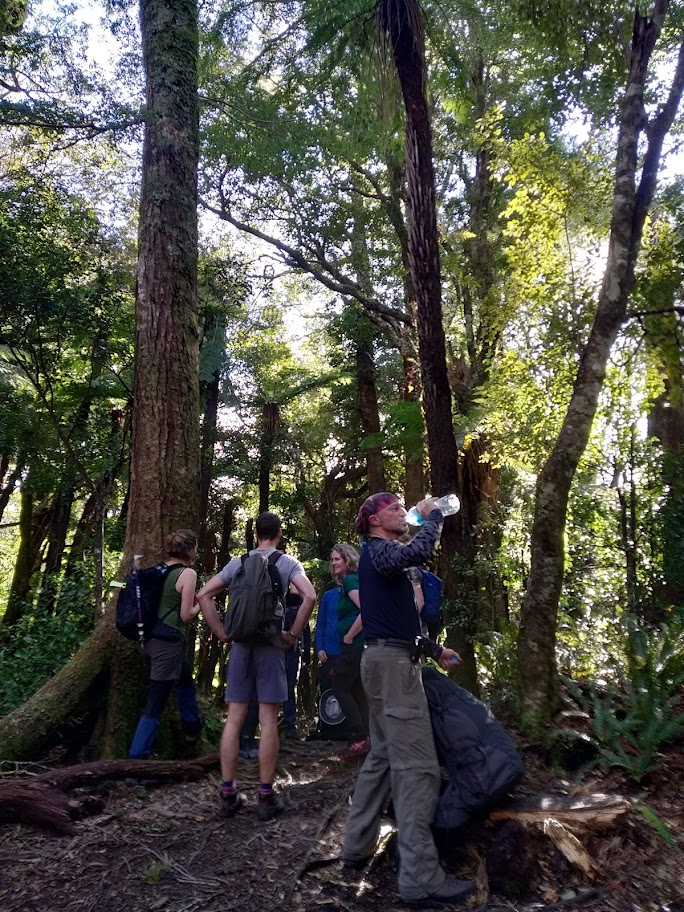 We reach Te Mara peak and high five – what a fun little off-track!
Five metres further on we reach the actual peak and dorkily circle our feet on the point. Nick will have no bar of it, so THAT'S WHY THIS PHOTO IS WRECKED.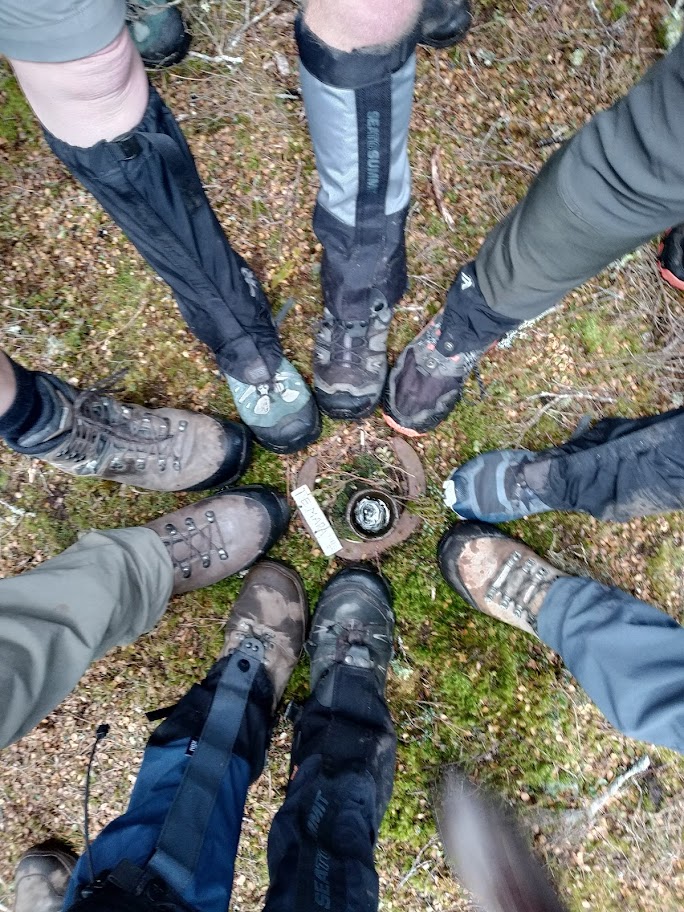 From here we're destined for Blue Range Hut. We continue North, and there's a split where Te Mara spurs head North and NE. We go NE, but miss it a bit and do a small amount of cliff-edgy walking before regaining the proper DOC trail. We're surprised to see the DOC trail almost as unclear as our little off-track adventure, such is the tree and leaf-fall of late.
Back on a DOC track, we blat along. Cross paths with a bunch of people going to Blue Range, Cow Creek, even a couple considering Arete Forks (mental). Lunch at Blue Range, then off down the hill. All up we're 5:50hrs, a great loop with great bush, some stuff to look at, and a flush toilet at the end.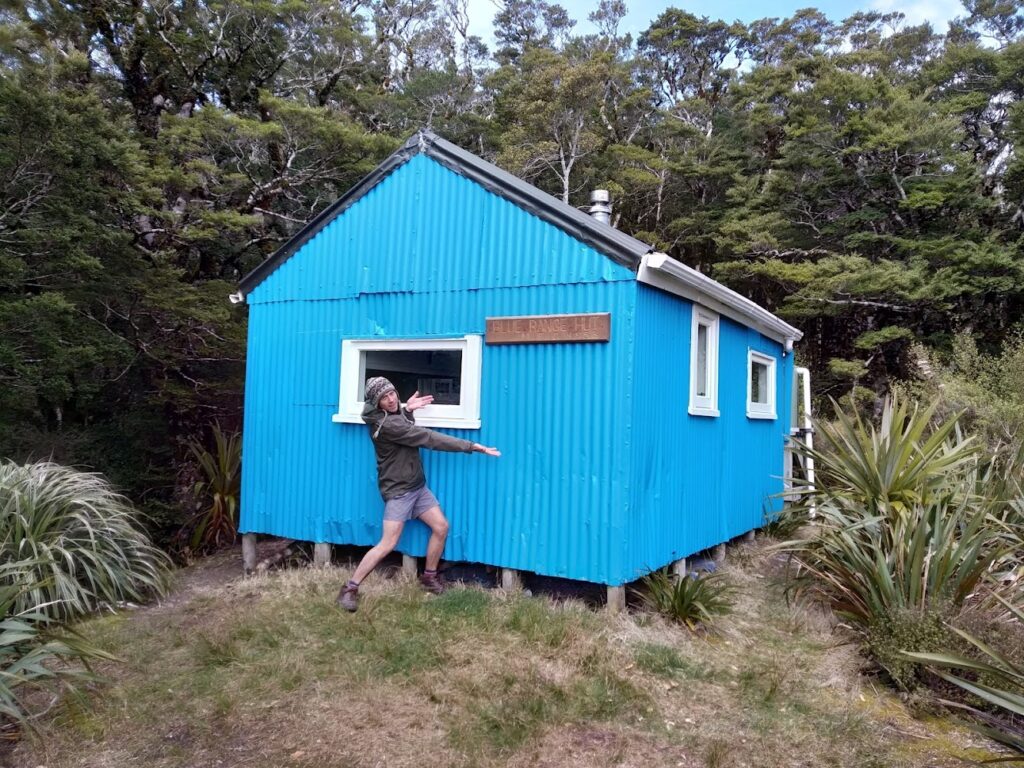 It's always a treat to leave the forest at Kiriwhakapapa; it's got a bunch of redwoods that're smaller than Sequoia but they're getting there. A novel and neat end to a grand trip in the forest.
After the walk, most of us blatted back to Wellington but Mike explored the southern end of the Mikimiki valley. Definitely a place to explore another day! Thanks everyone, great little adventure and an awesome group to spend a good night and day with.
Note: suggest doing this route clockwise like us. Following the non-trail downhill would be average as there isn't much of one. There's some indication of a … route, from Te Mara (toward Bruce Hill) – another day.