We meet at Platform 9, Wellington Rail Station – there's five of us on this eight person Wellington Meetup Tramping group trip after some uncool last-minute quitting by various 'attendees'. We struggle to know who's coming – there's a bunch of other trampers here loading up as well. Eventually introductions are made and we decide to take one car – C's – over the hill rather than both. We dump mine in Korokoro and get to know each other as we dash across the Wairarapa. Our fine group is:
B, the Chinese student who never tires of our questions and can now identify a goon bag
J, a marvelous chap over from Australia whose interests are so similar to my own
N, a great guy with a great taste in packs (same as me)
C, a trail runner curious about this slower side of the bush, and
Me.
N suggests we stop by the Clareville Bakery, the finest bakery in the country – finally we're here when it's open. We shoot in, along with most of the residents of the Wairarapa. Stocking up on pastries we spot that other group of people from Wellington. "Where are you guys headed?" I ask.
"Jumbo hut"
"How many of you are there?"
"18". Jumbo hut only fits 20, and we were eyeballing it since the weather is nicer than expected – we decide to stick with the plan.
We're taking unmarked side tracks to and from Atiwhakatu Hut this weekend. Today we head up to the Holdsworth lookout before crossing the Gentle Annie Saddle, climbing Carrington Ridge, rejoining the main track before dropping down River Ridge to the Atiwhakatu Track/highway.
We cross the bridge, follow the sign to Holdsworth Lookout (1hr) and climb steep and fast. It's a windless, baking hot clamber. The group keeps up with me no worries (not no sweat, there's plenty of that!)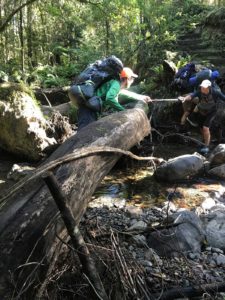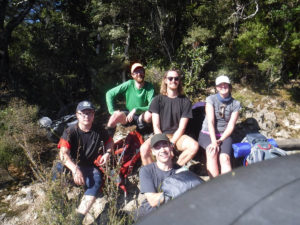 We follow the ground trail passed the lookout, heading on to Gentle Annie Saddle. The ground trail is pretty clear and marked with bits of white blinds. After 1:40hrs we reach Carrington Ridge, and I spot Y's jandal still marking the intersection some 8 months later.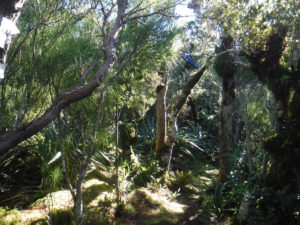 We reach the main Gentle Annie Track and have a break when voices close on us; it's Raj and Lydia from the previous trip, returning from a fast Holdsworth loop. I'm a little gutted to hear they managed to do the plan we were meaning to this weekend, that it was possible afterall, but Raj cheers me up – "you made the right decision with the weather". We wander along, the volume of other walkers in this half a kilometre somewhat unpleasant given the complete absence of company we've had so far.
On the Atiwhakatu track we cross a father and sons, heading away from the hut at 4:30pm. 'We were going to stay at Jumbo but there's like 30 people up there.'
'What's Atiwhakatu like?' I ask.
'You might want to use your fly there too' he suggests, before the little group continues on, destined for their warm, quiet beds.
We enter the hut to only find eight people milling about or sleeping, and five bunks free – we quickly secure them.
Candles are lit, snacks eaten, games played – good times. I rehydrate a meal I prepared in November '18 and am glad to find it still edible.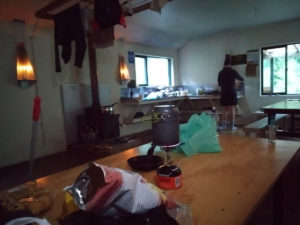 Later a group of 18 arrives; it's that ute group again! They descend on a table and as the beer, wine and whiskey come out they get rowdier and rowdier. It's a birthday party, and no fault to them I suppose but the place is as loud as a nightclub. We manage to hang onto a table for ourselves but we're shouting into one anothers ears. I lean toward J's ear –
'IT'S SO NICE TO GET AWAY FROM IT ALL!'
The DOC markers on the Atiwhakatu trail have little red reflector spots on them. It's only about 2.5hrs to the car, and 8pm now – we could just leave this bedlam. Some of us think it'd be novel, others are keen to stick around and enjoy tomorrows tramp as well. We don't make a decision and I am unwilling to make an executive one. But eventually the shouting is too much and I am forced to do so. 'We're going!' I state, slamming my hand down on the table. With that option a potential reality the group rebels – 'we should stay after all' – so we do.
The bunkroom is actually blessedly quiet(er) until around 10:30pm when a drunk guy stumbles in. 'Whoa there's someone sleeping on the floor!' he exclaims, like he's still in the nightclub. He realises he should shutup eventually, slides onto the bunk next to me feet first and kicks me in the face. 'Thanks for that' I say, to no response. I think about having an accident with my drinkbottle in his direction.
I get up nice and early and don't wake the lad up, as tempted as I am. We breakfast and away by 8:15am, nice and early!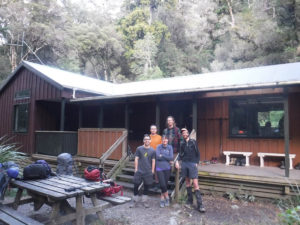 Five minutes or so north of Atiwhakatu Hut is a unmarked creek with a 1.5metre-ish drop to its bed before you rise up the other side. It's here I spot the trail leading down to Atiwhakatu Stream – we take it hoping for success. I cross the stream, find the track opposite and confirm it to the others. They take shoes off to avoid wet feet.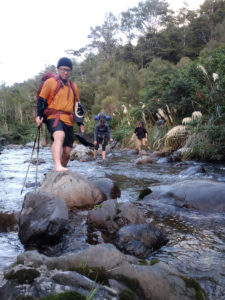 On the opposite side are wee handpainted signs in green and gold directing us up the ridge. We start the hard 250m climb, blessedly cooled by the gusty winds which reach us even through the surrounding Beech. We reach the top in 50minutes.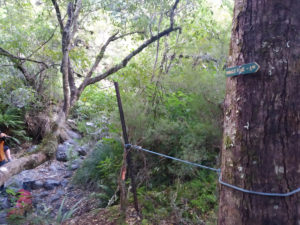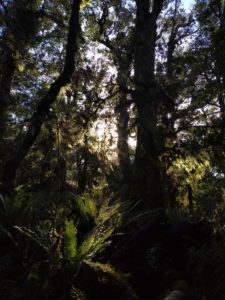 From here we head south out along the Pinnacle Ridge. It's a wonderful walk, we see not a soul. At later viewpoints we see Jumbo hut and the ridges above swallowed by cloud; I'm glad we didn't go up there in the end!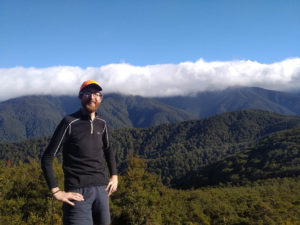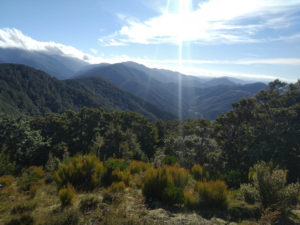 It takes us three hours to get back to the carpark, where my feet are pretty chuffed to bail on the wet boots.
It's only lunchtime so we stop for a lunch at the Wairarapa's second best cafe. While we're there, you'd never guess who arrives – the 18 folks we've crossed all weekend.
Meetup tramps are a total gamble, you have no idea who is coming along. Sometimes you get along famously and sometimes you don't, but we all lucked out on this trip. Everyone was so equally capable, fun, good natured, hilarious, kind, helpful, interesting and interested – I find myself wishing we'd gone on a longer trip just to enjoy their combined company.
Thanks for a wonderful trip guys and gal. Pass the sausage.
Addendum (6.5): Wellington being the size it is, the lead of the big group got in touch. Here's that fun little finale:
…Looks like you were disturbed a lot by our crazy party that lasted until 22:30 (so late ^^). Somehow I can understand because I'm usually doing it like you, but for once it was a bit different. I'm sorry that it disturbed you so much and I understand that it's not what you are looking for when you go hiking, but it seems that you should take it easy, man :-)…