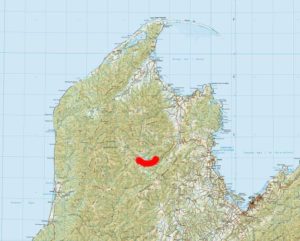 After Kirwan's circuit, Claire's knee had definitely had enough. We enjoyed some time off around beaches and whatnot, but also visited some road-end options on either side of the Tableland Circuit, of the Nelson/Tasman region; Flora Hut and the Cobb valley's Trilobite hut.
The Flora car park is reached from outside Motueka, climbing the Graham Valley South Branch Road up to 1000 metres above sea level. It's a gnarly little gravel road! At one point it's a steep climb with two concrete strips to drive on, the gravel road either side washed or skidded away beyond the depth our wee towncar is happy with. A gnarly, interesting road-end!
Weka peck about up here, and we prepare for our big day – 30 minutes to the 1927 Flora hut.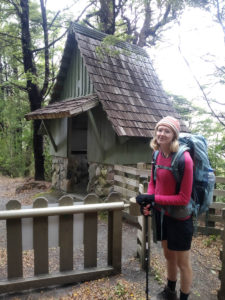 The route is a road; I learn it's a road all the way to the interesting rock shelters further along. The positive of it being a road is there's a huge quantity of nice dry pine firewood here, and we enjoy splitting kindling and some time with an open fire; bring marshmellows next time!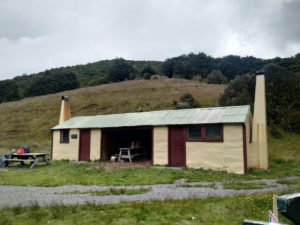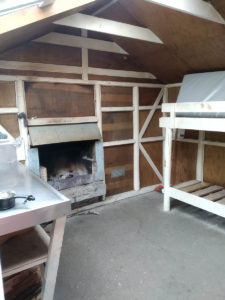 It's just Claire and I staying at Flora hut (either of them) – it's so close to the road-end I doubt many actually stop for the night! Dad tells me he came here with Grandad some 60 years ago, and it required a full days' walk then. Now, not so much.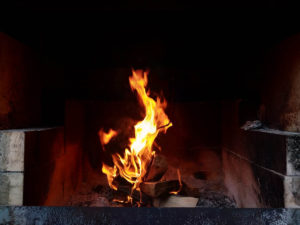 As we settle in to bed, there's a rustling. There's a crashing, there's a lot of noise. Upon investigation, there are two mice running around the hut. Twice I startle, and catch a glimpse of them dashing away out a gap under the fireplace.
At one point, one is in Claire's pack. We can't hide the packs as the hut has exposed crossbeams, the mice can get anywhere. I stand in the middle of the hut shining my light and we both watch as this fairly huge mouse performs some curious acrobatics off the end of Claire's pack-straps before dashing out the hole.
I stuff some wood and a rock and prop it all against the hole they're coming in and out of, and that, surprisingly, puts paid to their visitations for the night.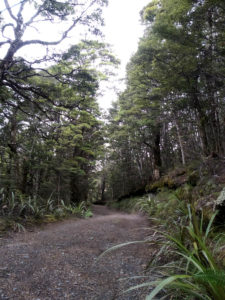 After a night in Motueka, we headed north and to the other side of the Wharepapa / Arthur Range – to the Cobb valley. The route is 33km (?) of gravel, increasingly windy, single-laned but well-cared-for – it's an accessway for the Cobb Valley hydro power station (1944).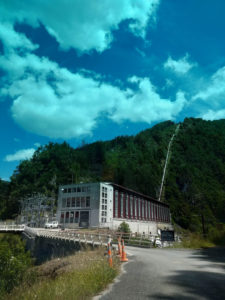 I love the drive, what an adventure. At the top of the range there's a little information shed with heaps of interesting information about the dam and its construction.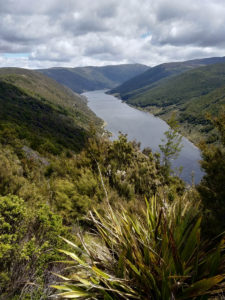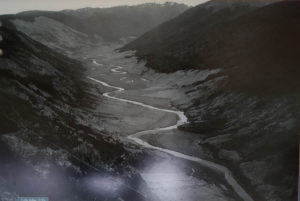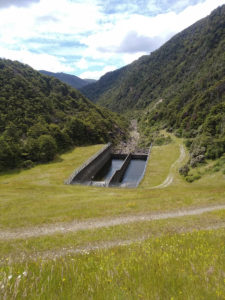 There's cell reception out here these days, put in by the power company. It's good to have, peace-of-mind stuff – we're in the middle of nowhere here! We drive to the other end of the reservoir and park outside Trilobite hut, a 12 bunk job at the road end. Claire's knee is very happy with this.
We enjoy using some treats from the car – namely, our pillows from home – such luxury in a hut!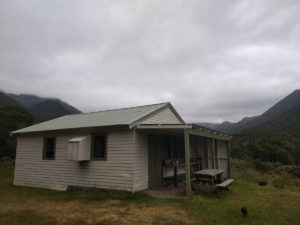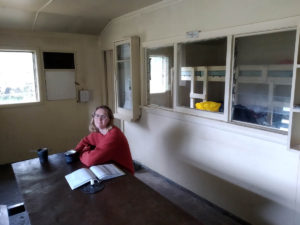 There are a few others here – a solo travelling English girl, a solo French guy and a family of three. They're great company, as are the resident Weka. I'm idling a bit so I collect a heap of firewood and Claire can't suppress a desire to help despite the knee, and it's curious to see how the travellers perceive this. They're very happy to burn all the good dry wood we collect, but don't collect any themselves – is it an attitude thing to the huts? I'm sure they collect wood when they need it, but I hope they do pay it forward as well sometimes.
There are a few comments in the book about mice. After Flora we are mindful of our food – the English girl suggests we can put our packs in the car! This is a great idea, so we do that, as well as the family who drove in also. Regrettably we didn't think to suggest the French and English girl put it in too as after cards, we have quite the mousey night.
At 2am the woman bolts upright and screams 'there's one in my hair!'
The French guy hears them rummaging about his pasta snacks. He rescues the pasta, putting the food beside his head. Every hour or so, he whacks the bag next to his head, trying to kill the mice that are returning to it. Eventually he stuffs the food into his sleeping bag, then spends the night waiting for them to try to get in there too.
At breakfast the English girl finds they've done a number. Eating through her pack's pull-cord, the mice have eaten into her food bag, eaten into a Farrah's wraps packet (you know how thick that plastic is!) and eaten an inch-round hole through all six of the wraps. They've also had some coconut powder and other bits. She's not impressed.
After breakfast we wander up the Cobb Valley to visit Chaffey Hut. Claire's knee grizzles and she turns back after enjoying some alpine meadow action, but I mosey on and return shortly after.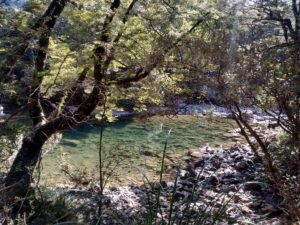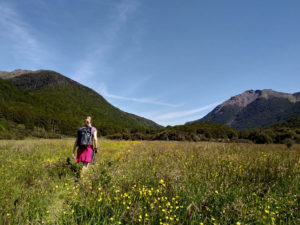 The hut featured in Kahurangi Stories, a great book Dad gave me years ago that I only just got around to reading. I couldn't put it down, chock-full of interesting back-country stories from the region we were exploring. The father of the family couldn't put it down lastnight either! The hut has history; you'll have to find it yourself though as I have to go out shortly!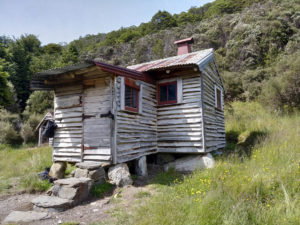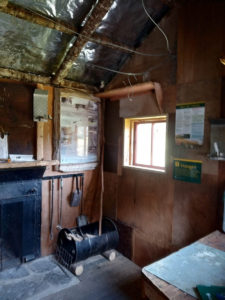 Claire and I had meant to spend a day here in the Cobb valley, enjoying side-walks and things and spending another nice night at Trilobite hut. But the mice are pretty furious so we decide to return to the wonderful Golden Bay beaches tonight and forego another sleepless and rodenty evening, perhaps this time without the meat-shield of that poor woman's hair.