Mike and I tackle a challenging overnight loop in the Hutt city water catchment in stunning dry weather.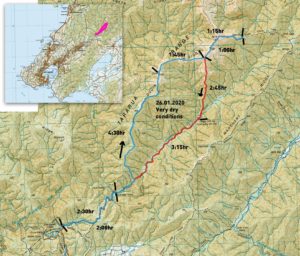 We head off from Norbert Creek on Kaitoke waterworks road at 8am, just Mike and I. We're of similar fitness and both know the expected length of these days are pushing ourselves at around 10 hours.
The Norbert Creek track starts with a short roar to really wake us up before swinging into surprising and gorgeous valley bush, and then navigating our first climb to the 4×4 road at 560 metres. The last time I was here was my first tramp; it's nice to revisit with more experienced eyes and appreciate the beauty of the varied forest up this wee creek that is so easy to reach.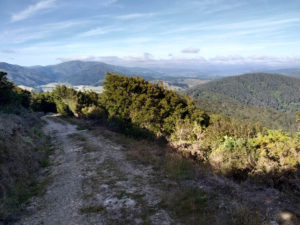 We reach the 4×4 ridge in 45 minutes, then follow the steep road down to the Hutt forks bridge. At the peak of the ridge here we keep an eye out; I have been eyeballing whether it'd be feasible to connect Norbert Creek and the Dobson Loop track via the points 592, 630, 705. We spot a small cairn and a small amount of cutting and tape markers heading off the right direction, in the right spot, so it may be likely – but to discover another day!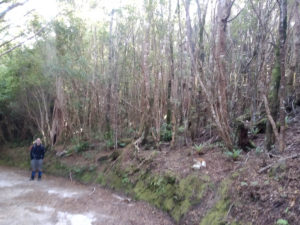 Across the Hutt forks bridge we decide which way to climb Quoin. I had intended to follow the marked track west to Hutt Forks and up, but Mike read about another option – heading NE and taking a route NNW off the wee saddle at 460. That looks to cut off some distance, so we go for that instead. The track to Eastern Hutt river starts below the bridge – actually quite easy to miss!
At the top of the wee saddle we spot the markers; a couple of pink square ones and a little ground trail. The way is marked early on by pink square markers on the rear side of trees (useful if heading down) and we keep trail a wee way, before just making our way up to meet the main Quoin ridge trail. It meets the ridge at some big treefall – I expect you can skirt NE of it judging from some new-ish pink tape we spot from the top, but we struggled through it.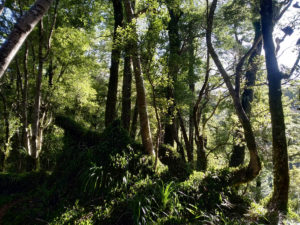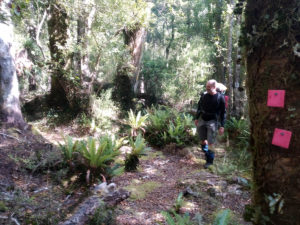 The Quoin trail is pretty clear and we wander on up, until maybe that area around 860 metres where the GWRC has signs telling us to stick to the track to avoid trampling the alpine vegetation. This is amusingly where the track entirely disappears and we have no choice but to push on through. There are few markers hiding in the regenerating open land here, but when you bash your way over to them, they're no help as you can't spot another one and there's no ground trail at the spot either. We would have stuck to the track if we could!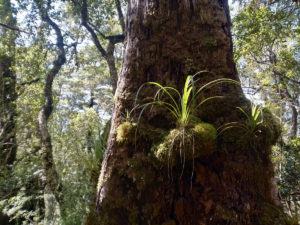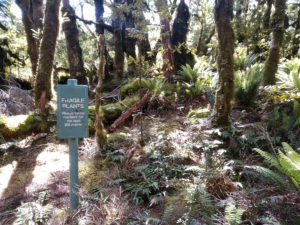 While we break to enjoy the emerging views, we're surprised to be caught by a man and his dog! He's quite surprised to see us too, and we're a group of three a wee while before he takes off ahead (day-walking). At the peak of Quoin we catch him again and have lunch together (2pm, 6hrs from car).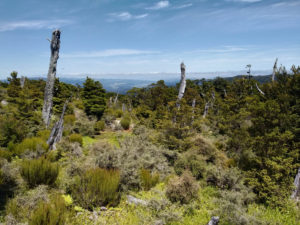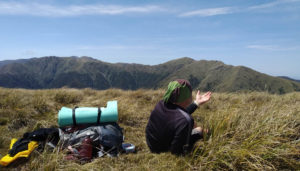 We can see Alpha from here. It doesn't look that far. But it takes us a good 1hr 45min to cross the saddles either side of pt 1100 and get to that little 1240 south spur spot south of 1308, east of Quoin stream where we'll be heading down tomorrow. The saddles were very tiring. The gentle wind a godsend in the heat, but we're both so low on water and energy.
We spot a deer and Mike finds a nice little antler for his hearth.
We're knackered and there are about 7 little blips between us and Alpha, each pretending to be our high point. Chug along we do, my muscles beginning to cramp after each step. At Alpha it's a bit of a bugger to have to drop 250metres to the hut – the 360 degree views here are superb! And we'll have to climb it all again tomorrow.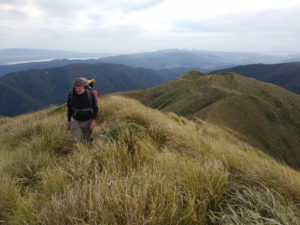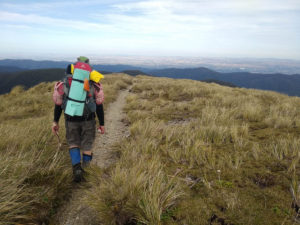 Alpha hut is our oasis; we drop in and find some familiar faces. There's a bunch of Meetup people here doing a Southern Crossing, some I tramped Lake Waikaremoana with, what feels like a lifetime ago now but only a year or two. Nice to put some 'people to profiles'!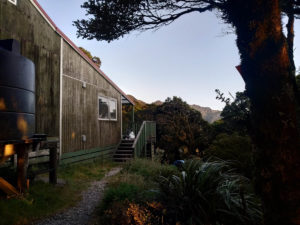 I guzzle three litres of water in my thirst. It's far too much, and bites me in the butt come-bedtime.
Two hours after us, the three little silhouettes we spotted from pt 1308 over on Quoin get to the hut. It's a party of three from the WTMC, who set out two hours after Mike and I. Mike and I are chuffed to have matched their timing, lost the track in similar places and had some water rationing to do too; these guys know what they're doing so we must be doing OK ourselves! They refill their bottles, share a wee yarn and take off to camp for the night.
Camping would be the way to go, and I brought my tent so with hindsight maybe I should have. There's a lovely guy here who's snoring before I hit the mat and it's so hot and I'm so full of water I just can't rest. I move myself to the kitchen floor to try to bother others less, see the amazingly-clear stars through the skylights and hope no mice tickle my nose though there's no evidence of the critters here.
At quarter to 12, it turns out much of the hut is lying awake – we hear a rumble a bit like a jet. It grows, reverberating in the still mountain valleys. It's the 5.2 earthquake in Kapiti; it shakes and passes. Cool experience for those who were awake at the time!
Mike and I rise at 6 and head off at 7:20.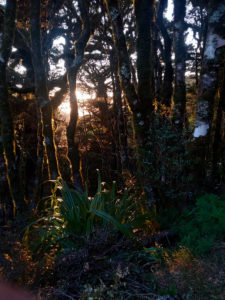 Morning refreshed, we reach the 1240 pt spur an hour after leaving Alpha. We heard this route was a real horror from our hut pals, so it is with trepidation we begin our Quoin Stream spur descent. It's pretty nice going to begin with, and Mike and I are so chipper we feel like making a little cairn.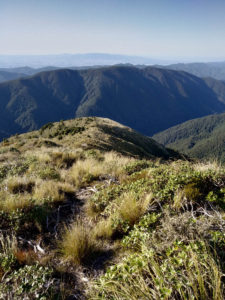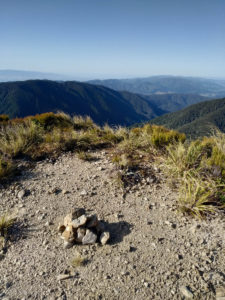 We keep close eye on the compasses and the terrain; we can get down 300 of our 800 metre descent in the open scrubland. So we do – there's plenty of deer poo and it's easy going down, but of course going up would be another story! Everything's pretty dry so footing is fine; a bootlace strap rips and I bent my hiking pole on the saddle-bashing yesterday, but it's pretty good. By the time we join into the trees, we're at 900 metres and they're not too stunted to relatively-easily push our way down through. Apparently there're some old markers about from Forestry Service days but we don't spot any, and we both have this constant, nagging, pulling desire to keep going South East which we must arrest constantly.
Lower down, around 650 or so there're some old trapline markers but the tunnels are in poor knick – doesn't look like it's checked often. We come out into the Quoin Stream, connect up with the Eastern Hutt river and then find our way to the well-concealed Eastern Hutt hut – required the GPS despite knowing it was so close!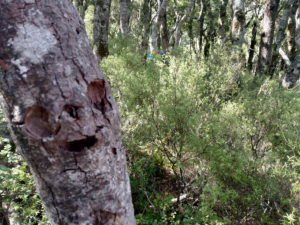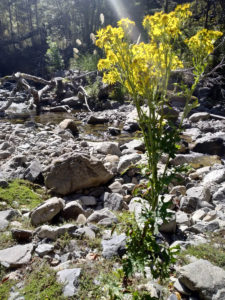 Eastern Hutt hut is cute. It's a classic deer-stalker 1960s job cared for by the Greater Wellington Regional Council, and for emergency use only as it's in the Hutt water catchment. There's a little discoball and custom, GWRC-coloured mattress covers. The hut book goes back to 2010, and there's a photocopy of the original which goes from 1986! Only 10 entries for the entirety of 2019. A lovely spot for lunch, and we sweep out the well-clogged chimney guttering as requested in the hut book by someone with such elegant handwriting they must be at least half a decade from my generation.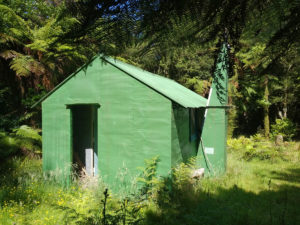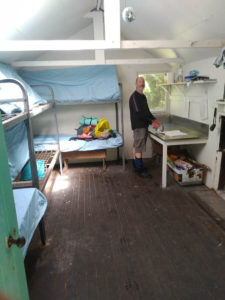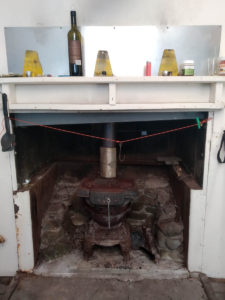 At 12 we depart. We try sticking to the bush but it's a real mess, it's just game-trails that go nowhere that we can find. We head back to the river and by-and-large just pick our way along the riversides, performing quick and easy crossings in the low waters which are never knee deep for us and crystal clear. It's a gorgeous river, and Mike and I make sure to enjoy it. Because we want to, not because we're buggered… It's like the Orongorongo river valley at times, but just for us.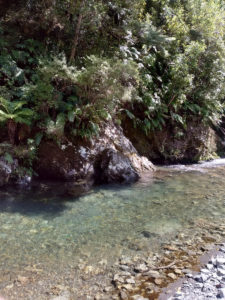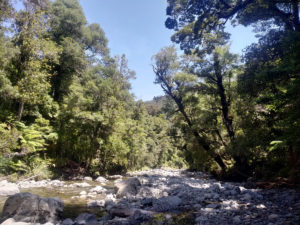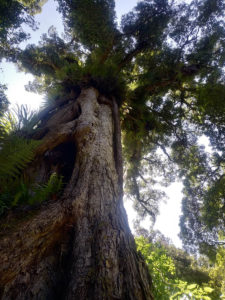 At the swingbridge, we gobble our remaining snacks and sugars and get to climbing. What's a little boring 4×4 road walk as high as Mt Kaukau at the end of a huge day? It's a bit average. It's so regular it highlights our aches and pains, but we make good time just grinding it out.
Dropping down the Norbert Creek track is a challenge on our tired legs, but it's so much better than the road! We find we can't remember any of the bush either so it's nice to rediscover the beautiful spots lower in the valley. We get back to Norbert Creek at 5:15pm, 9hrs 47 since we set off from Alpha.
Two huge days, both 9hrs 45. They'd be significantly harder in the wet, or post-wet! We were lucky to have it so dry.
It was wonderful to explore this little-travelled part of the Tararua's a bit further.
Tramping Trips: Alpha, Alpha Hut, Eastern Hutt hut, Eastern hutt river, Hutt forks, Kaitoke, Meetup, Norbert Creek, Phillips stream, Quoin Ridge, Quoin Stream, Tararua Range