A long weekend arrives and I haven't organised a tramp. Over breakfast I am racked with FOMO, I want to go bush! So I head off to do one of my close-to-home bucket-lists and explore the East Harbour Regional Park behind Eastbourne.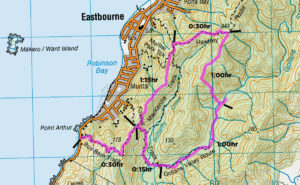 There are multiple access points as I drive south along the coast, but I enter at the southern-most entrance beside the bus depot. There's a sign up; 'From 14th October, hunters will be operating. Stick to the tracks.' Sticking to the tracks is the opposite of my intent, so I check the website. Assured that the hunters are only kicking off from the 30th, I mosey up the 200m graded and graveled climb, amongst runners and ladies walking dogs. The forest over here is so varied with manuka or airy beech on exposed ridge sides, and rainforest-like patches of kiekie and nikau palm hiding in the gulleys. It's such a treat!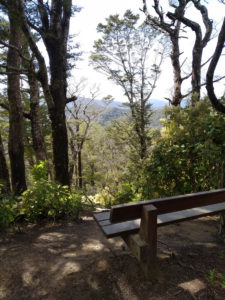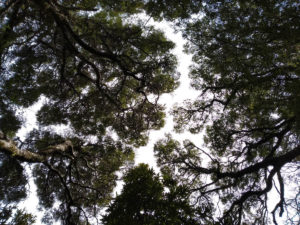 Down at the picnic area I disappear beyond, over to the fenceline boundary and follow a baitline NE along Gollans Stream. It's nice to be off the toddler-stumbling path and into the peaceful bush.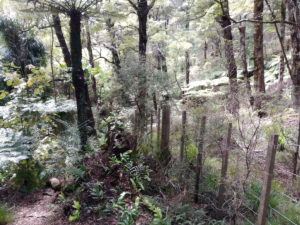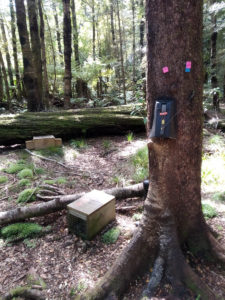 I venture further than before, following traplines and whatever groundtrails are about. Unsure how the trail will continue and how fast the going will be, my intent is to cut west up the ridge at some point when I run out of zing to get deeper.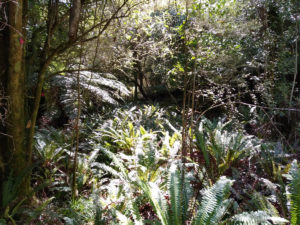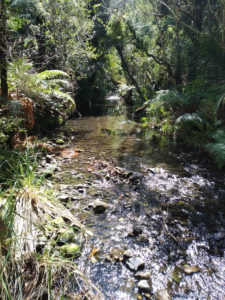 The traplines cease their northward ways (or at least the ones I was following) and I clamber over fallen trees to follow another one up the ridge. It's a messy scramble requiring both hands and renewed faith in my boot tread, dragging myself up a line mostly marked not by pink markers but just bait tester sticker things.
When I reach the ridge I find a small groundtrail and leave the trapline, then cut NE to rejoin another ridge trapline. I love following old tracks and traplines, wondering as I wander who marked them, when, why, and where will they take me?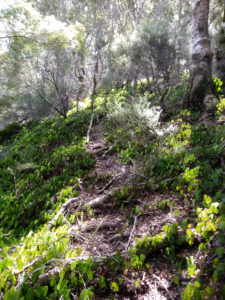 On the ridge I ignore various traplines heading down the valley to the MacKenzie track and follow a fast trail north to the Hawtrey Route. From the foot traffic further down the park I expected Hawtrey to be well-trampled, but the track is less worn than many in the Tararuas!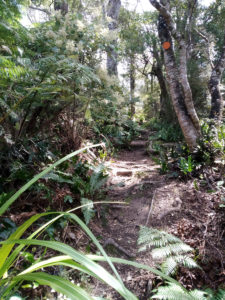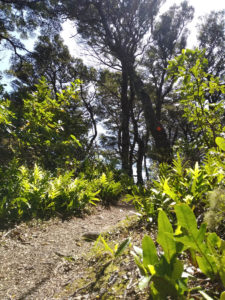 Popping out at the Muritai lookout point, some ladies are inspecting the Wellington view signs. They ask and I point some bits and pieces out and then I'm off, heading south along the ridge. There's no trail marked here but I thought there would be a ground trail, and I'm right – so I'm back alone and off the beaten track, following another trapline. Wonderful views of the harbour to be had as well.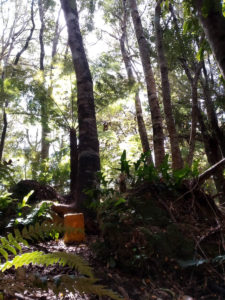 I pop out at the other end, onto a trio of walkers sitting on the main gravel trail. Across my path is a little barrier with a 'no entry – private property' sign – whoops! I did not see one of those at the other end.
I investigate this when I get home, and sure enough there's a big slab of the ridge line in private ownership. The land boundaries are bonkers, check out 287 Muritai road and the ghostly non-existant 290! What long-dead council zoning plonker signed that off?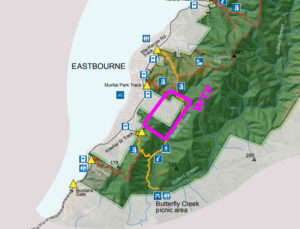 I'm back at the car in 5 hours.
I am blown away how much wilderness there is right behind Eastbourne, how beautiful and how varied it is, and how few of us make use of it. We are so lucky to live here and have these places so close by!