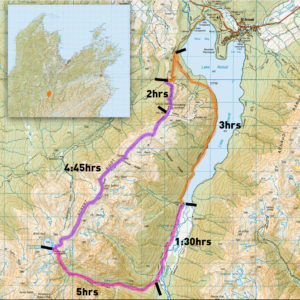 Our packs are heavily loaded, roughly 20kg each and we're heading to Angelus Hut, one of the picture-postcard huts of the Richmond Ranges in the South Island.
We depart Mt Robert Road Carpark outside St Arnaud at the climb-saving elevation of 800 metres.
The track begins in beautiful beach along the pinchgut track. This quickly turns into a tough, steep zig-zagging 400 metre climb. It's nicely graded, and we stop for lunch at one zig-zag corner with amazing views out over Lake Rotoiti. We aren't the only folks to do this; dotted down the end of each zig-zag we see others sitting in similar spots to enjoy the view. There are a tonne of day walkers wandering up for the vista and to do the Paddys track day-walk – one even gingerly tiptoes by with bare feet.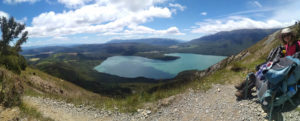 At 1400 metres we're well onto the tussock-covered tops and we learn that 'Bushedge shelter' on our topo map is no longer, and continue on to Relax Shelter. Relax is a legit hut, fully enclosed and with water outside; just missing a toilet. We had read there's no water until Angelus so we're carrying 3 litres each; finding water at Relax is a nice surprise.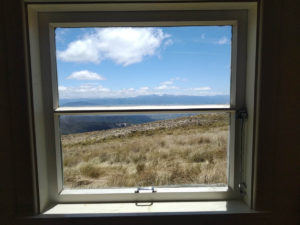 After a short break, we continue on along the Robert Ridge route to Lake Angelus. Time after time we crest a ridge of ice-shattered rock and gravel to look down into tussock-filled basins. We're so lucky with the weather, it's stunning up here – without cloud cover we can see everywhere. The whole region is new to me so I recognise nothing, but the mountains climb a little higher than the Tararuas and seem a bit rougher and harsher than back home.
There's a strong wind, but it's consistent so doesn't prove too much of an issue.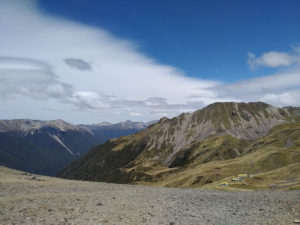 Being well-above the winter snowline, the trail is marked with poles, cairns and the footfall of the many who've passed by before us. At one point, the warratah is a pipe with holes along its length. The wind whistles through, sounding to my untrained ears a bit like a traditional Maori flute – it's pretty great.
The trail gets rough in places, across loose large boulder slips. I expect these move every year with the freeze and thaw so there's no point trying to 'track them' with smaller rocks, though at times a track hides amongst the boulders. With such heavy packs it's hard-going, and it starts to cool off.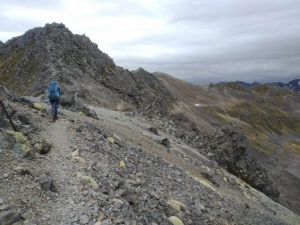 At 6pm, 30 minutes from Angelus hut, we spot three solo male trampers heading away from the hut. They don't say it, but we expect they probably wanted to stay at the hut and can't. Angelus Hut must be booked, and there's a warden on-site. It's a long walk out from here at such a late hour – screw that!
We arrive at Angelus after 6.5 hours. It's at capacity, 28 people and loud as a dance hall. While it is picturesque, peaceful it is not! We get to devouring our first of many home-made dehydrated meals, a delicious Moroccan lamb with cous-cous in wraps. Pretty great!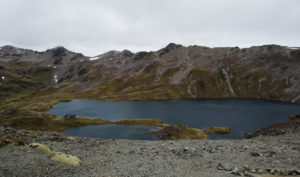 While cooking, a middle-aged Frenchman taps Claire on the shoulder. 'Can you close this window?' he asks. Claire responds in the negative, regarding good practice on carbon monoxide. The man reacts poorly, doesn't give a stuff why not; has a huff, goes back to his big table of French people and together they talk and point at us. I have some uncharitable thoughts about foreign trampers.
At 7:30 the DOC warden shares the weather and some hut rules, including the windows-open-while-cooking thing. He's obviously new and obviously pretty nervous.
While I sleep at night, I awake to a rough hand stroking my face. 'Ah fuck!' I exclaim, not knowing what it was, but noone stirs. The man beside me doesn't even really move his hand after I recoiled. I turn over, but his hand gets closer. It brushes my pillow, and I can feel it near. I need to do something, so I gently take his hand in mine. He quickly recoils at this and returns to his own space. I told another tramper this story and they suggested I should have licked him!
It's cold overnight, and there's a tiny dusting of snow in the morning and ice hanging from the tussock outside. Claire and I wait for the thaw, as we're heading down the Cascade Track today, and it starts with a sharp 300 metre drop down a creek and loose scree.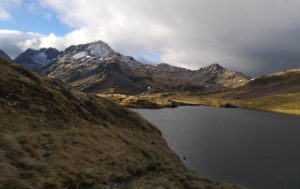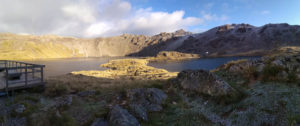 It's hard going today; the packs are still very heavy and Claire is without a pole; one of her knees plays up. It's slow and steady progress plodding down into the basin.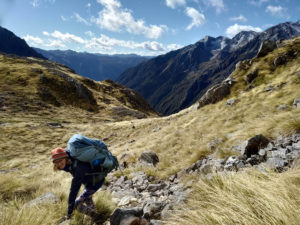 Soon we cross a bridge that's air-lifted into place each summer, head through a lovely clearing at 1200 metres (I find it interesting that the bushline is 300 metres higher here than in the Tararuas) and then we're in stunted beach forest, growing amongst the great rocks that've tumbled from the neighbouring ridges many years previously (and some very recently). The Hukere Stream is beautiful for a while, before it disappears beneath the rocks and we're left with just an empty channel where it courses during rain.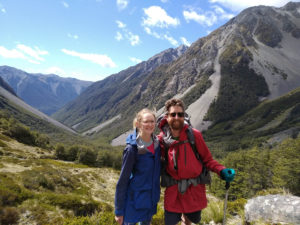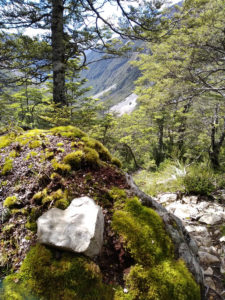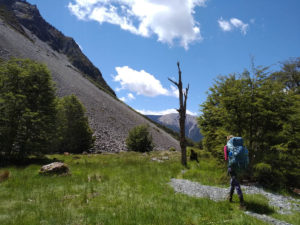 We reach the intersection with the Lower Travers Valley Track and it's here we are to make our decision. Our packs are overburdened as we set out intending to walk the Travers-Sabine circuit, but we are making such slow progress. We are hours behind the DOC sign timing. Our stop for tonight, John Tait hut, was a DOC 7 hours from Angelus Hut, and we've taken five to get to this bridge. The sign at the bridge says 'John Tait hut: four hours'. We've taken five hours to do a DOC three hours – it's not looking good. We weigh up continuing up the valley an hour or two and camping to continue with the plan, or shortening our loop as Coldwater hut is a mere hour to our north. With Claire full of painkillers and still finding the knee a problem, we decide the shorter loop is the wisest decision, and we pack up to head north.
As we approach the bridge, Claire spots something crossing ahead of her; it's a bloody weasel! The little fella is right in the middle – it looks up, stares at us for a second before dashing backward and into the bushes. It's a recurring theme in this southern trip of ours – every time we stop we see mice running up and down trees, and we see stoats and weasels too – things we never see in the Tararuas. We assume it's due to the mast season, where all the trees fruit at the same time leading to an abundance of food.
The walk north to Coldwater is lovely, along river flats and with beautiful trees and the ever-present ranges. We don't stop much as the sandflies are legion and hunger.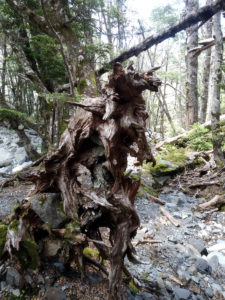 Just south of the lakehead crossover track we cross a random day walker. It's late in the day and she's heading south. We show her where we are on the map. She's destined for St Arnaud, but unable to cross the river she eyes up the bridge south up the valley and continues on. It's a mad decision, hours and hours of walking – we try to communicate it but not sure we managed well enough. She sets off with a couple of apples or something, and Claire and I worry our way to Coldwater hut. Hopefully she was much more of a trailrunner than we thought, else she would have had a long, crappy time of it!
At Coldwater hut, there's an odd duck mum and son and a nice couple from Australia who passed us on the Cascade trail. We get to unpacking, then decide to tent to have some personal space. We pitch in one of the myriad lovely spots under the beach trees.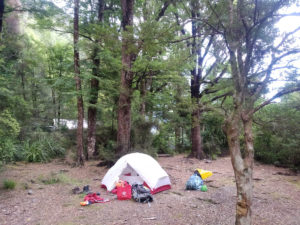 Two large families arrive, Canadian and British; it's unclear how they know each other but they appear to. A campfire is lit and we enjoy a night with all about it.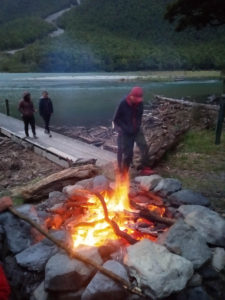 In the dusk, eels find their way about the wharf. While the tourists (and Claire and I) marvel and enjoy the eels circling the wee jetty, some of which are over a metre long, the odd kid fashions a spear and prepares to jab them. When the tourists mention it, I'm assuming they're kidding – but surely enough, the kid's right there, poised to strike this elderly, blind eel just for the hell of it. 'They're protected, if you do that I'll report you!' I shout with surprising conviction and rage.
'Are they really protected?' the woman asks. The kid lowers his weapon and looks at me sulkily – I feel a bit of a young-psychopath vibe from him but Claire thinks that's a bit rough of me.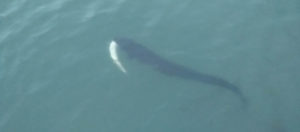 When we retire to the tent, I notice droplets on the fly. It's sticky – beech tree goo from above.
It's a cold night as the cool air whips down the valley, but it's a beautiful morning as we head off along the lakefront.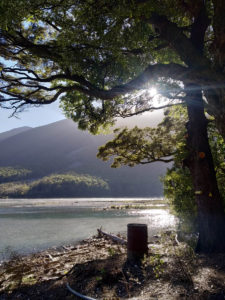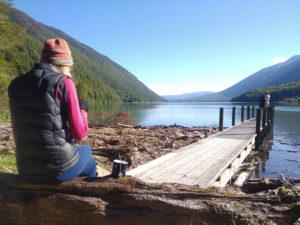 Today's just a 'get out' day, as we feel a bit stink about our smaller trip and that Claire's in considerable pain. I'm not 100% either, with some potentially gnarly blisters suggesting their arrival. We take our time and take care, enjoying the views and the signs of active- trapping along the side of the lake.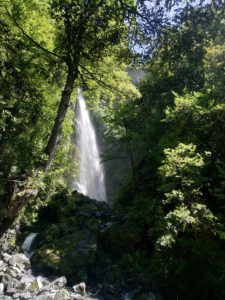 We pass a track up to Paddys Track, which isn't on my topo map. This would cut out a road-walk but require a climb. We continue along the lakeside.
Once the trail leaves the lakeside it turns into an old road, so it's a quick but boring finish before reaching the road proper. At the end, we play paper-scissors-rock to see who gets the car; I win but go anyway because it's not fair with Claire's knee and I'd get bored waiting. Packless I power up the road and cut a few switchback corners off by clambering through the bushes, which for some reason pleases me immensely.
In the car, we drive to Murchison and spend a night in the Riverside Holiday Park – one of my favourites from Tour Aotearoa. I spotted a little secret campsite last time, and we camp there tonight with some of our 'car camping luxuries'- a larger tent, and real pillows.
This was an awesome loop, one I wish we had committed to in the first instance to lighten our loads some. Big country, stunning views, interesting huts – but a fairly popular route too, certainly not off the beaten track.