Kirwans track is an old mining route. It's mountain bike-able up to the unique hut with stunning views, surrounded by Reefton goldmining history. Claire and I hit this two night loop for for the new year, still buggered from our Angelus adventure.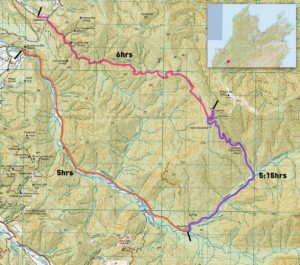 We arrive at the well-tended car park at the end of Boatmans Road (beyond Blairs Road and just south of Larry River; is this my place?) and find a quiet carpark – just three cars. It's surprising; DOC bills Kirwans Track as 'one of New Zealand's classic overnight tramps' and with the summer holiday part of me expected it to be rammed. After a little chit-chat with two mountain bikers who will pass us on the way up, we cover ourselves in sunscreen and insect repellent and get walking.
During the heady mining days (late 1800s, early 1900s) there was a town here, Capleston (called Boatmans by the people). There's nothing here now, just farm and a rusty old Morris.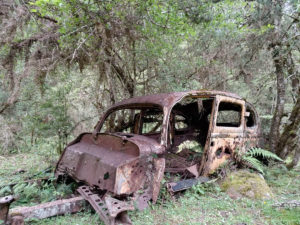 Crossing the bridge at Boatman's creek we spot our first mouse, scampering across the track ahead of us. Every time we stop, we spot mice coming and going up and down the beech trees, plague level stuff.
We join an old road which starts our gentle gradient wander, steadily climbing from our 320 initial elevation all the way to 1200 metres.
After a kilometre or so, there's a hole in the rock, followed by a suspension bridge. I'd love some more information about this – was it cut to feed ore through, or just put in for hikers at a later date? Where did the road go? We pick it up again on the other side. It's a surprise, interesting quirk to the trail.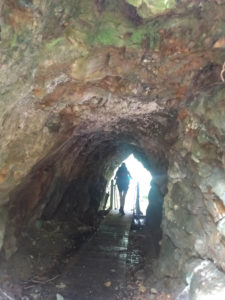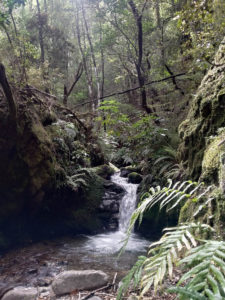 We stroll. There are little bits of washout and quite a lot of serious tree fall from a recent storm. It would make it hard for our cycling pals, if they weren't such lightweight, professional mountain bikers – they blaze on by and we don't see them again until we reach the hut.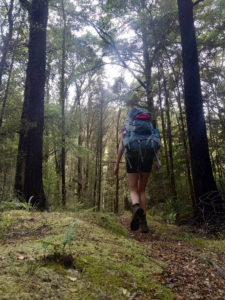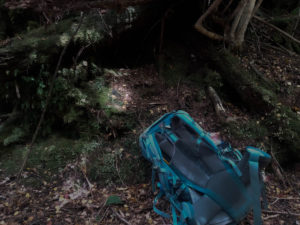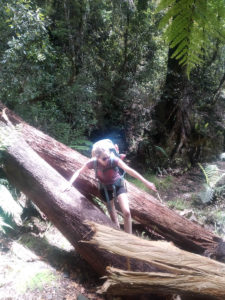 After six hours, right on DOC timing, we reach the hut. Though we had a campsite night in Murchison, this is still day four of tramping and we find that last hour is quite the slogging challenge.
It's all so worth it. Kirwans Hut (1988) is unique, with great custom windows and full-size sliders (new and double-glazed). It's perched at the top of the old miners camp, so has a great open view before it. On a clear night you can see Aoraki (Mt Cook) from here; and we do. There's not a breath of wind, it's just, wow. What a hut!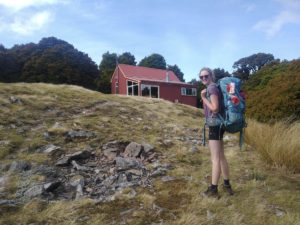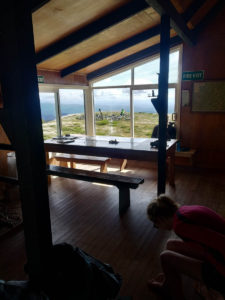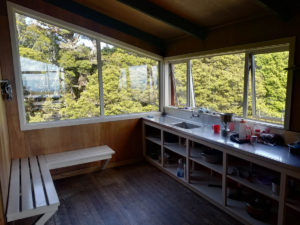 The cyclists are out on the plain, reading books. Claire and the woman realise they studied together some years back and share many acquaintances – they have a great yarn. They're a cool couple, full of great dehydrated meal ideas for me too.
There're two others here, a mother and daughter – they're very quiet and generate a quiet, library vibe inside the hut. As the sun dips and we all quietly read inside, I have the misfortune of finding something in my book absolutely hilarious. The inappropriateness of laughing in this 'library' gets me and I lose it with silent tears muffled into my sleeping bag. I can't control it, it keeps returning – Claire gets a kick out of me trying to keep it together from across the hut.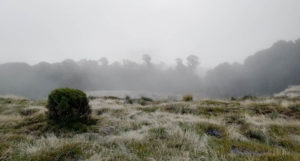 Claire and I have a dehydrated peanut satay thing I bodged together before we left. I wish I wrote down what I did because it is so good! We re-hydrate with powdered coconut milk. Bloody winner. Everything comes together, it's one of the most peaceful hut nights I've had, in one of the best huts with the most impressive views and marvelous weather. No hyperbole – this night is up there with my most enjoyable hut nights ever.
The morning views are stunning too and we enjoy taking our time. But eventually we get moving, and head back down to Kirwans track and swing by Kirwans Reward gold mine. There's not a lot here, a aerial tramway still hangs down the back but we don't venture across the broken rock.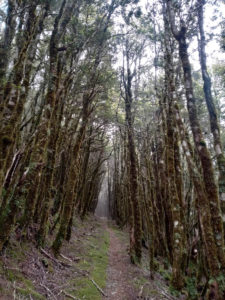 Further around, the old miners path takes us passed 'Mrs Flannigans Boarding House' (1899-1907). There're a few bits and pieces littered about – terraces, corrogated iron, remnants of rotting timbers and a few odds and sods of life – an iron bed frame, pots and pans.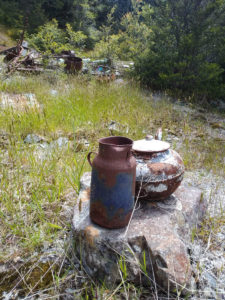 Further down the path takes us by one of the huge wheels which was part of the aerial tramway's repeater stations(?). I suppose the ore was taken from up at Kirwans mine (1200ish metres) and then sent down to the stamper battery for processing at ~550 metres.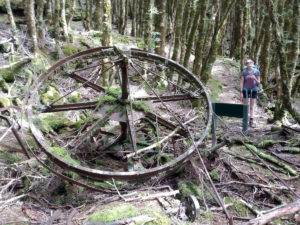 Parts of this side are fairly bike-able, but it gets pretty bloody gnarly at times. I don't know if cyclists do the whole route, but it would be this bit down to the creek that'd be a bit of a 'walking day'.
We lunch at the Lord Brassey Gold Stamper. It was restored by DOC in 2009?, but I wish it had some signage about the bits and pieces, maybe how the setup used to be laid out. If I'm dreaming, why not do it with augmented reality through the cellphones, throw some 3D models of the setup? That'd be cool. As it is, there's just the stamper and a sign saying 'stamper battery'. It's taken a crazy amount of work to replace the timbers and keep it all sitting there; seems a disservice to not put some signs up for nerds like me. Fortunately I remember a bunch about how it works from other gold mining areas I've visited, so I tell a fairly disinterested Claire all about it during lunch, which we eat next to the lovely creek which used to power the stampers.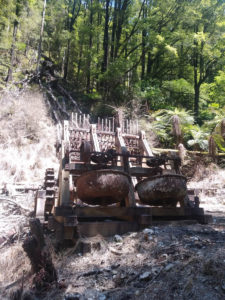 We mosey along and reach the Montgomerie River, a favourite with trout fisherpeople. We cruise along, nursing knees, enjoying the flats – though I wonder if we're following an old tram route, or was it a road, or just nothing? I want more history!
Eventually we arrive at Montgomerie Hut, a classic 6 person hut. It's in wonderful knick – there's even a padded stool, a gem for tired butts.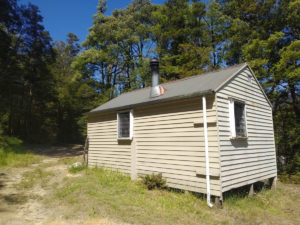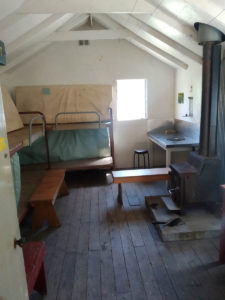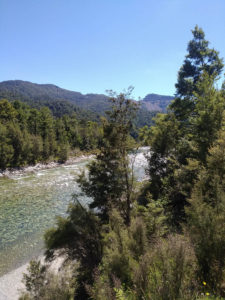 Unfortunately, Claire and I are knackered, it's scorching hot and we don't have much of our bushman repellent left. The netting on the windows is blessedly in-tact so we're safe-ish inside from the thirsty sand flies, but any venture outside quickly sees us swarmed.
As Claire gets changed, there's a knock on the door and two anglers pop in – talk about timing! They have a nosey at the hut book, have some lunch outside then wander away, leaving Claire and I to an evening alone. The hut book documents that a bloke brought his hilux out a few days earlier – that'll be the fresh tire tracks in the clay outside. DOC's website says the road was closed, so I am surprised by the vehicle access. It has me partially expecting some new years eve revelling drunken bogans to arrive at some point. But they don't – it's just us, a couple of mice, my hilarious book, and a delicious bag of chips to farewell the end of an absolutely brilliant year!
We follow the road out in the morning, and it is a right mess. That guy's hilux must have been amazing, and he must have had a blast!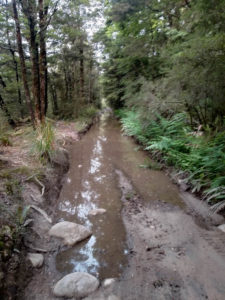 It's a strange morning, this first day of 2020; the light of dawn is red well-later in the day, shining through the Australian bush fire ash that's burnt through land almost as large as New Zealand's total surface area and wafted over the west coast.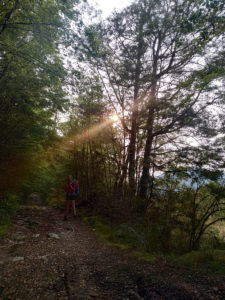 There are some patches where the road washes out, and we cross a little family of Weka. We have a nice yarn with an angling guide and his guest, an Aussie angler. They brought a little ATV thing some of the way out to park on a grassy river terrace.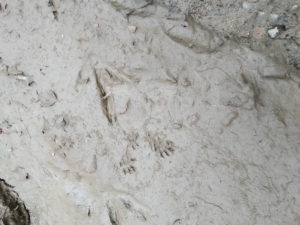 Though the going is fairly easy, Claire's knee has become really unhappy from the downhill yesterday. (I have been corrected regards my Angelus writeup; the knee only packed it in on this trip – we didn't set off with injuries!) With the sore knee, after three utes drive by and we get chatting with an old man on foot who offers a ride to the other side, we gratefully accept. Well, I think 'Thanks, but I think we're OK' before looking at Claire's face and reconsidering and accepting!
The guy's quite interesting, having done trapping in Kahurangi and things. It's a nice end to a wonderful tramp. If we didn't get a ride, there's a little connection track up and through a forestry block back to the car, another hour and a half or so.
Kirwans Track is a wonderful loop, with gorgeous bush, interesting history and samples of a bunch of back-country hobbies. Well worth the trip!