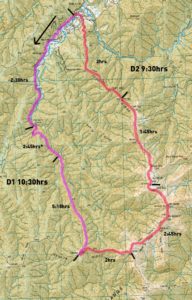 We depart Otaki Forks at 8:30am. There's Maj-Britt (from my first Meetup), Mike, Jack and I. All attendees got in touch personally about this trip before the RSVPs opened, so they're all keen, capable and determined – which is a blessing as I really don't know what to expect. We're missing one though – Joe, who stuck his hand up at 10:30pm Friday but we've had no radio contact since then. I leave a note for him in the intentions book ('Joe, we're leaving without you') and we away.
We meet half of the Wellington tramping community driving up and down as we road walk to the Waiotauru track, and then we're in the bush.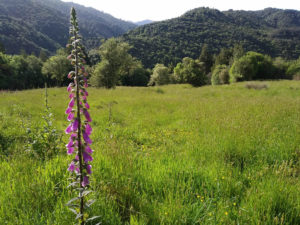 The trail is pretty rough – hard to believe it was once an actual road! A few active slips have us legit not looking down into the 80metre drops, mental images of Indian buses driving their cliff-side passes not in our minds at all.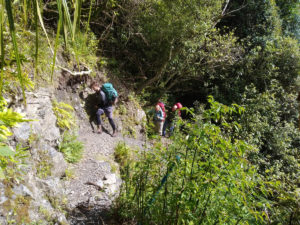 After 2.5hrs we reach the Waiotauru bridge and climb to the old logging road on the south.
We're heading up a ridge that drops into the Eastern Waiotauru River (Snowy River) today, and have two options to get to the base of the spur some 2k upstream. The first and more popular route is up the river itself, which often requires some pack-floating. None of us want to do that, so we're opting for the alternative 'dry route', tracing various old logging trails on the true left of the river. I have a print-out of Madpoms trip in 2015 to go off, which is not a lot, but he's kindly uploaded the GPX file of the trip so I have that loaded to help us on our way. (I use NZ Topo maps pro by the by).
We follow the old road to the first stream, spot a small cairn and start a hard 75metre climb up semi-loose rock to another old logging trail. I am chuffed to see a little wear on roots showing a vague indication of a trail, and someone's tied a bit of pink tape which simplifies things.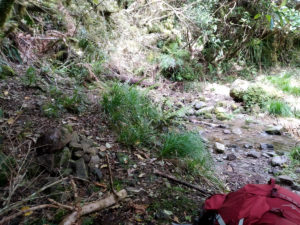 We clamber over the lip and onto this old road-width cutting. Maybe 70? years since use, it's now covered in small ferns, large punga and heaps of juvenile Rimu. We wander up, delighting in this easy strolling yet rarely visited oasis in the forest. It's really so beautiful.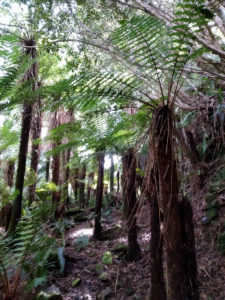 Our gentle road reaches an intersection; it's a timber slipway? A two-metre deep trench steeply cutting the hillside. Unsure which way to go, I decide we should go right (up). There's pink tape up there, so off we go.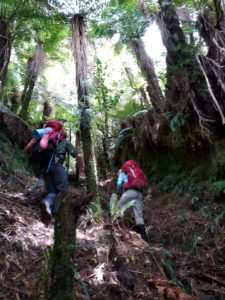 Now some may say I should have looked at the GPS to make sure this was the way Madpom went. But you know what? These guys signed up for a tramp with 'a bit of off-track' and this was all far too civilised. And there was pink tape – where else could it possibly be going?! So we mosey on. Eventually I double-check on the GPS and have a quiet, sheepish revelation. 'We may want to just go east and down a bit actually'.
We clamber up the lip of the trench and clamber down back to Madpoms route. Everyone's so chuffed and excited to be getting their off-track adventure, they howl with laughter as they slide in the mud, get suspended by supplejack, break hiking poles and get rotten log all down their backs. The belly lols!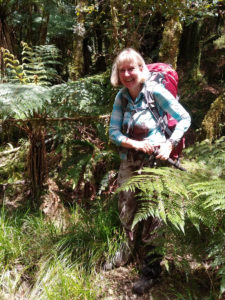 Back on the very obvious road again (tip: at the intersection go down!) we mosey along. I am being sarcastic above, we grit through the bash – but everyone is so nice about our little moment, or my little moment I should say – geez I felt sheepish. What a dumbass, following some pink tape and assuming it's going where I want it to go because 'where else would it be going?' – that's some novice shit right there. Good reminder of a good lesson – don't expect random markings to always be your pals!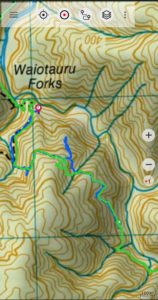 Anyway. On we go. It's mostly old road, up and down, with a bit of slips and tree fall and patches of heavy growth but boy – compared to our real off-track, it's a doddle.
Soon we drop down to the large-ish unnamed tributary before the 666 ridge and enjoy a nice moment. The water is crystal clear, the odd leaf floats down from the canopy above, catching the light before being carried away by the burbling waters.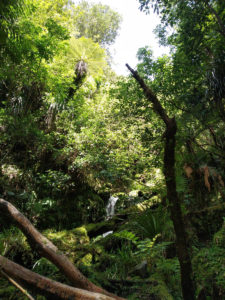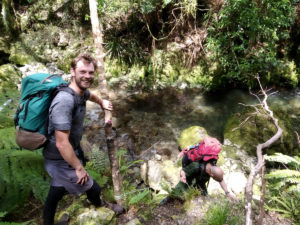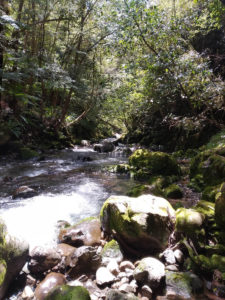 We drink our fill, top off our water bottles for the ridge and climb the opposing bank. Gaining a road, we follow it south upstream a while before deciding – no, we should be on the ridge. We skirt back and  follow it the other direction, swinging up and around onto the ridge.
It's baking hot now, and I work up a sweat. It sticks in my glasses, making it hard to spot the pink tape – pink tape which only goes so far then disappears entirely. Soon enough the ridge is just open bush, fairly quick going for 'off-track' but slow-enough and a bit less 'tracky' than I was led to consider. As we climb, the term 'tracky' really enters our group lexicon as we all direct each other to little patches which vanish as quickly as they appear.
We break on the ridge roughly parallel to Snowy hut to our east. 'Does anyone want to go visit Snowy?' I ask. No-one says anything. 'I can't really be bothered'.
We decide to continue on which is a good idea because we're on this ridge for five hours. It's hard going, plugging away. I wish I could have carried more water, and wish I didn't feel I needed to bring the tent.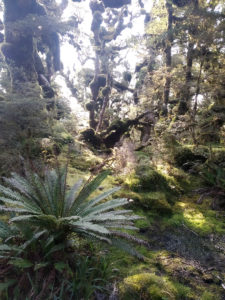 Resting at another point, I see movement below us. Once I satisfy myself it's not a goat but a man my mind quickly shifts. 'Oh damn, these people are going to beat us to the hut'. But it's just one chap – and a familiar face it turns out – Joe has caught us up.
Heading out two hours later and having his own off-track adventure with an hour of supple-jack bashing, he's still caught us hours before the hut – the Minnesota Monolith powering up the hill, fueling the beast not with ropes of sausage like last time but chocolate covered popcorn (somehow!) It's lovely to see him again, his fresh energy a welcome addition to our group as we clamber the last few hours, our differing fitness levels starting to become quite apparent as our individual enjoyments quietly flip to endurance.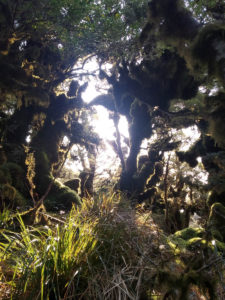 Whoops and cheers are shouted when we reach Renata Ridge (1070m) and the little DOC track which feels like an absolute highway now.
Crossing a little helipad spot, we see the tiny four bunk Elder Hut in all it's compact glory, looking out over the range to Kapakapnui and Kapiti Island. Ten and a half hours of hard tramping is plenty.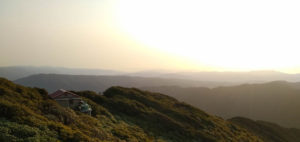 It's unoccupied, thank goodness! I am glad not to have needed my tent etc, but man – I wish I knew that before I carted it up the hill!
It's a nicely laid-out wee hut with beaut views. We enjoy them as the evening closes, lucky the wind stays so light until bedtime. Dry for our visit though the mattresses attest to the wet conditions it must endure at wetter times of year. I smash back a litre of water and another litre of hot drinks, and still wake in the night thirsty as all hell.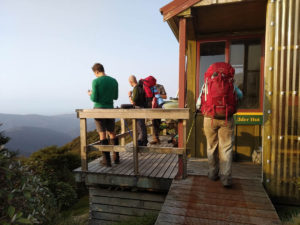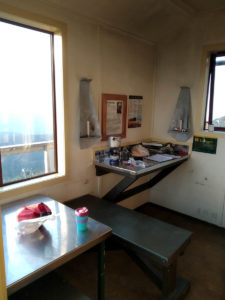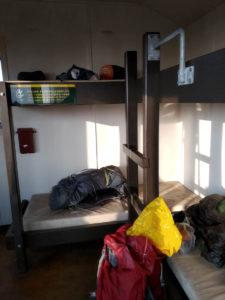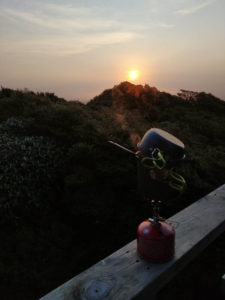 Not everyone's keen on my early start ideas. I'd suggest 5:30am if I could but we go with a 6am wakeup.
I cunningly get up at 5:30 anyway since I don't sleep at the moment and quietly mosey about doing coffee and that; this way people can have their 20 minutes of fake-sleep before 6am, not at 6am. Everyone's feeling pretty good; Joe slept outside cause he's tough, and though the wind and cold swept in overnight, he was 'too hot, if anything'.
We follow the DOC track along Renata Ridge east, barely able to spot the 666 route as we gratefully give it a miss today. We cross the saddle at about 980metres then climb up to Aston, 1376. The wind is howling which makes hearing one another difficult but rare be the time it makes regular walking tricky.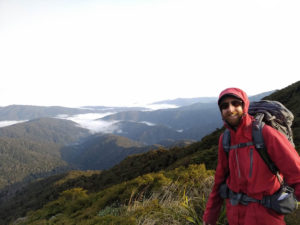 Joining the well-trodden, well-marked Southern Crossing, from here we just mosey. We see a few runners and others about, and have wonderful clear views.
I think of being up here on my first tramp and how it's kinda fitting that the second time up is my last one on Meetup. And this second one is so different; I know what to expect, but I did not expect these views! Rather than clag and cold and just appreciating the tussock and coral-like alpine plants, I can now see everywhere. It's a treat!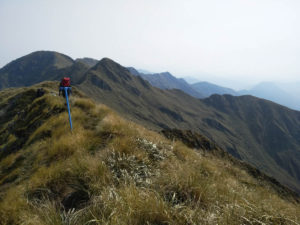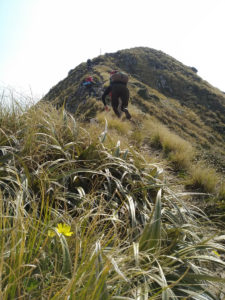 On the north side of Mt Hector the wind just disappears.
We stop at Kime for lunch and rest tired toes. Apparently 30 people stayed here last night; give that a miss!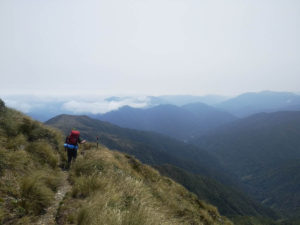 Jack and Joe are in better shape than the rest of us and disappear ahead. We meet at Field and decide to say our farewells there, releasing them to disappear ahead and home at a pretty reasonable hour.
Our remaining three plod along and down Judd Ridge, down and down. It's beautiful bush and the cloud comes in just as we enter it, so it's blessedly cool. We don't talk much, save for a deep sigh from me which comes from the depths of my soul. 'That's about it' replies Mike – nothing else needs be said. We're at the car in 9hrs 20 from Elder, 4:30pm.
While we're home in time for tea and damn proud of this achievement, we do go out to enjoy the bush, not endure it. For me this trip may have had a bit more endurance than ideal, certainly my top end of things if I keep carrying the same amount of kit and/or the same low amounts of water. But bloody great – so cool to see some of the old logging history of the area, and the cuttings being taken back by the Rimu forest giants after what is a relatively short 70 years in the grand scheme. Sure they're only thigh-wide now, but they're there.
I'll be giving the Meetup trips a miss now. But there are plenty of other ways to help folks get into the bush, and I do love it, so I can't imagine this'll be the end of me taking randos out. I couldn't have hoped for a better last group, tenacious through the struggles, generous and good-natured. It's a great aftertaste and happy memories alongside the other 20 trips I've taken/been on over the last two years. Thanks all! If you're reading and want to tramp, don't be strangers.
Tramping Trips: 666, Aston, Atkinson, Dennan, Dress Circle, Elder Hut, Field Hut, Judd Ridge, Kime Hut, Meetup, Mt Hector, Otaki Forks, Renata Ridge, Snowy Hut, Snowy River, The Beehives, Waiotauru Forks, Waiotauru River