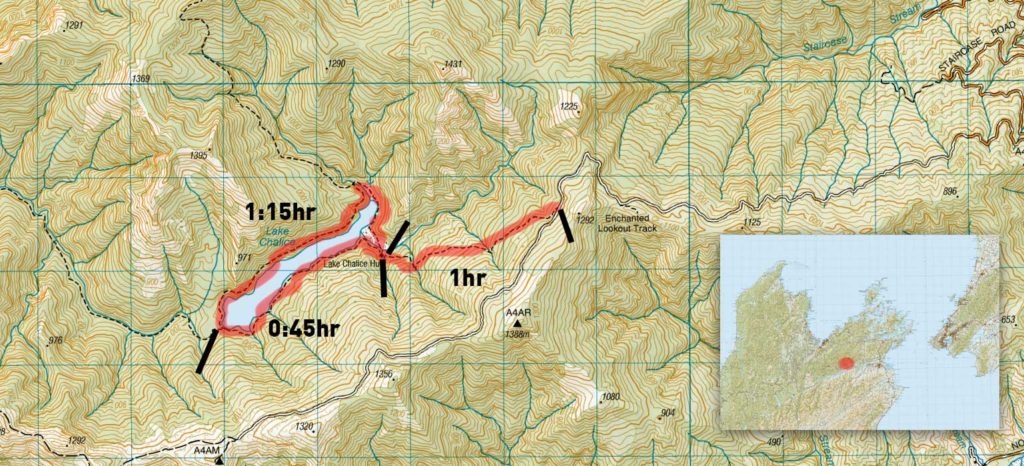 An easy short walk to overnight in a classic hut on the shores of Mount Richmond Forest Park's only real lake, Claire and I kick off our southern roady in comfort.
Lake Chalice is south-west of Blenheim. We reach it via considerable driving on North Bank Road (35km?) and then into the mountains up Staircase road, a timber industry road with public access (awesome!) The drive goes on and on but we have no problems, just ducking the wee car under a fallen tree adding a little excitement.
We pause at the Enchanted Lookout and soak up the view of the Raglan Range and Kaikoura's, mountains so unfamiliar.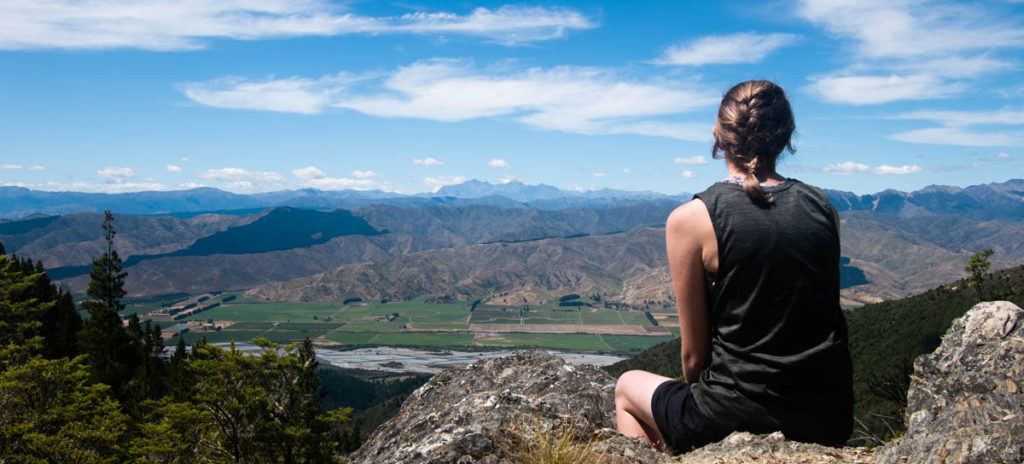 A little further on, we park with another six or so cars and utes, slather on the sunscreen and begin our ~480m drop down to Lake Chalice. The trail is perfectly driveable for a small ATV or trailbike which I didn't expect. Makes it a bit boring for the walkers, this constant, steep gradient just slicing down through the pine, beech and manuka.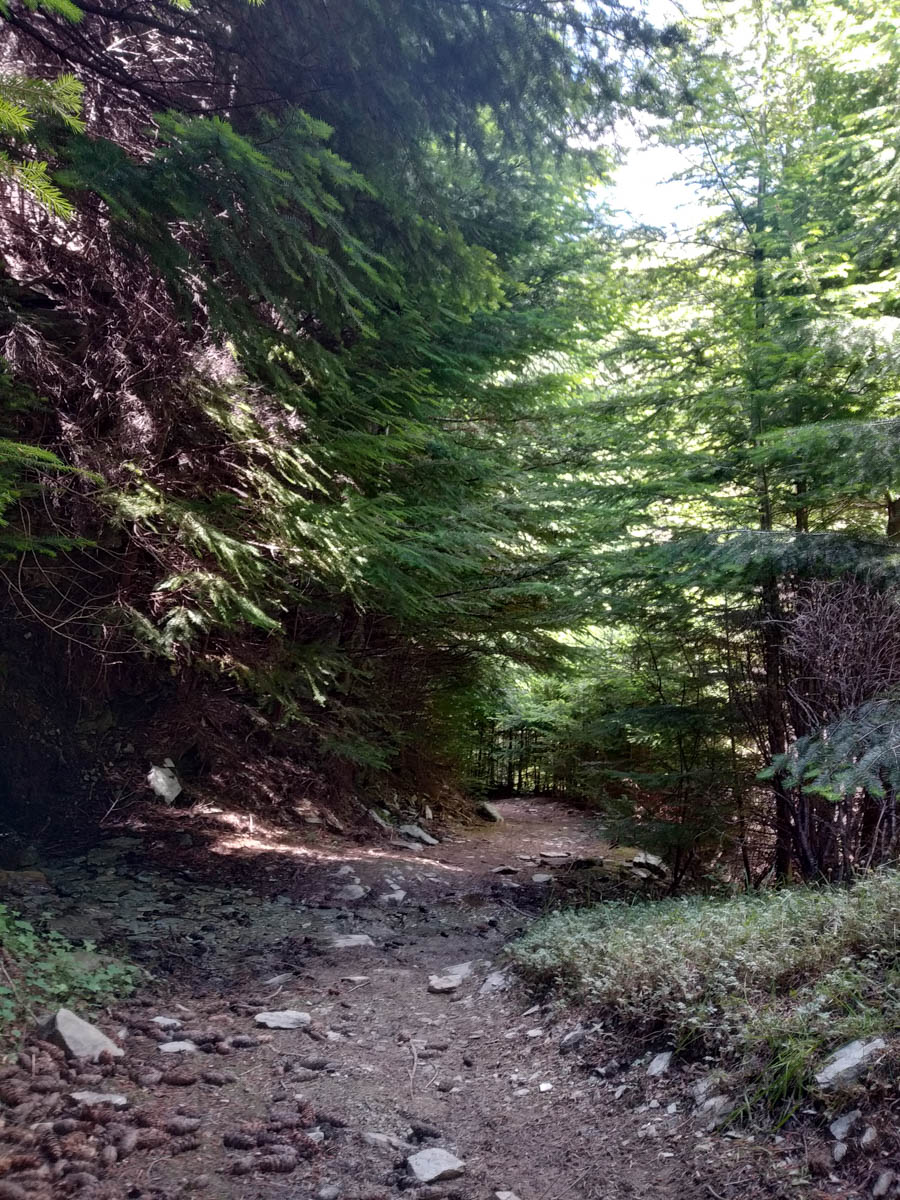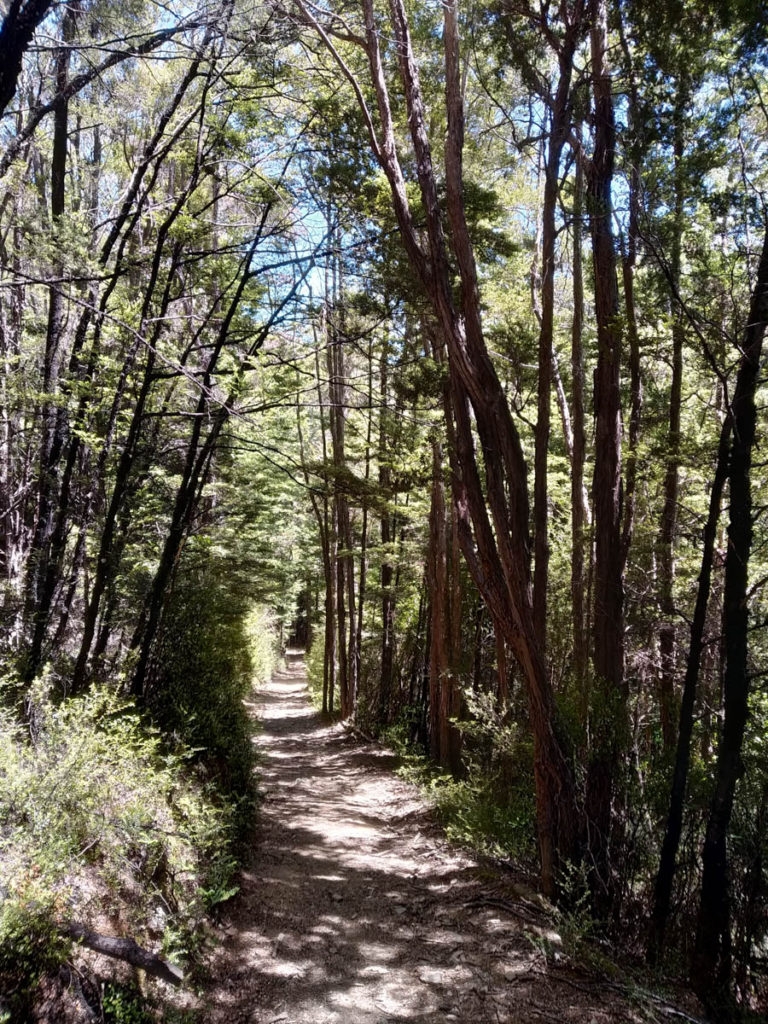 We pass a few couples and families, folks getting out exploring their local area mostly.
The hut is a 6 bunker, extended to 8 with balconies either end. Water is from the stream, and a single longdrop struggles to contain the whiff of a busy summer just passed. There's a little flat spot to pitch a tent as well if peace is the desire, as this one is often full of families.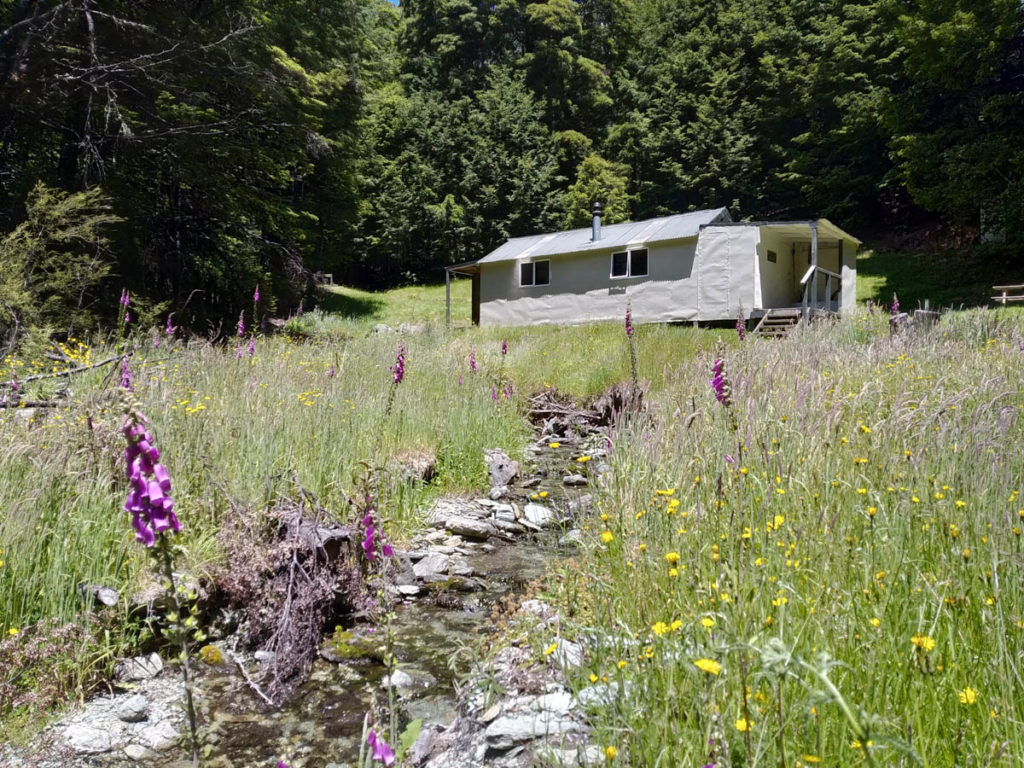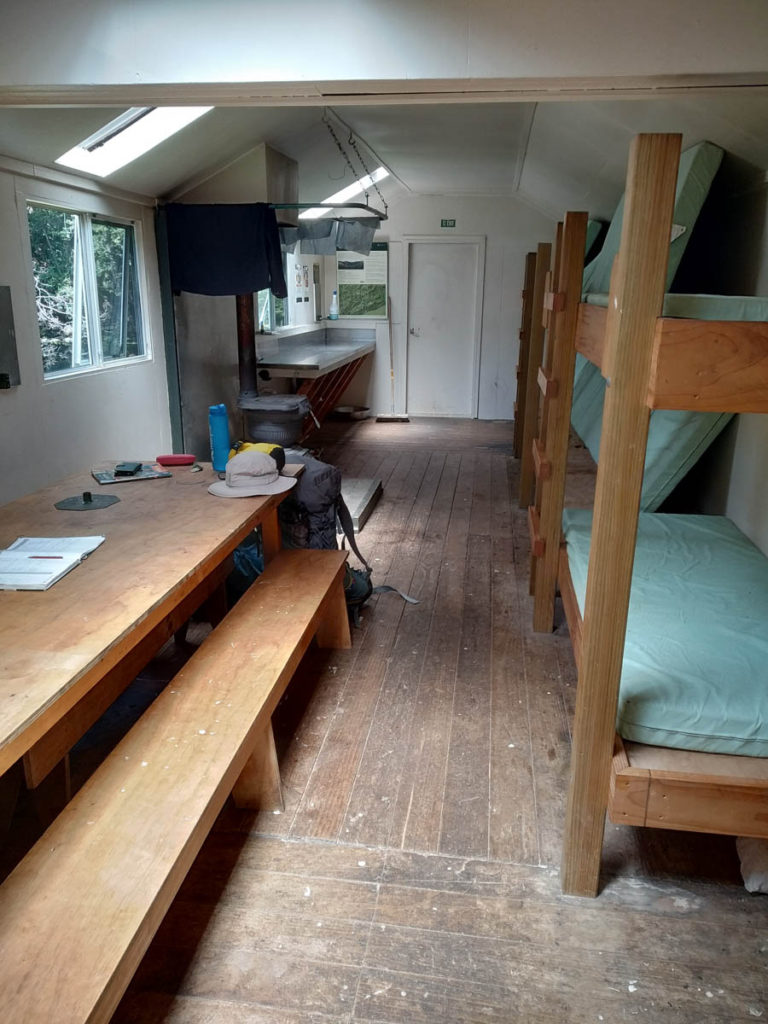 The place to ourselves, we settle in, eat, drink, hang the hammock and read. The area surrounding has recently been cleared and while the sandflies are about, they're not too irritating – the hut has mesh for the windows in good knick.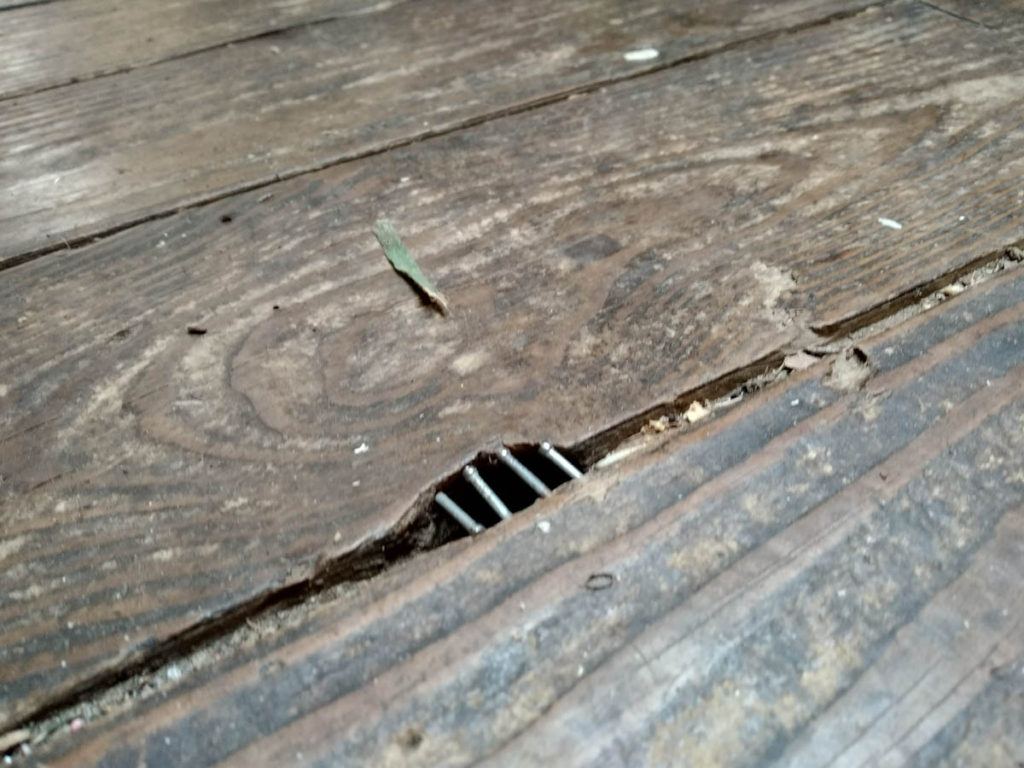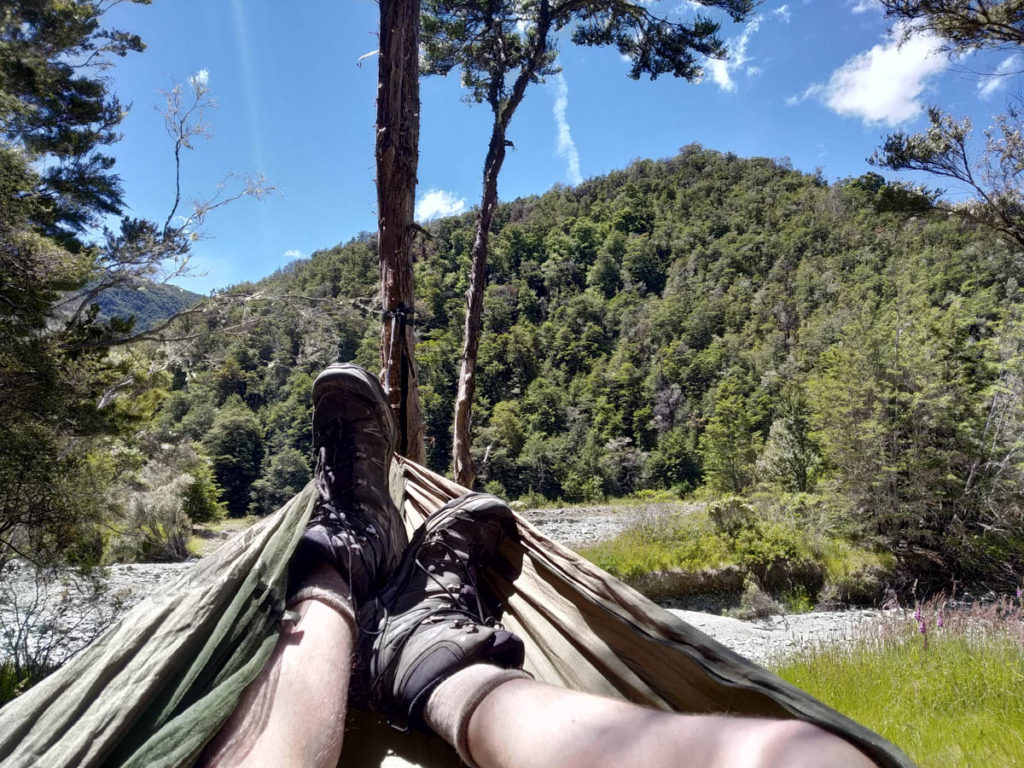 We decide to walk around the Lake. Takes us 45 minutes to skirt the southern edge and there's a beaut little waterfall worth looking at about 25 minutes around. The trail is hard-won – the banks are steep and have little topsoil at times.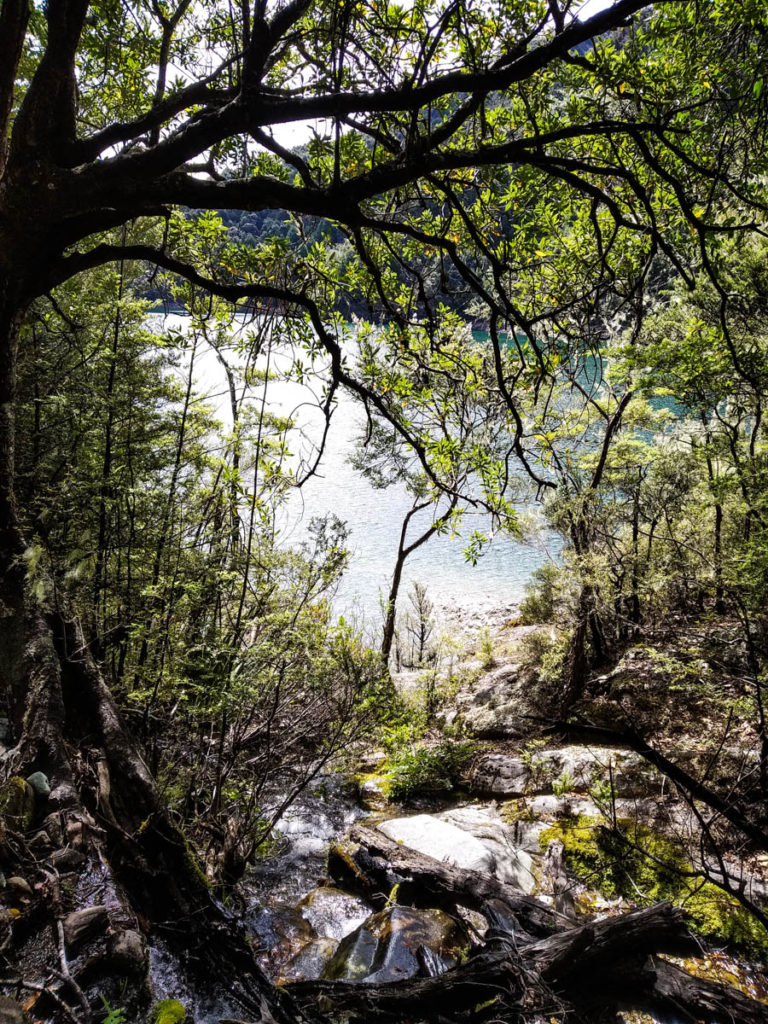 At the lake's far-end, the land is quite unique. It's ripped to bits, just massive rocks. If you look at the topo map of the far end of the lake, you can see it's a bit weird – it's the outcome of a massive rockfall some 2,000 years ago. The cliff (w of 971) slid down, blocking the Goulter River headwaters, and creating the parks only real lake. Fascinating! Clambering across the dam with its 2,000 year old regrowth winding about the great boulders is pretty interesting.
The northern edge is not as nice as the opposite side – more rock fall, steeper drops and so on. All up takes us 1:45hr to go around or so, though we drop to the shore at the northern tip. Here, what I think is a tahr rots in the sun.
Back at the hut, a lady has rocked up. An Aucklander with a sore ankle, she's left her group who were doing an alternative crossing of the range from that of Te Araroa. Consisting of off-track and day-upon-day of 14hr hiking along razor-thin ridgelines, they're welcome to it! I can't find their trip report unfortunately, but I believe the lady said their leader was Robin. Would love to read what they got up to! Anyway, our lovely lady's ankle injury veered her off so she's with us tonight. Lucky for her we have some matches, and we have a quiet evening of feasting and reading.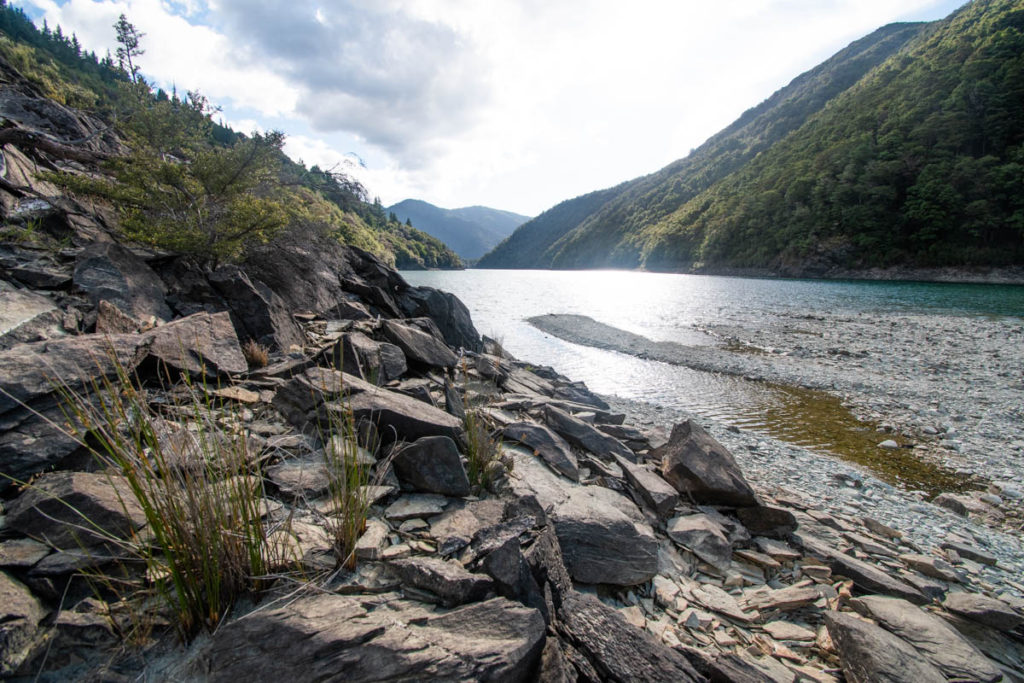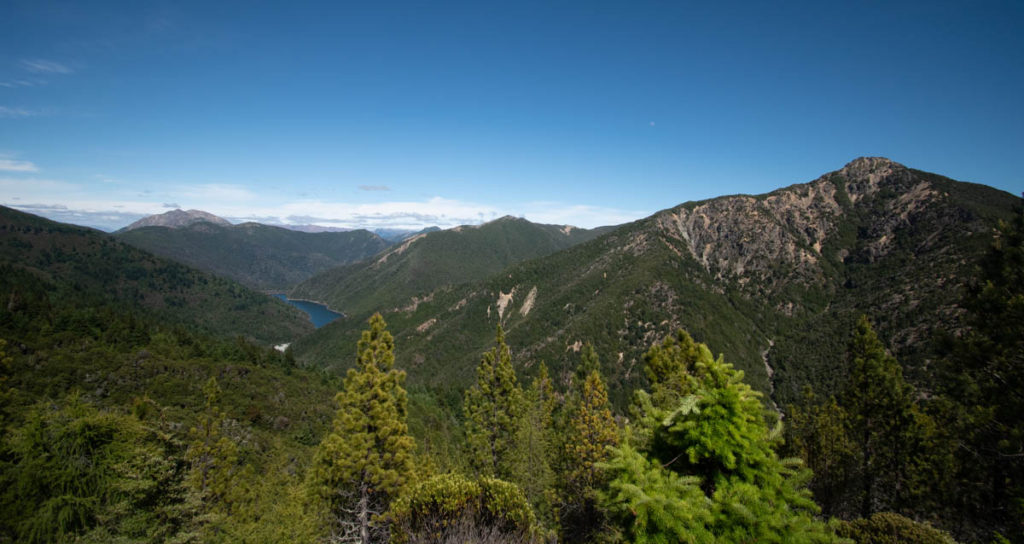 In the morning, we wander back up to the car and drive the long road to St Arnaud.
Great little walk and a beaut wee oldschool hut. Easy walking access, but the driving is a bit of a to-do!
---
Technical PS: recently updating the site's appearance has broken the 'full text' email feed on my tramping subscription thing. If you'd prefer to have whole posts emailed to you rather than a preview snippet, you may wish to re-subscribe to the main, full feed here. I don't post anything but tramps really anymore anyway, but you may get the odd technical post as well.