The Papatahi crossing begs to be walked when you view the Remutaka Range in the zoomed-out topo view. It runs east-to-west across the range with huts dotted along at handy intervals. Unfortunately the coolness of crossing a mountain range creates a logistical hurdle getting home I never overcame in planning, until a wee chat with Nik on the Friday Night Adventures Meetup. We decide to come from opposite sides, my Bushcraft Wellington Meetup group crossing swapping carkeys with FNA to walk this track with a minimum of hassle.
We reach Catchpool about 4:15pm on a beautiful Friday evening. Our party of four is Mike, Yadgar, Vlad and I, and I'm chuffed to have such great company. We cruise on out along the popular Orongorongo Track, reveling in the beauty of it in this peaceful time of day with few other walkers out.
Out near the river Mike encourages off on an old track I have long-oogled but not followed. We presume it heads to the river and of course it does, and also an old monument amongst beautiful beech trees to Don Dement, who drowned in 1951. Here's a wee bit of history on that.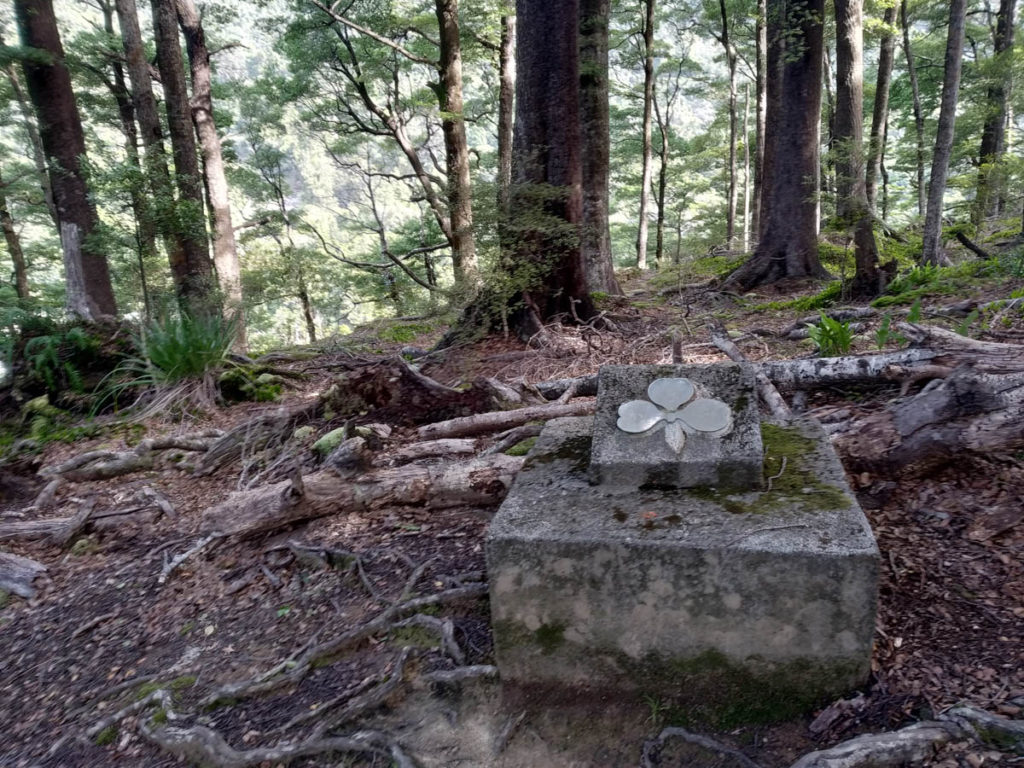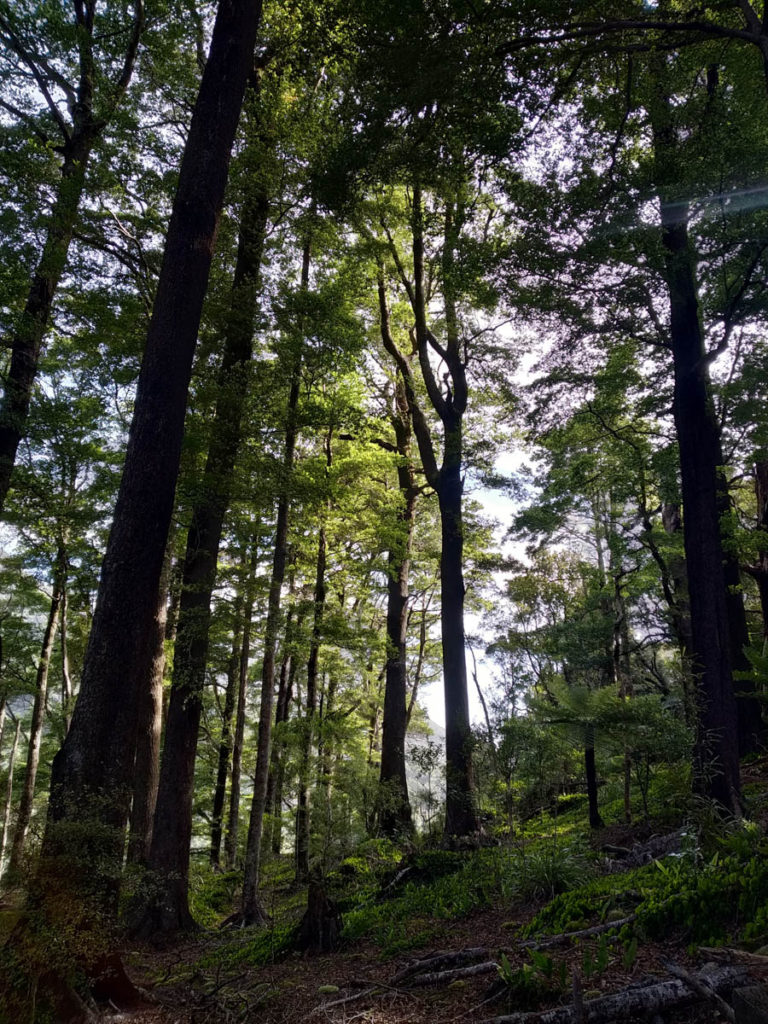 We follow the Big Bend track a while, then hit the river at that mid-point campsite beyond Turere Lodge. The river is clear and easy walking, the evening sun shines on our backs. There's one solitary hunter ahead of us heading up Mt Matthews, otherwise just us in this great valley!

The river narrows beyond Papatahi Hut, and we start looking for nice camping. On an eroding river terrace we come across a fire pit and a small mossy dry clearing, and figure that'll do for us. Mike and I are too curious about what's just around the corner – maybe there's a better spot – but Vlad encourages us back with wise reminders to enjoy what we have found.
And it is enjoyable! Yadgar pitches his tent for the first time, Mike dusts off his old bivvy, Vlad enjoys a tentsite with a great view of the river beyond and I get to play with my bivvy and tarp.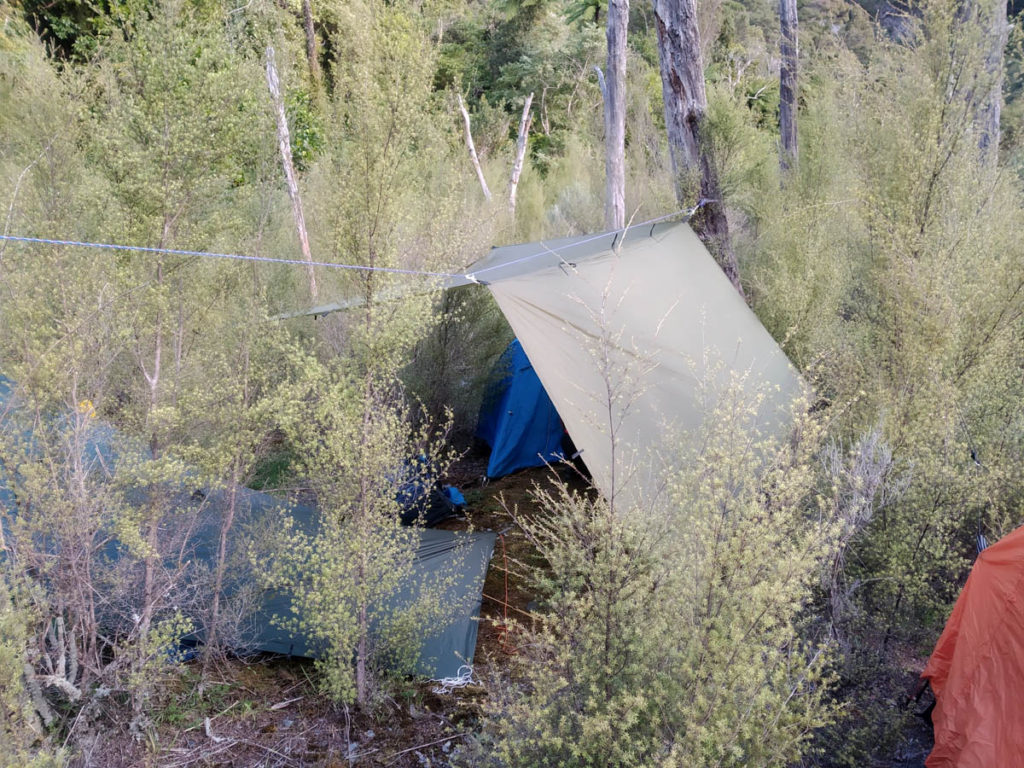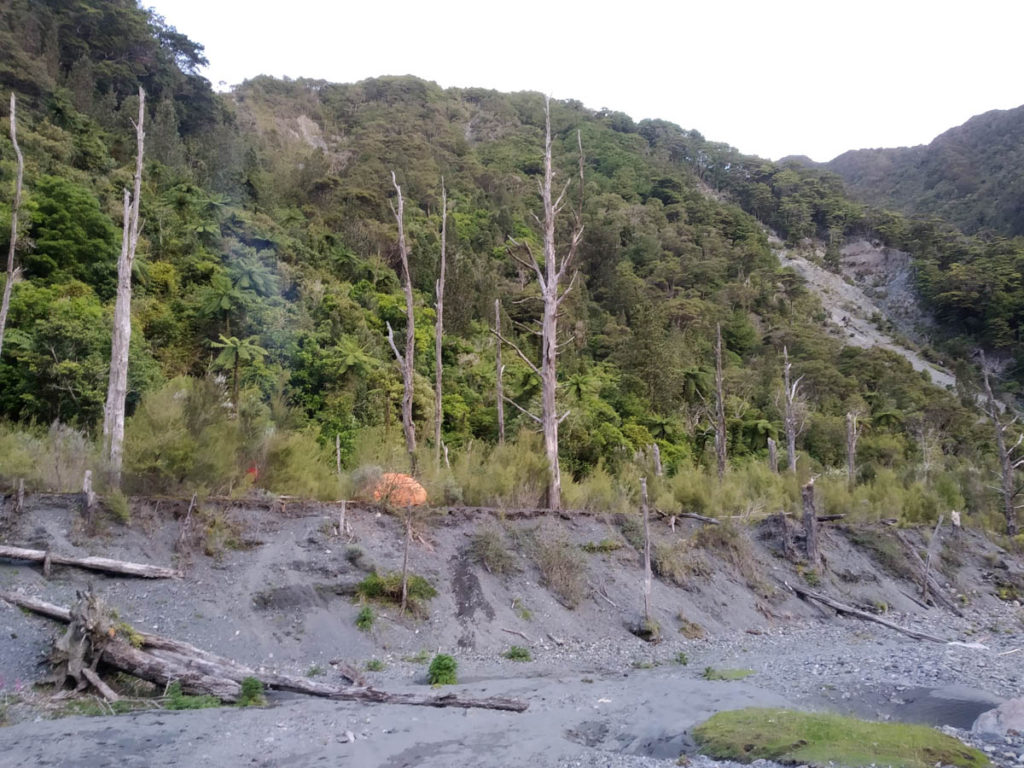 It's a beaut calm evening around the fire.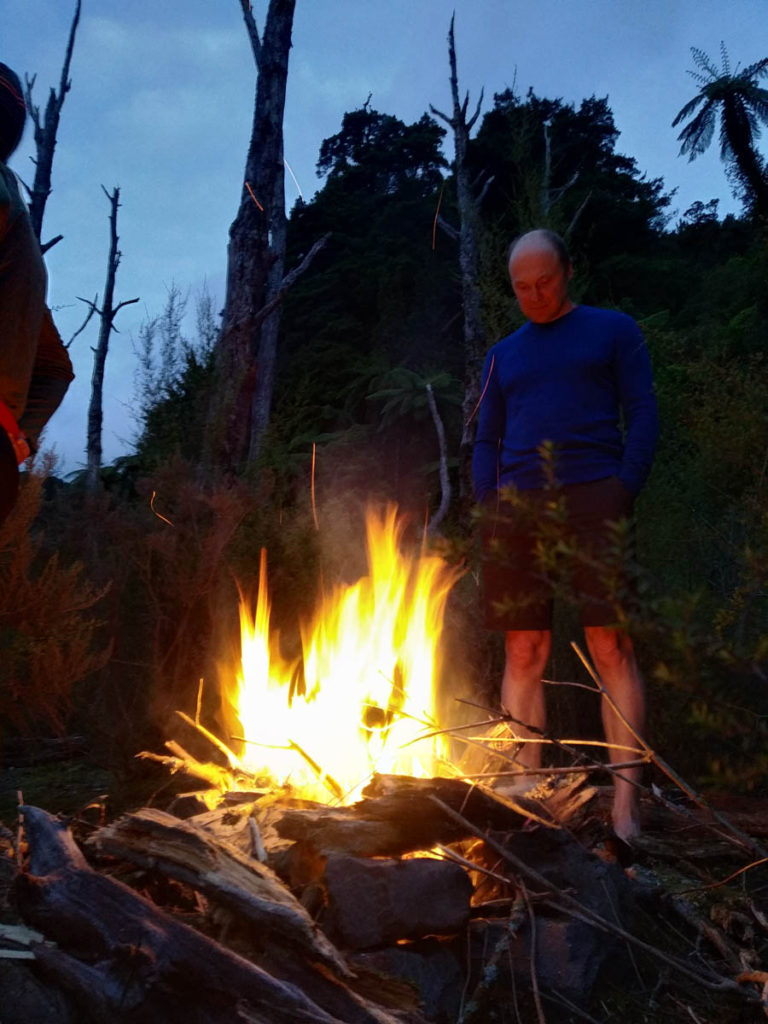 We rise early, happily not to rain. The forecast wasn't great, but it ends up by-and-large holding off almost all day. We are on our way to the crossing at 7:30am.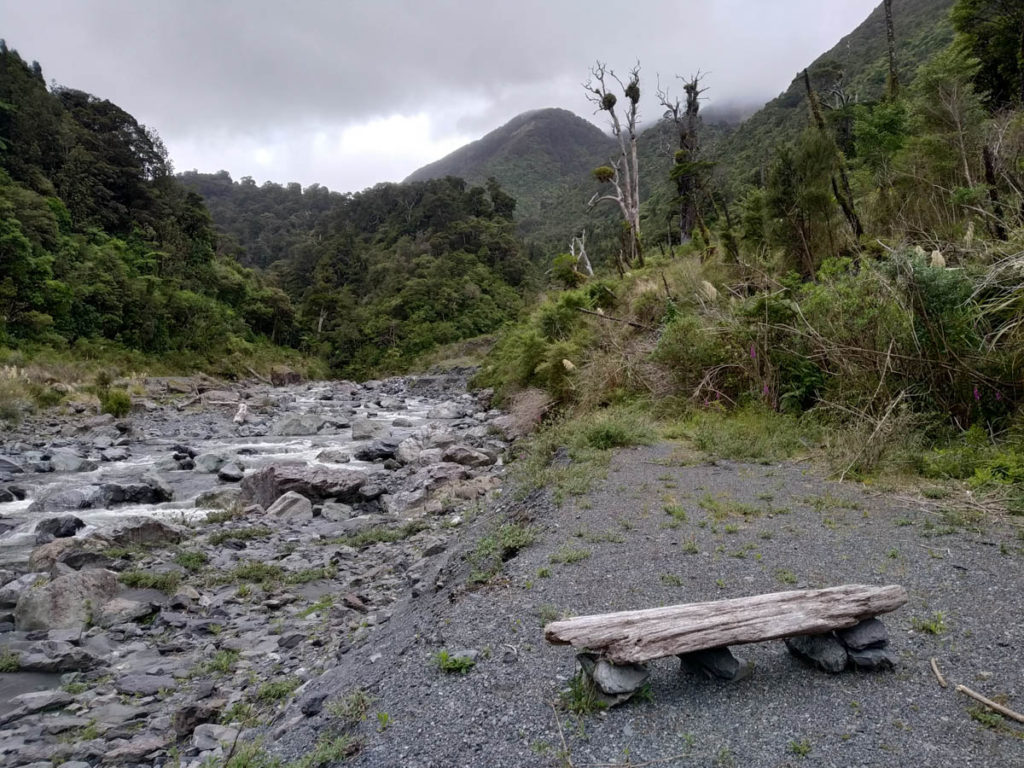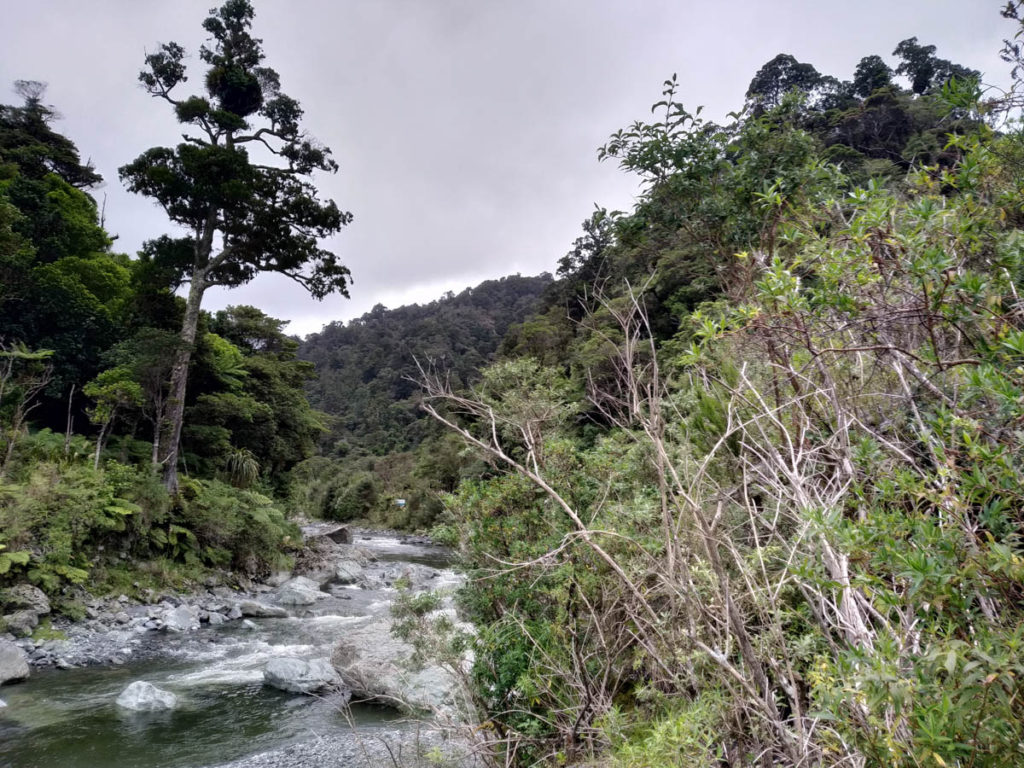 North Boulder Creek is aptly named we find, clambering up. The ridge to our left is, I believe, the water catchment – just recently mentioned as a potential new predator-proof-fence area for Kakapo. How they might fence this is a bit of a mystery to me, I suspect they won't down to the boundary here, it's rough as guts!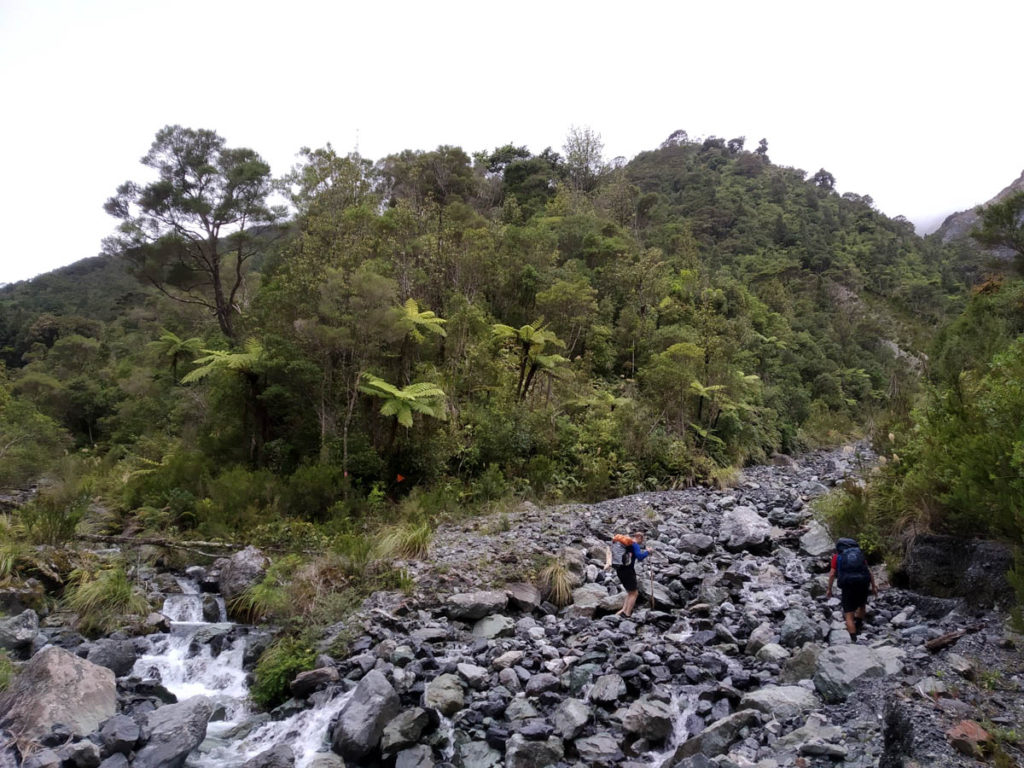 The Papatahi crossing doesn't have glowing reviews of easy hiking. By all accounts it's a hard scramble at times, scree and ropes and drops and just hard going. And it quickly delivers such, with a challenging scramble up scree that's both rooted by pigs? and demolished be erosion, so there's just nothing to hold onto. It's just, average and unpleasant to climb such steep scree with no handholds and dangerous drops threatening. FNA came down on their butts, which is the only way.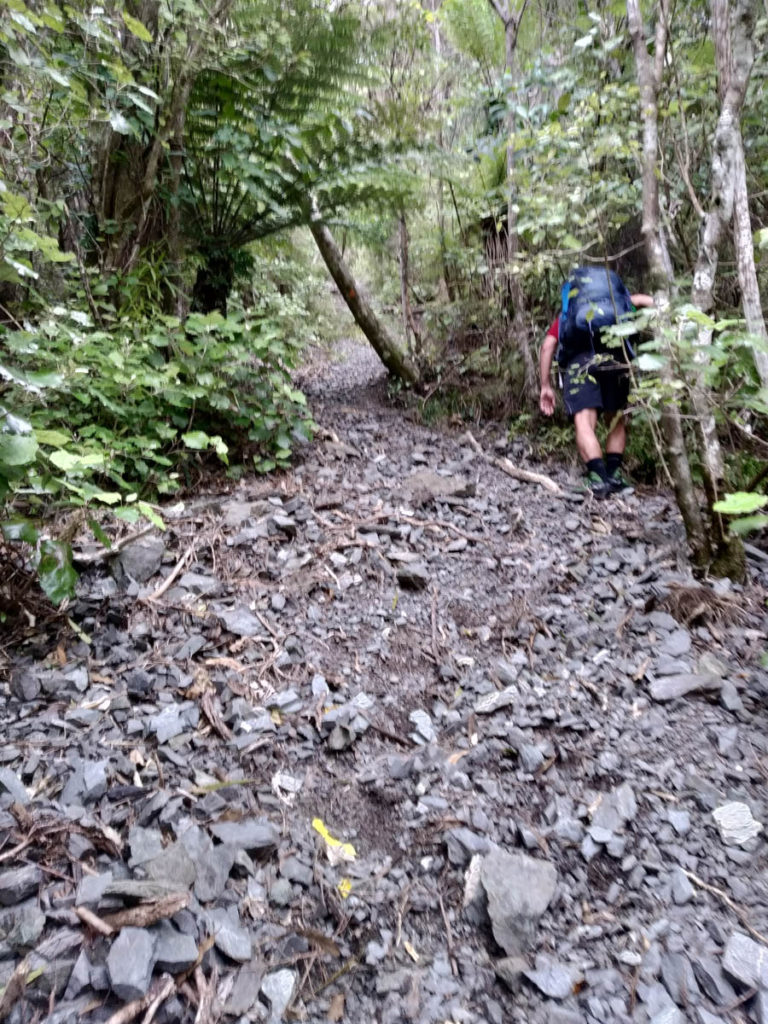 We gain a flatter ridge, enjoy a little power-break and then continue on. It's not so bad higher up, though some of the slips we pass uncomfortably close to are hundred+ metres high and straight-down. Not the best when you let your imagination get away on you.
I had heard the trail is poorly marked, but on this side it's great – the trappers have kept the route up to the peak very easy to follow and well marked. The trappers head off along the ridges at the peak, so beyond it is just 'DOC track' again – and that's where the trail gets a lot harder to follow.
We love the goblin forest, it's gorgeous up on the top – and then we're at the small chopped clearing at the peak (presumably for helicopters).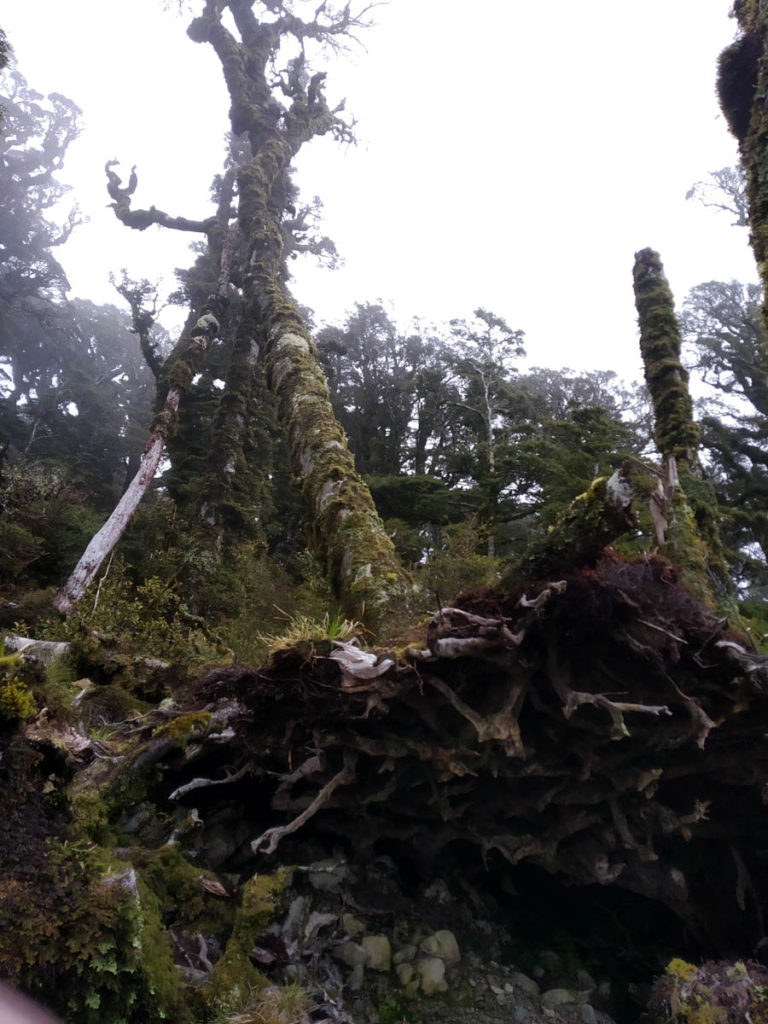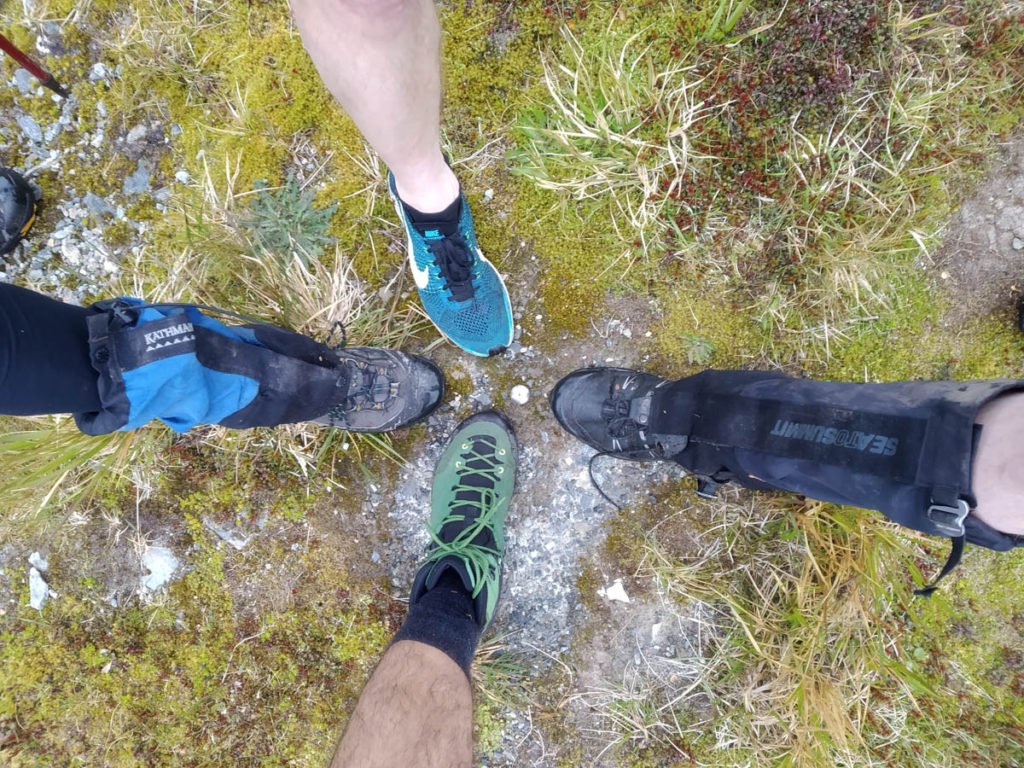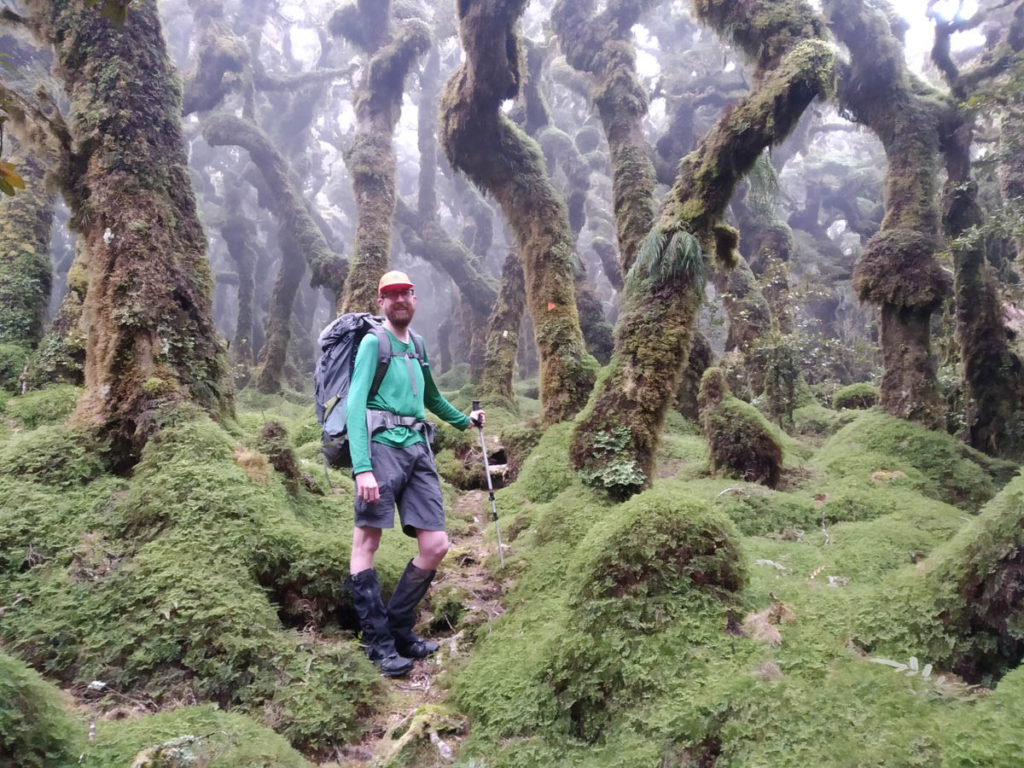 Heading down to 776 we catch Nik's FNA group heading up. Carkeys are immediately swapped before we forget about it, a bit of intel is shared and we go on our way. A shame not to lunch together but the timing isn't right, we're only 3 hours in or so.
Lower down, the trail disappears some. There's a great deal of goat damage – we spot and hear some goats – and they have walked trails everywhere, so there's nothing specific to follow. We lose the track about five times, which is about the same as Nik did going the other way. There's some real muddy slippery bits and we all fall and slide in the vegetationless understory with no foottrail to stick to. Honestly there's more enjoyable hiking to be done elsewhere than the bits on the lower-reaches of Papatahi!
We're well-and-truely ready for a lunchbreak when we pop out at the creek and head south to Wharepapa hut. An old sign marks it as Jan's hut, so maybe that was the original name before the formerly private Jan's Hut in the main valley was turned over to DOC.
It's a great little hut – there's even a spring-bed like I last saw in my Grandma's many years ago which is awesome. FNA slept here and had a good kip, and the DOC rangers have been through recently so it's all looking spiffy.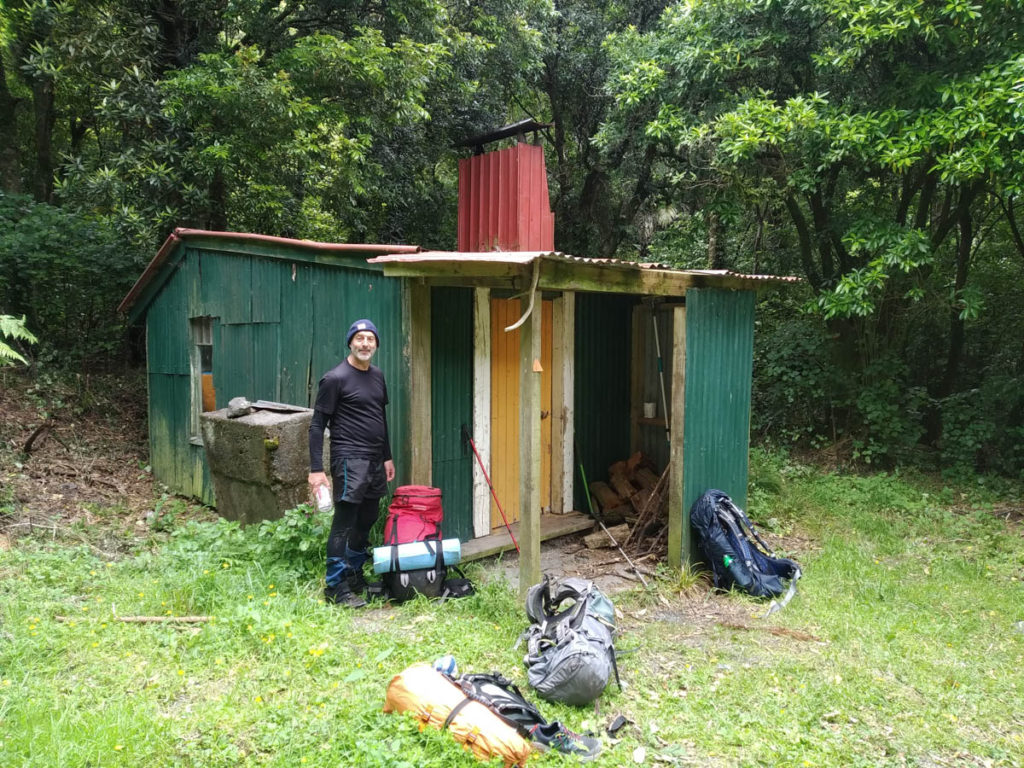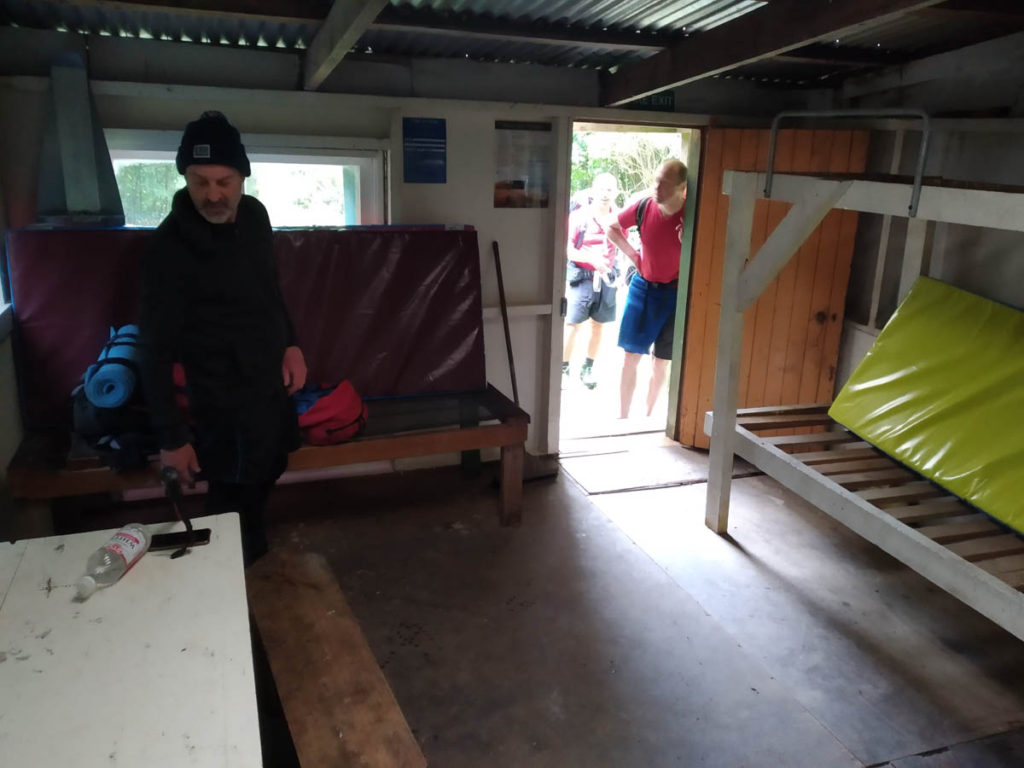 After lunch, we sidle through nice dry beech forest with clay underfoot. The foot trail is good and was once benched, but it's been some time – it's overgrown and has its moments. Lovely though.
The other side, coming down the stream, also has its moments.
We cross Battery Stream and enjoy some further moments. It's a real mixed bag of great walking and just real messy scrambly stuff. The trail is hard-won along here, sidling across beautiful forest and along some seriously steep country – but it was hard-won a long time ago, and it isn't maintained a lot. Bit of a shame maybe, as just staying entirely on this side and heading out to Wharepapa Hut would be a beaut – but I suppose the traffic is such that there are higher priorities these days.
Beyond point 185 where that alternate track connects from the south (barely there and no signpost or anything FYI), we find ourselves on a gentle spur of beech – with a very old road cutting. It's beautiful soft moss underfoot, surrounded by healthy beech forest, on a gentle road gradient – a lovely way to finish the journey!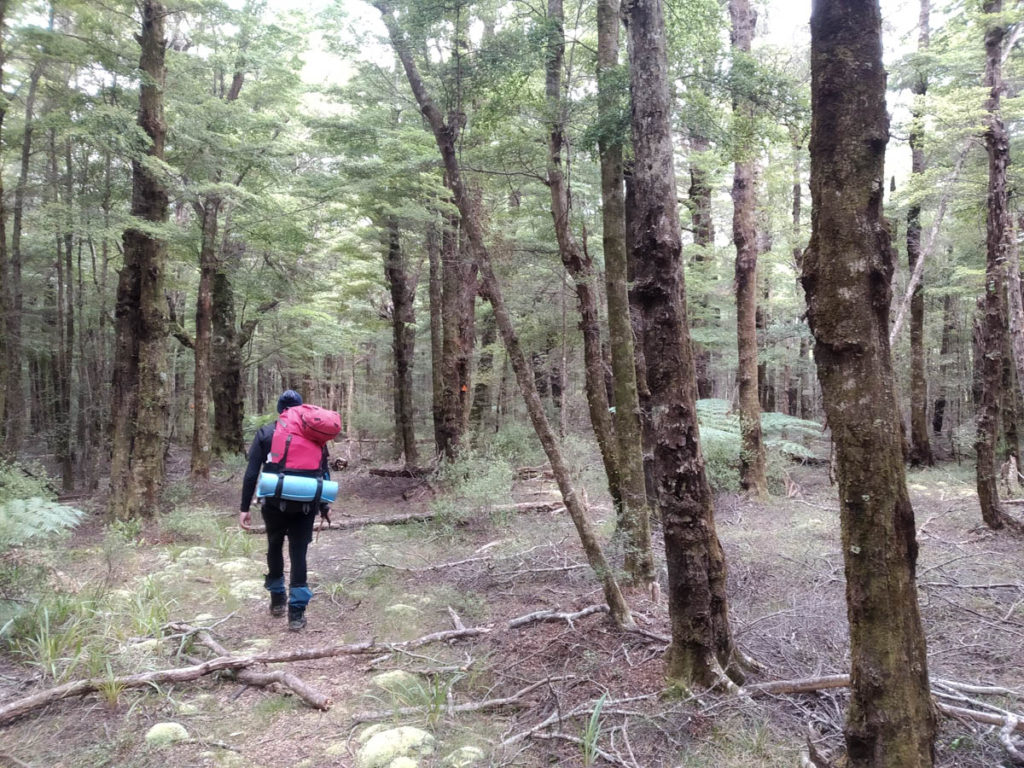 We spot farmland poking through the trees as the spur narrows, go through some fences and then we're in an unmown little driveway strip of bush access. It's magic there's public access here, but the hay gets some hayfever going with half our group!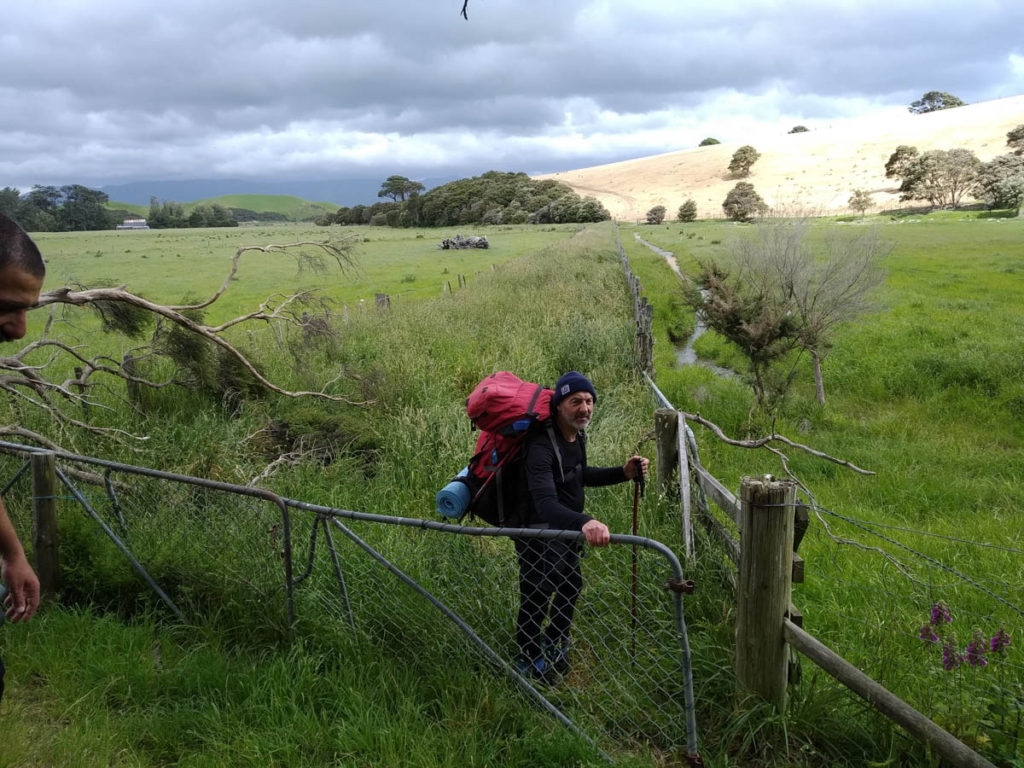 The farm access is a bit confusing – electric fences block certain spots and markers are few and far. There are some bridges but not in one main spot (or we missed the turn). At any rate we end up wading through thigh-deep pondweed in an irrigation trench to wrap things up, but it's great to get in from here!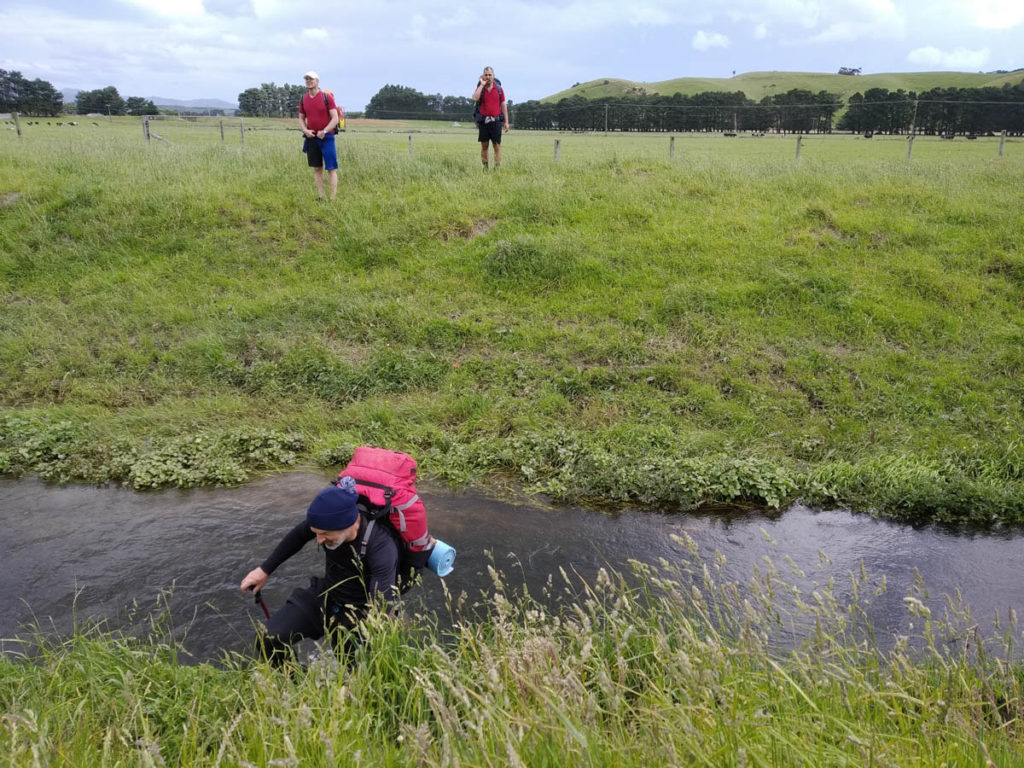 All done, 9hours from our start below Papatahi Hut. Tired and happy.
On our debrief driving home back over the Remutaka Range, we remark on our favourite bits. The camping is high on the list, as is the gorgeous goblin forest up-top, and that great end in the easy beech old roadway.
For me, I'm happy to have walked it, but it's not on the list of ones I'd like to do again in a hurry. The lower reaches of Papatahi are a bit of a curse. The silver lining of that is it's so untouched and beautiful up there, and we leave with a real sense of accomplishment. Really chuffed to have finally explored this wild bit of the Remutaka Forest Park, and to do it in such great company. We're so lucky to be here it's ridiculous.