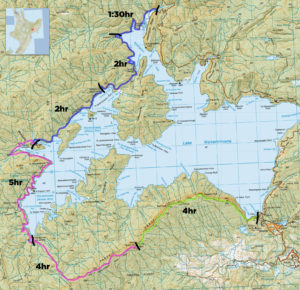 At 3 on Friday P's van pulls up with a honk and a wave and we four Meetup trampers are off, over the Rimutakas enroute to tramp the Lake Waikaremoana Great Walk. We are:
P, a job-taking Welsh immigrant
T, a job-taking Canadian immigrant
J, a kiwi with problematic knees
Me, also with problematic knees
After a great Vietnamese feed in Dannevirke, we roar on north beyond Napier, arriving at the Lake Tutira DOC campground around 9pm. P&T fold out their van for sleeping while J and I prepare tents.
The sky is beautifully clear. As we sip a hot chocolate under the stars, the dew already sparkles upon the flys.
J and I have awful sleeps, but I did get to test out the 'put a plastic sheet over yourself and gain degrees' method to cold sleeping. I remind myself I've survived colder nights – but survival is the key word. At 4am I am finally exhausted enough truly sleep, but am woken by the van alarm at 6:30am – it's time to rise.
The actual time to rise was 6am. According to the plan we all forgot we're rising 30 minutes late, like bad yeast. We frantically pack the tents, making a racket sure to piss off the couple of campervan tourists on location, and drive on the two hours to Waikaremoana. We stop for fuel in Wairoa to further stress a coffee and breakfastless me.
Arriving at the Big Bush Holiday Park as organised, we find a somewhat deserted location. Weeds grow from the rims of a Hi-ace van, one of its doors leaning against its open hatch. It's a Walking Dead set. We stumble around the property, desperate for cellphone reception or human activity.
Fortunately there's movement – the well sign-posted Holiday Park is no more, but actually the home of Waikaremoana shuttle drivers. Some calls later on their kind behalf and we're back in our van, heading around the lake to the Lake Waikaremoana Holiday Park, formerly of DOC ownership but recently now of the Te Urewera iwi, Tuhoe.
For quick context, Tuhoe were screwed over by British Crown during the colonising years, stealing land and whatnot(!). Under the Treaty of Waitangi settlement efforts which aim to address these grievances, the governance of Te Urewera (Forest Park) has since 2014 been a co-administered effort between Tuhoe and the Crown. As you'll read, 'co-administration' is code for everyone doing dangerous levels of jack-shit aside from preparing the place for mass-tourism.
I'm pissed off about this, because I spent a lot of time being very careful with my planning. That this 'great walk' is so out-of-date with its online presence and information is unacceptable to me. If a Kiwi can't figure it out how are our tourists to do so?
We finally make it to the rendezvous point which was not the rendezvous point, and our water taxi has four wheels and is actually a van. Our driver is a star and must have a good book – she doesn't mind having waited 40 minutes for us.
We're driven around the gravel SH38 and dropped at a bridge a kilometre or so from the Hopuruahine Landing. I take a minute to show J where we are on the map and where we're going today. As I turn around to confirm our pickup time with our driver, she's disappeared into the bushes. As I turn back, our party have disappeared over the bridge already. I hastily throw my pack on and begin the trip unceremoniously and alone.
We are walking counter-clockwise on this trip, from North to South. Today we head from the landing around the north-western edge of the lake to Marauiti Hut, a trip of roughly 6 hours.
Early on we cross grassy flats, complete with horses. Later, we cross a solo horse. He stares at us, then runs up, standing metres away. He follows us; it's quite strange to tramp along, look behind and see a horse. 'Why the long face?' I ask. No-one laughs.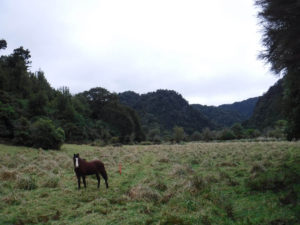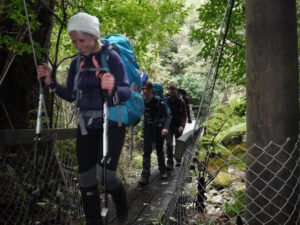 P leads, spotting a possum in a gin-trap on the track-side. It sits a while, before trying to run, hanging from the trunk by its foot. None of us have the stomach to deal with it, and continue on.
Soon we reach Whanganui Hut, the northern-most hut on the walk. For its occupancy it's a small affair, two 3-level bunk rooms and a small lounge. I hastily remove my boots, scoff some lunch and prepare a coffee. It's been a morning and I have not eaten or drunk much of anything.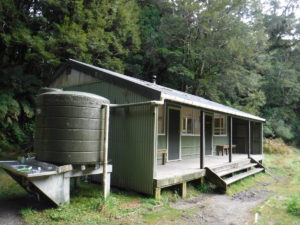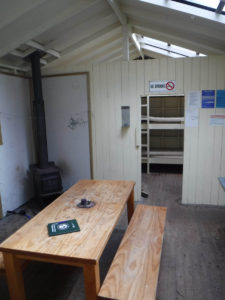 As we sit, a chap appears from the bushes, crossing the marsh with a bulging barbage bag upon his back. I suspect I know what's in it, which is furthered by the crack of a gunshot at around the time that possum was from the hut. Though maybe not – you might'nt expect a hard-nut possum-skinner to waste a bullet on a trapped animal.
With one sip of my coffee to go P&T are cold and decide to head on. I pack up and J&I follow minutes later, but the 'team spirit' is somewhat established; there isn't any. I had heard from others on Meetup how nice some of the trips I have been on have been, because we acted like a group. I didn't get it, but now I do – I've never been involved in a group with such weak ties. I feel like J and I and P and T are separate sets of travelers on a shared road.
On we go. There's a big slip around here somewhere, and a small bulldozer has cleared a new route. Let's sever the centuries-old tree root, lest a tramper must lift his boot.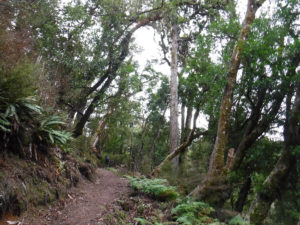 At 1:45pm we encounter an electric fence, built to keep the kiwi in. They have been causing havoc with the local stoat population over the last twenty years.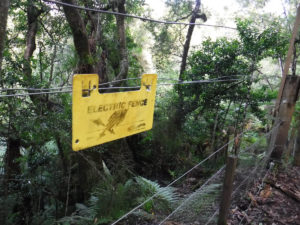 At 2:30 we catch our first glimpses of Waiharuru Hut. The term 'hut' is stretched here – it's a 40bunk monster with three toilets, two hall-sized buildings and a nearby campsite. It has a great outlook though, with some ducks and geese loitering about. It's a lovely scout camp.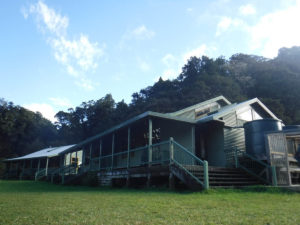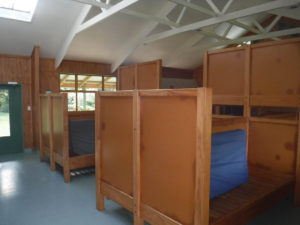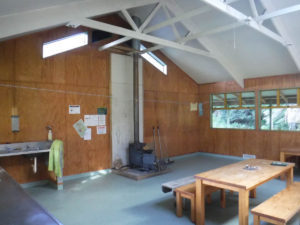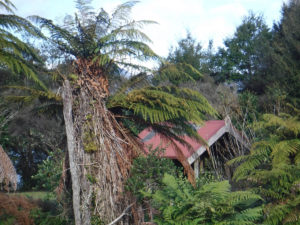 We bomb along, preferring to reach Marauiti Hut before dark.
Aside from the hunter we only cross paths with one couple on the track – and as New Zealand would have it, P knows one of them. They're donned with backpacks and sneakers – quite poorly equipped, but what can you do? They tell us there are two parties baring down on Marauiti Hut – one a group of teenage girls, and one a group of teenage boys. We know from the booking website that Marauiti is fully booked tonight – this is either going to be amazingly fun or horrifically awful.
At times we cross patches of grey clay with spots of growth. These are patches on the former lake bed, as much of this route is; the Lake is five metres lower than its 'regular level' due to a trio of hydro-electric schemes I had no idea about some 100 years ago.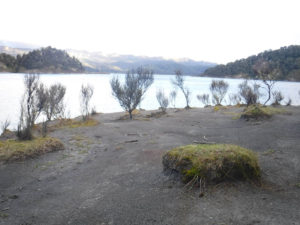 We pass small clusters of huts around the lake. They're private huts, right on the track – like right on the track. It's surprising they haven't a couple of metres' space.
At 4:30 we see Maraunui Hut tucked up against the slope.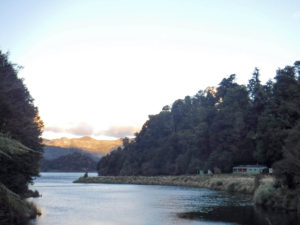 No smoke rises from its chimney; it looks deserted. It's my most anxious moment of the trip, knowing a horde is also descending on the place. I hurry ahead, torn on whether it's acceptable leadership practice or not, but driven by the desire to secure a group of bunks.
It's still empty when we arrive. We drop our kit, and the girls arrive 5 minutes later. It's actually a trio of families, and the dads don't piss about. They're out, bashing about in the forest for firewood after a quick comment about the lack of amenities. I approach the sound of crashing in the forest some distance of the hut, and ask 'should I collect more or carry this stuff?', gesturing to the pile of wood before me.
'Take that' the hidden bloke says. I drag piles as he collects. And he collects good stuff – amazingly dry considering the weather. I meet a monster of a man eventually, John of course. Hands of a giant. They're a lovely bunch.
The other dad pulls up a bucket, plonks infront of the fire, roars it up and doesn't move all night. Our party spend the evening with two separate dinners, a shared drink and a game of travel scrabble.
Retiring around 8, I worry about this other party. The hut was fully booked, so where are these other kids? At 9 we learn the answer, as bedlam descends. One girl starts dragging mattresses out to the kitchen area for the boys. Shortly after they are dragged back. 'That's what you get for doing things for boys!' barks a mother. Being a fly on their wall is amusing.
Over breakfast I talk with one of the boys' instructors. The kids had opted for sleep-ins, long-breaks and detours, and the leaders decided to let them have it their way – so they got in at 9. Their instructor is a seasoned Southlander. As I pour coffee she pours over my map. She points out where there's a couple of cellphone reception points – I think nothing of it.
When I noticed we were all awake with the other groups, I had suggested we get up as well, make use of the daylight. I was overruled, so we leave the hut at 8am.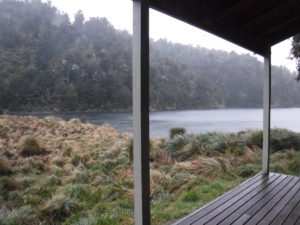 The going is damp and relatively flat. We're skirting around the lakeside today, 5hrs to Waiopaoa Hut then climbing 4hrs to Panekire; I wanted that daylight. Unfortunately T's knees had other ideas regards pace, packing a wobbly and making every downhill step a torture. Our two parties dawdle along, enjoying the scenery – except presumably T. It's a pleasant walk, though I prefer ups and downs to flats.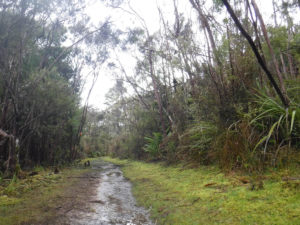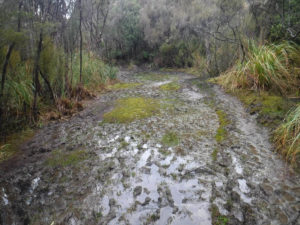 I round the corner on Waiopaoa Hut and startle cygnets and 1pm. It's another big hut, not obscene – just lovely. No firewood, of course.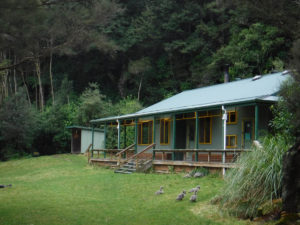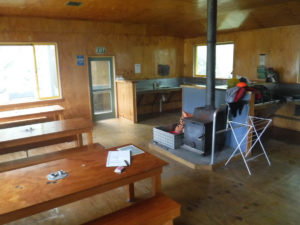 P and T decide to stop here due to knees. J and I have a quick bite to eat, say a fond but speedy farewell and are soon back on the track.
The track from here begins a gentle climb. Like the start of the trail, a small bulldozer has cut a steady gradient through rock, root and roughness. It criss-crosses the old track. Sometimes the old track beckons me, with its tree roots and beauty. Other times it looks like a 1.5metre deep clay slide hellscape – as much as I prefer more natural tracks, this new route makes sense here. Another positive of the new route is that, with no tree roots to worry about, I can just wander along, lost in the view of the forest.
We climb slowly, 250metres in 2hrs or so – it's one of the most lovely bits of the trip.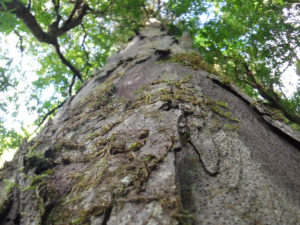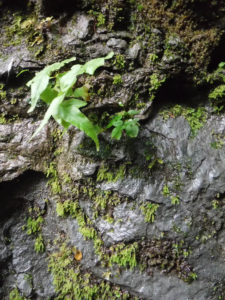 At 3.30 we reach our first stairs, and begin the task of climbing the very steep Panekiri Bluff – a 1:1 climb for 180metres. The boys had warned us this morning 'there's a lot of stairs!' but we clear it in about 20 minutes thanks to useful boardwalks and stairways which must have required some considerable engineering!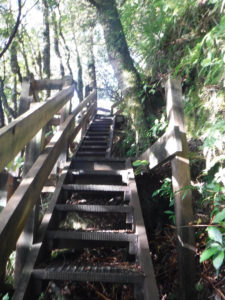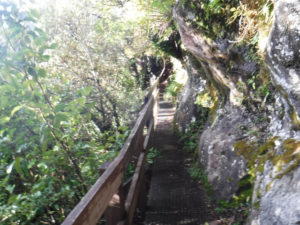 Arriving on the ridge, the forest is completely different – it's like the Tararuas up here.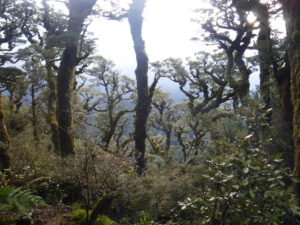 The new ridge track doesn't follow the ridge perfectly like the old seems to. Instead it winds about on the southern side, coming back and forth, getting views here and there but mercifully out of the freezing wind blasting over the bluff.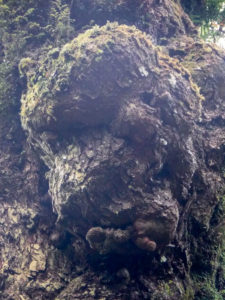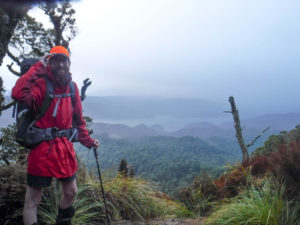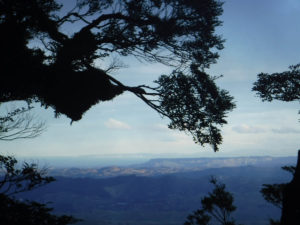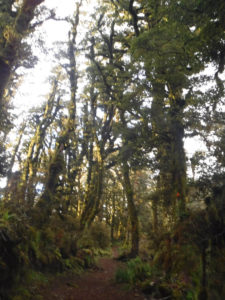 As the light ebbs, we reach Panekire Hut at 5:10, 9hrs 10 since we left Marauiti. We're pretty buggered, but the arrival energises us. We drop packs, revel in the sunset views, and hustle for some firewood, because of course there is none. I had been a bit annoyed about the sleep in, knowing it was leading to a night-tramp for me at the other end, but we avoided it by a hair.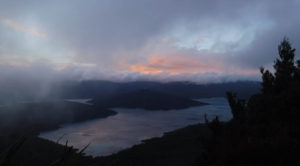 We spend two hours playing with the fire, burning damp stick after damp stick. We just can't get the heat up hot enough for it to flame under its own steam. I'm pretty pissed off about it – pissed off with Tuhoe, pissed off with DOC, pissed off with every tramper who's come through, used wood and not replaced it – so all that's here is wet shit left by the groups we passed yesterday. We leave some more wet shit for the next guy. I wouldn't usually care, but a Great Walk has standards. You pay for those standards, separately and specifically, so you expect them. To not supply them when they're as important as firewood risks lives for profit.
It's just J and I here tonight – we have a good yarn over dinner huddled in winter woollies. Only with dinner eaten do I remember my half-bottle of wine I trudged up the bluff – I have a glass and carry the rest out with me.
J has a lovely moment startling a wild pig on a late-evening trip to the toilet.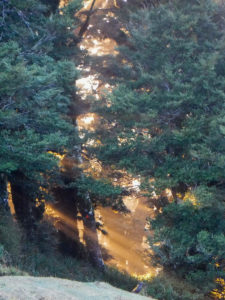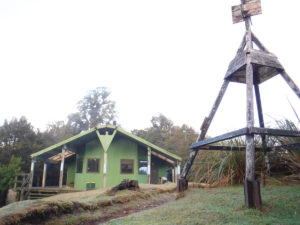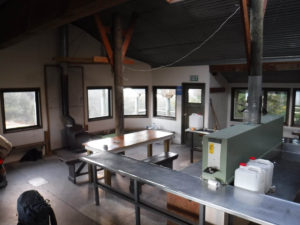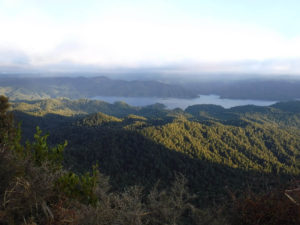 We have a fairly leisurely morning, leaving at 8. The route today is along the rest of the bluff, over the iconic spots and then descending down to Onepoto for our ride at 1pm – a 4hr tramp.
Just beyond the hut, I turn my phone on where the instructor had said there might be reception. I've got 20% battery left, and no bars – but it's on the network. I call the Holiday Park.
'Hey, how's your morning going?'
'Good, what can I do for you?'
'This is Larry, we're booked for pickup at 1 at Onepoto today. We've got 2 still doing that, and 2 down at Waiopaoa Hut stuck with a knee injury.'
'…..'
'Hello?'
My phone is dead. The cold has killed it – 20 to 0 in one minute flat. I look to J – 'I did say Waiopaoa Hut didn't I?'
She assures me I did. With the pertinent details received, we don't have much choice but to hope the Big Bush folks are onto it and see what the lay of the land is at the end of the trail.
It doesn't take long until we're treated to amazing views of Lake Waikaremoana. J notes it feels a bit like Queen Charlotte Sounds.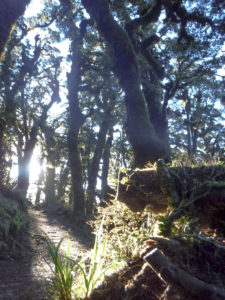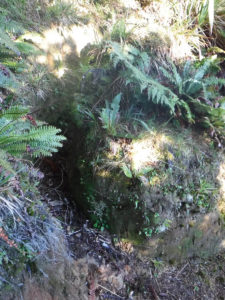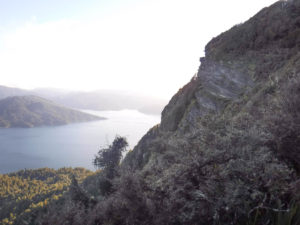 We pass a random little hut, locked with a woodburner on the southern slopes.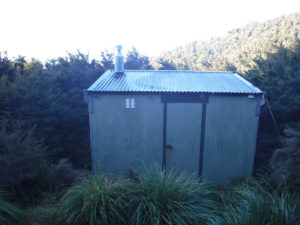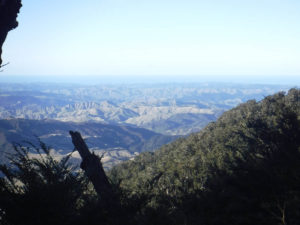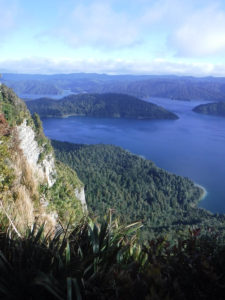 It's stunning up here – stunning and terrifying. It's disorienting to see bush so 'close yet distant', 200 vertical metres below us.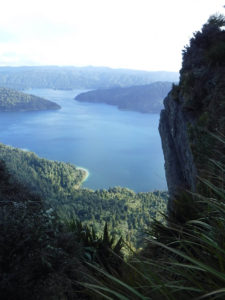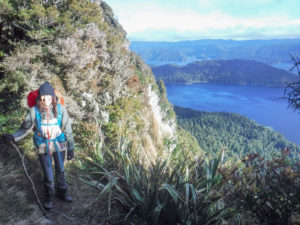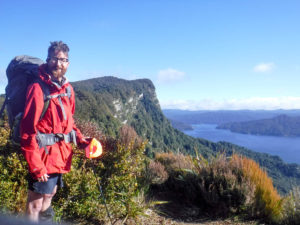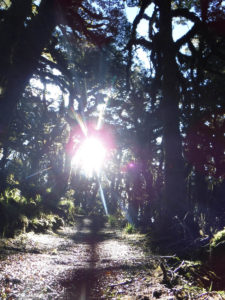 We encounter only one person on our descent; an 80yr old chap wandering up for a photo. He gives me hope for another 50 years' tramping.
The slope down is much easier than we expect, and we are out in 3hrs 45. I have heard and read so much whinging about the climb that I just assumed it'd be tough going; but while it's 500metres, it is a pretty gradual and gentle gradient, with plenty to look at on the way. It is just a nice days tramping really, very relaxed.
We pass a rock with graffiti from the British soldiers of 1860, from the old redoubt here, pass a small emergency day-hut at the base of the track, and are out at 12.
We boil the rest of our water, have a tea and wait for our pick up at 1pm. We're a bit on edge; fairly sure we'll be picked up, but what of P and T? So it was with a flood of relief that I hugged P when he appeared, bouncing off the water taxi, re-launched in winter specifically to pick them up. They'd had a great evening also alone in their hut, but with fire, scrabble and an 11hr sleep.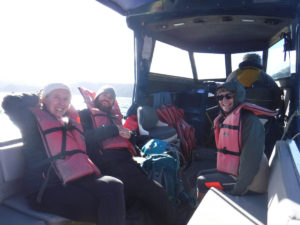 We pile into the van and head on home. What a weekend(+1)!
Bonus dramatic content! Here's my letter to DOC:
Hi there –
This weekend (20th-23rd July) 3 friends and I walked the Lake Waikaremoana great walk. The walk was great, but we were left really noticing the neglect of these "Great Walk" huts. I left some of my typical winter tramping comfort items at home, knowing we paid $32 a night for 'Great Walk' quality huts, however:
– None of them had any firewood, let alone dry firewood
– no lighting, no candles, no cooking utilities
– one of Marauiti Hut's longdrops was full to the brim.
Standard serviced huts are better provisioned. I don't mind a more 'real', basic flavour at Waikaremoana, it's nice – but I left things at home knowing we were visiting great walk quality, and found it less than serviced quality. It wasn't a problem for us as we were well kitted anyhow, but there were some clowns out there with sneakers and fewer clothes etc; they were reliant on the advertised amenities of the huts, which NONE of them fulfilled.
I believe this is a real safety risk for people, that you advertise the huts on this walk as Great Walk quality yet they're maintained like any basic hut. I understand that ownership and management is in a period of transition to Tuhoe at the moment, but currently everything says they're DOC Great Walk quality and they're just not. The difference between advertised and reality is a safety risk, it's disingenuous and unsafe.
I suggest you put a caveat on the Waikaremoana Great Walk page to indicate that the huts 'serviced amenities' are not reliable. I am assuming the lack of firewood (the main safety risk) is due to changing management, but if this is the case across all Great Walk huts over winter I suggest you amend the description of the 'Great Walk' class of hut to be 'sometimes has heating/fuel available'. It really sets trampers up to be lazy and then get out there and find what we left at home was actually required, because we got false information from DOC. (I suggest you do this for serviced huts too really – I have always taken serviced huts amenities with a grain of salt, but not great walks due to their pricing.)
Happy to discuss if it's helpful. Wrote a bit of an essay in the end but I really do love the work you do. I just worry that, when you say 'it's got this' and we pay a premium for it, we believe it will be supplied. So when it's not, poorly prepared people will be caught out. Better to surprise us with more than disappoint us (and potentially risk our lives) by supplying less.
Please fix the marketing material so it's more accurate to the reality.
Otherwise – keep up the great work as usual, it's so much appreciated!
Cheers
Larry
I got some standard media release type guff back from Te Urewera management – 'since 2014 …. we're working on it'. Doesn't take that long to tweak a web-page description, or keep doing what DOC was doing, but whatever. I suggest you don't expect anything.